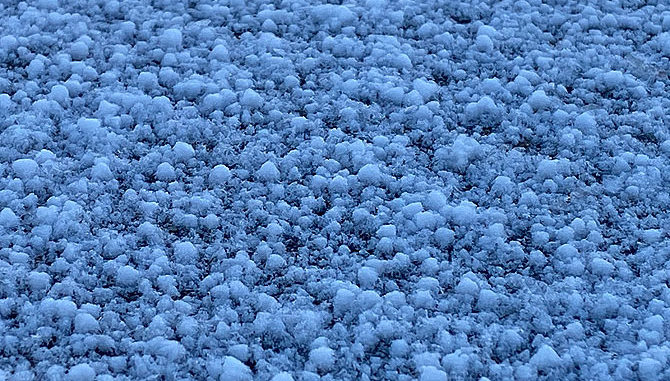 Graupel is precipitation that forms when supercooled water droplets are collected and freeze on falling snowflakes. The process forms 2–5 mm (0.08–0.20 in) balls of rime ice, which looks similar to powdered sugar. Rime ice is the least dense, milky ice is intermediate and clear ice is the most dense.
Meteorologists classify three types of ice that can collect or form on vertical and horizontal surfaces

Soft rime is less dense than hard rime and is milky and crystalline, like sugar. Soft rime appears similar to hoar frost.

Hard rime is somewhat less milky, especially if it is not heavy.

Clear ice is transparent and homogeneous and resembles ice-cube ice in appearance. Clear ice has an amorphous, dense structure which clings to any surface. Glaze ice is similar in appearance to clear ice but it is the result of freezing rain or freezing drizzle.
Graupel is also known as soft hail or snow pellets, and is the German language word for sleet.