Wednesday Hi 46, partly cloudy to mostly cloudy, rain begins 9p to 12a, winds WNW to S to ESE, 5 to 8 to 16 MPH, G15 begin 11p increasing Thursday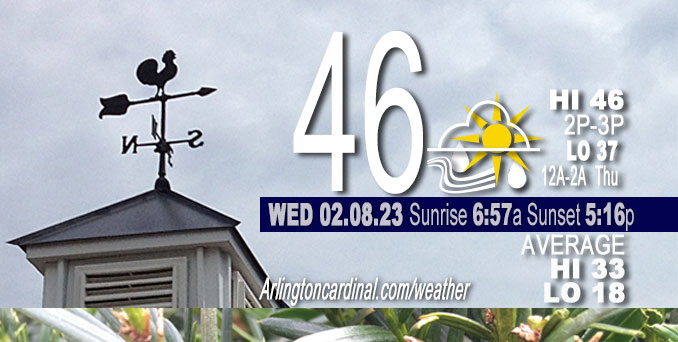 NWS CHGO | NWS HRLY | /NWSchicago | 🌡
ARLINGTON HEIGHTS WEATHER
▴ forecast7 (Arl. Hts.) | RADAR | WIDE RADAR




O'Hare (history KORD, left)
⏪ Hrly Data Table | Hrly Future Graph ⏩
IMPORTANT NOTE ON NWS DATA
Arlington Heights (history KPWK, left)
⏪ Hrly Data Table | Hrly Future Graph ⏩
======================
Wednesday and Wednesday Night …
Weather Hazards expected …
Limited Thunderstorm Risk overnight.
Limited Flooding Risk overnight.
DISCUSSION…
Quiet morning and daytime hours Wednesday, then widespread rain will move over the area late Wednesday night with embedded thunderstorms possible late Wednesday in some parts of Chicagoland, but more likely toward Thursday morning (6a to 8a) in Arlington Heights. Overall, Chicagoland has a lot going on late Wednesday and Thursday: heavy rain, thunderstorms, winds (especially south), and snow (near Rockford and northwest of Rockford).
Rainfall will occasionally be heavy overnight Wednesday/Thursday. Heavy rain may result in minor ponding on roadways that could linger into the Thursday morning commute. The heaviest rain in Arlington Heights will likely occur from 12:00 a.m. to 11:00 a.m. Thursday, and may total about 1.34 inch. The upcoming rainy period in Arlington Heights may begin as light rain and sleet from 9:00 p.m. to 11:00 p.m. Wednesday.
Daily low temperatures and daily high temperatures are on the way up. We're gaining about 2 minutes of daylight every day in the progression toward vernal equinox, March 20, 2023. We gain three minutes of daylight today, Wednesday, February 8, 2023.
======================
O'HARE FORECAST …
Forecast Beginning Wednesday, Feb. 08, 2023
Tuesday: Cloudy, with a high near 42. Breezy, with a west wind 15 to 20 mph, with gusts as high as 30 mph.
Tuesday Night: Partly cloudy, with a low around 25. West wind 5 to 10 mph, with gusts as high as 15 mph.
Wednesday: Partly sunny, with a high near 44. Southwest wind 5 to 10 mph becoming southeast in the afternoon.
Wednesday Night: Rain, mainly after midnight. Low around 36. East wind 5 to 15 mph, with gusts as high as 25 mph. Chance of precipitation is 100%.
Thursday: Rain, mainly before noon. High near 43. Windy, with an east wind 15 to 20 mph becoming west 25 to 30 mph in the morning. Winds could gust as high as 40 mph. Chance of precipitation is 90%.
Thursday Night: A slight chance of rain and snow before 3am, then a slight chance of snow. Mostly cloudy, with a low around 30. Breezy. Chance of precipitation is 20%.
Friday: A 30 percent chance of snow. Mostly cloudy, with a high near 35.
Friday Night: Mostly cloudy, with a low around 21.
Saturday: Sunny, with a high near 36.
Saturday Night: Mostly clear, with a low around 29.
Sunday: Mostly sunny, with a high near 44.
Sunday Night: Mostly cloudy, with a low around 35.
Monday: Mostly cloudy, with a high near 45.
Weather Forecast, Observations Archive NWS O-Hare
Weather Forecast, Night Sky Archive NWS O-Hare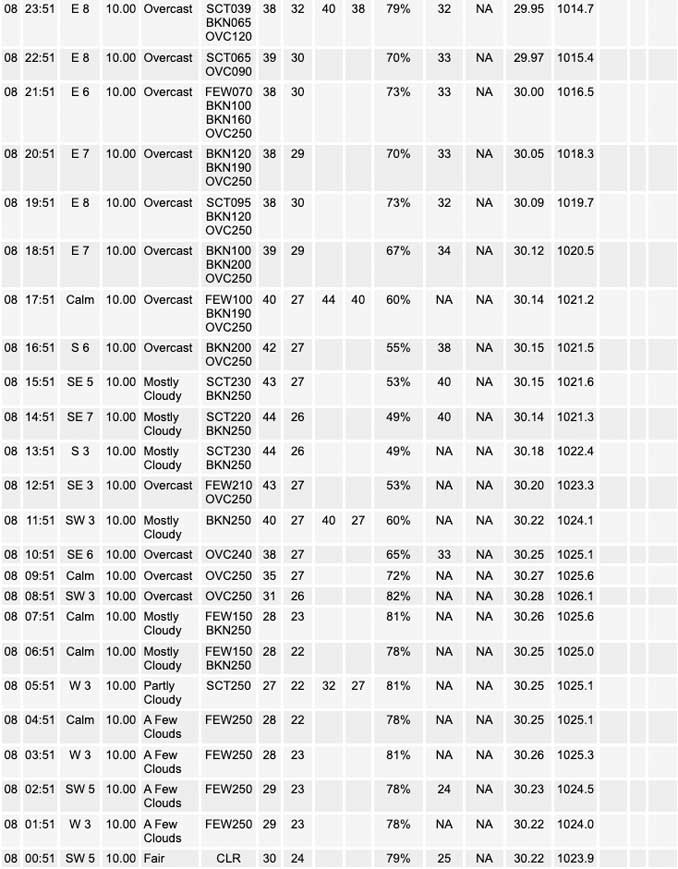 KORD & KPWK Hourly Weather Observations









NORTH AMERICA BELOW (SCROLL ⇩⇩)
Weather WIDE (MOBILE TURN SIDEWAYS)
SPC Convective Outlook on
CHICAGOWEATHERSTATION.COM

ChicagoWeatherStation.com I O'Hare Normal Temps/Precip I O'Hare Record Temps, Precip, Snow
LIVE RADAR | STORM TRACKS | UNISYS US IR SAT | UNISYS Midwest IR SAT | UNISYS More IR SAT
WunderMap® with Temperature/Wind Data || Google: Arlington Heights Area Temps | US TEMPS
Full Screen Motion Weather Radar (Wunderground.com)
Midwest Cloud Cover with Arlington Heights Weather Forecast
ChicagoWeatherStation.com I O'Hare Normal Temps/Precip I O'Hare Record Temps, Precip, Snow
SUNLIGHT DATA FOR SECURITY, TRAFFIC SAFETY, AND SPORTS
SunCalc.net data with solar azimuth and trajectory, times for dawn, sunrise, solar noon, sunset, dusk …
Tweets by @CardinalWeather
NIGHT SKY THIS MONTH …
Backyard stargazers get a monthly guide to the northern hemisphere's skywatching events with "Tonight's Sky." Check the night sky objects for this month and past months in the playlist from the Space Telescope Science Institute YouTube channel (Musical track The Far River written by Jonn Serrie, from the album And the Stars Go With You courtesy of New World Music Ltd).
Get updates from The Cardinal ALL NEWS FEEDS on Facebook. Just 'LIKE' the 'Arlington Cardinal Page (become a fan of our page). The updates cover all posts and sub-category posts from The Cardinal — Arlingtoncardinal.com. You can also limit feeds to specific categories. See all of The Cardinal Facebook fan pages at Arlingtoncardinal.com/about/facebook …

Help fund The Cardinal

Arlingtoncardinal.com/sponsor
Area Forecast Discussion
National Weather Service Chicago/Romeoville, IL
420 AM CST Wed Feb 8 2023
.SHORT TERM… Issued at 320 AM CST Wed Feb 8 2023
Through Thursday…
Key messages:
* Windy Thursday, particularly in the continued High Wind Watch area, where gusts will be capable of downing large branches
* Wet night ahead into Thursday morning, with rainfall locally heavy at times overnight into the Thursday A.M. commute
* Scattered/embedded thunderstorms possible, mainly 3 to 9 A.M. Thursday, with a chance for a couple fast-moving storms capable of locally enhanced severe gusts east of I-55 and south of I-80
* Some wintry precip chances, including a brief period of sleet at precip onset tonight north of I-80, and then the likelihood of some snow toward Rockford Thursday with minor accum potential
The "calm before the storm" in the daylight hours today with thickening high clouds ahead of the approaching system. The 925 mb temperatures support upper 40s to 50F area-wide, but the clouds should hinder that and continued more with a mid 40s forecast.
The closed upper low that is the driver of the multi-faceted weather system tonight and Thursday will be over west Texas this morning. As a northern stream jet core dives into the Rockies, it will kick this feature northeast toward the area and it will acquire a sharply negative-tilt and be moving rapidly. Those attributes are noteworthy for anomalous environments, and sure enough the precipitable waters are forecast 1-1.2 inches (upper percentile for time of year) and a 998 mb surface low rapidly deepening over the area. Models are in good agreement on mass fields with this, though some key spreads in attributes including the magnitude of mixing in the southeast forecast area, and the exact surface low path (on a county scale) which dictates how much of the northwest forecast area (if any) gets into a briefly heavy- falling snow threat.
Rain…
As the low pressure quickly develops a baroclinic leaf structure tonight within a coupled upper jet structure, the rain shield will expand in coverage and progress northward over the area, especially after 10 P.M. Initial very dry air, as noted on last evening`s 00Z RAOBS (0.12 in PWAT at ILX) will provide sharp wet- bulb cooling in the onset phase. Along and north of I-88/I-290, the fairly large near-surface dry layer would be sufficient for re- freezing or freezing (some question if there will ice aloft initially). So could see some ice pellets for an hour or so at onset which conceptually happens in these setups. Snow cannot be completely ruled out if precipitation moves in quicker, but should be brief if it occurs. The main story tonight is the rain and that will likely be heavy at times overnight with moisture transport being as anomalous as the absolute moisture values themselves. With such deep column lift, it`s unlikely there will be much moisture robbing from Lower Ohio Valley to Lower Mississippi Valley convection. Have mentioned heavy rain at times in the forecast, especially along/south of I-80, given the anomalies. The flash flood threat is limited due to quick motions of individual heavy rain zones, however frost depth is several inches in places (was 6 inches at the office as of Tuesday). So some ponding is certainly possible and this rain does look to overlap the metro during at least the start if not most of the Thursday morning commute.
Thunderstorms…
As the developing system dry slot wraps toward the southern forecast area in the pre-dawn hours, elevated instability through steepened lapse rates is forecast. As much as 100 J/kg of MUCAPE is indicated up to the northern Chicago metro on recent RAP runs. Expect that at the least there will be embedded, scattered thunder to near I-80. As the dry slot actually overrides the southeast half or so of the CWA between 5 and 9 A.M., this is when a couple arcs of low-topped, quick-moving convection rooted more in the lower levels will be possible. Given the low is strengthening and expected to be just west of I-55 as it moves into the forecast area, the warm sector will expand into locations east of I-55 with temperatures at daybreak in the lower to mid 50s and dew points just a few degrees below that. Forecast RAP and HRRR soundings do show a plume of low-level mixed-layer CAPE of around 50 J/kg into the far southeast forecast area. Not surprisingly, hodographs jut out quickly between 0 and 1 km AGL, but are more unidirectional than any large curvature and these cells are likely to be sharply leaning with 60-65 mb 925 mb flow. So while cannot rule out a temporarily semi-organized rotating updraft or two, the conditional threat looks to be a few strong downdrafts with isolated gusts capable of localized damage.
Winds…
The aforementioned arcs of convection will be on the leading edge of a broad, stronger wind area wrapping within the cold advection sector of this system. This will wrap around the deepening surface low and so cold advection will occur on southwest winds. The isallobaric wind component is forecast to be high given pressure rises around 15 mb per six hours Thursday morning — that`s on the upper end of the spectrum. Some high-resolution models do depict gusts hitting 60 mph in the southeast CWA Thursday morning/early afternoon. Soundings do show a decent amount of variability in cloud bases and mixed depth under the dry slot, but even so gusts over 50 mph look like a definite and at the least we be close to a High Wind Warning. For now, have collaboratively continued the High Wind Watch. North of the Watch area, winds will pick by early afternoon behind the low passage, and suspect they will overperform some on direct model output in this scenario. This may only be brief, but could be worthy of a Wind Advisory from the Illinois I-80 corridor through the metro. The day shift will evaluate and assess whether a Warning upgrade is needed.
Snow…
As with all deepening systems in February, somewhere has a heavy snow threat. That somewhere still looks to be to our northwest, but will be close, and overall the mean low path of the 00Z deterministic solutions has slightly wobbled southeast. This system is forecast to have a pronounced trough of warm air aloft (TROWAL) supplying moisture into the comma-head which will be centered on the Mississippi River Thursday morning then into Wisconsin into the afternoon. Models indicate a strong zone of frontogenesis in the 850-700 mb layer, approximately from Dubuque, IA/far northwest Illinois into southern Wisconsin, and the response ascent just to the southeast of there. This is where sustained heavier precipitation rates are favored to force a change to heavy snow and sustained for a period. The wiggle room for this feature 24-30 hours out is still great enough that we continue snow mention in the forecast. We do believe the northwest CWA (Rockford, Dixon) will see some wet snow. Wet-bulb values just above freezing will likely limit accumulation on roadways and impacts, unless the sustained heavier rates end u Pfurther southeast. In that case, some impacts are possible and a quick few inches could occur (namely western Ogle and Winnebago Counties). The zone of best snow potential will pull away from the area mid-afternoon, however within just the general cold advection, some wind-whipped lightly falling snow may make it as far east as Chicago and as far south as I-80 Thursday afternoon.
MTF/NWS Chicago