MONDAY Hi 40°F, mostly cloudy, chance snow showers, sprinkles, 11a to 6p, winds WNW to NW, 18 to 23 to 18 MPH, G29 to 37 to 26 MPH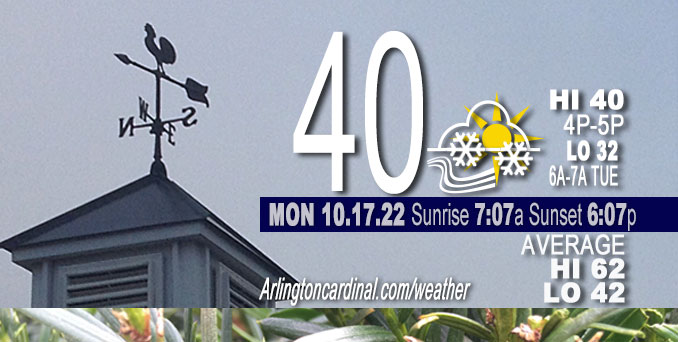 NWS CHGO | NWS HRLY | /NWSchicago | 🌡
ARLINGTON HEIGHTS WEATHER
▴ forecast7 (Arl. Hts.) | RADAR | WIDE RADAR




O'Hare (history KORD, left)
⏪ Hrly Data Table | Hrly Future Graph ⏩
IMPORTANT NOTE ON NWS DATA
Arlington Heights (history KPWK, left)
⏪ Hrly Data Table | Hrly Future Graph ⏩
======================
No watches or warnings issued near O'Hare at 06:00 a.m.
Updates at Arlingtoncardinal.com/NWSChicago
Chicagoland Weather hazards expected…
Snow showers mixed with a little rain, peak chance around 4 PM in the northwest suburbs.
Steady NW wind all day and night with Wind Chills in the 20s most of the day, and low 20s overnight Monday to Tuesday.
Elevated Snow Risk northwest Indiana (Winter Weather Advisory in Porter County and Newton County in Indiana with the possibility of a significant surprise snow event).
Elevated Non-Thunderstorm Wind Risk Indiana shore.
Limited Thunderstorm Risk Northwest Indiana.
Elevated Lakeshore Flood Risk Indiana shore.
Significant Freeze Risk.
Sub-freezing temperatures are expected area-wide tonight.
A deepening trough and upper low with associated impressive early season cold air mass continues to spread south across the Great Lakes region early this morning. The strong fall storm system will bring windy conditions to the area today and tonight, with northwest gusts to 35 mph area-wide and 40 to 45 mph along the Indiana shoreline.
A brief period of moderate to heavy wet snow resulting in slushy accumulations is possible in northwest Indiana east of I-65 late this afternoon into this evening. Lightning is also possible
during this time.
Minor lakeshore flooding is probable along parts of the Indiana shoreline this afternoon through Tuesday due to large waves.
Hello mobile users! If you encounter mobile "unfriendly" weather page, turn your phone sideways for a better view.
======================
O'HARE FORECAST …
Forecast Beginning Monday, Oct. 17, 2022
Monday: Snow showers likely, possibly mixed with rain, mainly between 4pm and 5pm. Cloudy, with a high near 40. Breezy, with a northwest wind around 20 mph, with gusts as high as 35 mph. Chance of precipitation is 60%. Little or no snow accumulation expected.
Monday Night: A chance of rain and snow showers, mainly before 7pm. Cloudy, then gradually becoming partly cloudy, with a low around 32. Breezy, with a north northwest wind 15 to 20 mph, with gusts as high as 30 mph. Chance of precipitation is 30%.
Tuesday: Mostly cloudy, with a high near 44. Breezy, with a northwest wind 15 to 20 mph, with gusts as high as 30 mph.
Tuesday Night: Mostly cloudy, then gradually becoming mostly clear, with a low around 32. Northwest wind around 15 mph, with gusts as high as 30 mph.
Wednesday: Mostly sunny, with a high near 46. West northwest wind 10 to 15 mph, with gusts as high as 20 mph.
Wednesday Night: Partly cloudy, with a low around 34.
Thursday: Partly sunny, with a high near 55.
Thursday Night: Mostly cloudy, with a low around 38.
Friday: Mostly sunny, with a high near 66.
Friday Night: Mostly clear, with a low around 48.
Saturday: Mostly sunny, with a high near 70.
Saturday Night: Partly cloudy, with a low around 53.
Sunday: Partly sunny, with a high near 72.
Weather Forecast, Observations Archive NWS O-Hare
Weather Forecast, Night Sky Archive NWS O-Hare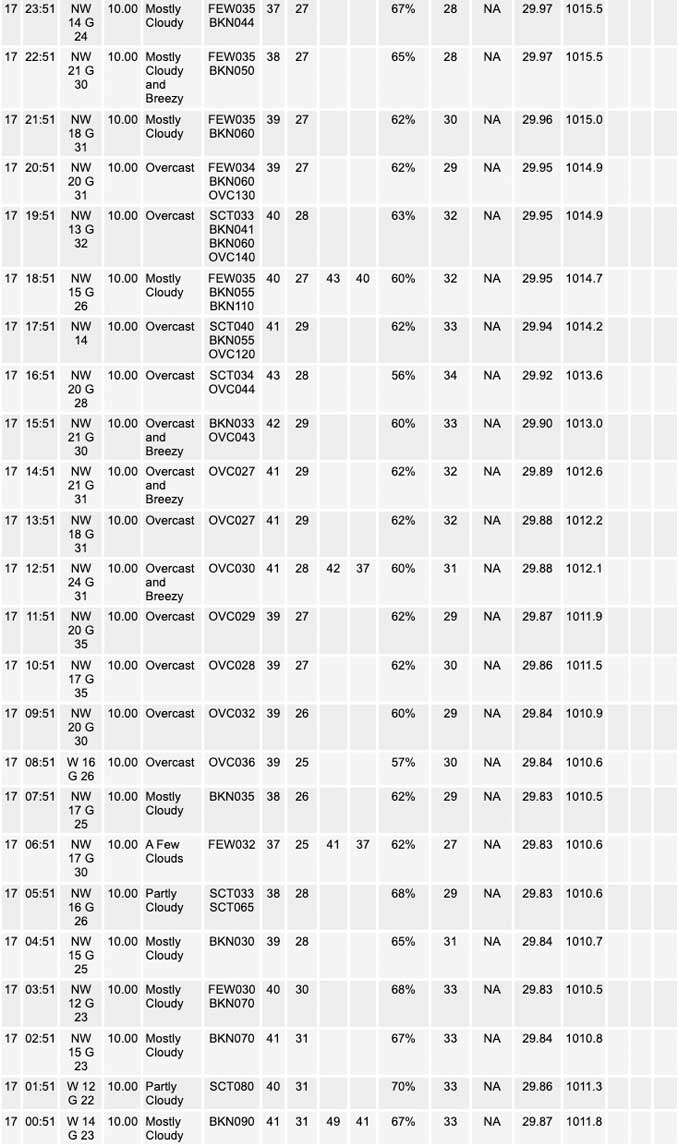 KORD & KPWK Hourly Weather Observations









NORTH AMERICA BELOW (SCROLL ⇩⇩)
Weather WIDE (MOBILE TURN SIDEWAYS)
SPC Convective Outlook on
CHICAGOWEATHERSTATION.COM

ChicagoWeatherStation.com I O'Hare Normal Temps/Precip I O'Hare Record Temps, Precip, Snow
LIVE RADAR | STORM TRACKS | UNISYS US IR SAT | UNISYS Midwest IR SAT | UNISYS More IR SAT
WunderMap® with Temperature/Wind Data || Google: Arlington Heights Area Temps | US TEMPS
Full Screen Motion Weather Radar (Wunderground.com)
Midwest Cloud Cover with Arlington Heights Weather Forecast
ChicagoWeatherStation.com I O'Hare Normal Temps/Precip I O'Hare Record Temps, Precip, Snow
SUNLIGHT DATA FOR SECURITY, TRAFFIC SAFETY, AND SPORTS
SunCalc.net data with solar azimuth and trajectory, times for dawn, sunrise, solar noon, sunset, dusk …
Tweets by @CardinalWeather
NIGHT SKY THIS MONTH …
Backyard stargazers get a monthly guide to the northern hemisphere's skywatching events with "Tonight's Sky." Check the night sky objects for this month and past months in the playlist from the Space Telescope Science Institute YouTube channel (Musical track The Far River written by Jonn Serrie, from the album And the Stars Go With You courtesy of New World Music Ltd).
Get updates from The Cardinal ALL NEWS FEEDS on Facebook. Just 'LIKE' the 'Arlington Cardinal Page (become a fan of our page). The updates cover all posts and sub-category posts from The Cardinal — Arlingtoncardinal.com. You can also limit feeds to specific categories. See all of The Cardinal Facebook fan pages at Arlingtoncardinal.com/about/facebook …

Help fund The Cardinal

Arlingtoncardinal.com/sponsor
Area Forecast Discussion
National Weather Service Chicago/Romeoville, IL
326 AM CDT Mon Oct 17 2022
.SHORT TERM…
Issued at 326 AM CDT Mon Oct 17 2022
Through Tuesday…
Bottom line up front: Hoisting a winter weather advisory for Porter and Newton Counties due to potential for impactful winter weather later this afternoon into this evening.
Deepening trough and upper low with associated impressive early season cold air mass continues to spread south across the Great Lakes region early this morning. Sharp trough extending from the surface to the mid-upper levels will pivot south down the western side of this deep trough and upper low today. Impressive tropopause fold with this trough will ripple south as well resulting in crashing tropopause heights with significant steepening of mid level lapse rates this afternoon.
The forcing associated with the sharp trough combined with decreasing stability aloft (and already unstable low levels owing to the strong low level cold air advection) will result in a pretty favorable set-up for a band or blob of convective snow showers to push south into northeast IL and northwest Indiana this afternoon. Above freezing boundary layer temps may allow for a touch of rain at the onset, but wet-bulb processes should result in a switch over to snow pretty quickly. Not expecting much QPF across northeast IL, but a brief period of some robust, wind whipped snow showers look to be a pretty good bet this afternoon possibly into the early evening. Currently, the threat of any accumulation in Illinois appears low, with the primary threat likely being briefly reduced visibility.
Across northwest Indiana, the situation is complicated by Lake Michigan which will enhance both available moisture and instability. Will likely see more intense convection with the initial band associated with the trough, with even a thunderstorm threat near the lake. Somewhat milder marine layer may keep preci Pmixed with or all rain close to lake Michigan, but farther inland diabatic processes with the convection and wet-bulbing makes a change over to all heavy, wet snow likely. The steep synoptic low and mid level lapse rates along with the strong low-mid level flow would favor this lake enhanced band maintaining intensity well inland, probably 100+ miles inland from the lake into the evening hours.
Lake induced instability is forecast to be extreme, with equilibrium levels up to 25kft, lake induced CAPE over 1000 j/kg, and EL temps colder than -40C. The thermodynamics of this set-u Pare progged to be similar to the "surprise" epic Oct 2006 Buffalo, NY lake effect snow event. Behind the trough axis that moves across the area early this evening, flow should veer for a time which could allow the intense single convective lake effect band to retrograde west into Porter and Jasper counties for a couple/few hours, but likely settling east into WFO IWX`s area. While there is a lot of variability in placement, most convective allowing models are producing precipitation rates over 0.3″/hr and in some cases WELL over that. Given the magnitude of instability and dynamic cooling, with those type of precip rates, it wouldn`t be hard to envision a scenario where this band is producing locally over 2″/hour snowfall rates.
There are a many uncertainties and potential failure modes, including warmer boundary layer temps downwind of the lake being too warm to overcome, where the band sets including the heavier lake effect staying east of our forecast area altogether. Forecast confidence is lower than what would be typically required for a winter weather headlines, however the ceiling for how bad conditions could get is quite high. If this band does develop as expected and spend a couple few hours over Porter and Jasper Counties, then conditions could become very bad. Reasonable worst case scenario would include a period of intense (thunder?)snow with rates >2″/hour (which would be heavy enough to accumulate on roadway), extremely low visibility, and convectively enhanced wind gusts over 40mph. The heavy, wet nature of the snow would likely stick to trees which are still leafed out with strong winds likely downing trees limbs and power lines weighted down by the snow. The chances of something similar to this in Porter and Jasper Counties is about 10-20%, but even a more subdued probable scenario of a couple hours of heavy, wet, wind driven snow with the trough passage could justify a winter weather advisory. There`s a very real possibility that there will be no accumulation and the winter weather advisory not pan out, but weighing the potential for that scenario against the more ominous scenarios for an impactful early (out of season) winter weather event seems to warrant a winter weather advisory for Jasper and Porter Counties. Not totally out of the question that the higher impact winter weather could affect portions of Lake County and even Newton Counties, but confidence there is low enough to not include in a winter wx headline at this time.
Expecting 45kt gales over the lake and given the lower friction more unstable conditions over the lake, it is likely that these gusts will make it onshore and even inland a ways. Will be issuing a wind advisory for Lake and Porter Counties near Lake Michigan late this afternoon through early Tuesday morning for wind gusts up to 50 mph. Could even see gusts reaching 60 mph in isolated spots associated with the more intense convective cells.
By later this evening (if not sooner) the more significant lake effect precip should transition east of our area, though some spotty lighter lake effect precip could linger late tonight into Tuesday over northern Porter County. Elsewhere in the CWA outside of the lake effect, conditions should dry out early this evening in the wake of the trough passage.
– Izzi/NWS Chicago