🌗 🌑 🌓 🌕 Last Quarter Moon, sky cover overnight Thu. to Fri. 54% to 89%, winds SE to E, 8 to 3 MPH, Low 62, 5a to 6a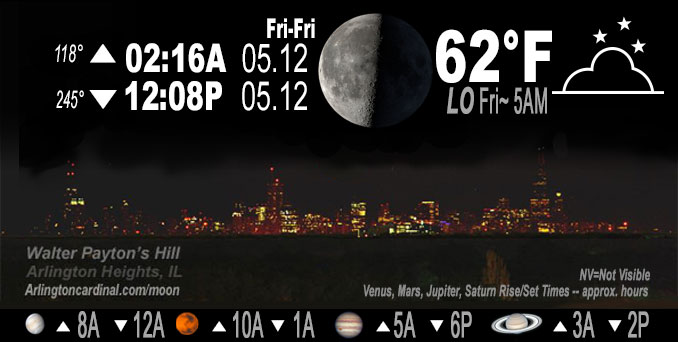 NWS CHGO | NWS HRLY | /NWSchicago | 🌡
ARLINGTON HEIGHTS WEATHER
▴ forecast7 (Arl. Hts.) | RADAR | WIDE RADAR
⏪ Hrly Data Table | Hrly Future Graph ⏩
IMPORTANT NOTE ON NWS DATA
Hello mobile users! If you encounter a mobile "unfriendly" weather page, turn your phone sideways for a better view.
======================
NIGHT FORECASTS …
NOTE: Keep in mind lunar rise and set times don't always correspond with night weather and early morning lows because on some days during the month the moon is visible in the sky predominantly during the daytime hours.
Overnight Thursday to Friday …
Weather Hazards expected …
Limited Thunderstorm Risk.
Limited Flooding Risk.
DISCUSSION…
Scattered showers and some thunderstorms are expected late Friday morning through early Friday evening. Given the expected hit or miss nature of the heavier showers today, rainfall amounts could vary considerably over a short distance with most areas not expected to see significant rainfall. However, a couple of isolated locations could pick up a quick couple inches of rain Friday that could result in a localized threat of flash flooding.
There is a chance of thunderstorms Saturday afternoon and night. Some of the storms could be severe, especially southwest of a Dixon to Kankakee line. In addition, locally heavy rainfall could pose some threat of localized flash flooding, especially Saturday night.
======================
O'HARE FORECAST …
Forecast Beginning Thursday Night, May 11, 2023 …
Thursday Night: Cloudy, with a low around 62. East wind around 5 mph.
Friday: Scattered showers and thunderstorms, then showers likely and possibly a thunderstorm after 3pm. Cloudy, with a high near 77. East southeast wind 5 to 10 mph. Chance of precipitation is 60%. New rainfall amounts between a tenth and quarter of an inch, except higher amounts possible in thunderstorms.
Friday Night: A chance of showers and thunderstorms before 10pm, then a slight chance of showers. Patchy fog after 1am. Otherwise, cloudy, with a low around 56. Northeast wind 5 to 10 mph. Chance of precipitation is 40%.
Saturday: A 20 percent chance of showers before 10am. Mostly cloudy, with a high near 70. East northeast wind 5 to 10 mph, with gusts as high as 20 mph.
Saturday Night: A 40 percent chance of showers and thunderstorms. Mostly cloudy, with a low around 55. East wind 10 to 15 mph.
Sunday: Showers likely and possibly a thunderstorm before 1pm, then a chance of showers and thunderstorms between 1pm and 4pm, then a chance of showers after 4pm. Mostly cloudy, with a high near 62. Chance of precipitation is 60%.
Sunday Night: Mostly cloudy, with a low around 46.
Monday: Sunny, with a high near 69.
Monday Night: Mostly clear, with a low around 54.
Tuesday: Mostly sunny, with a high near 75.
Tuesday Night: Partly cloudy, with a low around 50.
Wednesday: Sunny, with a high near 68.
Wednesday Night: Mostly clear, with a low around 51.
Thursday: A chance of showers. Mostly sunny, with a high near 76.
Weather Forecast, Night Sky Archive NWS O-Hare
Weather Forecast, Observations Archive NWS O-Hare
O'Hare forecast archive and hourly weather observations archive are available HERE on the CARDINAL NEWS Magazine.
KORD/KPWK Hourly Weather Observations
Arlingtoncardinal.com/moonphases
Arlingtoncardinal.com/nightsky
NIGHT SKY THIS MONTH …
Check the night sky objects for this month and past months in the playlist from the Space Telescope Science Institute YouTube channel Backyard stargazers get a monthly guide to the northern hemisphere's skywatching events with "Tonight's Sky" (Musical track The Far River written by Jonn Serrie, from the album And the Stars Go With You courtesy of New World Music Ltd. Musical track The Far River written by Jonn Serrie, from the album And the Stars Go With You courtesy of New World Music Ltd).
Telephoto lens, ISO 100, f/11, Shutter Speed 1/100 to 1/125 for the Moon.
Get updates from The Cardinal ALL NEWS FEEDS on Facebook. Just 'LIKE' the 'Arlington Cardinal Page (become a fan of our page). The updates cover all posts and sub-category posts from The Cardinal — Arlingtoncardinal.com. You can also limit feeds to specific categories. See all of The Cardinal Facebook fan pages at Arlingtoncardinal.com/about/facebook …

Help fund The Cardinal

Arlingtoncardinal.com/sponsor
Telephoto lens, ISO 1600, f/11, Shutter Speed 2.5″ for the skyline. The skyline exposure was toned down, and brightness and contrast was adjusted in Photoshop.
/////////////>
Area Forecast Discussion
National Weather Service Chicago/Romeoville, IL
1230 AM CDT Fri May 12 2023
.SHORT TERM… Issued at 229 PM CDT Thu May 11 2023
Through Friday night…
As we reside on the backside of an expansive high pressure system centered in the eastern CONUS, we`re enjoying yet another beautiful early-summery day with light southeasterly winds, temperatures in the lower 80s, and mostly sunny skies.
We`re about to experience a quick-change of climate as our desert- like airmass becomes tropical in the span of 12 hours. Regional water vapor imagery shows a plume of tropical moisture lifting through Louisiana and Arkansas on a path toward the Great Lakes. Increasing column moisture will first be noticeable by a thickening of upper-level clouds tonight and corresponding overnight lows in the low to mid 60s. By the time most wake up tomorrow morning, it will feel decidedly more humid as surface dew points correspondingly climb into the low to mid 60s. Showers will also accompany the moisture surge during the morning hours, though on a scattered basis (e.g. tomorrow morning doesn`t look like a soaker).
With an airmass more reminiscent of the Gulf Coast than the Great Lakes, the thermal profiles will be uncapped by late tomorrow morning supporting blossoming (but scattered) showers and thunderstorms. Forecast SBCAPE approach 1500 J/kg by mid- afternoon, including some 100-150 J/kg concentrated in the lowest 3 km. With a warm front draped across northern Illinois, the low- level wind profile will be surprisingly sheared both with respect to shear and direction on an effective basis for even shallow showers. In other words, surface southeasterly winds beneath mid- level westerly winds will contribute to nearly 150-200 J/kg of 0-3 km SRH for southeastward-moving cells. As a result, the most persistent showers and thunderstorms that move toward the southeast may acquire transient mid-level rotation posing two primary threats:
1). Funnel clouds and EF-0 caliber tornadoes. Such a threat is highly conditional on the highest 0-3km CAPE aligning near the warm front where 0-3km SRH will be maximized. In addition, the threat may be reliant on the MCV currently lifting near Joplin, MO surviving into northern Illinois tomorrow afternoon to provide even more low-level curvature to the wind profile. After collaborating with SPC, the threat for tornadoes will be withheld from the convective outlook until a refined area can be identified (if it materializes at all).
2). Tropical downpours. The combination of even transient storm- scale rotation, anomalous moisture (PWATs > 1.7″), and warm-rain collision/coalescence processes will support instantaneous rain rates >2″/hr. While downpours won`t be widespread, they will be monsoonal with low visibility and ponding on roads and ditches. Outside the narrow stripe of real estate near I-80 that saw soaking rain last Sunday, much of the area is experiencing abnormally dry conditions. So, local downpours should be soaked up by the ground with ease. Regardless, urban flooding of roads and viaducts cannot be ruled out if downpours repeatedly align with urban areas (e.g. Rockford and Chicago). (FWIW, the latest HREF 24-hour LPMM has localized pockets of 2-3″ of rain tomorrow afternoon next to areas with nearly dry conditions).
Needless to say, the threats outlined above should be localized with many areas simply seeing welcome rainfall tomorrow. And, some areas may miss out on the showers/downpours entirely! The prime time for the most active showers and storms will be in the afternoon from 2 to 7 PM. Outside showers and thunderstorms, highs tomorrow will reach the mid 70s with an added muggy feel.
Borchardt/NWS Chicago
307 AM CDT Fri May 12 2023
.SHORT TERM… Issued at 307 AM CDT Fri May 12 2023
Through Saturday…
Water vapor imagery early this morning shows well defined closed mid-upper level low over the central high plains with intense ongoing convection over eastern OK and southeast Kansas. Hard to see much of anything on water vapor imagery, 00Z upper air analysis did depict a weak trough over Missouri, which guidance now has near the Mississippi River early this morning. This subtle wave is progged to continue translating slowly north and then east across our CWA today, likely reaching eastern portions of our CWA by early afternoon.
Broad, ill-defined warm front is lifting slowly north across IL and should continue to lift north this morning with 60F+ dewpoints spreading into northern IL. Fairly extensive cloud cover and near moist adiabatic lapse rates above about 850mb should significantly limit destabilization today despite the influx of richer low level theta-e airmass. The poor lapse rates aloft should also kee Pnormalized CAPE values low, probably keep coverage of thunderstorms somewhat low. Despite significant veering in the 0-3km layer, shear magnitude should be on the lower end of the spectrum and generally not supportive of severe weather, particularly given the weak lapse rates aloft and fairly weak instability. High pwats, relatively high freezing levels favor efficient warm rain processes, which given expected slow movement of heavier showers/storms could result in some isolated heavy rainfall totals.
Having said that, the warm front will likely sharpen up and strengthen a bit later this afternoon as it merges with the lake breeze. If there are any pockets of clearing that could steepen the low level lapse rates and low level CAPE some, then couldn`t completely rule out a funnel or landspout type tornado near the lake breeze strengthened warm front. Overall this threat appears very low and would be fairly localized if it were to materialize, likely best handled with targeted graphical nowcasts this afternoon (if it were to materialize).
Scattered showers and possibly a storm or two could linger into the early evening before rain likely ends or becomes very spotty overnight into Saturday morning. Given proximity of the boundary with weak winds in vicinity of the boundary and today`s rainfall moistening the boundary layer, will need to keep an eye on the fog threat for tonight. For now, just introduced patchy fog into the forecast, but if it becomes apparent that skies may clear out some tonight, then later shifts may need to hit the fog threat harder.
Other than perhaps a lingering light shower early in the morning, Saturday looks to be overall dry with focus for convection during the day to our west across Iowa. Can`t rule out some storms farther east into our southwestern CWA during the afternoon, but stronger large scale ascent looks to remain to our west until after sunset.
Temps today will be tricky with onshore winds likely to keep temps near the lake chillier. Elsewhere, highs should mostly climb into the 70s, possibly upper 70s anywhere that sees some sunshine, with lower 70s where showers are more prominent during the day. With warm front likely stalled NW-SE near our southwestern CWA, there will be a large temp gradient ranging from low to mid 80s southwest to mostly 60s near the lake.
– Izzi/NWS Chicago