THURSDAY Hi 50°F, FREEZE WARNING overnight, partly sunny, chance showers 1p to 9p, winds W to WSW, 14 to 20 to 8 MPH, G23 to 31 to 15 MPH until 9p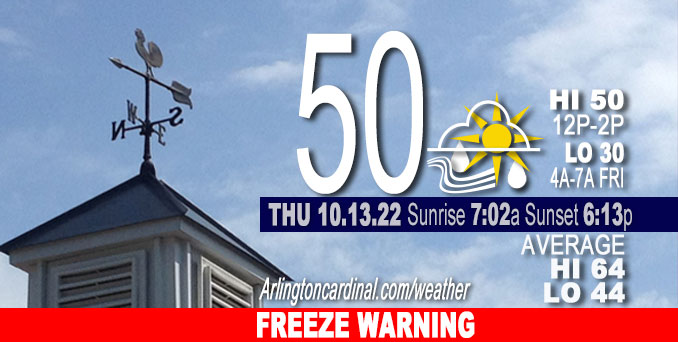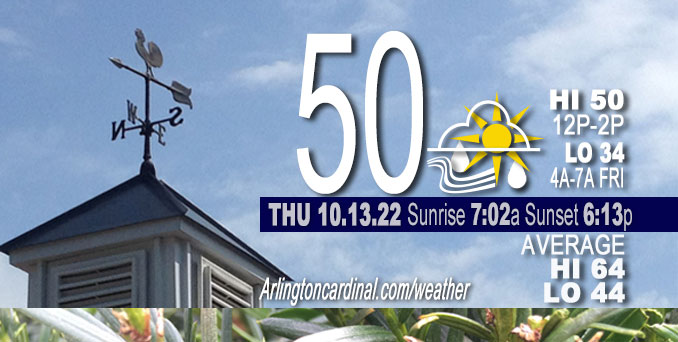 NWS CHGO | NWS HRLY | /NWSchicago | 🌡
ARLINGTON HEIGHTS WEATHER
▴ forecast7 (Arl. Hts.) | RADAR | WIDE RADAR
⏪ Hrly Data Table | Hrly Future Graph ⏩
IMPORTANT NOTE ON NWS DATA
======================
FREEZE WARNING
URGENT – WEATHER MESSAGE
National Weather Service Chicago IL
226 PM CDT Thu Oct 13 2022
Winnebago-Boone-McHenry-Lake IL-Ogle-Lee-De Kalb-Kane-DuPage-
La Salle-Kendall-Grundy-Kankakee-Livingston-Iroquois-Ford-
Northern Cook
Southern Cook
Northern Will
Southern Will
Eastern Will
Lake IN-Porter
Newton-Jasper-Benton
Including the cities of Rockford, Belvidere, Crystal Lake, Algonquin, McHenry, Woodstock, Waukegan, Buffalo Grove, Mundelein, Gurnee, Rochelle, Oregon, Byron, Dixon, DeKalb, Sycamore, Aurora, Elgin, Naperville, Wheaton, Downers Grove, Lombard, Carol Stream, Ottawa, Streator, La Salle, Mendota, Marseilles, Oswego, Yorkville, Plano, Morris, Coal City, Minooka, Kankakee, Bourbonnais, Bradley, Pontiac, Dwight, Fairbury, Watseka, Gilman, Paxton, Gibson City, Evanston, Des Plaines, Schaumburg, Palatine, Northbrook, Calumet City, Oak Forest, Lemont, Orland Park, Park Forest, Joliet, Bolingbrook, Plainfield, Mokena, Channahon, Manhattan, Wilmington, Crete, Peotone, Beecher, Gary, Hammond, Merrillville, Portage, Valparaiso, Chesterton, Roselawn, Kentland, Morocco, Rensselaer, DeMotte, Fowler, and Oxford
226 PM CDT Thu Oct 13 2022 /326 PM EDT Thu Oct 13 2022/
…FREEZE WARNING IN EFFECT FROM 1 AM TO 8 AM CDT FRIDAY…
* WHAT…Sub-freezing temperatures in the upper 20s and lower 30s expected.
* WHERE…Portions of central, east central, north central and northeast Illinois and northwest Indiana.
* WHEN…From 1 AM to 8 AM CDT Friday.
* IMPACTS…Frost and freeze conditions will kill crops, other sensitive vegetation and possibly damage unprotected outdoor plumbing.
PRECAUTIONARY/PREPAREDNESS ACTIONS…
Take steps now to protect tender plants from the cold. To prevent freezing and possible bursting of outdoor water pipes they should be wrapped, drained, or allowed to drip slowly. Those that have
in-ground sprinkler systems should drain them and cover above-ground pipes to protect them from freezing.
++++++++++++++++++++++++
EARLIER
No watches or warnings issued at 10:00 a.m.
Updates at Arlingtoncardinal.com/NWSChicago
Weather hazards expected…
Limited Non-Thunderstorm Wind Risk south of I-80.
Elevated Fire Weather Risk south of I-80.
Gusty winds may approach 40 mph at times south of I-80 this afternoon. These winds, along with low relative humidities, will also lead to an elevated fire danger south of I-80 this afternoon.
======================
O'HARE FORECAST …
Forecast Beginning Thursday, Oct. 13, 2022
Thursday: Scattered showers after 1pm. Mostly cloudy, with a high near 50. Breezy, with a west wind 15 to 20 mph, with gusts as high as 30 mph. Chance of precipitation is 50%.
Thursday Night: Isolated showers before 10pm. Partly cloudy, with a low around 34. West wind 5 to 15 mph, with gusts as high as 25 mph. Chance of precipitation is 20%.
Friday: Partly sunny, with a high near 57. Breezy, with a southwest wind 10 to 20 mph, with gusts as high as 35 mph.
Friday Night: A 30 percent chance of showers before 1am. Cloudy, then gradually becoming partly cloudy, with a low around 37. West southwest wind around 10 mph, with gusts as high as 20 mph.
Saturday: Mostly sunny, with a high near 53. West wind 5 to 10 mph, with gusts as high as 20 mph.
Saturday Night: Partly cloudy, with a low around 39.
Sunday: Mostly sunny, with a high near 55.
Sunday Night: Mostly cloudy, with a low around 36.
Monday: Mostly sunny, with a high near 46.
Monday Night: Partly cloudy, with a low around 32.
Tuesday: Mostly sunny, with a high near 46.
Tuesday Night: Partly cloudy, with a low around 32.
Wednesday: Mostly sunny, with a high near 51.
Weather Forecast, Observations Archive NWS O-Hare
Weather Forecast, Night Sky Archive NWS O-Hare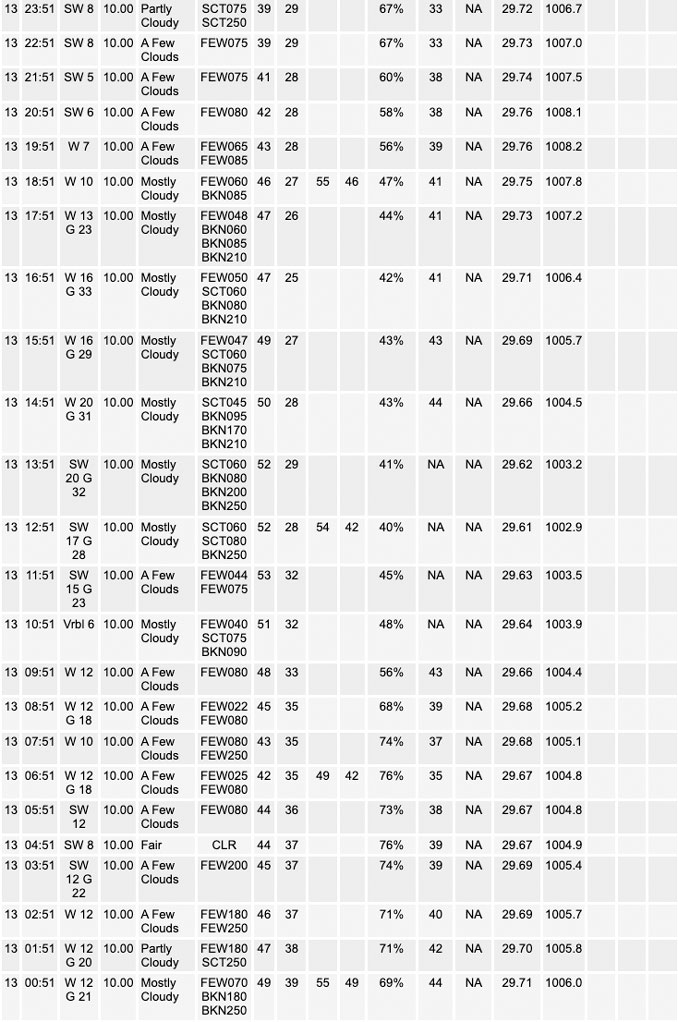 KORD & KPWK Hourly Weather Observations









NORTH AMERICA BELOW (SCROLL ⇩⇩)
Weather WIDE (MOBILE TURN SIDEWAYS)
SPC Convective Outlook on
CHICAGOWEATHERSTATION.COM

ChicagoWeatherStation.com I O'Hare Normal Temps/Precip I O'Hare Record Temps, Precip, Snow
LIVE RADAR | STORM TRACKS | UNISYS US IR SAT | UNISYS Midwest IR SAT | UNISYS More IR SAT
WunderMap® with Temperature/Wind Data || Google: Arlington Heights Area Temps | US TEMPS
Full Screen Motion Weather Radar (Wunderground.com)
Midwest Cloud Cover with Arlington Heights Weather Forecast
ChicagoWeatherStation.com I O'Hare Normal Temps/Precip I O'Hare Record Temps, Precip, Snow
SUNLIGHT DATA FOR SECURITY, TRAFFIC SAFETY, AND SPORTS
SunCalc.net data with solar azimuth and trajectory, times for dawn, sunrise, solar noon, sunset, dusk …
Tweets by @CardinalWeather
NIGHT SKY THIS MONTH …
Backyard stargazers get a monthly guide to the northern hemisphere's skywatching events with "Tonight's Sky." Check the night sky objects for this month and past months in the playlist from the Space Telescope Science Institute YouTube channel (Musical track The Far River written by Jonn Serrie, from the album And the Stars Go With You courtesy of New World Music Ltd).
Get updates from The Cardinal ALL NEWS FEEDS on Facebook. Just 'LIKE' the 'Arlington Cardinal Page (become a fan of our page). The updates cover all posts and sub-category posts from The Cardinal — Arlingtoncardinal.com. You can also limit feeds to specific categories. See all of The Cardinal Facebook fan pages at Arlingtoncardinal.com/about/facebook …

Help fund The Cardinal

Arlingtoncardinal.com/sponsor
Area Forecast Discussion
National Weather Service
Chicago/Romeoville, IL
641 AM CDT Thu Oct 13 2022
.SHORT TERM… Issued at 305 AM CDT Thu Oct 13 2022
Through Friday…
Quite a few weather items to note in the short term, including:
* Likelihood of scattered convective showers later this morning and afternoon with a potential for graupel/rimed snow showers and even a few lightning strikes!
* Developing very gusty westerly winds, falling RH, and an elevated to very-near-critical fire danger south of I-80.
* Threat for near/sub-freezing temperatures tonight away from Chicago, although with lingering uncertainties regarding decoupling and developing mid-level cloud cover.
* Additional very gusty winds from the SW Friday and another elevated to critical fire danger.
Robust cold front has swept through the region, taking the last vestiges of light precipitation with it. Upstream, moisture channel loops depict our disturbance for later today–a vigorous 500 mb vort lobe embedded within a broad cyclonic gyre that`s pushing into northwest Minnesota early this morning. As this feature approaches our area later this morning, expect a rapid increase in a pretty deep stratocumulus deck. Large scale forcing for ascent is forecast to be quite impressive, with the extremely sharp nature of the vort max resulting in considerable DCVA and significant 80 to 100 m/12 hour height falls over northern Illinois. Global/coarse resolution guidance remains more muted regarding precipitation chances compared to parameterized guidance, and given the intense forcing and current upstream look to things, favored the more aggressive hi-res output here and have boosted PoPs across northern Illinois for this afternoon and gone with coverage (scattered) wording in the weather grids. Seriously considered adding "snow" to the grids this afternoon as well given deep mixing into the DGZ, MLCAPE near 250 J/kg, and wet bulb zero heights dipping as low as about 2000 feet north of I-80. In reality, any non-liquid precip would be graupel/heavily rimed/"soft snow" with things not looking just cold enough to justify the snow wording just now. Will be highlighting the potential for graupel and a few lightning strikes a bit more in our graphical messaging, however.
Additionally, wind gusts have been increased today, notably so south of I-80 where guidance now indicates solid mixing into the base of 40+ kt winds around 700 mb. Do think that the southern terminus of stratus will also build south of I-80 today, so this does result in some questions regarding muting effects on momentum transfer. That said, feeling pretty confident given the setup of seeing gusts poking into the 40-45 mph range, and I suppose it`s not entirely out of the question a few sites south of a La Salle to Rensselaer line briefly even flirt with Wind Advisory criteria gusts (45 mph).
Finally today, afternoon relative humidities are forecast to fall under 30 percent, locally to 25 percent or even a hair lower. With the strong winds, this is expected to result in a greatly-increased threat for fire spread. While fairly widespread rainfall amounts over a half inch were realized over the last 2 days, breezes tonight and into this afternoon should manage to cure fine fuels pretty readily (have already noted fine fuel moisture values dropping tonight). All of this said, parameters were all close to critical conditions but not quite there today. We will be more aggressively highlighting the fire danger in our south today as a result.
For tonight, thinking is that the boundary should decouple, although noting some enhanced pressure gradient/surface flow especially for more exposed areas. Airmass will support fairly widespread 30-32 degree temperatures, but a developing signal for either lingering stratus or a re-developing mid-deck continues to cast uncertainty on the floor for temperatures tonight. Surrounding offices elected to hold off on freeze headlines and have done the same. Day shift will need to evaluate things and consider going straight to Freeze Warnings for areas outside of Chicago. The frost potential may end up being muted a bit by the very low dewpoints.
Another vigorous disturbance in the wave train arrives Friday afternoon. Have again increased wind gusts towards 35+ mph in the afternoon with deep mixing expected once again. Noting a very robust isallobaric response with 4-6 mb/3-hour pressure rises aimed more directly at northern Illinois, mainly late in the day and into the evening as a reinforcing front sweeps into the area. This suggests some potential for very gusty rain showers (potentially even squalls) developing late in the day/evening as the column re-saturates.
Fire weather concerns once again rise to elevated/near-critical Friday afternoon given the winds and afternoon RH values once again falling into the 25 to 30 percent range in our south. Secondary factor will be today`s winds helping to further dry things out. Think that some consideration for a Fire Weather Watch may be needed later today following follow-up on fuel/moisture characteristics from area partners.
Carlaw/NWS Chicago