TUESDAY Hi 73°F, partly sunny, showers and thunderstorms, winds SW to SSW, 13 to 20 to 17 MPH, G25 to 30 to 29 MPH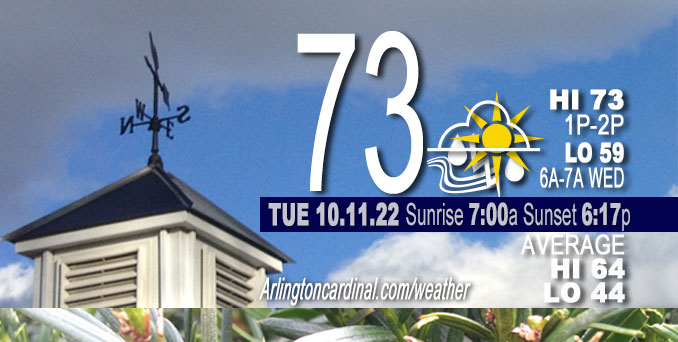 NWS CHGO | NWS HRLY | /NWSchicago | 🌡
ARLINGTON HEIGHTS WEATHER
▴ forecast7 (Arl. Hts.) | RADAR | WIDE RADAR
⏪ Hrly Data Table | Hrly Future Graph ⏩
IMPORTANT NOTE ON NWS DATA
======================
No warnings or watches at 10:00 AM Tuesday.
Updates at Arlingtoncardinal.com/NWSChicago
Weather hazards expected…
Limited thunderstorm risk.
Scattered thunderstorms are possible tonight, especially in portions of interior northern Illinois. Some of these thunderstorms may feature gusty winds and/or small hail.
======================
O'HARE FORECAST …
Forecast Beginning Tuesday, Oct. 11, 2022
Tuesday: Showers, with thunderstorms also possible after 5pm. High near 73. Breezy, with a south wind 15 to 20 mph, with gusts as high as 30 mph. Chance of precipitation is 80%. New rainfall amounts between a tenth and quarter of an inch, except higher amounts possible in thunderstorms.
Tuesday Night: Showers and thunderstorms before 1am, then showers and possibly a thunderstorm, mainly after 1am. Low around 59. South wind around 15 mph, with gusts as high as 30 mph. Chance of precipitation is 80%. New rainfall amounts between a half and three quarters of an inch possible.
Wednesday: Showers and possibly a thunderstorm before 1pm, then a chance of showers and thunderstorms between 1pm and 4pm, then a slight chance of showers after 4pm. High near 65. South southwest wind around 15 mph becoming west in the afternoon. Winds could gust as high as 30 mph. Chance of precipitation is 80%. New rainfall amounts between a quarter and half of an inch possible.
Wednesday Night: A 20 percent chance of showers before 1am. Partly cloudy, with a low around 44. West wind 5 to 10 mph, with gusts as high as 15 mph.
Thursday: Mostly sunny, with a high near 55. Breezy, with a west wind 10 to 20 mph, with gusts as high as 30 mph.
Thursday Night: Partly cloudy, with a low around 37.
Friday: Mostly sunny, with a high near 52.
Friday Night: Partly cloudy, with a low around 39.
Saturday: Partly sunny, with a high near 59.
Saturday Night: Partly cloudy, with a low around 40.
Sunday: Mostly sunny, with a high near 55.
Sunday Night: Partly cloudy, with a low around 36.
Monday: Mostly sunny, with a high near 49.
Weather Forecast, Observations Archive NWS O-Hare
Weather Forecast, Night Sky Archive NWS O-Hare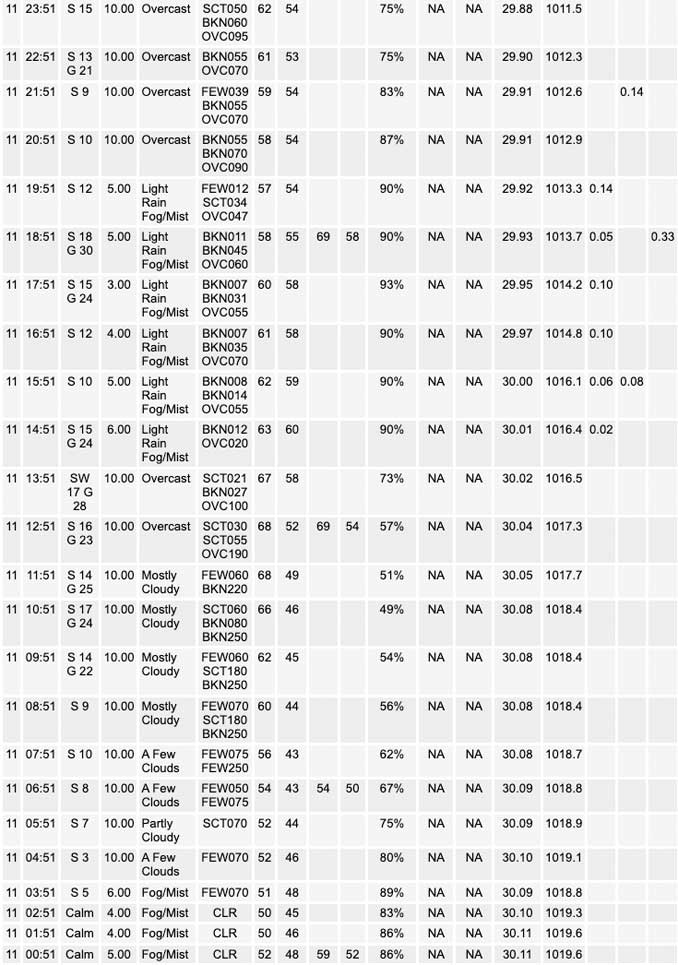 KORD & KPWK Hourly Weather Observations









NORTH AMERICA BELOW (SCROLL ⇩⇩)
Weather WIDE (MOBILE TURN SIDEWAYS)
SPC Convective Outlook on
CHICAGOWEATHERSTATION.COM

ChicagoWeatherStation.com I O'Hare Normal Temps/Precip I O'Hare Record Temps, Precip, Snow
LIVE RADAR | STORM TRACKS | UNISYS US IR SAT | UNISYS Midwest IR SAT | UNISYS More IR SAT
WunderMap® with Temperature/Wind Data || Google: Arlington Heights Area Temps | US TEMPS
Full Screen Motion Weather Radar (Wunderground.com)
Midwest Cloud Cover with Arlington Heights Weather Forecast
ChicagoWeatherStation.com I O'Hare Normal Temps/Precip I O'Hare Record Temps, Precip, Snow
SUNLIGHT DATA FOR SECURITY, TRAFFIC SAFETY, AND SPORTS
SunCalc.net data with solar azimuth and trajectory, times for dawn, sunrise, solar noon, sunset, dusk …
Tweets by @CardinalWeather
NIGHT SKY THIS MONTH …
Backyard stargazers get a monthly guide to the northern hemisphere's skywatching events with "Tonight's Sky." Check the night sky objects for this month and past months in the playlist from the Space Telescope Science Institute YouTube channel (Musical track The Far River written by Jonn Serrie, from the album And the Stars Go With You courtesy of New World Music Ltd).
Get updates from The Cardinal ALL NEWS FEEDS on Facebook. Just 'LIKE' the 'Arlington Cardinal Page (become a fan of our page). The updates cover all posts and sub-category posts from The Cardinal — Arlingtoncardinal.com. You can also limit feeds to specific categories. See all of The Cardinal Facebook fan pages at Arlingtoncardinal.com/about/facebook …

Help fund The Cardinal

Arlingtoncardinal.com/sponsor
Area Forecast Discussion National Weather Service Chicago/Romeoville, IL 709 AM CDT Tue Oct 11 2022
.SHORT TERM… Issued at 247 AM CDT Tue Oct 11 2022
Through Wednesday…
Airmass change is underway with the 50 degree isodrosotherm inching northward into central Illinois and ahead of it, low-level flow is creeping upwards. Earlier pockets of dense fog across the I-88/80 corridors have more notably started to erode over the last hour as some degree of mixing and slowly rising temperatures are occurring. We`ll continue to keep an eye on our northern most locales where fog is a bit more entrenched based on area webcams, but this too should erode through daybreak.
Aloft, an anticyclonically-arcing 80 kt jet streak is developing northward across downstate Illinois early this morning, and will continue to press northward into our forecast area later this morning and afternoon. As it does so, an attendant 45-50 kt low level jet will press into our southwest. Associated warm advection and a slug of 1.5 inch PWAT air will result in the development of what looks to be a pretty good area of showers and perhaps a rumble of thunder or two. Based on the latest guidance, have boosted PoPs and oriented them to maximize a bit more north and west of I-57. Think there will be a several hour window later this afternoon where some decent rates/soaking type rainfall will be realized as upper divergence maximizes.
Temperature trends are tricky today. The leading edge of mid-level moisture is already developing into our area (in the form of spotty 7 kft cloud cover) and with showers expected to develop through the late-morning and early-afternoon, temperatures will have a limited time to rise. Far northern portions of our area stand the best chance of rising into the 70s, but temperatures will fall quickly with the arrival of precipitation and have attempted to reflect this a bit better in the hourly gridded database. Gusty winds up to 30-35 mph will be seen today, muted a bit by rapidly falling cloud bases and showers.
Subsidence in the wake of this lead wave should result in a temporary lull in precipitation coverage this evening. However, another robust LLJ is forecast to develop through the overnight hours ahead of a sharp upper trough axis which will be swinging into Minnesota and Iowa. It`s during this time that thunder chances actually look the best in our region as a narrow corridor of steepened mid-level lapse rates develops overhead with robust warm advection materializing on the nose of the aforementioned jet. With effective inflow bases near 1 km, effective deep layer shear isn`t terribly robust (likely less than 25 kts), but the presence of some increased mid level instability, very strong forcing for ascent, and marginal shear suggests that a few instances of small hail are possible with any stronger cores. While convective inhibition to surface-based parcels will be very high, seeing some "splats" of 50 mph surface gusts being modeled in hires guidance within incipient stronger cores across the western half of the CWA late tonight into early Wednesday morning. Overall, not expecting much in the way of an organized severe threat, but a few instances of gusty winds may also be realized with the SPC Day 1 Marginal outlook conveying things appropriately.
Additional waves of showers and storms will develop through the day until a robust cold front scours moisture out. There remains some disparity regarding the arrival of the main push of cold advection and associated steepening low-level lapse rates. If this occurs a bit faster like the HRRR/NAMNest suggest during the late afternoon, wind gusts could briefly tag 40 mph across our northwest. For now, too little support to indicate this in the forecast, however.
Carlaw/NWS Chicago