FRIDAY Hi 25, mostly cloudy slight clearing after 9p, snow showers, winds W to WSW, 17 to 15 MPH, G24 to 26 to 21 MPH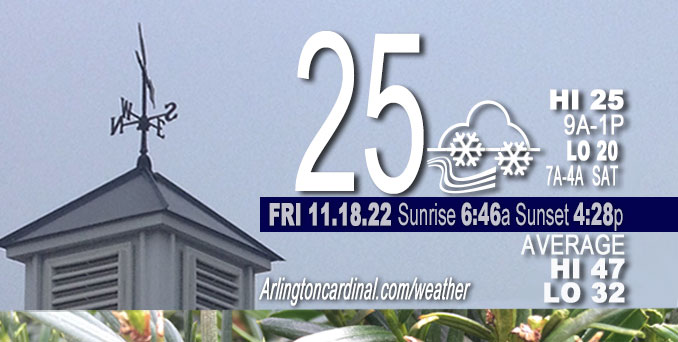 NWS CHGO | NWS HRLY | /NWSchicago | 🌡
ARLINGTON HEIGHTS WEATHER
▴ forecast7 (Arl. Hts.) | RADAR | WIDE RADAR




O'Hare (history KORD, left)
⏪ Hrly Data Table | Hrly Future Graph ⏩
IMPORTANT NOTE ON NWS DATA
Arlington Heights (history KPWK, left)
⏪ Hrly Data Table | Hrly Future Graph ⏩
======================
Friday and Friday Night …
Weather hazards expected…
This Hazardous Weather Outlook is for portions of North Central Illinois…Northeast Illinois and Northwest Indiana.
Limited Snow Risk.
Isolated snow showers are likely Friday. While most areas will only see flurries with little or no accumulation, there will be a few areas affected by snow showers that will reduce visibility and could produce a quick coating to nearly an inch of snow.
The push of colder air arrives on Friday. Highs only in the mid and upper 20s. The high for Friday was actually around 29°F around midnight, but the daytime high forecast at 25°F. The forecast low of 22°F was not reached; instead the low was around 26°F. Low wind chill was forecast down to single digits (8 degrees) Friday at 7 AM but was actually 14°F. High wind chill Friday is forecast to hover around 10 to 12°F.
DISCUSSION…
Scattered snow showers will develop Friday afternoon and linger into the evening. A few of these may produce brief bursts of snow but wind gusts forecasts are a little tamer at 20 to 25 MPH. Motorists should still be alert for rapidly-changing visibilities and patchy coatings on elevated surfaces through the weekend until about 8:00 p.m. Saturday.
Low 20°F with windchill down to 7°F is forecast for Saturday morning around 2:00 a.m. to 4:00 a.m. Then the Sunday morning forecast predicts a drop to 12°F around 5:00 a.m. with a wind chill down to -1°F.
======================
O'HARE FORECAST …
Forecast Beginning Friday, Nov. 18, 2022
Friday: Occasional light snow with isolated snow showers. High near 26. West wind around 15 mph, with gusts as high as 25 mph. Chance of precipitation is 80%. Little or no snow accumulation expected.
Friday Night: A 30 percent chance of light snow before midnight. Mostly cloudy, with a steady temperature around 22. West southwest wind around 15 mph, with gusts as high as 25 mph.
Saturday: A chance of light snow with isolated snow showers before noon, then scattered snow showers with intermittent light snow after noon. Cloudy, with a high near 28. Breezy, with a south southwest wind 15 to 25 mph becoming west northwest in the afternoon. Winds could gust as high as 35 mph. Chance of precipitation is 40%.
Saturday Night: A chance of flurries before 9pm. Mostly cloudy, then gradually becoming mostly clear, with a low around 12. Wind chill values as low as -1. Blustery, with a west wind 10 to 20 mph, with gusts as high as 30 mph.
Sunday: Sunny, with a high near 31. West southwest wind 10 to 15 mph, with gusts as high as 25 mph.
Sunday Night: Partly cloudy, with a low around 27.
Monday: Mostly sunny, with a high near 43.
Monday Night: Mostly clear, with a low around 26.
Tuesday: Mostly sunny, with a high near 44.
Tuesday Night: Mostly cloudy, with a low around 31.
Wednesday: Partly sunny, with a high near 45.
Wednesday Night: Mostly cloudy, with a low around 34.
Thanksgiving Day: A chance of rain. Mostly cloudy, with a high near 41.
Weather Forecast, Observations Archive NWS O-Hare
Weather Forecast, Night Sky Archive NWS O-Hare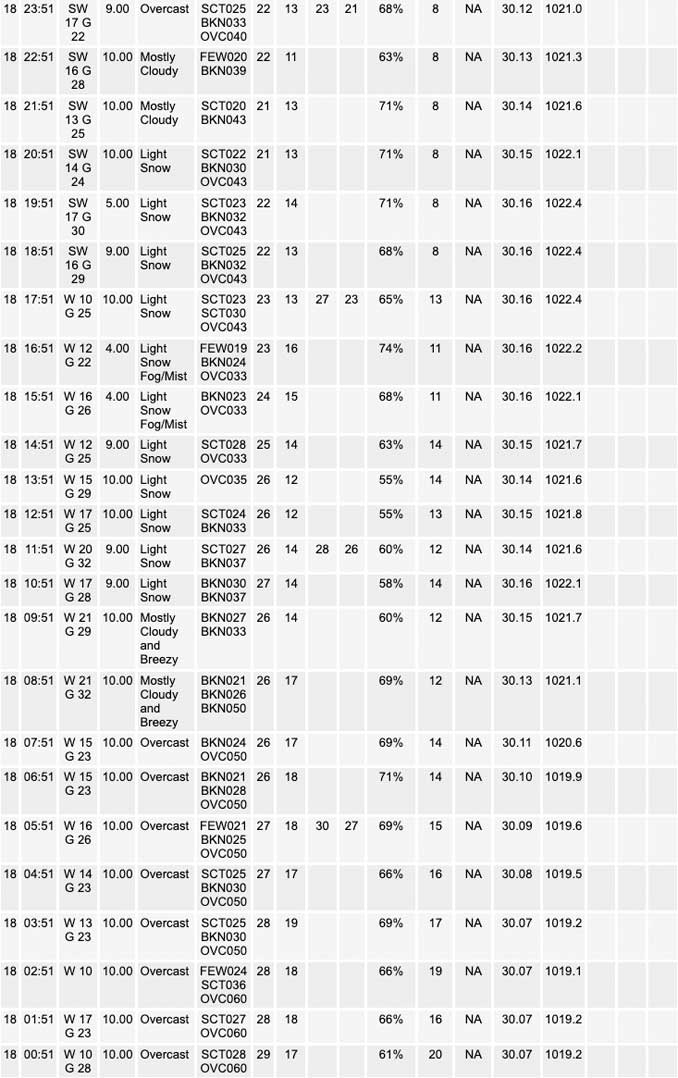 KORD & KPWK Hourly Weather Observations









NORTH AMERICA BELOW (SCROLL ⇩⇩)
Weather WIDE (MOBILE TURN SIDEWAYS)
SPC Convective Outlook on
CHICAGOWEATHERSTATION.COM

ChicagoWeatherStation.com I O'Hare Normal Temps/Precip I O'Hare Record Temps, Precip, Snow
LIVE RADAR | STORM TRACKS | UNISYS US IR SAT | UNISYS Midwest IR SAT | UNISYS More IR SAT
WunderMap® with Temperature/Wind Data || Google: Arlington Heights Area Temps | US TEMPS
Full Screen Motion Weather Radar (Wunderground.com)
Midwest Cloud Cover with Arlington Heights Weather Forecast
ChicagoWeatherStation.com I O'Hare Normal Temps/Precip I O'Hare Record Temps, Precip, Snow
SUNLIGHT DATA FOR SECURITY, TRAFFIC SAFETY, AND SPORTS
SunCalc.net data with solar azimuth and trajectory, times for dawn, sunrise, solar noon, sunset, dusk …
Tweets by @CardinalWeather
NIGHT SKY THIS MONTH …
Backyard stargazers get a monthly guide to the northern hemisphere's skywatching events with "Tonight's Sky." Check the night sky objects for this month and past months in the playlist from the Space Telescope Science Institute YouTube channel (Musical track The Far River written by Jonn Serrie, from the album And the Stars Go With You courtesy of New World Music Ltd).
Get updates from The Cardinal ALL NEWS FEEDS on Facebook. Just 'LIKE' the 'Arlington Cardinal Page (become a fan of our page). The updates cover all posts and sub-category posts from The Cardinal — Arlingtoncardinal.com. You can also limit feeds to specific categories. See all of The Cardinal Facebook fan pages at Arlingtoncardinal.com/about/facebook …

Help fund The Cardinal

Arlingtoncardinal.com/sponsor
Area Forecast Discussion
National Weather Service Chicago/Romeoville, IL
519 AM CST Fri Nov 18 2022
.SHORT TERM… Issued at 313 AM CST Fri Nov 18 2022
Through Saturday…
Long wave trough will remain anchored across much of the central and eastern portions of the North America through Saturday. Several smaller scale vorticity maximums are embedded within this broader long wave trough and will provide for periodic bouts of flurries and isolated/widely scattered snow showers.
Early this morning, one of these little waves is apparent on water vapor imagery as a shearing out twist/swirl over eastern IA moving toward northern IL. Have seen some isolated, but fairly vigorous snow showers this morning, some knocking VSBY down to a 1/2SM and leading to some accumulation on roadways. These snow showers are very isolated, but where they`ve been occurring they pack a punch. Steep, moisture laden low level lapse rates should remain favorable for snow showers to develop through today into the early evening. Flurries will be more common, but can`t rule out additional robust snow shower development at just about any time. Certainly some better chance with the small vort max over eastern IA, but another, larger trough over the northern Plains will move across the area this afternoon/early evening, possibly enhancing snow shower chances again.
Will probably see an end flurries and snow showers later this evening into early Saturday in between short waves. It is even possible that low cloudiness could scatter out, before surging back in Saturday morning with the next short wave trough and punch of even colder air. Will probably see a band of snow showers develop along the cold front with scattered snow showers likely lingering into the afternoon. The best chances appear to be north of I-80 where forecast soundings depict steep low level lapse rates and with a nearly saturated boundary layer. Convective layer extends up above -20C, so plenty cold for some locally heavier snow showers to occur.
We saw a narrow streak of a quick half inch to an inch of snow from the western suburbs across the south side of Chicago during the past hour or so. In fact, MDW airport picked up 0.7″ in about 40 minutes. Not much is changing environmentally today or with tomorrow`s short wave, so could very well see some additional similar narrow streaks of snow accumulation today and again Saturday, though the vast majority of the area will only see intermittent flurries and little or no accumulation.
– Izzi/NWS Chicago