MONDAY Hi 47, partly cloudy, increasing clouds, winds S to SSW, 2 to 13 MPH, G16 to 20 MPH, 2pm then increasing Tuesday, continuing Wednesday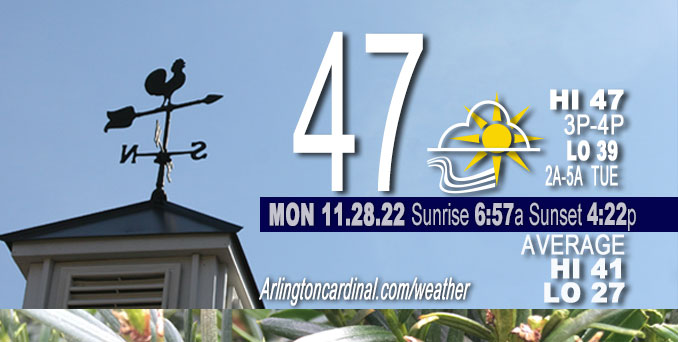 NWS CHGO | NWS HRLY | /NWSchicago | 🌡
ARLINGTON HEIGHTS WEATHER
▴ forecast7 (Arl. Hts.) | RADAR | WIDE RADAR




O'Hare (history KORD, left)
⏪ Hrly Data Table | Hrly Future Graph ⏩
IMPORTANT NOTE ON NWS DATA
Arlington Heights (history KPWK, left)
⏪ Hrly Data Table | Hrly Future Graph ⏩
======================
Monday and Monday Night …
Weather Hazards expected…
There was a Significant Fog Risk this morning with concern for slick spots on colder pavement. Fog possible again tonight near the Illinoi-Wisconsin state line.
DISCUSSION…
NWS Chicago reported areas of shallow dense freezing fog in Union, Rockford, and Poplar Grove in far northern Illinois. Rime, or frost formed on cold objects, caused by the rapid freezing of water vapor in cloud or fog was also reported. A report of dense freezing fog from Grundy County was also retweeted NWS Chicago
Tuesday is looking good with a high around 58 (maybe 60), and rain holding off until late afternoon or evening. However, the mild weather this week is now forecast to end sooner than the long forecast previously stated because a strong northern jet stream is connected to a surface low arriving from the southwest sooner than previously expected. To sum it up, the short term Tuesday forecast is looking warmer, but the short term forecast for Wednesday is looking like 30s instead of 40s.
Hello mobile users! If you encounter mobile "unfriendly" weather page, turn your phone sideways for a better view.
======================
O'HARE FORECAST …
Forecast Beginning Monday, Nov. 28, 2022
Monday: Mostly sunny, with a high near 47. Light south southwest wind becoming south 5 to 10 mph in the morning. Winds could gust as high as 15 mph.
Monday Night: Mostly cloudy, with a low around 39. South wind 10 to 15 mph, with gusts as high as 20 mph.
Tuesday: A 30 percent chance of showers, mainly after 3pm. Cloudy, with a high near 58. Breezy, with a south southeast wind 15 to 20 mph, with gusts as high as 35 mph.
Tuesday Night: Rain showers likely before 3am, then a slight chance of rain and snow showers. Some thunder is also possible. Mostly cloudy, with a low around 30. Breezy, with a south wind 20 to 25 mph becoming west after midnight. Winds could gust as high as 40 mph. Chance of precipitation is 70%. Little or no snow accumulation expected.
Wednesday: A 20 percent chance of snow before 9am. Partly sunny, with a high near 31. Breezy, with a west wind around 25 mph, with gusts as high as 40 mph.
Wednesday Night: Mostly clear, with a low around 17. Breezy.
Thursday: Sunny, with a high near 35.
Thursday Night: Partly cloudy, with a low around 27.
Friday: Partly sunny, with a high near 49.
Friday Night: Mostly cloudy, with a low around 37.
Saturday: Mostly sunny, with a high near 41.
Saturday Night: Partly cloudy, with a low around 26.
Sunday: A chance of rain. Partly sunny, with a high near 39.
Weather Forecast, Observations Archive NWS O-Hare
Weather Forecast, Night Sky Archive NWS O-Hare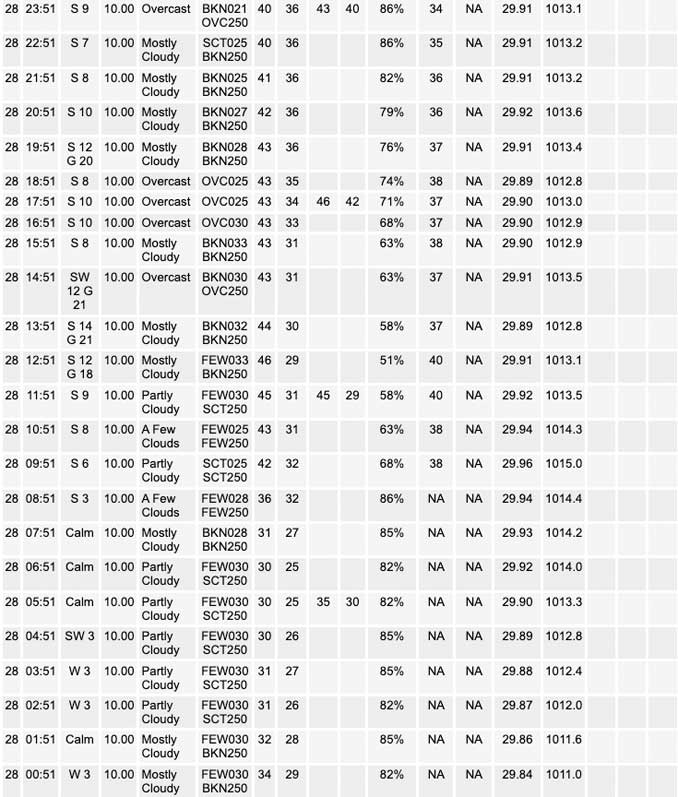 KORD & KPWK Hourly Weather Observations









NORTH AMERICA BELOW (SCROLL ⇩⇩)
Weather WIDE (MOBILE TURN SIDEWAYS)
SPC Convective Outlook on
CHICAGOWEATHERSTATION.COM

ChicagoWeatherStation.com I O'Hare Normal Temps/Precip I O'Hare Record Temps, Precip, Snow
LIVE RADAR | STORM TRACKS | UNISYS US IR SAT | UNISYS Midwest IR SAT | UNISYS More IR SAT
WunderMap® with Temperature/Wind Data || Google: Arlington Heights Area Temps | US TEMPS
Full Screen Motion Weather Radar (Wunderground.com)
Midwest Cloud Cover with Arlington Heights Weather Forecast
ChicagoWeatherStation.com I O'Hare Normal Temps/Precip I O'Hare Record Temps, Precip, Snow
SUNLIGHT DATA FOR SECURITY, TRAFFIC SAFETY, AND SPORTS
SunCalc.net data with solar azimuth and trajectory, times for dawn, sunrise, solar noon, sunset, dusk …
Tweets by @CardinalWeather
NIGHT SKY THIS MONTH …
Backyard stargazers get a monthly guide to the northern hemisphere's skywatching events with "Tonight's Sky." Check the night sky objects for this month and past months in the playlist from the Space Telescope Science Institute YouTube channel (Musical track The Far River written by Jonn Serrie, from the album And the Stars Go With You courtesy of New World Music Ltd).
Get updates from The Cardinal ALL NEWS FEEDS on Facebook. Just 'LIKE' the 'Arlington Cardinal Page (become a fan of our page). The updates cover all posts and sub-category posts from The Cardinal — Arlingtoncardinal.com. You can also limit feeds to specific categories. See all of The Cardinal Facebook fan pages at Arlingtoncardinal.com/about/facebook …

Help fund The Cardinal

Arlingtoncardinal.com/sponsor
Area Forecast Discussion
National Weather Service Chicago/Romeoville, IL
611 AM CST Mon Nov 28 2022
.SHORT TERM… Issued at 315 AM CST Mon Nov 28 2022
Through Tuesday…
Forecast key messages for today and Tuesday are:
* Areas of fog, some dense, early this morning in far northern and north central Illinois, with concern for slick spots on colder pavement underneath this
* Breaks of sun today mainly along and north of I-80, but in general clouds will become more dominant tonight into Tuesday
* Southerly winds gusting to 30 to 40 mph Tuesday with highest gusts along and south of I-80, and temperatures surging well above normal
* Patchy drizzle possible late tonight and Tuesday morning before the chance for actual rain on Tuesday afternoon
A 1013 mb ridge of high pressure has a brief stay over the area early this morning, but enough persistence atop residual low- level moisture for fog development across parts of northern Illinois. Observations from Rockford, Rochelle, and Sterling have shown varying visibility, but at times as low as a 1/4SM. Webcams in the area generally have been a bit higher, though especially in and near Rochelle they have been under 1/4SM. Of a interesting note, one of the webcams we peruse is mounted on a water tower in northern Lee County and actually shows that the fog is quite shallow in character. This points toward the cirrus very early this morning probably has helped this fog from becoming widespread dense through 3 A.M. This high cloud though will thin/depart by sunrise and raises some concern that the fog could expand. Will watch closely for a possible Dense Fog Advisory issuance, especially because air temperatures are in the 20s and pavement temperatures from a few sites are around 30. Frost and spotty slick spots on parking lot pavement and elevated objects (car windshields) have been reported by a few Rockford broadcast media since late last night. Will continue with a Special Weather Statement and Graphical NOWcast messaging at this time. With the late sunrise, fog should stick around until at least 8 A.M. and probably some patches through 9 A.M.
As the ridge departs, low-level southerly flow will onset. Confidence is high that this will drag existing stratus across central Illinois northward late this morning and afternoon. This cloud depth is approximately 1 kft thick on its northern periphery per diagnostic model soundings, which would be shallow enough that it may want to break up some today in the absence of a strong inversion. But climatologically it`s not a good time of year for existing, large footprint stratus to diminish, even during the day, so have trended cloudier in the forecast apart from the far north. There`s a low chance that there could even be some patchy, light drizzle south of the Chicago metro in the afternoon looking at modest saturated upglide on the 280K isentropic surface from both the RAP and NAM.
For tonight into Tuesday, a strong northern stream jet maximum of 125+ kt will carve into the Intermountain West around the south end of an existing long wave trough over southern Canada and the U.S. Rockies and High Plains. This will quickly deepen a surface low across Kansas tonight, and in response the pressure gradient will tighten over the area. The increasing southerly flow will likely prevent any fog from becoming too thick tonight, although some visibility guidance still indicates patchy dense fog potential near the Wisconsin state line. More probable is stratus expanding and lowering in cloud base overnight. Going into Tuesday morning, some of this may result in drizzle, especially north of I-80, where 280K and 285K surfaces show saturated upglide and cloud depths increasing to 1.5 kft. As upper level flow/forcing for ascent and low-level jet and moisture transport increase, the potential for true scattered rain showers will uptick in the afternoon.
The synoptic setup for gusty winds on Tuesday is a good one, with a deepening surface low tracking northeast from the Central Plains to near the Quad Cities throughout the day. While the warm sector is progged to be filled with clouds that will hamper mixing deeper than 1 to 2 kft, the tightening pressure gradient and pronounced flow of ~35 kt at 1 kft will compensate plenty, as often the case in cool season events. Around one third of guidance indicate 40 mph gusts or even a little higher for locations south of I-80. There is a fairly large spread on maximum gusts further north including over the metro, owing to mixing differences of only a few hundred feet. No matter what, a breezy trending windy day.
With those southerly winds in the system warm sector, temperatures will push upward Tuesday despite lack of sun. Guidance has trended warmer, including a larger footprint of 60+ in the southern and possibly central forecast area (up to Chicago). With 925 mb temperatures of +8 to +10C, that climatologically supports upper 50s this time of year, and with strong WAA in this regime, it very well could top that by a few degrees. Have not gone as mild as the warmest guidance, but did trend up near the National Blend of Models (NBM) 75th percentile of its model membership.
MTF/NWS Chicago