SUNDAY Hi 45, mostly cloudy, occasional light rain, winds SW to SSW, 13 to 18 to 8 MPH, G20 to 30 to 13 MPH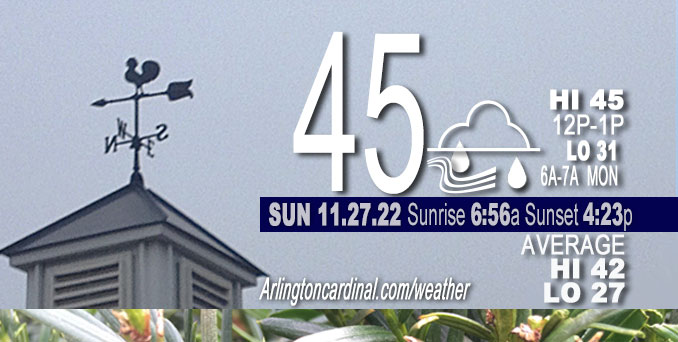 NWS CHGO | NWS HRLY | /NWSchicago | 🌡
ARLINGTON HEIGHTS WEATHER
▴ forecast7 (Arl. Hts.) | RADAR | WIDE RADAR




O'Hare (history KORD, left)
⏪ Hrly Data Table | Hrly Future Graph ⏩
IMPORTANT NOTE ON NWS DATA
Arlington Heights (history KPWK, left)
⏪ Hrly Data Table | Hrly Future Graph ⏩
======================
Sunday and Sunday Night …
Weather Hazards expected…
This Weather Outlook is for portions of North Central Illinois … Northeast Illinois and Northwest Indiana.
Limited Thunderstorm Risk south of the Kankakee River Valley.
Limited Non Thunderstorm Wind Risk near Lake Michigan.
DISCUSSION…
Less than one-quarter inch of rain (0.12 inch) with gusty winds to 30 MPH from the NNE, N, and NNW are forecast for Arlington Heights and the northwest suburbs from 9:00 a.m. until 4:00 p.m. Sunday. About one-quarter of rain was reported between 4:00 a.m. and 7:00 a.m. CARDINAL NEWS rainfall was observed to be 0.30 inches in north-central Arlington Heights.
A few non-severe thunderstorms are possible this morning south of the Kankakee River Valley.
Northerly winds will gust to 35 to near 40 mph along the Lake Michigan shore, especially in Indiana, this afternoon and early evening.
Hello mobile users! If you encounter mobile "unfriendly" weather page, turn your phone sideways for a better view.
======================
O'HARE FORECAST …
Forecast Beginning Sunday, Nov. 27, 2022
Today: Rain, mainly before 3pm. Temperature rising to near 45 by noon, then falling to around 40 during the remainder of the day. Breezy, with a north wind 15 to 20 mph, with gusts as high as 30 mph. Chance of precipitation is 90%. New precipitation amounts between a tenth and quarter of an inch possible.
Tonight: Cloudy, then gradually becoming partly cloudy, with a low around 31. North northwest wind 5 to 15 mph, with gusts as high as 30 mph.
Monday: Mostly sunny, with a high near 44. West northwest wind 5 to 10 mph becoming south in the afternoon. Winds could gust as high as 20 mph.
Monday Night: Mostly cloudy, with a low around 38. South wind 10 to 15 mph, with gusts as high as 20 mph.
Tuesday: A 30 percent chance of showers after noon. Cloudy, with a high near 57. Breezy, with a south wind 15 to 20 mph, with gusts as high as 30 mph.
Tuesday Night: Showers likely, mainly before midnight. Mostly cloudy, with a low around 34. Chance of precipitation is 70%.
Wednesday: A 30 percent chance of snow before noon. Partly sunny, with a high near 35. Breezy.
Wednesday Night: Partly cloudy, with a low around 18. Breezy.
Thursday: Sunny, with a high near 34.
Thursday Night: Partly cloudy, with a low around 28.
Friday: Partly sunny, with a high near 47.
Friday Night: Mostly cloudy, with a low around 32.
Saturday: Partly sunny, with a high near 44.
Weather Forecast, Observations Archive NWS O-Hare
Weather Forecast, Night Sky Archive NWS O-Hare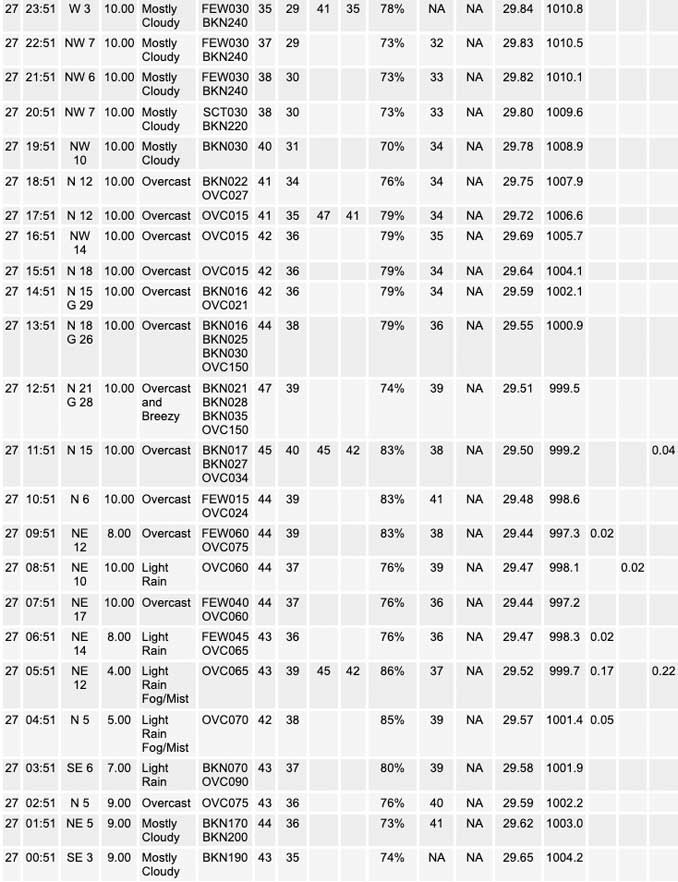 KORD & KPWK Hourly Weather Observations









NORTH AMERICA BELOW (SCROLL ⇩⇩)
Weather WIDE (MOBILE TURN SIDEWAYS)
SPC Convective Outlook on
CHICAGOWEATHERSTATION.COM

ChicagoWeatherStation.com I O'Hare Normal Temps/Precip I O'Hare Record Temps, Precip, Snow
LIVE RADAR | STORM TRACKS | UNISYS US IR SAT | UNISYS Midwest IR SAT | UNISYS More IR SAT
WunderMap® with Temperature/Wind Data || Google: Arlington Heights Area Temps | US TEMPS
Full Screen Motion Weather Radar (Wunderground.com)
Midwest Cloud Cover with Arlington Heights Weather Forecast
ChicagoWeatherStation.com I O'Hare Normal Temps/Precip I O'Hare Record Temps, Precip, Snow
SUNLIGHT DATA FOR SECURITY, TRAFFIC SAFETY, AND SPORTS
SunCalc.net data with solar azimuth and trajectory, times for dawn, sunrise, solar noon, sunset, dusk …
Tweets by @CardinalWeather
NIGHT SKY THIS MONTH …
Backyard stargazers get a monthly guide to the northern hemisphere's skywatching events with "Tonight's Sky." Check the night sky objects for this month and past months in the playlist from the Space Telescope Science Institute YouTube channel (Musical track The Far River written by Jonn Serrie, from the album And the Stars Go With You courtesy of New World Music Ltd).
Get updates from The Cardinal ALL NEWS FEEDS on Facebook. Just 'LIKE' the 'Arlington Cardinal Page (become a fan of our page). The updates cover all posts and sub-category posts from The Cardinal — Arlingtoncardinal.com. You can also limit feeds to specific categories. See all of The Cardinal Facebook fan pages at Arlingtoncardinal.com/about/facebook …

Help fund The Cardinal

Arlingtoncardinal.com/sponsor
Area Forecast Discussion
National Weather Service Chicago/Romeoville, IL
1153 AM CST Sat Nov 26 2022
614 AM CST Sun Nov 27 2022
.SHORT TERM… Issued at 310 AM CST Sun Nov 27 2022
Through Monday…
Forecast key points for today:
* Much different weather than Saturday with highs 10 to 13 degrees cooler within rain and north winds gusting 25 to 30 mph
* Sharp gradient in morning rainfall duration with areas along and south of I-88 most persist in rain, and also a sharp gradient in amounts with south of the Kankakee River seeing 0.75 to 1.50 inches and even a couple morning rumbles of thunder possible
A mature, negatively tilted upper low centered across Arkansas early this morning has an impressive satellite presentation, as well as anomaly on upper air soundings last evening (-23C at 500 mb at FWD that was the bottom few percentile for late Nov). The moist conveyor belt with this system has transported 1.25 inch PWATs into the southern forecast area early this morning, and an associated solid shield of rain up to north of I-80 as of 3 A.M. This is also within the left exit region of a 120 kt upper jet and ahead of the system dry slot, where and an inferred area of steeper mid-level lapse rates are being advected above the moisture. Isolated lightning had been detected earlier as east central Illinois. Several central Illinois sites have measured 0.50 to 0.75 inches of rain within three hours.
The low with its continued negative tilt (Jet Stream: Negatively Tiled Trough) will continue northeast this morning, with the 700 and 850 mb lows expected to track over the far southeast CWA. Moisture transport within these layers will slow its northward progress through mid-morning and pivot with the passage of the low. This will slow the solid rain shield`s northward expansion, with a pivot looking like it could be somewhere just north of I-88/I-290. Strong moisture convergence along and south of the Kankakee River Valley will be aligned with a vertical frontal circulation in the 850-600 mb layer per forecast RAP and NAM cross sections. The steeper lapse rates mentioned earlier and diagnosed by guidance will support occasional heavy rainfall rates in this far southern forecast area through the morning. Isolated, non-severe thunderstorms are possible as well. Given dry antecedent conditions, flooding should not be an issue, although forecast rainfall amount within a six hour period are expected to be right at maybe even top flash flood guidance (if locations receive over two inches). So some minor roadway ponding could occur, but mainly low visibility for motorists due to heavy rates. As the 850 mb low moves over the far southeast, the activity may briefly become more showery mid- morning, and with very low temperature dew-point spreads, there could be some fog development. The rain presently is expected to largely be solid enough that dense fog should not be an issue.
The cold advection side of the mature system will envelop the forecast area through the day today, peaking during the afternoon. Pressure rises of 5 to 9 mb per six hours are forecast to expand over the forecast area, with northerly winds gusting 25 to 30 mph, and 35 mph hour near the immediate lakeshore. Temperatures under the solid rain shield in the southeast forecast area this morning should basically go nowhere, and then this afternoon in the strengthened cold advection basically continue flat-lined.
For the northwest third of the forecast area (including Rockford, Dixon, and Woodstock areas), the strengthening cold advection will result in a temporarily enhanced frontogenesis area between 700 and 600 mb. Most convection allowing models (CAMs) indicate a narrow area of rain with this between 9 A.M. and 3 P.M. moving slowly eastward over this area. This will be the best opportunity for these locations to receive rain today, but because of the narrower nature, it will provide much less QPF than points south. Given this will be in tandem with strengthening cold advection, there is a low (~15%) chance that some wet snow briefly mixes in with this zone in mainly far northern Illinois. This signal looks a little less so than 12-24 hours ago, with few models indicating enough of a precipitation rate to diabatically cool the wet bulb values for a changeover. The often cooler NAM in these scenarios does provide that temporary wet snow solution, but it`s at the tail end of the spectrum, as seen in the NBM v4.1 membership which only have 10-15 percent indicating a brief chance of snow. Either way this should not be a big deal at all in the outside chance it occurs given temperatures several degrees above freezing.
The system scoots rapidly east late this afternoon and taking the rain with it. The quick progression of the pattern results in a relatively weak 1014 mb ridge moving overhead already by overnight. This pattern has the look that some stratus will get caught within this or at least a low-level atmosphere moist enough to be prone for some stratus redevelopment late tonight/early Monday. Do not have the highest confidence on forecast sky cover for Monday, though do think western and northern areas will at least be safe for some if not a lot of sun. Highs should be close to normal in the lower to mid 40s.
MTF/NWS Chicago