Friday Hi 39, 0.4″ snow, mostly cloudy, winds ENE to NE to NNE, 8 to 22 to 14 MPH, G14 to 34 to 21 diminishing early Sat.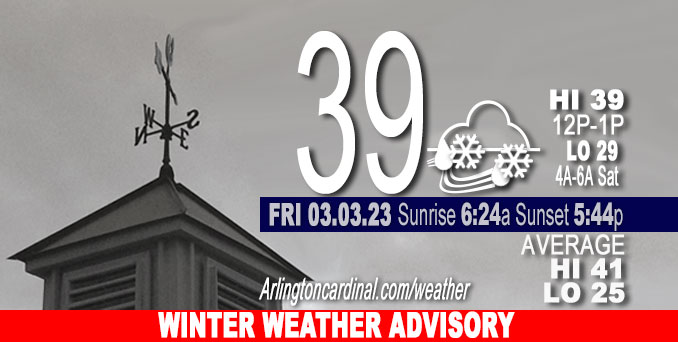 NWS CHGO | NWS HRLY | /NWSchicago | 🌡
ARLINGTON HEIGHTS WEATHER
▴ forecast7 (Arl. Hts.) | RADAR | WIDE RADAR




O'Hare (history KORD, left)
⏪ Hrly Data Table | Hrly Future Graph ⏩
IMPORTANT NOTE ON NWS DATA
Arlington Heights (history KPWK, left)
⏪ Hrly Data Table | Hrly Future Graph ⏩
======================
Friday and Friday Evening …
Weather Hazards expected …
Wet snow accumulating approximately 0.4 inch from 12:00 p.m. to 10:00 p.m. in Arlington Heights and communities near Arlington Heights.
Winter Weather Advisory
URGENT – WINTER WEATHER MESSAGE
National Weather Service Chicago IL
838 PM CST Thu Mar 2 2023
ILZ013-020-021-032-039-104>107-031045- /O.UPG.KLOT.WS.A.0002.230303T1600Z-230304T0400Z/ /O.NEW.KLOT.WW.Y.0006.230303T1800Z-230304T0400Z/ DuPage-Kendall-Grundy-Livingston-Ford-Central Cook-Southern Cook- Northern Will-Southern Will- Including the cities of Naperville, Wheaton, Downers Grove, Lombard, Carol Stream, Oswego, Yorkville, Plano, Morris, Coal City, Minooka, Pontiac, Dwight, Fairbury, Paxton, Gibson City, Chicago, Cicero, Oak Lawn, Oak Park, La Grange, Calumet City, Oak Forest, Lemont, Orland Park, Park Forest, Joliet, Bolingbrook, Plainfield, Mokena, Channahon, Manhattan, and Wilmington 838 PM CST Thu Mar 2 2023
…WINTER WEATHER ADVISORY IN EFFECT FROM NOON TO 10 PM CST FRIDAY…
* WHAT…Wet snow during the Friday afternoon and evening commute expected. Total snow accumulations of 1 to 4 inches expected, with locally higher amounts possible. In addition, northeasterly wind will gust up to 40 mph.
* WHERE…Portions of central, east central and northeast Illinois.
* WHEN…From noon to 10 PM CST Friday.
* IMPACTS…Plan on slippery road conditions including during the Friday afternoon and evening commute.
* ADDITIONAL DETAILS…The snow will be wet and slushy. As a result, even minimal snow accumulations will make road conditions slippery.
PRECAUTIONARY/PREPAREDNESS ACTIONS…
Slow down and use caution while traveling.
The latest road conditions for Illinois can be obtained on the internet at www.gettingaroundillinois.com.
DISCUSSION…
Winter Storm Watch expired Thursday evening; replaced by Winter Weather Advisory at 8:38 PM Thursday. An anticipated storm bringing deep snow diverted south. By Friday after sunrise, the snowfall accumulation forecast for Arlington Heights and nearby communities was less than 0.5 inch, but there was zero snow accumulation all day Friday.
======================
O'HARE FORECAST …
Forecast Beginning Friday, Mar. 03, 2023
Friday: Snow, possibly mixed with rain. High near 39. Breezy, with an east wind 10 to 15 mph increasing to 15 to 20 mph in the afternoon. Winds could gust as high as 35 mph. Chance of precipitation is 80%. New snow accumulation of less than a half inch possible.
Friday Night: Snow, mainly before 9pm. Low around 29. Blustery, with a north wind 15 to 20 mph becoming west northwest 10 to 15 mph after midnight. Winds could gust as high as 30 mph. Chance of precipitation is 80%. New snow accumulation of less than a half inch possible.
Saturday: A 20 percent chance of rain after noon. Partly sunny, with a high near 44. West southwest wind 5 to 10 mph, with gusts as high as 15 mph.
Saturday Night: Partly cloudy, with a low around 30. West southwest wind 5 to 10 mph becoming north northwest after midnight.
Sunday: Partly sunny, with a high near 46.
Sunday Night: A chance of showers before midnight, then showers likely and possibly a thunderstorm between midnight and 3am, then showers likely after 3am. Mostly cloudy, with a low around 40. Chance of precipitation is 60%.
Monday: A chance of showers. Mostly cloudy, with a high near 60.
Monday Night: Mostly cloudy, with a low around 34.
Tuesday: Partly sunny, with a high near 43.
Tuesday Night: Mostly cloudy, with a low around 30.
Wednesday: Partly sunny, with a high near 39.
Wednesday Night: Mostly cloudy, with a low around 28.
Thursday: Mostly cloudy, with a high near 35.
Weather Forecast, Observations Archive NWS O-Hare
Weather Forecast, Night Sky Archive NWS O-Hare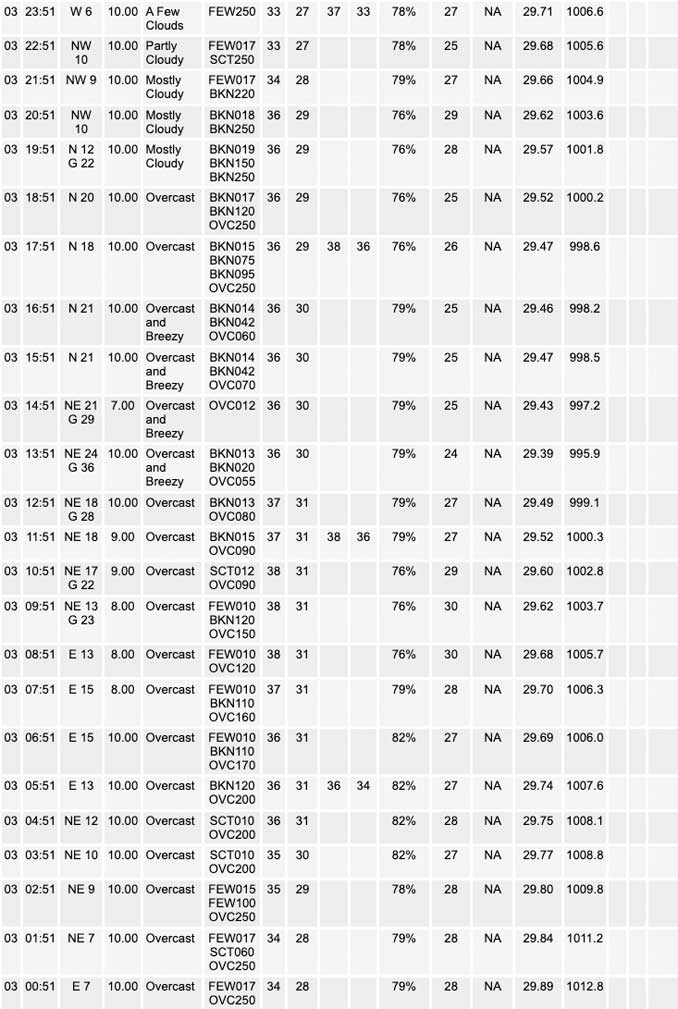 KORD & KPWK Hourly Weather Observations









NORTH AMERICA BELOW (SCROLL ⇩⇩)
Weather WIDE (MOBILE TURN SIDEWAYS)
SPC Convective Outlook on
CHICAGOWEATHERSTATION.COM

ChicagoWeatherStation.com I O'Hare Normal Temps/Precip I O'Hare Record Temps, Precip, Snow
LIVE RADAR | STORM TRACKS | UNISYS US IR SAT | UNISYS Midwest IR SAT | UNISYS More IR SAT
WunderMap® with Temperature/Wind Data || Google: Arlington Heights Area Temps | US TEMPS
Full Screen Motion Weather Radar (Wunderground.com)
Midwest Cloud Cover with Arlington Heights Weather Forecast
ChicagoWeatherStation.com I O'Hare Normal Temps/Precip I O'Hare Record Temps, Precip, Snow
SUNLIGHT DATA FOR SECURITY, TRAFFIC SAFETY, AND SPORTS
SunCalc.net data with solar azimuth and trajectory, times for dawn, sunrise, solar noon, sunset, dusk …
Tweets by @CardinalWeather
NIGHT SKY THIS MONTH …
Backyard stargazers get a monthly guide to the northern hemisphere's skywatching events with "Tonight's Sky." Check the night sky objects for this month and past months in the playlist from the Space Telescope Science Institute YouTube channel (Musical track The Far River written by Jonn Serrie, from the album And the Stars Go With You courtesy of New World Music Ltd).
Get updates from The Cardinal ALL NEWS FEEDS on Facebook. Just 'LIKE' the 'Arlington Cardinal Page (become a fan of our page). The updates cover all posts and sub-category posts from The Cardinal — Arlingtoncardinal.com. You can also limit feeds to specific categories. See all of The Cardinal Facebook fan pages at Arlingtoncardinal.com/about/facebook …

Help fund The Cardinal

Arlingtoncardinal.com/sponsor
Area Forecast Discussion
National Weather Service Chicago/Romeoville, IL
219 AM CST Fri Mar 3 2023
.SHORT TERM… Issued at 351 PM CST Thu Mar 2 2023
Through Friday night…
Key Messages for Friday`s Potential Heavy Wet Snow Event:
* Winter Storm Watch: Due to lower than normal confidence (solidly less than 80% for warning issuance), but still potential for a narrow heavy wet snow band and higher end impacts Friday PM, opted to hold onto the watch for a closer look at observational trends tonight. Did shift back the start time of the watch to late Friday morning, officially 10 AM, due to later precipitation and accumulating snow onset, with rain still favored or a non- accumulating snow and rain mix. Watch ends Friday evening.
* Highest Confidence Area in Watch: Near and east of I-55 based off the GFS/GEFS, ECMWF/EPS consensus and coordination with WPC. However, a failure mode still exists in which the dynamic cooling is insufficient to overcome the marginal boundary layer and March sun angle for snow to effectively accumulate on all paved surfaces, with much less snow (ie. Canadian models).
* Lowest Confidence Area in Watch: In the WSW text product, broke out northwest portion of the watch to highlight the even higher uncertainty/lower confidence in those areas (northern and western LaSalle, Kane, and northern Cook counties). The current northerly outlier solution (NAMs) and some ensemble members offer a lower probability, but not zero chance for heavy snowfall totals northwest of latest official gridded forecast. With this in mind, also opted to keep these counties in the watch, despite lower snow amounts in the grids, to convey a message of staying prepared for the lower probability scenario the heavy snow band ends up farther north.
Meteorological Details:
The deep trough and upper-low that is our next system continues to move eastward across southern New Mexico and western Texas with the surface low beginning to develop across central Texas. This system is expected to continue to track eastward across the southern Plains through this afternoon before turning northeastward towards the Ohio River Valley and Great Lakes region overnight. As this occurs the surface low will be deepening which will push a sharp baroclinic zone northward towards Illinois and Indiana with a broad area of precipitation expanding along and ahead of this baroclinic zone, as a plume of anomalously high PWATs surges northward.
However, guidance continues to show a greater the normal uncertainty on where the surface low will track and therefore how far north this baroclinic zone will reach which will dictate where the heaviest axis of precipitation sets up northwest of the compact closed low. The latest trend in most of the guidance today has been to favor a *slightly* more southern track with the surface low which keeps the baroclinic zone across the southern portions of our forecast area, and strongest f-gen banding just north of that, but there are still a couple of solutions that are keeping the system and its heaviest banding further to the north.
Precipitation is expected to begin to lift into central Illinois and parts of northwest Indiana Friday morning and should initially onset as rain as temperatures start above freezing. As precipitation continues, dynamic cooling of the lower levels should allow surface temperatures to cool close to if not at freezing which should begin to transition some of the rain over to snow during the late morning and afternoon hours. The aforementioned baroclinic zone will yield a strong frontogenetical circulation, and response from this low to mid-level f-gen should help on the mesoscale to enhance the dynamic cooling and will allow for an intense band of snow to develop with the potential to produce over 1+ inch per hour snowfall rates in it.
Forecast soundings within the heavy snow banding (for those models depicting that scenario, location independent) continue to show that strong ascent would be present through the saturated DGZ with a deep isothermal layer expected to be in place which will generate large wet snow aggregates (snow ratios on the order of 6:1 to 8:1). Additionally, forecast soundings are also showing steep lapse rates aloft which would further help to enhance the aforementioned snowfall rates and may even generate some lightning and thundersnow. The combination of the heavy snow fall rates and dynamic cooling should allow for rapid accumulating wet snowfall under this band which would lead to hazardous travel conditions. Accumulations upwards of 6+ inches are possible under this band which would occur in a narrow axis with a sharp gradient expected to either side of this axis, from several inches of wet snow to perhaps a few inches of slushy accumulations on grass not far away from the heavier accums.
While confidence in the environment supporting these conditions remains medium-high over the region, the location on where this prime environment will set up remains unusually low for less than 24 hours out. As previously mentioned, guidance has started to favor a southward trend with this heavy axis of snowfall with areas along and east of I-55 looking like the area with the best chance of seeing this band. However, there is still a chance that things could trend back northward as this system approaches the area Friday morning, which would shift the heavy wet snow threat back farther north. Finally, can`t ignore the failure mode chance in which dynamic cooling is less and not enough to overcome the marginal boundary layer with above freezing temperatures, as well as the high March sun angle.
In addition to the heavy snowfall, soaking rainfall is also expected with this system for areas where temperatures remain warm enough to maintain rain as opposed to snow. While the best environment for this looks to occur south of the aforementioned snow band, uncertainty also remains on where this higher rainfall axis would establish as well. Regardless, rainfall totals in excess of an inch do look possible within this axis which could lead to flooding and rapid rises in local rivers and streams. There is also the potential the if instability is not robbed from the convective activity across the southern CONUS that a few thunderstorms may also develop which could locally enhance rainfall amounts. The latest WPC day 2 ERO shifted this zone southward, to the south of US-24, though again a last minute farther north system track would bring the threat north.
Lastly, the intense pressure gradient associated with the strong surface low (pressure rises on the order of 20 to 25 mb per 6 hours) will generate gusty north-northeast winds across the region. Gusts upwards of up to 35 to 45 mph are expected across much of the area on Friday with the peak winds during the afternoon and early evening, with the higher gusts near the lake and south of I-80 (unless system tracks farther north). These winds in combination with the heavy wet snow, where the banding sets up, could lead to downed tree limbs and power outages in areas that get the snow band.
Thankfully this storm system looks to be rather progressive and is expected to exit northeastern Illinois and northwest Indiana late Friday evening. Winds will also diminish in intensity as the system exits, but chilly temperatures are expected to start off our Saturday.
Yack/Castro/NWS Chicago
Hydrologic Outlook ILC031-043-053-063-075-091-093-099-105-197-INC007-073-089-111-127- 031800-
Hydrologic Outlook National Weather Service Chicago IL 213 PM CST Thu Mar 2 2023
…Heavy rainfall and flooding possible this weekend…
A strong storm system moving into the region by tomorrow will bring a combination of rain and snow along its track. Heavy rainfall totals may occur in areas that receive mostly liquid precipitation, and this rainfall may lead to flooding of rivers and poor drainage areas. This flood potential exists through the weekend depending on the track of the system.
Due to recent wet weather, soils across the area have a high moisture content. Rivers also remain elevated. These antecedent conditions reduce the amount of rainfall necessary to cause flooding. At the present time, the most likely overlap between heavy liquid precipitation and favorable antecedent conditions is roughly near and southeast of I-55, including the Kankakee, Iroquois, and Vermilion river basins. River forecast guidance based upon a range of rainfall possibilities indicates a wide range of river levels this weekend into early next, including rivers remaining relatively steady near bankfull and rivers having significant rises. If heavier rainfall totals on the order of 1 to 2 inches occur, river stages above moderate severity would be possible in some areas.
This outlook means that elevated water levels and potential impacts are possible, but not yet certain. Persons should closely monitor forecasts including the possibility of flood watches and warnings.
WSL/NWS Chicago