Wednesday Hi 34, cloudy, 3″ additional snow through Thursday, winds NE to N to SW to NE, 9 to 15 to 10 MPH, G15 to 23 to 15 MPH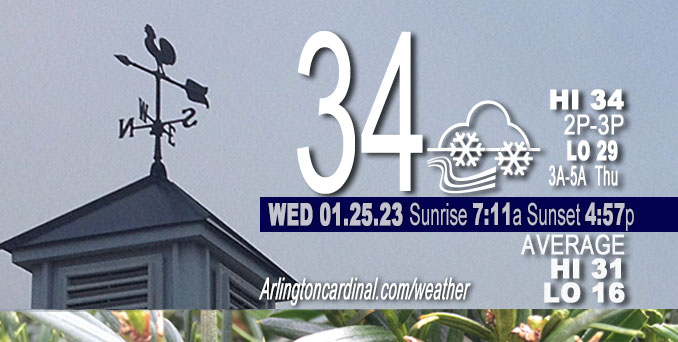 NWS CHGO | NWS HRLY | /NWSchicago | 🌡
ARLINGTON HEIGHTS WEATHER
▴ forecast7 (Arl. Hts.) | RADAR | WIDE RADAR




O'Hare (history KORD, left)
⏪ Hrly Data Table | Hrly Future Graph ⏩
IMPORTANT NOTE ON NWS DATA
Arlington Heights (history KPWK, left)
⏪ Hrly Data Table | Hrly Future Graph ⏩
======================
Wednesday and Wednesday Night …
Weather Hazards expected …
Elevated Snow Risk.
DISCUSSION…
Two inches of wet snow has fallen in Arlington Heights by 7:30 a.m. Wednesday. After a period of light flurries, significant snowfall began around 2:15 a.m. Wednesday. Snow will fall throughout the day today, with the peak snowfall accumulations occurring through mid-morning. While snow will continue during the afternoon, warming temperatures will cause snow accumulation rates and travel impacts to ease.
Three more days left of the normal daily low temperature bottomed out at 16°F. Normal daily high increases from 31°F to 32°F in six days. We're gaining about 2 minutes of daylight every day in the progression toward vernal equinox, March 20, 2023.
======================
O'HARE FORECAST …
Forecast Beginning Wednesday, Jan. 25, 2023
Wednesday: Snow. High near 34. Northeast wind 10 to 15 mph, with gusts as high as 25 mph. Chance of precipitation is 100%. Total daytime snow accumulation of 1 to 3 inches possible.
Wednesday Night: Snow showers likely, mainly after midnight. Cloudy, with a low around 29. Northwest wind around 10 mph, with gusts as high as 20 mph. Chance of precipitation is 60%. New snow accumulation of less than a half inch possible.
Thursday: Scattered snow showers. Cloudy, with a high near 32. Northwest wind around 10 mph, with gusts as high as 15 mph. Chance of precipitation is 50%.
Thursday Night: Mostly cloudy, with a low around 18. West wind 10 to 15 mph becoming south southwest after midnight. Winds could gust as high as 25 mph.
Friday: A 50 percent chance of snow. Cloudy, with a high near 35. Breezy, with a south southwest wind 15 to 20 mph, with gusts as high as 35 mph.
Friday Night: Mostly cloudy, with a low around 17.
Saturday: A 50 percent chance of snow, mainly after noon. Cloudy, with a high near 27.
Saturday Night: Snow likely, mainly before midnight. Cloudy, with a low around 18.
Sunday: Mostly cloudy, with a high near 24.
Sunday Night: Mostly cloudy, with a low around 10.
Monday: Mostly cloudy, with a high near 18.
Monday Night: Mostly cloudy, with a low around 8.
Tuesday: Mostly cloudy, with a high near 22.
Weather Forecast, Observations Archive NWS O-Hare
Weather Forecast, Night Sky Archive NWS O-Hare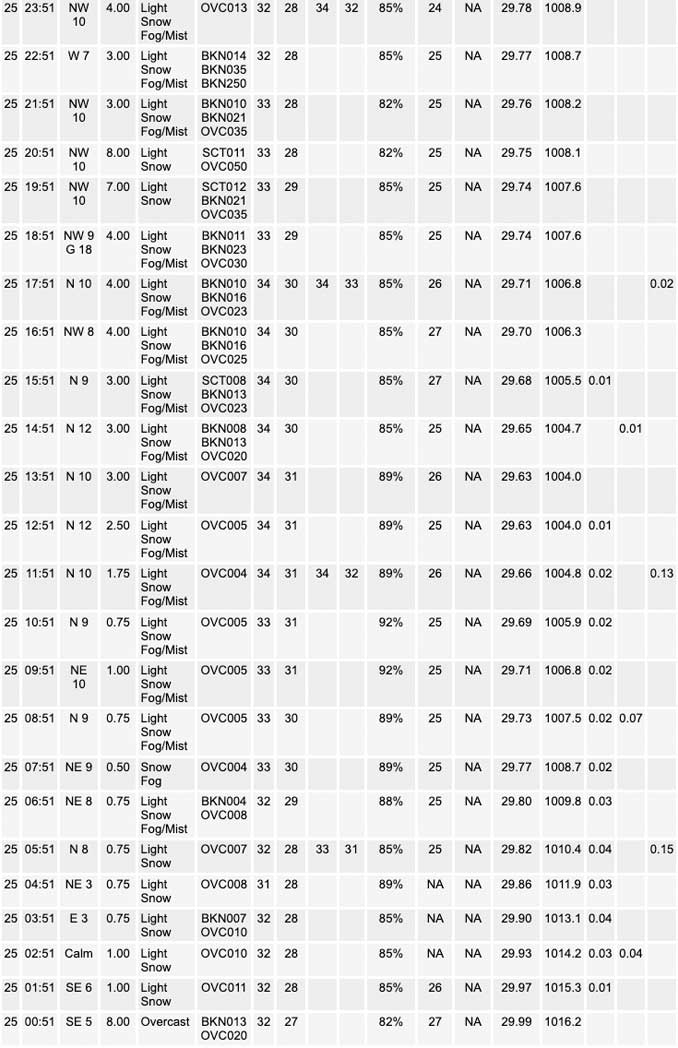 KORD & KPWK Hourly Weather Observations









NORTH AMERICA BELOW (SCROLL ⇩⇩)
Weather WIDE (MOBILE TURN SIDEWAYS)
SPC Convective Outlook on
CHICAGOWEATHERSTATION.COM

ChicagoWeatherStation.com I O'Hare Normal Temps/Precip I O'Hare Record Temps, Precip, Snow
LIVE RADAR | STORM TRACKS | UNISYS US IR SAT | UNISYS Midwest IR SAT | UNISYS More IR SAT
WunderMap® with Temperature/Wind Data || Google: Arlington Heights Area Temps | US TEMPS
Full Screen Motion Weather Radar (Wunderground.com)
Midwest Cloud Cover with Arlington Heights Weather Forecast
ChicagoWeatherStation.com I O'Hare Normal Temps/Precip I O'Hare Record Temps, Precip, Snow
SUNLIGHT DATA FOR SECURITY, TRAFFIC SAFETY, AND SPORTS
SunCalc.net data with solar azimuth and trajectory, times for dawn, sunrise, solar noon, sunset, dusk …
Tweets by @CardinalWeather
NIGHT SKY THIS MONTH …
Backyard stargazers get a monthly guide to the northern hemisphere's skywatching events with "Tonight's Sky." Check the night sky objects for this month and past months in the playlist from the Space Telescope Science Institute YouTube channel (Musical track The Far River written by Jonn Serrie, from the album And the Stars Go With You courtesy of New World Music Ltd).
Get updates from The Cardinal ALL NEWS FEEDS on Facebook. Just 'LIKE' the 'Arlington Cardinal Page (become a fan of our page). The updates cover all posts and sub-category posts from The Cardinal — Arlingtoncardinal.com. You can also limit feeds to specific categories. See all of The Cardinal Facebook fan pages at Arlingtoncardinal.com/about/facebook …

Help fund The Cardinal

Arlingtoncardinal.com/sponsor
Area Forecast Discussion
National Weather Service Chicago/Romeoville, IL
604 AM CST Wed Jan 25 2023
.SHORT TERM… Issued at 153 AM CST Wed Jan 25 2023
Through Thursday…
The main forecast bullet points through Thursday are:
* No changes to the ongoing winter headline configurations with Winter Weather Advisories for the entire forecast area today. End times for lake-adjacent locales remain 9 PM for Illinois and midnight for Indiana.
* Have sped up the arrival time of snow, which is already pressing across northern Illinois. Earlier onset will result in more snow sticking to road surfaces before melting begins. Messy AM commute expected everywhere.
* Steadiest snow with rates 0.5-1 inch per hour expected through mid-morning.
* Secondary f-gen circulation is developing now (quite high up along 700-550 mb), ostensibly in response to a nascent anticyclonic jet streak pushing into Wisconsin. Enhanced divergence within the right entrance region combined with pockets of steep lapse rates expected to support bursts of heavier snow this morning as activity pushes northward. Increased snow totals a bit straddling our I-80 corridor locales as a result.
* Still expecting the vast majority of travel impacts to ease through late-morning and early-afternoon as snow rates diminish and temperatures warm to at or just above freezing. Snow appears likely to melt as fast (or faster) than it falls this afternoon.
* Lake effect snow showers will persist into this evening while gradually developing east into Michigan. Additional pockets of 1 to 2 inch amounts expected, mainly across parts of NE Lake and Porter counties in Indiana.
* Expecting widespread snow showers tonight into Thursday. Fairly good coverage of additional coatings of snow, with localized amounts 1″+. Slick travel seems probable given temperatures below freezing.
Updated at 5:07 AM CST to add additional information:
Our wintry system is evolving nicely this morning–with initial accumulating snow arriving a bit quicker (by an hour or two). A NW-SE cross section reveals a bifurcated area of sloping f-gen extending up to just under 500 mb, with the northern terminus of this circulation seemingly being enhanced by a modest jet streak that developed to our north in Wisconsin. Ascent has continued to act on a pool of fairly steep lapse rates above 550 mb and has been cranking out some pretty decent snowfall straddling the I-80/88 corridors. We`re sitting just under 2 inches since midnight at our office in Romeoville, with snowflake quality improving a good deal over the last hour or so (they were fairly tiny up until that, likely owing to primary ascent/generation region above the DGZ).
Expecting ongoing rates of 0.25-0.5 inch per hour (locally and briefly higher) to continue through mid-morning or so before system forcing begins to wane and move off the area. Highest rates on the whole will be see in our far south and east counties this morning during the 7 am – 11 am time frame. Very impressive lapse rate plume/EPV* reduction noted just north of the system TROWAL across our southeast, and fully expect that 1″/hour rates will get very close to–if not within– parts of Benton county during this period. Thankfully, this looks to be fairly brief, with rates really easing quickly towards noon and beyond.
Impacts overall will ease late this morning and afternoon as temperatures slowly meander above freezing and snowfall rates drop. Any new snow will likely melt as fast as it falls, and think that main roads will probably become just wet with time. Lake effect snow will pivot west-to-east across the lake this evening, with residence time likely brief near Chicago before shifting into NW Indiana. Additional 1-2 inches of accumulations appear a good bet over NE Lake and Porter counties resulting in continued slippery travel conditions this evening.
For tonight into Thursday: have greatly beefed up snow shower mention as a series of fairly potent vort maxes act upon a still very saturated DGZ. Looks good for widespread coatings to up to an inch or so of additional snow (maybe locally more than that), so have started to message the potential for additional slick travel a bit more in our graphical messaging.
Carlaw/NWS Chicago