Sunday Hi 51, mostly sunny, winds W to SW to S to E to SE, 9 to 2 to 9 to 10 MPH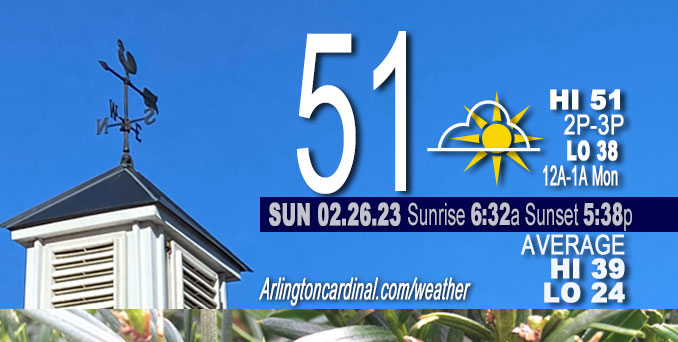 NWS CHGO | NWS HRLY | /NWSchicago | 🌡
ARLINGTON HEIGHTS WEATHER
▴ forecast7 (Arl. Hts.) | RADAR | WIDE RADAR




O'Hare (history KORD, left)
⏪ Hrly Data Table | Hrly Future Graph ⏩
IMPORTANT NOTE ON NWS DATA
Arlington Heights (history KPWK, left)
⏪ Hrly Data Table | Hrly Future Graph ⏩
======================
Sunday and Sunday Evening …
Weather Hazards expected …
Limited Non Thunderstorm Wind Risk mainly after midnight (Sunday/Monday).
Be prepared …
Hydrologic Outlook from today, Sunday
National Weather Service Chicago IL
201 PM CST Sun Feb 26 2023
…Flooding of Low-Lying Areas and Rises in River Levels Possible Monday…
Rainfall, heavy at times, is expected Monday morning across northern Illinois and northwestern Indiana. Local areas may receive rainfall amounts high enough to cause river rises, widespread ponding of water in fields, ditches, and low-lying area, and localized flooding.
Soil moisture remains nearly ubiquitously above average in northern Illinois and northwestern Indiana. The current forecast of three quarters to one and one quarter inch of rainfall may cause river stages to rise to near or above bankfull, particularly along the Fox, Des Plaines, Rock, and Kankakee River Basins. With already-elevated river stages along the Iroquois and Illinois river basins, even limited rainfall amounts may cause stages to rise near bankfull. The exact river basins that will see near flood stage conditions is heavily dependent on the location of heavy rainfall.
This outlook means that elevated water levels and flooding impacts are possible, but not yet certain. Persons should closely monitor forecasts including the possibility of flood watches, warnings, and advisories. $$
Borchardt
DISCUSSION…
A strong storm system will bring a period of rain and embedded thunderstorms overnight and Monday morning. Rainfall over saturated soils may lead to ponding in low-lying areas and rises in river levels. In addition, a band of strong to severe thunderstorms with damaging winds and even a brief tornado may race through Illinois and Indiana but south of Interstate 80 between 7 and 11 AM.
Southeast and southwest winds may gust over 40 mph Monday morning and evening, respectively.
======================
O'HARE FORECAST …
Forecast Beginning Sunday, Feb. 26, 2023
Sunday: Sunny, with a high near 48. Light and variable wind becoming east 5 to 10 mph in the afternoon.
Sunday Night: Rain, mainly after 3am. Low around 33. Breezy, with an east southeast wind 5 to 15 mph increasing to 15 to 25 mph after midnight. Winds could gust as high as 35 mph. Chance of precipitation is 100%. New precipitation amounts between a quarter and half of an inch possible.
Monday: Rain and possibly a thunderstorm before noon, then a chance of rain. High near 53. Breezy, with an east southeast wind 20 to 25 mph becoming south 10 to 15 mph in the afternoon. Winds could gust as high as 40 mph. Chance of precipitation is 100%. New precipitation amounts between three quarters and one inch possible.
Monday Night: Cloudy, then gradually becoming partly cloudy, with a low around 34. Breezy, with a west wind 15 to 25 mph, with gusts as high as 45 mph.
Tuesday: Mostly sunny, with a high near 48. West wind 5 to 15 mph becoming southeast in the afternoon. Winds could gust as high as 25 mph.
Tuesday Night: A 40 percent chance of rain after midnight. Mostly cloudy, with a low around 39.
Wednesday: A 20 percent chance of rain. Partly sunny, with a high near 53.
Wednesday Night: Mostly cloudy, with a low around 30.
Thursday: Mostly cloudy, with a high near 37.
Thursday Night: Mostly cloudy, with a low around 25.
Friday: Partly sunny, with a high near 37.
Friday Night: Partly cloudy, with a low around 27.
Saturday: Partly sunny, with a high near 44.
Weather Forecast, Observations Archive NWS O-Hare
Weather Forecast, Night Sky Archive NWS O-Hare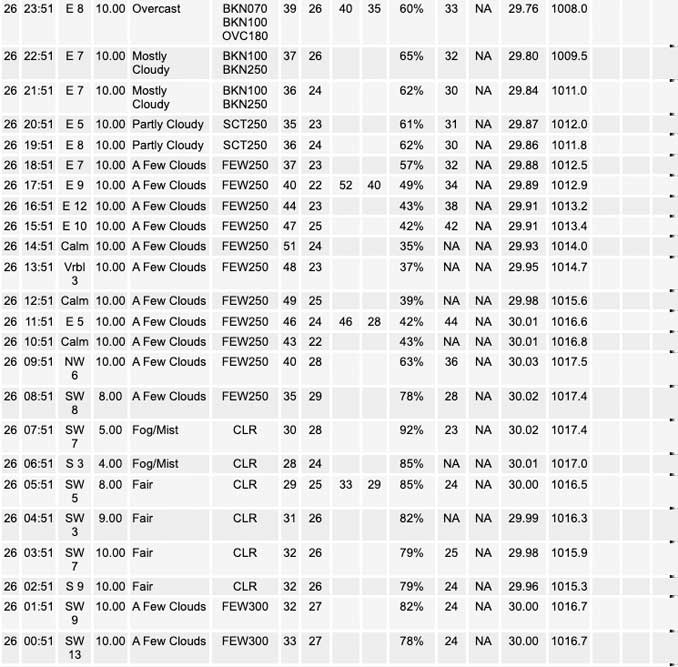 KORD & KPWK Hourly Weather Observations









NORTH AMERICA BELOW (SCROLL ⇩⇩)
Weather WIDE (MOBILE TURN SIDEWAYS)
SPC Convective Outlook on
CHICAGOWEATHERSTATION.COM

ChicagoWeatherStation.com I O'Hare Normal Temps/Precip I O'Hare Record Temps, Precip, Snow
LIVE RADAR | STORM TRACKS | UNISYS US IR SAT | UNISYS Midwest IR SAT | UNISYS More IR SAT
WunderMap® with Temperature/Wind Data || Google: Arlington Heights Area Temps | US TEMPS
Full Screen Motion Weather Radar (Wunderground.com)
Midwest Cloud Cover with Arlington Heights Weather Forecast
ChicagoWeatherStation.com I O'Hare Normal Temps/Precip I O'Hare Record Temps, Precip, Snow
SUNLIGHT DATA FOR SECURITY, TRAFFIC SAFETY, AND SPORTS
SunCalc.net data with solar azimuth and trajectory, times for dawn, sunrise, solar noon, sunset, dusk …
Tweets by @CardinalWeather
NIGHT SKY THIS MONTH …
Backyard stargazers get a monthly guide to the northern hemisphere's skywatching events with "Tonight's Sky." Check the night sky objects for this month and past months in the playlist from the Space Telescope Science Institute YouTube channel (Musical track The Far River written by Jonn Serrie, from the album And the Stars Go With You courtesy of New World Music Ltd).
Get updates from The Cardinal ALL NEWS FEEDS on Facebook. Just 'LIKE' the 'Arlington Cardinal Page (become a fan of our page). The updates cover all posts and sub-category posts from The Cardinal — Arlingtoncardinal.com. You can also limit feeds to specific categories. See all of The Cardinal Facebook fan pages at Arlingtoncardinal.com/about/facebook …

Help fund The Cardinal

Arlingtoncardinal.com/sponsor
Area Forecast Discussion
National Weather Service Chicago/Romeoville, IL
548 AM CST Sun Feb 26 2023
.SHORT TERM… Issued at 251 AM CST Sun Feb 26 2023
Through Monday Night…
The key weather messages through Monday night are:
* Period of widespread–at times briefly heavy–rainfall and isolated embedded thunderstorms late tonight into Monday morning. Ponding on roadways and threat for river rises.
* Increasing concern for a brief severe weather potential early Monday morning, mainly south of the Kankakee River. Severe- caliber wind gusts and even a few brief mesovortex tornadoes possible in the 6-10/7-11 AM timeframe.
* "Pop" of winds immediately behind convection south of I-80 Monday morning, followed by more widespread 40-45 mph gusts late Monday afternoon and evening. Wind advisories possible, although confidence a bit too low for issuance on this shift.
Our weather will be turning notably more active as a potent system slices across the Great Lakes region late tonight into Monday. In the meantime, quiescent conditions will continue, with today looking very pleasant with a good deal of sunshine under occasional tufts of high cloud cover. 925 mb temperature climatology continues to support highs climbing into the 50s across the southern half of our area, and this continues to look reasonable, except for lake-adjacent locales where a lake breeze looks set to charge inland thanks to nearly 20 degree lake-land delta Ts. This will drive sharply-falling temperatures this afternoon and will also hold immediate lakeside locales in the 30s.
Moisture channel loops reveal our disturbance in question for tonight–which has been responsible for extraordinarily anomalous precipitation and winter-related weather impacts–pinwheeling across southern California. An associated jet streak can be seen blasting across the Baja Peninsula and the Sonora Desert, and as the nose of this feature impinges upon the Continental Divide, rapid lee cyclogenesis will get underway later this afternoon and evening. Stout poleward moisture fluxes will drive a quick increase in precipitation coverage late tonight, and pockets of elevated instability support a continued mention of a few embedded storms. Fast forward nature of the incoming low–which will be an impressive 980s mb feature–will thankfully limit residence time of heavier precipitation rates. That said, the favorable spatiotemporal overlap of deep/intense moisture transport and an intensely-diffluent upper jet portends a 4-6 hour window early Monday morning with widespread steady to locally heavy rainfall followed by lighter, more showery precipitation into the afternoon. Overall, QPF guidance has trended perhaps a smidge downwards, but still a good signal for widespread amounts of 0.5-1 inch with isolated swaths of 2 inch amounts before all is said and done.
Of a bit more concern are trends in model guidance regarding the severe potential Monday morning. While the time of day is climatologically unfavorable for severe weather in our area, the presence of intense moisture transport guiding mid 50s dewpoints across central Illinois into a strongly-sheared environment is usually cause for some concern this time of year. A very tiny/narrow warm sector looks to impinge into our southern locales after about 6 AM Monday. While the steepest low-level lapse rates will trail the cold front and associated occlusion, guidance continues to advertise a notable cooling of 700 mb temperatures atop the front, with associated increases in available CAPE. Just how much of this is available for surface parcels remains in question, but strongly-forced lines and slab- like ascent in advance can pretty easily erode marginal SBCIN. Indeed, seeing signals for this in incoming hires guidance. While the more appreciable severe threat may remain relegated farther south amidst deeper moisture, we did coordinate with SPC to expand the level 1/5 (Marginal) delineation northward into our far south Monday morning. If surface-based convective elements materialize, an attendant threat for fingers of severe wind gusts and even a few brief spin-up mesovortex tornadoes would be possible. The main window for this threat is maybe 6-10/7-11 AM south of the Kankakee River.
Additionally, looking like a "pop" of strong southwesterly winds could occur immediately behind this line in response to pressure rises and steepening lapse rates within an initial zone of cold advection, mainly for areas well south of I-80. This wind response may be pretty ephemeral, however, as 925-850 mb winds ease temporarily as the main low trundles overhead. A secondary and more widespread push of cold advection looks to develop through late Monday afternoon and evening, and as this occurs, gusty W/NW winds will become more prevalent across most of the forecast area. Presence of low stratus continues to be a wild card with its impacts on the depth of PBL mixing in question. For the time being, elected to hold off on any wind headlines given lingering uncertainties. Either way, looks windy headed into Monday evening, with gusts up to 45 mph possible.
Otherwise, isolated/scattered showers will dwindle through Monday evening. Northwesterly breezes will usher in a cooler airmass with temperatures expected to fall back into the 30s into Tuesday morning.
Carlaw/NWS Chicago