Thursday Hi 39, mostly cloudy, winds SE to S to W to WNW, 7 to 22 to 15 MPH, G31 to 40 to 25 MPH diminishing overnight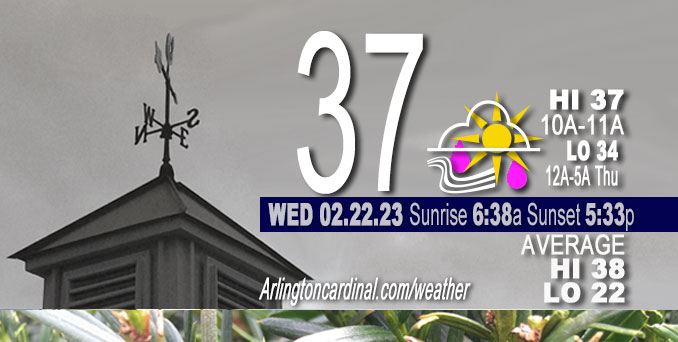 NWS CHGO | NWS HRLY | /NWSchicago | 🌡
ARLINGTON HEIGHTS WEATHER
▴ forecast7 (Arl. Hts.) | RADAR | WIDE RADAR




O'Hare (history KORD, left)
⏪ Hrly Data Table | Hrly Future Graph ⏩
IMPORTANT NOTE ON NWS DATA
Arlington Heights (history KPWK, left)
⏪ Hrly Data Table | Hrly Future Graph ⏩
======================
Thursday and Thursday Evening …
Weather Hazards expected …
Limited Non Thunderstorm Wind Risk.
DISCUSSION…
Strong westerly winds will continue to gust to 40 mph this afternoon, with a few higher gusts possible. The combination of wind and lingering ice on trees and power lines could result in additional power outages and tree damage across far northern Illinois.
Daily low temperatures and daily high temperatures are on the way up. We're gaining about 2 minutes of daylight every day in the progression toward vernal equinox, March 20, 2023.
======================
O'HARE FORECAST …
Forecast Beginning Thursday, Feb. 23, 2023
Thursday: Cloudy, with a temperature falling to around 32 by 5pm. Breezy, with a west wind 20 to 25 mph, with gusts as high as 40 mph.
Thursday Night: Mostly cloudy, with a low around 19. Breezy, with a west wind 10 to 20 mph, with gusts as high as 35 mph.
Friday: Partly sunny, with a high near 29. Northwest wind around 10 mph becoming east northeast in the afternoon. Winds could gust as high as 15 mph.
Friday Night: A 20 percent chance of snow before midnight. Mostly cloudy, with a low around 23. East northeast wind 5 to 10 mph becoming light and variable after midnight.
Saturday: Partly sunny, with a high near 39. Light southwest wind becoming west southwest 5 to 10 mph in the morning.
Saturday Night: Partly cloudy, with a low around 30.
Sunday: Mostly sunny, with a high near 48.
Sunday Night: Rain likely, mainly after midnight. Mostly cloudy, with a low around 37. Breezy.
Monday: Rain. Mostly cloudy, with a high near 53. Breezy.
Monday Night: Mostly cloudy, with a low around 32. Breezy.
Tuesday: Sunny, with a high near 44. Breezy.
Tuesday Night: Mostly cloudy, with a low around 31.
Wednesday: Mostly cloudy, with a high near 44.
Weather Forecast, Observations Archive NWS O-Hare
Weather Forecast, Night Sky Archive NWS O-Hare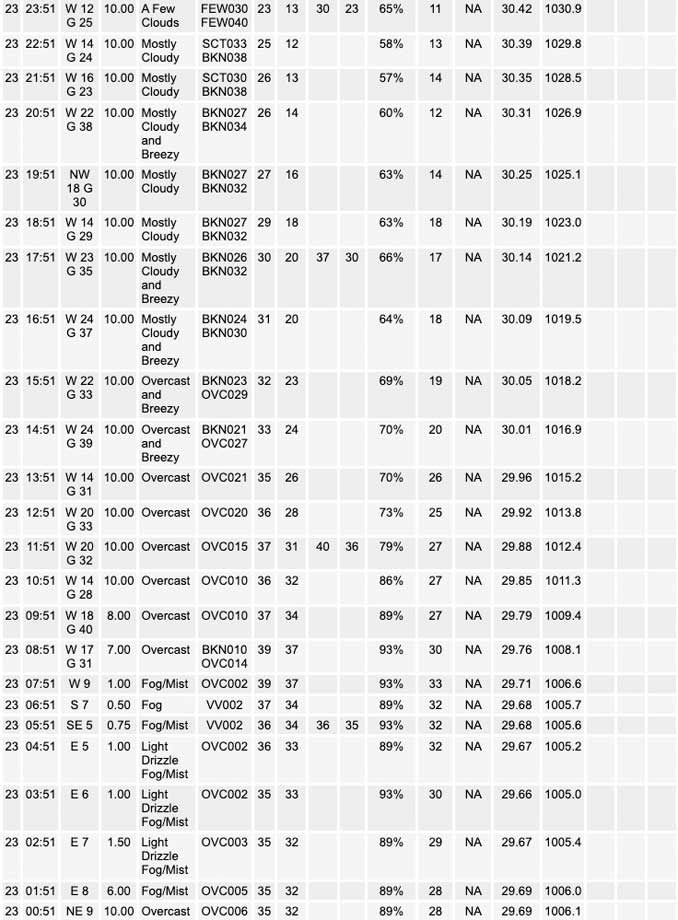 KORD & KPWK Hourly Weather Observations









NORTH AMERICA BELOW (SCROLL ⇩⇩)
Weather WIDE (MOBILE TURN SIDEWAYS)
SPC Convective Outlook on
CHICAGOWEATHERSTATION.COM

ChicagoWeatherStation.com I O'Hare Normal Temps/Precip I O'Hare Record Temps, Precip, Snow
LIVE RADAR | STORM TRACKS | UNISYS US IR SAT | UNISYS Midwest IR SAT | UNISYS More IR SAT
WunderMap® with Temperature/Wind Data || Google: Arlington Heights Area Temps | US TEMPS
Full Screen Motion Weather Radar (Wunderground.com)
Midwest Cloud Cover with Arlington Heights Weather Forecast
ChicagoWeatherStation.com I O'Hare Normal Temps/Precip I O'Hare Record Temps, Precip, Snow
SUNLIGHT DATA FOR SECURITY, TRAFFIC SAFETY, AND SPORTS
SunCalc.net data with solar azimuth and trajectory, times for dawn, sunrise, solar noon, sunset, dusk …
Tweets by @CardinalWeather
NIGHT SKY THIS MONTH …
Backyard stargazers get a monthly guide to the northern hemisphere's skywatching events with "Tonight's Sky." Check the night sky objects for this month and past months in the playlist from the Space Telescope Science Institute YouTube channel (Musical track The Far River written by Jonn Serrie, from the album And the Stars Go With You courtesy of New World Music Ltd).
Get updates from The Cardinal ALL NEWS FEEDS on Facebook. Just 'LIKE' the 'Arlington Cardinal Page (become a fan of our page). The updates cover all posts and sub-category posts from The Cardinal — Arlingtoncardinal.com. You can also limit feeds to specific categories. See all of The Cardinal Facebook fan pages at Arlingtoncardinal.com/about/facebook …

Help fund The Cardinal

Arlingtoncardinal.com/sponsor
Area Forecast Discussion
National Weather Service Chicago/Romeoville, IL
542 AM CST Thu Feb 23 2023
.SHORT TERM… Issued at 259 AM CST Thu Feb 23 2023
Through Friday…
Main concerns during the short term period:
* Threat of dense fog early this morning.
* Threat of additional icing has ended, but with gusty westerly winds expected in the wake of a cold front later this morning, impacts could linger from yesterdays significant icing across far northern IL.
A secondary surface low currently centered over southeastern IA is set to lift northeastward across northern IL early this morning, then across Lower Michigan into this afternoon. This particular track will favor the warm sector (temperatures well into the 40s to around 50) to briefly lift northeastward across my southeastern counties this morning just ahead of the systems cold front. This cold front is expected to quickly sweep eastward across the area later this morning, with winds becoming gusty (u Pto 35 mph) from the west in its wake. Early morning highs will range from the mid 30s far north and northwest, to around 50 in my far southeastern areas. Temperatures will then fall back through the 30s through the afternoon as a colder airmass begins to shift into the area.
Aside from a stray light shower or area of drizzle this morning with the approaching warm front, our precipitation has largely come to an end. Otherwise, any lingering precipitation today will be largely focused north of the area, with only a small change for a few light snow showers or flurries across far northeastern IL early this evening. With our threat of additional freezing precipitation essentially over, we have opted to end the winter headlines a couple hours early this morning. While this is the case, one thing of note is the possibility of lingering impacts from yesterdays significant icing across far northern IL, particularly later this morning as westerly winds increase. Fortunately it appears surface temperatures will warm a couple of degrees above freezing, at least for a brief period, early this morning before the cold front arrives. This may just be enough to help any lingering ice melt and fall off of tree limbs and power lines prior to the onset of the westerly winds. However, any lingering ice that survives early this morning will be susceptible to causing additional downed tree limbs and possible power outages due to increasing stress from the gusty westerly winds expected later this morning. We plan to message this possibility in our IDSS graphics.
The only other concern early this morning is the threat of a short period of dense fog in advance of the approaching surface low and warm front. We are already seeing sub mile visibilities develop across southern sections of the area in the vicinity of this warm front, and this fog is likely to continue developing northward across most of the area prior to daybreak. Fortunately the threat of dense fog will be short lived, but I cannot rule out the need for a short fused fog advisory for parts of the area. We will continue to monitor trends for this possibility.
A period of quieter, but colder weather is expected tonight and on Friday in advance of our next weather disturbance approaching the area Friday evening. Temperatures tonight will be chilly, with lows likely falling into the teens to low 20s. Clouds will increase across the area through the day Friday in advance of the next disturbance. Expect highs to in the upper 20s to low 30s.
KJB/NWS Chicago