🌖 🌗 🌑 🌓 Waning Gibbous Moon, sky cover overnight Wed. to Thu. 70% to 62%, winds ENE to E, 11 to 10 to 11 MPH, Low 34, 4a to 7a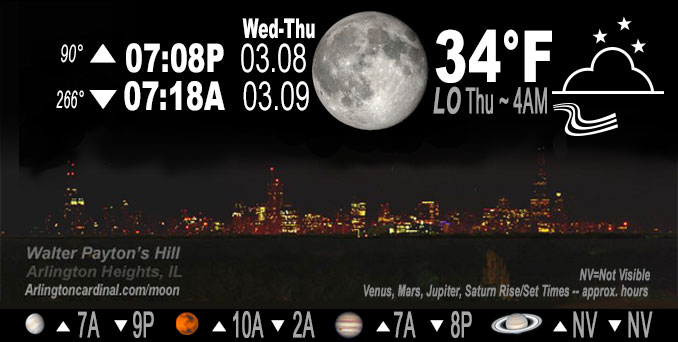 NWS CHGO | NWS HRLY | /NWSchicago | 🌡
ARLINGTON HEIGHTS WEATHER
▴ forecast7 (Arl. Hts.) | RADAR | WIDE RADAR
⏪ Hrly Data Table | Hrly Future Graph ⏩
IMPORTANT NOTE ON NWS DATA
======================
NIGHT FORECASTS …
NOTE: Keep in mind lunar rise and set times don't always correspond with night weather and early morning lows because on some days during the month the moon is visible in the sky predominantly during the daytime hours.
Overnight Wednesday/Thursday …
No Weather Hazards expected
Quiet night overnight, but a little windier than last night and a degree warmer for the morning low. Cloud cover was actually closer to 100% compared to 90% in forecast. Prepare for snow/rain mix late Thursday and Friday.
DISCUSSION…
Fresh air wind from the east off of Lake Michigan. Winter Weather Advisory has been issued for the I-88 and northward counties/zones, including Wisconsin state line counties which were previously in a Winter Storm Watch, starting 3pm Thursday near/west of Fox Valley, and 6pm Thursday closer to the lake.
Hello mobile users! If you encounter a mobile "unfriendly" weather page, turn your phone sideways for a better view.
======================
O'HARE FORECAST …
Forecast Beginning Wednesday Night, Mar. 08, 2023 …
Wednesday Night: Mostly cloudy, with a low around 33. East wind around 10 mph, with gusts as high as 20 mph.
Thursday: A slight chance of snow between noon and 3pm, then snow likely, possibly mixed with rain. Cloudy, with a high near 38. East wind 10 to 15 mph, with gusts as high as 25 mph. Chance of precipitation is 60%. New snow accumulation of less than a half inch possible.
Thursday Night: Snow, possibly mixed with rain before midnight, then snow between midnight and 3am, then snow, possibly mixed with rain after 3am. Low around 32. Breezy, with an east wind 15 to 20 mph, with gusts as high as 25 mph. Chance of precipitation is 100%. New snow accumulation of 2 to 4 inches possible.
Friday: A 50 percent chance of snow before noon. Cloudy, with a high near 34. North wind around 15 mph, with gusts as high as 25 mph.
Friday Night: Mostly cloudy, with a low around 27.
Saturday: Mostly cloudy, with a high near 35.
Saturday Night: A chance of snow after midnight. Mostly cloudy, with a low around 30.
Sunday: A chance of snow before noon. Mostly cloudy, with a high near 36.
Sunday Night: Mostly cloudy, with a low around 29.
Monday: Mostly cloudy, with a high near 37.
Monday Night: Partly cloudy, with a low around 23.
Tuesday: Mostly sunny, with a high near 35.
Weather Forecast, Night Sky Archive NWS O-Hare
Weather Forecast, Observations Archive NWS O-Hare
O'Hare forecast archive and hourly weather observations archive are available HERE on the CARDINAL NEWS Magazine.
KORD/KPWK Hourly Weather Observations
Arlingtoncardinal.com/moonphases
Arlingtoncardinal.com/nightsky
NIGHT SKY THIS MONTH …
Check the night sky objects for this month and past months in the playlist from the Space Telescope Science Institute YouTube channel Backyard stargazers get a monthly guide to the northern hemisphere's skywatching events with "Tonight's Sky" (Musical track The Far River written by Jonn Serrie, from the album And the Stars Go With You courtesy of New World Music Ltd. Musical track The Far River written by Jonn Serrie, from the album And the Stars Go With You courtesy of New World Music Ltd).
Telephoto lens, ISO 100, f/11, Shutter Speed 1/100 to 1/125 for the Moon.
Get updates from The Cardinal ALL NEWS FEEDS on Facebook. Just 'LIKE' the 'Arlington Cardinal Page (become a fan of our page). The updates cover all posts and sub-category posts from The Cardinal — Arlingtoncardinal.com. You can also limit feeds to specific categories. See all of The Cardinal Facebook fan pages at Arlingtoncardinal.com/about/facebook …

Help fund The Cardinal

Arlingtoncardinal.com/sponsor
Telephoto lens, ISO 1600, f/11, Shutter Speed 2.5″ for the skyline. The skyline exposure was toned down, and brightness and contrast was adjusted in Photoshop.
Area Forecast Discussion
National Weather Service Chicago/Romeoville, IL
957 PM CST Wed Mar 8 2023
.UPDATE… Issued at 953 PM CST Wed Mar 8 2023
No major forecast changes are planned this evening. The current forecast appears to be largely on track going into our next period of active wintry weather late Thursday through early Friday morning. Headline wise things also appear to be in good shape, though an argument could be made to add another tier of counties into the southern parts of the metro to the winter weather advisory.
The parent disturbance that will drive our period of active wintry weather later Thursday into Thursday night is currently noted in the water vapor imagery shifting eastward across northern Utah. A quick look at some of the 00z forecast guidance rolling in this evening continues to support this feature racing eastward tonight into tomorrow before moving right across northern IL Thursday evening. As this system approaches during the day, increasing warm air advection (isentropic upglide) will support the development of a rather large precipitation shield across the region by mid to late Thursday afternoon. While surface temperatures will likely initially be well into the 30s, potentially supporting a period of rain at onset, strong dynamic cooling from heavy precipitation rates will likely quickly cool the column across much of northern IL supporting a rather quick change over to wet snow by late afternoon. This is likely to especially be the case for areas along and north of I-88, though areas southward towards the I-80 corridor could see flakes flying into early Thursday evening.
There is concern that the wet snow will fall at a rather high rate (~1″ per hour) for a couple hour period over northern IL during the evening as strong upper level diffluence within the exit region of an upper level jet streak overspreads what looks to be a fairly transient, but rather robust band of low-to-mid level frontogenesis. Deep and strong dynamic forcing associated with these features will also likely be aided significant by a corridor of very steep mid-level lapse rates (low static stability) above 675 mb. All in all, it appears that the evening hours (roughly from 6 pm through 11pm) will be the period of main travel concerns from heavy snow rates. Snow chances will continue late Thursday night, but rates are likely to wane with time overnight, as the main area of strong forcing begins to peel off to the east. Total snowfall amounts still look on track to be in the 4 to 7 inch range north of I-88, with 2 to 5 inch amounts in the southern sections of the advisory area.
KJB/NWS Chicago
.SHORT TERM… Issued at 253 PM CST Wed Mar 8 2023
Through Friday…
Key Forecast Messages and Concerns:
* Winter Weather Advisory has been issued for the I-88 and northward counties/zones, including WI state line counties which were previously in a Winter Storm Watch, starting 3pm Thursday near/west of Fox Valley, and 6pm Thursday closer to the lake
* Very wet/dense/heavy snow once again, and temperatures starting a few to several degrees above freezing casts uncertainty regarding timing of worsening impacts Thursday afternoon
* There is support for heavy snow rates up to an inch per hour causing impacts to part of the Thursday PM commute, though likely shorter duration of heavy rates and low SLRs points toward 12-hour snow amounts generally below 6″
* Highest snow amounts remain forecast for the state line counties at up to 4-7″ by the time the snow ends early Friday
* Consideration of expanding the WWA a tier or two of counties southward toward I-80 corridor may be warranted depending on guidance and observational trends
Tonight will be quiet and dry under the influence of surface high pressure ridging southward across the Great Lakes. Expecting cloud cover to balance out as mostly cloudy, with lows in the lower to mid 30s by early Thursday.
Meteorological Details for Thursday PM-Friday AM Winter Weather:
We`re yet again headed for an event with marginal boundary layer conditions playing a role in precip (rain to snow) timing, as well as how long it will take worsening impacts on the roads from heavy snowfall rates, since there will likely be some lag on this note.
Parent positively tilted mid-level short-wave over the western US this (Wednesday afternoon) will quickly eject eastward through the day on Thursday and eventually take on a neutral to negative tilt on Thursday night. While temperatures and dew points Thursday morning do leave room for evaporative cooling, noting that the system`s moist plume will carry with it a quick uptick in dew points toward freezing Thursday afternoon. Forecast PWATs will be on the higher side for a winter system at about 0.6-0.65″ in the zone favored for highest snow amounts, though solidly below the off the charts moist plume from last Friday`s record breaking (for its deep surface low) cyclone.
The forecast 2m temperatures are notably well above freezing for all areas early Thursday afternoon per raw model guidance, and into the 40s south of I-80 (perhaps a bit north of that). Stout low level dry wedge will take some time to top down saturate, with even some brief sleet at initial onset of snow and rain north and rain south, though won`t provide much of an impediment to the strong forcing for ascent Thursday PM. Exception is that the likely later onset closer to the lake supports the later 6pm start time of the WWA for DuPage, northern and central Cook, and Lake Counties.
While last Friday`s event and the impending Thursday-early Friday event are not an apples to apples comparison, it does provide a guide as to a lag between the heavy rate of falling snow before 2m, ground, and pavement temps cool sufficiently for accumulations on roads. As alluded to above, some areas, especially with southward extent, will have several hours of plain rain, before any mixing with snow and changing to snow. Recalling last Friday`s events, very heavy snow rates and thundersnow ended up taking u Pto 1-2 hours before appreciable road accumulations. This item makes sustained heavy snow rates an important component of road accums and impacts prior to sunset.
On the plus side, our impending system will have several items going for it with respect to heavy snow rates Thursday PM, namely: aforementioned strong ascent favorably aligned with the DGZ; very steep mid-upper level lapse rates through and especially above the DGZ yielding reduced static stability if not upright instability; and favorably high PWATs and mixing ratios for a period; and transient f-gen aided banding. On the other hand, we noted a shorter duration of support for heavy rates, some of which may overlap the lag time before pavement impacts. Then deeper into Thursday evening and overnight, parameters suggest more occasional bursts of heavier snow rates vs. sustained heavier rates. One item that appears to have been resolved with today`s (Wednesday`s) model guidance is a less pronounced dry intrusion I-80 and north, that would serve to steepen lapse rates rather than result in p-type mix with or transition to drizzle.
Another additional wildcard is the potential for any lake enhancement contribution to QPF and snow totals, given consistent signal in the guidance for higher QPF near the lake. Forecast soundings did not change in this regard, with sub-marginal inversion heights and very meager lake induced instability, so while there may be some modest moisture flux contribution, any lake enhancement to totals may be minor at best. Furthermore, strengthening northeasterly flow off the unseasonably mild for late March Lake MI waters, may offset any lake enhancement by lowering the effective SLRs. The Chicago shore in particular could see this come to pass.
For QPF and snow totals, there was generally a NCEP (GFS/GEFS,NAM and some CAMs) camp with notably higher QPF, with foreign guidance (ECMWF/EPS, Canadian, UKMET) notably lower, though a bit better agreement than last night. Collaborated with WPC to lower the QPF a bit since heavy precip rates appear they could end u Pbeing shorter lived Thursday PM and then transient after. Furthermore, SLRs should average solidly below 10:1 for the event, with best chance for approaching 10:1 being late day Thursday into or through the evening. We noted that forecast positive snow depth change products overall performed better than some of the algorithm driven techniques last Friday, and can envision something similar playing out with this event.
Regarding headline decisions, counties and zones placed into the Winter Weather Advisory are where we had higher confidence in 2″+ snow amounts and more appreciable travel impacts, with highest confidence north. There is a lower probability/lower confidence scenario in which the heavy snow rates more easily overcome the mild starting point tomorrow and these rates are more prolonged, resulting in 12-hour amounts exceeding 6″ warning criteria. We messaged 4-7″ for the northern tier/WI state line counties and 2-5″ for the I-88/290 counties/zones, highest I-88 and north. Since confidence has ticked up for there not being a change to drizzle Thursday night, may need to consider a southward expansion down toward I-80 if trends warrant.
Lighter snow in the system deformation well northwest of the surface low Friday morning should persist into the morning, particularly closer to the lake. Thus, the earlier 7am planned advisory end time inland and 10am closer to the lake. With temperatures only dipping to slightly below freezing in spots and lighter snow rates Friday morning, it`s possible that impacts will be more limited by then for the balance of the morning commute. Expect snow to end or taper to flurries at most Friday PM, cutting off any additional accums, with cloudy and chilly conditions due to brisk northerly winds and temps into the mid-upper 30s.
Castro/NWS Chicago