Thursday Hi 39, mostly cloudy, snow/rain mix 3p into Friday, 2.9″ possible by 8a Friday, winds E to ENE, 11 to 14 to 13 MPH, G18 to 21 to 17 MPH until 8p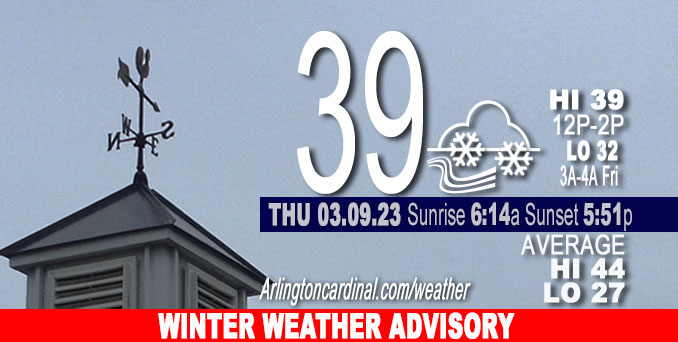 NWS CHGO | NWS HRLY | /NWSchicago | 🌡
ARLINGTON HEIGHTS WEATHER
▴ forecast7 (Arl. Hts.) | RADAR | WIDE RADAR




O'Hare (history KORD, left)
⏪ Hrly Data Table | Hrly Future Graph ⏩
IMPORTANT NOTE ON NWS DATA
Arlington Heights (history KPWK, left)
⏪ Hrly Data Table | Hrly Future Graph ⏩
Hello mobile users! If you encounter a mobile "unfriendly" weather page, turn your phone sideways for a better view.
======================
Thursday and Thursday Evening …
Weather Hazards expected …
Elevated Snow Risk north of I-80.
DISCUSSION…
Accumulating wet snow is expected to spread across northern Illinois late this afternoon into early this evening. Several inches of sloppy, wet snow is expected to accumulate, with the highest totals near the Wisconsin border. Snow may fall heavily at times this evening.
Another bout of accumulating snow possible Saturday night into Sunday with additional scattered snow showers possible Monday
Cooler temperatures through early next week then rebounding midweek.
======================
Winter Weather Advisory
URGENT – WINTER WEATHER MESSAGE…CORRECTED
National Weather Service Chicago IL 329 AM CST Thu Mar 9 2023
Lake IL-DuPage-Northern Cook-Central Cook- Including the cities of Waukegan, Buffalo Grove, Mundelein, Gurnee, Naperville, Wheaton, Downers Grove, Lombard, Carol Stream, Evanston, Des Plaines, Schaumburg, Palatine, Northbrook, Chicago, Cicero, Oak Lawn, Oak Park, and La Grange 329 AM CST Thu Mar 9 2023
…WINTER WEATHER ADVISORY NOW IN EFFECT FROM 6 PM THIS EVENING TO 7 AM CST FRIDAY…
* WHAT…Accumulating wet snow expected. Total snow accumulations ranging from 2 to 4 inches near the I-290 corridor, to 4 to 7 inches closer to the Wisconsin border.
* WHERE…Lake IL, DuPage, and central and northern Cook Counties.
* WHEN…From 6 PM this evening to 7 AM CST Friday.
* IMPACTS…Untreated roads will become snow covered and travel difficult, particularly between 8 PM and 2 AM when the heaviest snow is expected to fall.
* ADDITIONAL DETAILS…Snow rates are likely to peak near 1 inch per hour early this evening. The expected heavy, wet nature of the snow will make shoveling hazardous.
PRECAUTIONARY/PREPAREDNESS ACTIONS…
Slow down and use caution while traveling.
The latest road conditions for Illinois can be obtained on the internet at www.gettingaroundillinois.com.
O'HARE FORECAST …
Forecast Beginning Thursday, Mar. 09, 2023
Thursday: Snow, possibly mixed with rain, mainly after 3pm. High near 40. East wind 10 to 15 mph, with gusts as high as 20 mph. Chance of precipitation is 80%. Total daytime snow accumulation of less than a half inch possible.
Thursday Night: Snow, possibly mixed with rain, becoming all snow after 8pm. Low around 31. East northeast wind 10 to 15 mph, with gusts as high as 20 mph. Chance of precipitation is 100%. New snow accumulation of 2 to 4 inches possible.
Friday: A 30 percent chance of snow, mainly before 8am. Cloudy, with a high near 35. North wind 10 to 15 mph, with gusts as high as 25 mph.
Friday Night: Mostly cloudy, with a low around 29. North wind 5 to 15 mph.
Saturday: Mostly cloudy, with a high near 36. East wind 5 to 10 mph, with gusts as high as 15 mph.
Saturday Night: Snow likely, mainly after midnight. Cloudy, with a low around 30. Chance of precipitation is 60%.
Sunday: A 40 percent chance of snow. Cloudy, with a high near 37.
Sunday Night: A chance of snow before midnight. Mostly cloudy, with a low around 27.
Monday: Mostly cloudy, with a high near 35.
Monday Night: Partly cloudy, with a low around 21.
Tuesday: Sunny, with a high near 35.
Tuesday Night: Partly cloudy, with a low around 23.
Wednesday: Mostly sunny, with a high near 43.
Weather Forecast, Observations Archive NWS O-Hare
Weather Forecast, Night Sky Archive NWS O-Hare

KORD & KPWK Hourly Weather Observations









NORTH AMERICA BELOW (SCROLL ⇩⇩)
Weather WIDE (MOBILE TURN SIDEWAYS)
SPC Convective Outlook on
CHICAGOWEATHERSTATION.COM

ChicagoWeatherStation.com I O'Hare Normal Temps/Precip I O'Hare Record Temps, Precip, Snow
LIVE RADAR | STORM TRACKS | UNISYS US IR SAT | UNISYS Midwest IR SAT | UNISYS More IR SAT
WunderMap® with Temperature/Wind Data || Google: Arlington Heights Area Temps | US TEMPS
Full Screen Motion Weather Radar (Wunderground.com)
Midwest Cloud Cover with Arlington Heights Weather Forecast
ChicagoWeatherStation.com I O'Hare Normal Temps/Precip I O'Hare Record Temps, Precip, Snow
SUNLIGHT DATA FOR SECURITY, TRAFFIC SAFETY, AND SPORTS
SunCalc.net data with solar azimuth and trajectory, times for dawn, sunrise, solar noon, sunset, dusk …
Tweets by @CardinalWeather
NIGHT SKY THIS MONTH …
Backyard stargazers get a monthly guide to the northern hemisphere's skywatching events with "Tonight's Sky." Check the night sky objects for this month and past months in the playlist from the Space Telescope Science Institute YouTube channel (Musical track The Far River written by Jonn Serrie, from the album And the Stars Go With You courtesy of New World Music Ltd).
Get updates from The Cardinal ALL NEWS FEEDS on Facebook. Just 'LIKE' the 'Arlington Cardinal Page (become a fan of our page). The updates cover all posts and sub-category posts from The Cardinal — Arlingtoncardinal.com. You can also limit feeds to specific categories. See all of The Cardinal Facebook fan pages at Arlingtoncardinal.com/about/facebook …

Help fund The Cardinal

Arlingtoncardinal.com/sponsor
Area Forecast Discussion
National Weather Service Chicago/Romeoville, IL
550 AM CST Thu Mar 9 2023
.SHORT TERM… Issued at 320 AM CST Thu Mar 9 2023
Through Friday…
Other than moving up the end time of the advisory for NE IL to 7 AM to match the rest of the advisory area, no meaningful changes made to going forecast for the encroaching winter storm.
Water vapor imagery early this morning shows the well defined shortwave trough and associated Pacific jet stream marching east across the central Rockies. Guidance remains in good agreement in bringing this trough quickly east reaching the western Great Lakes region later this evening. As the trough moves east it should still attain a negative tilt today, then close off a mid-upper level circulation this evening as it moves across the region.
Forcing for ascent continues to look very formidable, as strong low/mid level isentropic ascent is juxtaposed beneath strongly diffluent (thanks to negative tilt) and divergent upper levels. The result will be a period of strong deep omega through the depth of the troposphere, with about a several hour long window of moderate to possibly heavy precipitation. The deep ascent through a wide spectrum of temps with max temps near 0C suggests that where precip type is all snow, it would likely be large, clumpy aggregate snow flakes which should stick to trees (probably making for a picturesque snow).
Precip type is still a little tricky as strong warm air advection is likely offset by initially evaporative then dynamic cooling via ascent. Precip will probably start as rain most everywhere, but quickly transition to snow roughly near/north of the I-88/290 corridor. After sunset, will probably see the rain/mix/snow zones building south, but mid-level dry intrusion should punch into the southern CWA by late evening into the overnight, likely before precip has a chance to change over to all snow. So southern edge of the accumulating snow will probably end up roughly between the I-88/290 corridor and I-80. Have sharpened up the southern gradient of accumulations, but may well end up being an even tighter gradient between snow and no snow accums than depicted in our forecast.
Boundary layer temps in the snow area should largely hover between 32-34F which should result in considerable melting. The heavy wet nature of the snow will also cause considerable compacting while the initially warm ground will also result in some melting from below. All of this combined should result in snow:liquid ratios (SLRs) quite low, solidly below 10:1, even near the WI border and even lower south toward I-88/290. Despite the poor snow ratios, it does seem likely that there will be a several hour period of moderate to perhaps heavy snow across the advisory area. The greater intensity of the snowfall the less opportunity there`ll be for melting/compacting, so during the more intense snowfall, roadways could quickly become snow covered and travel quite difficult.
If 2m temps end up a degree or two colder than forecast and/or the higher QPF in the GFS suite were to verify, then portions of far northern IL could end up with higher totals necessitating an upgrade to a warning. This doesn`t look to be the most likely outcome, but just something to closely monitor in observational and model trends.
Bulk of precip across the western CWA should fall between about 3p-midnight and around 6p-3a for the eastern CWA including the Chicago metro. Dry intrusion punching into the southern 1/2 to 2/3rd of the CWA overnight should result in any linger precipitation changing over to drizzle or very light rain before precip ends by 12Z.
While some light snow could linger into Friday morning across the Chicago metro area, 2m temps near or just above freezing and the light intensity of the snow should result in little to no accumulation on roadways. While hires guidance is generating lake effect precip, forecast soundings show lake induced equilibrium levels below -12C, so any precip would be snow grains or snizzle and not impactful. Impactful snow across the Chicago metro should end between 08-11z, so felt comfortable moving up the end time for the advisory to 13z. Suspect the advisory for the western CWA will be able to be cancelled earlier, but didn`t shorten that end time.
– Izzi/NWS Chicago