Monday Hi 33, mostly cloudy, flurries with snow showers, winds WNW to NW to NNW, 10 to 20 to 11 MPH, G16 to 31 to 21 MPH into Tuesday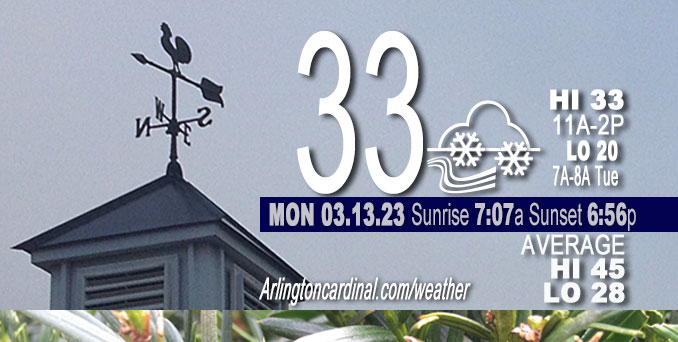 NWS CHGO | NWS HRLY | /NWSchicago | 🌡
ARLINGTON HEIGHTS WEATHER
▴ forecast7 (Arl. Hts.) | RADAR | WIDE RADAR




O'Hare (history KORD, left)
⏪ Hrly Data Table | Hrly Future Graph ⏩
IMPORTANT NOTE ON NWS DATA
Arlington Heights (history KPWK, left)
⏪ Hrly Data Table | Hrly Future Graph ⏩
Hello mobile users! If you encounter a mobile "unfriendly" weather page, turn your phone sideways for a better view.
======================
Monday and Monday Evening …
Weather Hazards expected …
Limited Snow Risk.
DISCUSSION…
Periods of snow showers will result in occasional sharply reduced visibility and spotty coatings of snow, including on some roads.
Lake effect snow showers are also expected into far northwest Indiana late this afternoon and tonight, resulting in minor accumulations generally under 2 inches.
Lows in the low 20s Monday/Tuesday and Tuesday/Wednesday.
======================
O'HARE FORECAST …
Forecast Beginning Monday, Mar. 13, 2023
Monday: Flurries with periods of snow showers before 10am, then periods of snow showers between 10am and 11am, then flurries with periods of snow showers after 11am. High near 33. Breezy, with a north northwest wind 10 to 20 mph, with gusts as high as 30 mph. Chance of precipitation is 80%. Total daytime snow accumulation of less than one inch possible.
Monday Night: Flurries with isolated snow showers before 11pm, then periods of flurries between 11pm and midnight. Cloudy, then gradually becoming partly cloudy, with a low around 20. North northwest wind 10 to 15 mph, with gusts as high as 25 mph. Chance of precipitation is 20%.
Tuesday: Sunny, with a high near 36. North northwest wind 5 to 10 mph, with gusts as high as 15 mph.
Tuesday Night: Mostly clear, with a low around 21. Calm wind becoming south around 5 mph after midnight.
Wednesday: Mostly sunny, with a high near 49. South wind 5 to 15 mph, with gusts as high as 25 mph.
Wednesday Night: A 20 percent chance of rain after 1am. Mostly cloudy, with a low around 40.
Thursday: Rain, mainly after 1pm. High near 51. Chance of precipitation is 80%.
Thursday Night: Rain. Cloudy, with a low around 39. Breezy.
Friday: Rain likely before 1pm, then a chance of rain and snow. Mostly cloudy, with a high near 45. Breezy.
Friday Night: A chance of snow. Mostly cloudy, with a low around 24. Blustery.
Saturday: A chance of snow. Mostly cloudy, with a high near 33. Breezy.
Saturday Night: Mostly cloudy, with a low around 22. Blustery.
Sunday: Mostly sunny, with a high near 37.
Weather Forecast, Observations Archive NWS O-Hare
Weather Forecast, Night Sky Archive NWS O-Hare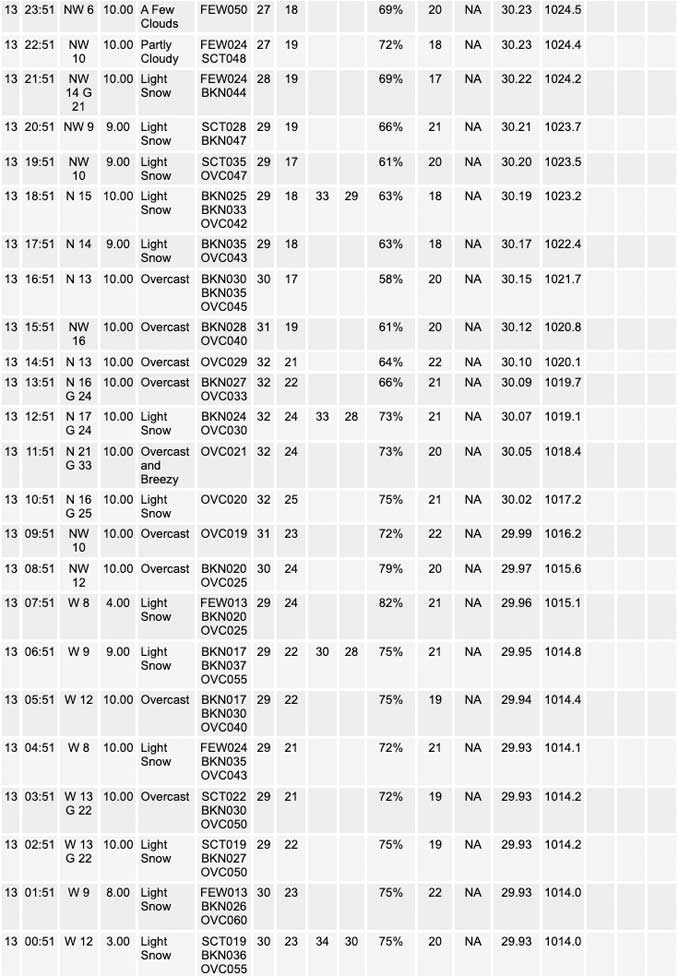 KORD & KPWK Hourly Weather Observations









NORTH AMERICA BELOW (SCROLL ⇩⇩)
Weather WIDE (MOBILE TURN SIDEWAYS)
SPC Convective Outlook on
CHICAGOWEATHERSTATION.COM

ChicagoWeatherStation.com I O'Hare Normal Temps/Precip I O'Hare Record Temps, Precip, Snow
LIVE RADAR | STORM TRACKS | UNISYS US IR SAT | UNISYS Midwest IR SAT | UNISYS More IR SAT
WunderMap® with Temperature/Wind Data || Google: Arlington Heights Area Temps | US TEMPS
Full Screen Motion Weather Radar (Wunderground.com)
Midwest Cloud Cover with Arlington Heights Weather Forecast
ChicagoWeatherStation.com I O'Hare Normal Temps/Precip I O'Hare Record Temps, Precip, Snow
SUNLIGHT DATA FOR SECURITY, TRAFFIC SAFETY, AND SPORTS
SunCalc.net data with solar azimuth and trajectory, times for dawn, sunrise, solar noon, sunset, dusk …
Tweets by @CardinalWeather
NIGHT SKY THIS MONTH …
Backyard stargazers get a monthly guide to the northern hemisphere's skywatching events with "Tonight's Sky." Check the night sky objects for this month and past months in the playlist from the Space Telescope Science Institute YouTube channel (Musical track The Far River written by Jonn Serrie, from the album And the Stars Go With You courtesy of New World Music Ltd).
Get updates from The Cardinal ALL NEWS FEEDS on Facebook. Just 'LIKE' the 'Arlington Cardinal Page (become a fan of our page). The updates cover all posts and sub-category posts from The Cardinal — Arlingtoncardinal.com. You can also limit feeds to specific categories. See all of The Cardinal Facebook fan pages at Arlingtoncardinal.com/about/facebook …

Help fund The Cardinal

Arlingtoncardinal.com/sponsor
Area Forecast Discussion
National Weather Service Chicago/Romeoville, IL
606 AM CDT Mon Mar 13 2023
.SHORT TERM… Issued at 242 AM CDT Mon Mar 13 2023
Through Tuesday…
Key Messages:
* Frequent flurries and occasional snow showers sharply reducing visibility and bringing quick accums under one inch today; the more robust snow showers are favored over northeast Illinois at times this morning and northwest Indiana during midday
* Lake effect snow showers in far northwest Indiana late today and tonight with amounts generally under two inches in that time
* Blustery and unseasonably chilly through midday Tuesday, with the lowest wind chills of single digits to lower teens during early Tuesday morning
A cold look to the satellite water vapor imagery this morning, with a closed low centered across southern Wisconsin moving southeast. Mid-level temperatures observed near the center last evening on the 00Z MPX sounding fell in the coldest tenth percentile for mid March. Regional radar imagery indicates spiraling areas of snow showers spanning a couple hundred miles around this circulation, spawned by strong differential cyclonic vorticity advection (DCVA) and steepened lapse rates from those cool temperatures aloft. This radar presentation should largely hold through the morning as the upper level low tracks to the Michiana region.
In the low-levels, a re-enforcing cold front will be forced southward over the forecast area this morning into early afternoon and this will align with the continued forcing noted above. The convergence along this front will be greatest in northeast Illinois into northwest Indiana, and there is signal for a semi- concentrated area of robust snow showers within this strongly forced zone. Upstream early this morning that is evident in east central Wisconsin. Forecast profiles for the Chicago area from 9-11 A.M. indicate positive CAPE and the upper portion of the unstable layer intersecting the dendritic growth zone (DGZ). Already early this morning here in Romeoville we saw some larger sized flakes within snow showers, so seems like the DGZ will be in play with any snow showers today. Will have to keep an eye on this mid to late morning activity near that front, with shar Preductions in visibility and quick accumulations of one half to one inch within an hour possible. These snow showers are also ahead of an abrupt wind speed increase, with a period of gusts to 30 mph and even 35 mph near the lake shore. So if these elements align, it could bring brief snow squall-like behavior. One key uncertainty though is that some convection-allowing models (CAMs) take all of this heavy snow shower signal offshore of northeast Illinois. Most though do bring some of it into northwest Indiana by early this afternoon, with continued forcing for a few hours during the first half of the afternoon. So will message the potential for some robust snow showers for motorists during the mid-morning through early afternoon period.
With cold advection behind the front and widespread clouds, temperatures will basically go nowhere during today. Flurries and occasional snow showers should continue from the cloud deck into this evening, with some diurnal component able to keep coverage u Pin the afternoon. The subsidence inversion will finally lower enough to erode the cloud deck late tonight into early Tuesday morning with high confidence.
As for lake effect snow showers, far northwest Indiana looks to be under streaming lake effect snow showers later today and tonight, with peak coverage into Porter County (and points east) during the evening hours. The difference between the 850 mb temperatures and lake surface is around 15C and that or higher is usually good for lake effect if enough saturation, and that doesn`t look to be a problem. Lake-induced cloud tops are forecast around 7 kft. so not off the charts. With a 9-12 hour period of snow showers, seemingly a couple inches to maybe even three inches on the high end could materialize in Porter County.
Tuesday will be sunny for most, with lake effect clouds fading over northwest Indiana by midday. High pressure of 1030 mb will pass during the afternoon. Temperatures over the snow cover areas of far northern Illinois will see similar highs to today, while south of there upper 30s are on track.
MTF/NWS Chicago