Friday Hi 67, TORNADO WATCH, severe thunderstorms, partly cloudy to mostly cloudy, winds SSW to SW, 16 to 34 to 24 MPH, G31 to 52 to 32 MPH, continuing Saturday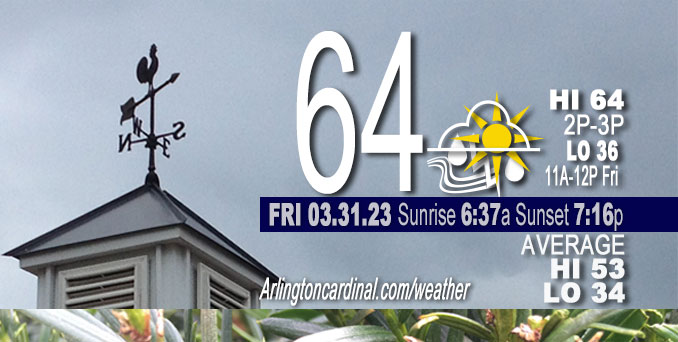 NWS CHGO | NWS HRLY | /NWSchicago | 🌡
ARLINGTON HEIGHTS WEATHER
▴ forecast7 (Arl. Hts.) | RADAR | WIDE RADAR




O'Hare (history KORD, left)
⏪ Hrly Data Table | Hrly Future Graph ⏩
IMPORTANT NOTE ON NWS DATA
Arlington Heights (history KPWK, left)
⏪ Hrly Data Table | Hrly Future Graph ⏩
Hello mobile users! If you encounter a mobile "unfriendly" weather page, turn your phone sideways for a better view.
======================
Friday and Friday Evening …
TORNADO WATCH 2:35 PM to 10:00 PM
Weather Hazards expected …
Significant Thunderstorm Risk with …
Elevated Tornado Risk (especially western Illinois and southeast Iowa, far northeast Missouri (30% risk); most of Illinois (15% risk), eastern Illinois (10% risk) and far northeast Illinois (5% risk)… % probability of a tornado within 25 miles of a point.
Elevated Hail Risk…up to golf ball size
Significant Damaging Wind Risk…up to 80 mph
Limited Flooding Risk
Elevated Non Thunderstorm Wind Risk.
DISCUSSION…
A robust early spring storm system will track across the Midwest and into the Great Lakes region today. A significant severe threat exists across the area this afternoon through mid evening. All severe weather hazards are possible, including significant damaging winds and strong tornadoes. Stay up to date with the latest forecast information.
A period of strong non-thunderstorm winds to around 50 mph is expected late this afternoon and into Saturday morning. At this time, the strongest winds are favored to be south of I-80.
The high temperature forecast of 67°F trended down to 64°F in the late morning forecast.
RELATED NEWS …
CARDINAL NEWS | Tornado Warning Sirens Activate 5 Times in Arlington Heights and There Was No Tornado Warning Here; Explanation
======================
O'HARE FORECAST …
Forecast Beginning Friday, Mar. 31, 2023
Friday: Breezy and warmer after sunrise. Showers and thunderstorms likely, mainly after 4pm. Some of the storms could be severe. Cloudy, with a high near 64. Breezy, with a south southwest wind 15 to 20 mph, with gusts as high as 30 mph. Chance of precipitation is 60%. New rainfall amounts between a tenth and quarter of an inch, except higher amounts possible in thunderstorms.
Tonight: Showers and thunderstorms before 11pm, then a slight chance of showers after 4am. Some of the storms could be severe. Low around 36. Breezy, with a southwest wind 20 to 25 mph, with gusts as high as 45 mph. Chance of precipitation is 100%. New precipitation amounts between a half and three quarters of an inch possible.
Saturday: Rain and snow showers likely, mainly before 10am. Cloudy, then gradually becoming mostly sunny, with a high near 41. Breezy, with a west southwest wind 15 to 25 mph becoming north northwest in the afternoon. Winds could gust as high as 45 mph. Chance of precipitation is 60%. Little or no snow accumulation expected.
Saturday Night: Mostly clear, with a low around 28. North wind 5 to 10 mph becoming south southeast after midnight. Winds could gust as high as 20 mph.
Sunday: Mostly sunny, with a high near 57. Breezy, with a south wind 5 to 10 mph increasing to 15 to 20 mph in the afternoon. Winds could gust as high as 30 mph.
Sunday Night: Partly cloudy, with a low around 44. Breezy.
Monday: A 40 percent chance of rain after 1pm. Partly sunny, with a high near 61.
Monday Night: Rain likely. Mostly cloudy, with a low around 43.
Tuesday: Rain likely, with thunderstorms also possible after 1pm. Mostly cloudy, with a high near 65.
Tuesday Night: Rain and possibly a thunderstorm before 1am, then rain likely. Mostly cloudy, with a low around 48. Breezy.
Wednesday: A chance of rain. Mostly sunny, with a high near 61. Breezy.
Wednesday Night: Mostly clear, with a low around 32. Breezy.
Thursday: Mostly sunny, with a high near 49.
Weather Forecast, Observations Archive NWS O-Hare
Weather Forecast, Night Sky Archive NWS O-Hare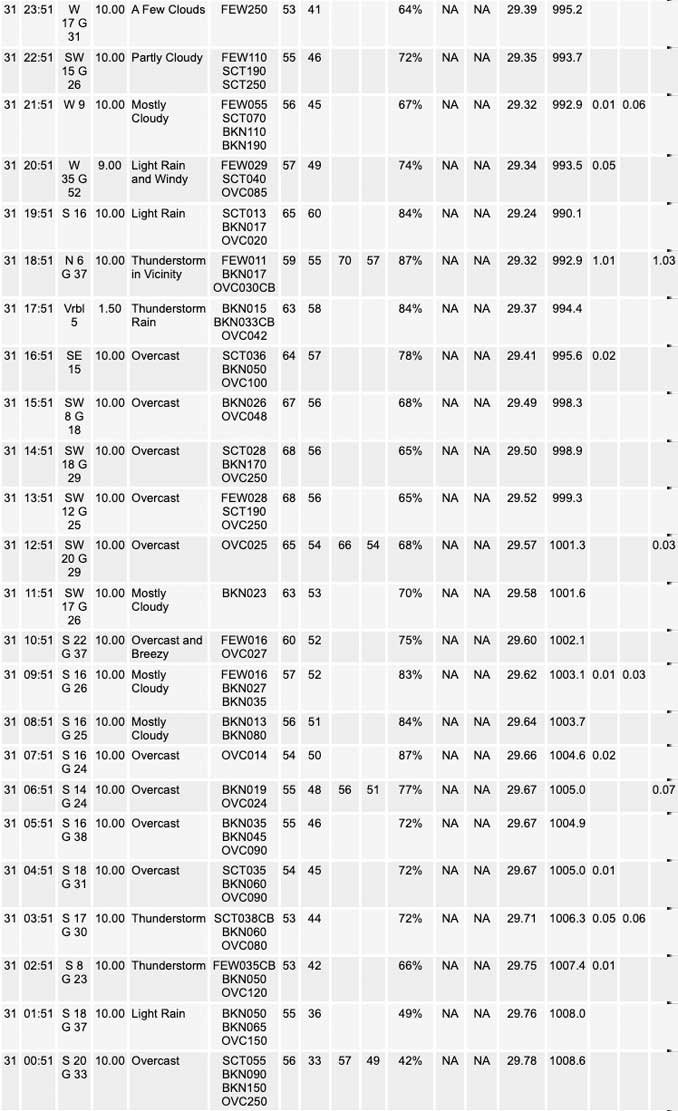 KORD & KPWK Hourly Weather Observations









NORTH AMERICA BELOW (SCROLL ⇩⇩)
Weather WIDE (MOBILE TURN SIDEWAYS)
SPC Convective Outlook on
CHICAGOWEATHERSTATION.COM

ChicagoWeatherStation.com I O'Hare Normal Temps/Precip I O'Hare Record Temps, Precip, Snow
LIVE RADAR | STORM TRACKS | UNISYS US IR SAT | UNISYS Midwest IR SAT | UNISYS More IR SAT
WunderMap® with Temperature/Wind Data || Google: Arlington Heights Area Temps | US TEMPS
Full Screen Motion Weather Radar (Wunderground.com)
Midwest Cloud Cover with Arlington Heights Weather Forecast
ChicagoWeatherStation.com I O'Hare Normal Temps/Precip I O'Hare Record Temps, Precip, Snow
SUNLIGHT DATA FOR SECURITY, TRAFFIC SAFETY, AND SPORTS
SunCalc.net data with solar azimuth and trajectory, times for dawn, sunrise, solar noon, sunset, dusk …
Tweets by @CardinalWeather
NIGHT SKY THIS MONTH …
Backyard stargazers get a monthly guide to the northern hemisphere's skywatching events with "Tonight's Sky." Check the night sky objects for this month and past months in the playlist from the Space Telescope Science Institute YouTube channel (Musical track The Far River written by Jonn Serrie, from the album And the Stars Go With You courtesy of New World Music Ltd).
Get updates from The Cardinal ALL NEWS FEEDS on Facebook. Just 'LIKE' the 'Arlington Cardinal Page (become a fan of our page). The updates cover all posts and sub-category posts from The Cardinal — Arlingtoncardinal.com. You can also limit feeds to specific categories. See all of The Cardinal Facebook fan pages at Arlingtoncardinal.com/about/facebook …

Help fund The Cardinal

Arlingtoncardinal.com/sponsor
/////////////>
Area Forecast Discussion
National Weather Service Chicago/Romeoville, IL
1043 AM CDT Fri Mar 31 2023
.UPDATE… Issued at 1043 AM CDT Fri Mar 31 2023
A well-defined lead mid-level wave entering southwest MO will continue to muddle the forecast evolution this afternoon. A small 70kt jet streak associated with this wave has started to show more coverage of convection, albeit still elevated, between Kansas City and Springfield, MO. Timing of the wave and developing convection is progged to arrive into our southwest CWA as early as 19Z-20Z. The main questions with this potential round of storms include:
1) Does the SW MO convection grow upscale? 2) Will the convection have enough time to become surface-based?
Obs trends combined with recent CAM guidance do support at least some upscale growth as impressive mid/upper forcing continue to erode an existing EML with northeast extent. A well-organized convective complex may struggle to fully materialize, which would increase some concern for the potential of more discrete activity into our area. This leads to the question of surface-based convection potential. In the wake of pre-dawn convection over Illinois, the EML has suppressed most mid to upper-level cloud cover. Some low-level clearing has been more aggressive than initially expected, with surface temps already around 60F. Surface dew points remain a little more questionable, with mid 50s dew points to the southwest requiring at least some assistance with mixing down higher mixing ratios in the 800-900hPa layer. With all that said, there is increasing concern that low-level profiles will become more favorable for surface-based convection as far north as the Illinois River and possibly into the southern Chicago metro by 20-21Z/3-4pm. All hazards will remain on the table if convection does become surface-based, including supercells capable of very large hail, strong winds, and possibly a strong tornado. OVerall, the concern window is highest 3-5pm.
Assessment continues with the second wave of convection along the cold front early to mid-evening (6-10pm). The impressive dynamics will support a significant severe threat owing to rapid replenishment of the upstream airmass even in the wake of potential convection mid-afternoon.
Kluber
&&
.SHORT TERM… Issued at 334 AM CDT Fri Mar 31 2023
Through Saturday…
Complex weather scenario playing out over the next 12-18 hours with an all-hazards severe weather risk (including the potential for damaging winds (significant severe gusts in excess of 75 mph are on the table), a few to even several tornadoes, and damaging hail. However, uncertainty in how things play out, including who has the locally highest severe risk and ultimate magnitude and coverage has gotten a little more nebulous/muddied based on overnight guidance.
In the very near term, elevated showers and thunderstorms will continue to track east across the region this morning in association with a lead wing of isentropic ascent acting upon a plume of steepened mid-level laps rates. Given effective inflow bases above 1-1.5 km, deep layer shear is pretty limited (less than 20 kts), so we`re not anticipating much of a severe risk with this activity although have seen depths occasionally increasing enough to suggest penny to perhaps nickel hail in the most robust cores. Expecting that coverage will gradually wane through the morning hours.
The main change to this afternoon`s forecast in overnight guidance has been to more strongly suggest a lead impulse firing an earlier round of convection across parts of Missouri before spreading north and east into our region. Conceptually, this activity looks like it would be forced on the nose of an intensifying 500 mb jet streak near 70 kts which is just now spreading east across parts of Oklahoma. Noting greatly increasing upper divergence into our region early this afternoon as a result, and this seems like it`ll easily catch up to a renewed reservoir of a pretty much untouched EML plume characterized by very steep 500-700 mb lapse rates nearing 9 C/km. Given the intense nature of jet forcing and how steep the mid-level lapse rate plume is forecast to be, can`t really see how things don`t rapidly convect into parts of the forecast area early-mid afternoon (although a quieter early-mid afternoon solution is still advertised by a handful of hires output). Currently, best guess is this initial/lead activity gets close to or into our forecast area around 1-2 PM or so before developing north and eastward.
Depending on how quickly this lead activity develops, parts of it may remain just a bit elevated (initially), but any southwestward development, or tardier progression will greatly increase the potential for cells to become rooted at the surface as dewpoints crawl upwards and MLCINH decreases. Kinematic profiles get very concerning very quickly towards mid to late afternoon, particularly across the southwestern half of our forecast area where, if convection is ongoing, discrete or semi-discrete supercells have the potential to become surface based with an attendant increasing tornado risk (talking possible sig-tor territory given the parameter space) with large, looping hodographs noted. All modes of severe weather would be possible, seemingly highest in a corridor south and west of Rockford to Joliet to Watseka in the vicinity of the surging 60 degree isodrosotherm although the tornado risk could very well extend farther north and east depending on just how quickly the near- surface manages to destabilize (another wild-card present).
If this initial activity materializes, it remains unclear just how much of a deleterious impact it will have on the thermodynamic and kinematic profiles ahead of the incoming cold front. Given how strong the low-level mass response is, there`s a possibility that the airmass recovers just enough in the 2-3 hours between waves to support a secondary severe window across pretty much all of the forecast area although a pristine/untouched airmass would not exist across the full breadth of our CWA. Increasing large scale forcing for ascent along the surging front and associated occlusion looks to result in fairly quick growth in a line or several LEWPS, entering our I-39 locales after about 6-7 PM before racing north and eastward at about 65 mph. The HRRR is certainly aggressively indicating our airmass will have no trouble supporting a renewed severe threat with this evening frontal convection and is now formally resolving sig-severe wind gusts through much of the region. QLCS mesovortexgenesis would also be on the table here given incredible low-level shear profiles resulting in an attendant embedded tornado threat.
All of this to say that the table is certainly set for a potentially significant severe weather episode across parts of our area, but lingering uncertainties exist particularly owing to the potential for a lead area convection early-mid afternoon. The end result of all of this: continue to monitor the forecast today for updates!
In addition to the convection potential, a non-thunderstorm wind potential exists, as early as this afternoon as deeper mixing is realized into the core of the robust LLJ. Best chance for more widespread strong non-thunderstorm gusts will be in the developing cold advective regime late tonight as low-level lapse rates steepen. Am even seeing a potential for a brief window of 55 mph gusts across the entire region initially (up to the WI state line), although confidence in this was too low to indicate in the grids at this time. Highest confidence for gusts over 45 mph as near and south of I-80, and have issued a Wind Advisory to cover both the WAA-driven southwesterlies and CAA-driven westerlies there for late this afternoon through Saturday morning. Based on the depth of the mixed layer (up near 850 mb) and incredible pressure rises (12-15 mb/3 hour advertised), am still somewhat concerned there may be a brief window for damaging gusts approaching 60 mph in a brief "pop" late tonight as the main CAA- push arrives.
Additional area of precipitation will sweep through the area on Saturday morning. Profiles are cold enough to support a changeover to all snow in our far north, although temperatures expected to remain at or above freezing for the most part limiting impacts. If things were colder, would be more concerned with a squall/snow squall potential given the lingering strong winds through the PBL.
Carlaw/NWS Chicago