Tuesday Hi 66, thunderstorms, mostly cloudy to partly sunny, winds E to SE to SSW, 14 to 22 MPH, G25 to 21 to 34 MPH, continuing Wednesday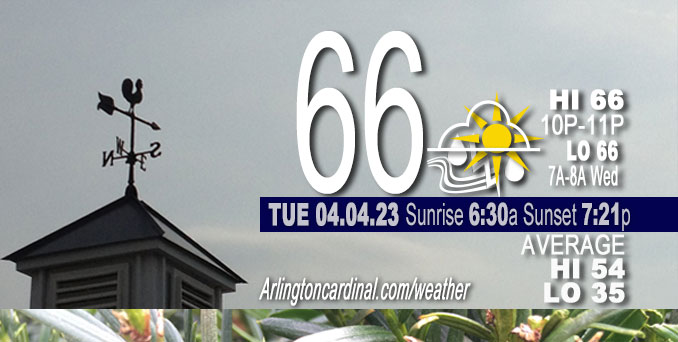 NWS CHGO | NWS HRLY | /NWSchicago | 🌡
ARLINGTON HEIGHTS WEATHER
▴ forecast7 (Arl. Hts.) | RADAR | WIDE RADAR




O'Hare (history KORD, left)
⏪ Hrly Data Table | Hrly Future Graph ⏩
IMPORTANT NOTE ON NWS DATA
Arlington Heights (history KPWK, left)
⏪ Hrly Data Table | Hrly Future Graph ⏩
Hello mobile users! If you encounter a mobile "unfriendly" weather page, turn your phone sideways for a better view.
======================
Tuesday and Tuesday Evening …
Weather Hazards expected …
Elevated Thunderstorm Risk…with associated …
Elevated Tornado Risk.
Elevated Hail Risk…up to golf ball size.
Elevated Damaging Wind Risk…up to 70 mph.
Limited Flooding Risk.
Tuesday high temperature 66 well above normal 54.
DISCUSSION…
Scattered thunderstorms are possible late this morning and afternoon, mainly north of I-88. A few could be severe with a threat for damaging hail capable of denting cars and siding.
Additional thunderstorms are possible late this afternoon and through the evening. There remains considerable uncertainty if storms will develop. If they do, all modes of severe weather would be possible, mainly for locales north and west of La Salle to Woodstock. Thunderstorms may continue into the early overnight north of I-88 with mainly a large hail threat.
======================
O'HARE FORECAST …
Forecast Beginning Tuesday, Apr. 04, 2023
Tuesday: A 40 percent chance of showers and thunderstorms, mainly between noon and 4pm. Cloudy, with a high near 64. East wind around 15 mph, with gusts as high as 25 mph.
Tuesday Night: A chance of showers and thunderstorms before 2am, then a slight chance of showers and thunderstorms after 3am. Mostly cloudy, with a temperature rising to around 68 by 1am. Breezy, with a southeast wind 15 to 25 mph becoming south southwest after midnight. Winds could gust as high as 35 mph. Chance of precipitation is 40%.
Wednesday: Showers and thunderstorms likely, mainly between 10am and 1pm. Partly sunny, with a temperature rising to near 71 by 10am, then falling to around 56 during the remainder of the day. Windy, with a south wind 20 to 30 mph, with gusts as high as 40 mph. Chance of precipitation is 60%. New rainfall amounts between a tenth and quarter of an inch, except higher amounts possible in thunderstorms.
Wednesday Night: Mostly clear, with a low around 34. Breezy, with a west wind 20 to 25 mph, with gusts as high as 35 mph.
Thursday: Sunny, with a high near 52. Breezy, with a west wind 15 to 20 mph, with gusts as high as 30 mph.
Thursday Night: Clear, with a low around 35.
Friday: Sunny, with a high near 52.
Friday Night: Partly cloudy, with a low around 38.
Saturday: Mostly sunny, with a high near 61.
Saturday Night: Mostly clear, with a low around 45.
Sunday: Mostly sunny, with a high near 68.
Sunday Night: A chance of showers. Mostly cloudy, with a low around 51.
Monday: Mostly sunny, with a high near 65.
Weather Forecast, Observations Archive NWS O-Hare
Weather Forecast, Night Sky Archive NWS O-Hare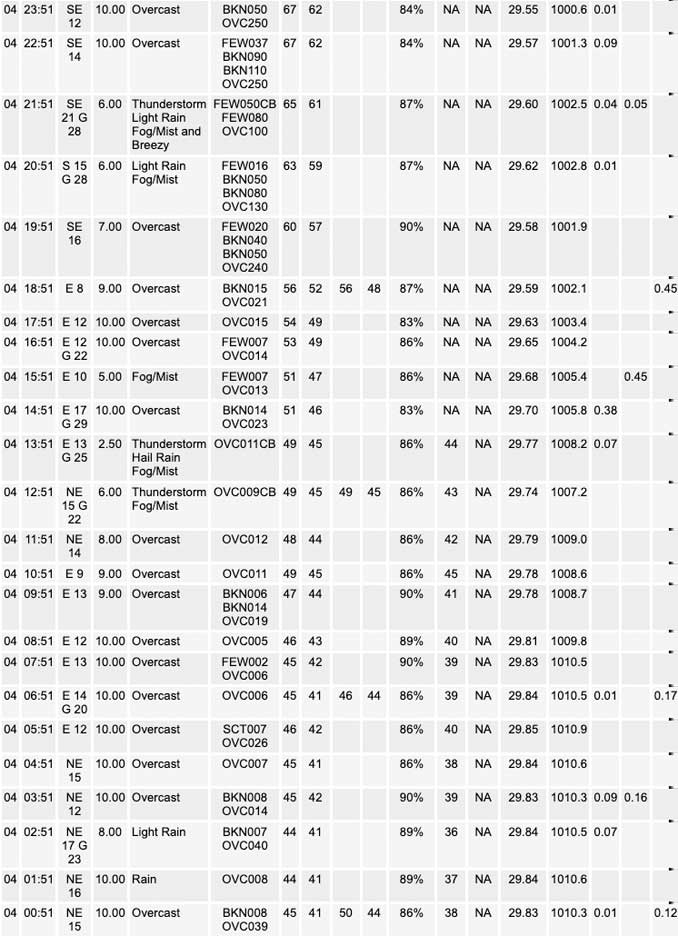 KORD & KPWK Hourly Weather Observations









NORTH AMERICA BELOW (SCROLL ⇩⇩)
Weather WIDE (MOBILE TURN SIDEWAYS)
SPC Convective Outlook on
CHICAGOWEATHERSTATION.COM

ChicagoWeatherStation.com I O'Hare Normal Temps/Precip I O'Hare Record Temps, Precip, Snow
WunderMap® with Temperature/Wind Data || Google: Arlington Heights Area Temps | US TEMPS
Midwest Cloud Cover with Arlington Heights Weather Forecast
ChicagoWeatherStation.com I O'Hare Normal Temps/Precip I O'Hare Record Temps, Precip, Snow
SUNLIGHT DATA FOR SECURITY, TRAFFIC SAFETY, AND SPORTS
SunCalc.net data with solar azimuth and trajectory, times for dawn, sunrise, solar noon, sunset, dusk …
Tweets by @CardinalWeather
NIGHT SKY THIS MONTH …
Backyard stargazers get a monthly guide to the northern hemisphere's skywatching events with "Tonight's Sky." Check the night sky objects for this month and past months in the playlist from the Space Telescope Science Institute YouTube channel (Musical track The Far River written by Jonn Serrie, from the album And the Stars Go With You courtesy of New World Music Ltd).
Get updates from The Cardinal ALL NEWS FEEDS on Facebook. Just 'LIKE' the 'Arlington Cardinal Page (become a fan of our page). The updates cover all posts and sub-category posts from The Cardinal — Arlingtoncardinal.com. You can also limit feeds to specific categories. See all of The Cardinal Facebook fan pages at Arlingtoncardinal.com/about/facebook …

Help fund The Cardinal

Arlingtoncardinal.com/sponsor
/////////////>
Area Forecast Discussion
National Weather Service Chicago/Romeoville, IL
652 AM CDT Tue Apr 4 2023
.SHORT TERM… Issued at 254 AM CDT Tue Apr 4 2023
Through Wednesday…
Really complex forecast set-up today and this evening, and one of those that makes you want to pull your hair out given the extreme range of possible impacts across the scenario space. Will try to outline things the best way we can here, but note that the difference between severe storms and nothing may come down to things like subtle temperature/dewpoint differences on the order of just a degree or two. One of the bigger messages today is that the severe threat for Wednesday has taken a significant upward jump. More on that later.
In the very near term, broad warm advection continues early this morning, with scattered elevated convection developing along and north of I-80. Thus far, individual cores have stayed in check with the main MUCAPE axis still relegated well to our south. Stout southwesterlies within the low-level jet will continue to pump a richer theta-e airmass northward and will result in a gradual increase in elevated instability into the mid morning hours. Hires guidance has been all over the place regarding convective trends which doesn`t lend a great deal of confidence in the near-term forecast trends. Fast-looping the low-level water vapor channel does seem to reveal a subtle disturbance currently traversing the Iowa/Missouri border, although you really have to squint to see it. Timing this out, this looks to arrive into our far SW locales towards 5-6 AM. At that point, MUCAPE may have built just enough to result in an additional area of somewhat more robust elevated convection into our southern locales–and can already see the first vestiges of this activity materializing.
Late morning and early afternoon severe potential…
The other change being noted in overnight guidance has been to show more of a signal for scattered convection developing later this morning somewhere north of the Quad Cities–ostensibly on the nose of the low-level jet, with very robust isentropic upglide noted on the 305-310 K theta surfaces which will intercept a region of gradually-steepening lapse rates. Have boosted pops in my northwest and north into the high-end chance range to account for this a bit better (could still be a smidge low). Profiles by this time (call it 11 AM to 2/3 PM) would be supportive of severe storms, although these would be elevated with inflows rooted above about 850 mb. A large hail threat could be realized with this activity as effective bulk shear values meander upwards of 50-60 kts. Will continue to keep a close eye on this, with the main corridor of interest north of about the I-88 corridor.
By the early-mid afternoon, sharpening warm frontal zone will be gradually pushing across our area, although lake influences will undoubtedly curtail its northward progress. This will set the stage for an exceptional temperature gradient in the area this afternoon, with 40s/near 50 degree near the WI state line and upper 70s and even a few 80 degree readings south of I-80. To the north of the front, low clouds, intermittent drizzle, and even some fog pushing in off the lake seem plausible. By mid-afternoon, it`s very possible the south side of Chicago is getting into warm sector while the north side is still stuck with low clouds and southeast winds off the lake.
Late afternoon and evening severe potential…
Attention for the remainder of the afternoon really turns to our south and west, where we`ll be monitoring for convective initiation across parts of SE IA, NE MO, and far west-central IL. Huge error bars here as the difference between severe weather and nothing (i.e. a "cap bust") will come down to just a degree or three on temps/dewpoints.
By late this afternoon, we have a pretty good idea of the warm front location somewhere near/along I-90. Unlike this past Friday`s event, the parent 500 mb low will still be way to the west across parts of western South Dakota and Nebraska with an attendant surface low developing northeastward into western Iowa. This will place us solidly under neutral or even slight mid-level height rises, indicative of nebulous/modest large scale forcing for ascent. With an expansive hot/dry EML plume emanating northward (the leading edge was sampled nicely by the Springfield sounding last evening which showed 800 mb temps near +16 C), robust lifting and cooling of this effective capping layer will not be present today. Upstream soundings across the deep south reveal that while it`s not a super shallow one, the moist layer isn`t terribly deep. As a result, deep mixing within the free warm sector has the potential to mix dewpoints out a bit this afternoon. While we currently think the HRRR is on the more aggressive side, upper 50/near 60 degree dewpoints would result in dewpoint depressions approaching 25 degrees. Coupled with limited lifting/cooling of the 800-700 mb capping inversion, things are right on the cusp for CI.
Given the aforementioned capping influences, there will be a fairly limited time window in which storms would need to materialize in the warm sector across eastern IA, far west-central Illinois, and northeast Missouri–between about 300 and 630 PM on the nose of an incoming 60-70 kt 500 mb jet streak. After this time, the loss of daytime heating will result in inexorably increasing MLCIN to a point where surface-based convection would not be possible. Elevated convection atop the warm frontal zone across far northern Illinois into Wisconsin would still be possible during the evening and early overnight, however, with the main threat there being from large hail.
If the cap breaks and storms can initiate in the warm sector– putting chances right now around 30-40 percent based on the multi-model consensus–explosive development would occur within a strongly unstable and sheared environment. Very large hail and tornadoes would be in play given the shear space. Lingering background capping would also likely suppress more widespread development, leading to only a few supercells (perhaps even on one or two), but the ceiling in severity on these would be quite high. Thereafter, the window for storms remaining surface based would also be pretty limited as effective inflows begin to encounter increasing MLCIN through the evening. Additionally, NE motions would eventually take any lingering storms north of the warm front through the mid-evening. Based on the current suite of guidance which does convect, the main corridor we`re monitoring for a severe threat late this afternoon and evening is approximately north and west of a La Salle to Woodstock line.
Thereafter, additional storm development into the evening is possible, but think these would be elevated with mainly a large hail threat. The late overnight period may be pretty uneventful (outside of gusty southerly winds).
Wednesday severe potential…
With an overall slower progression, severe weather on Wednesday is more in play now (and actually sharply so). Surging cold front will overtake the dryline late Tuesday night. Would think that most activity will diminish in intensity through the late overnight hours, but as the front gets into our region Wednesday morning, potential for pretty quick re-intensification is evident. Plentiful low-level instability appears to be present, and should only increase after sunrise. Low-level wind fields are intense, and shear parameters would easily support QLCS mesovortexgenesis, embedded LEWPs, supercells, etc. with an attendant threat for widespread damaging winds and several tornadoes, and a sig-tor threat can`t be discounted with effective STP values forecast north of 2-3. This threat is looking notably more concerning now, with the potential for fast-moving severe convection to impact a pretty wide swath of our real estate through the mid-late morning and early afternoon hours. Absolutely concur with the SPC`s upgrade to a level 3/5 risk with the latest day 2 forecast.
Severe threat should push east of our NW Indiana counties through early afternoon. Strong and gusty westerly winds will develop in the post-frontal airmass. Damaging non-thunderstorm wind potential is looking a bit less concerning now, although think there`s still a decent potential for Wind Advisory criteria to be met north of I-88.
Carlaw/NWS Chicago