FRIDAY Hi 57°F, fire weather risk, partly sunny, winds SW to W, 9 to 21 to 9 MPH, G17 to 33 to 15 MPH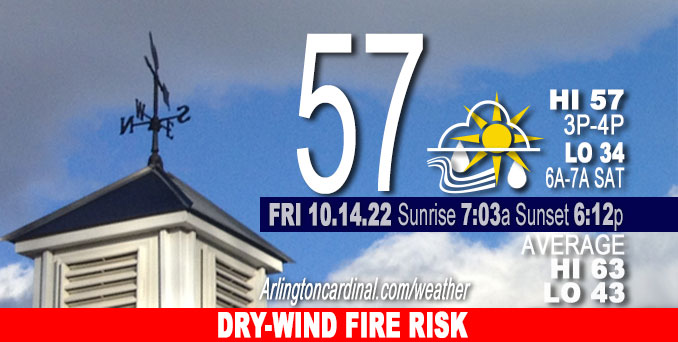 NWS CHGO | NWS HRLY | /NWSchicago | 🌡
ARLINGTON HEIGHTS WEATHER
▴ forecast7 (Arl. Hts.) | RADAR | WIDE RADAR
⏪ Hrly Data Table | Hrly Future Graph ⏩
IMPORTANT NOTE ON NWS DATA
======================
Special Weather Statement
National Weather Service Chicago/Romeoville IL
332 AM CDT Fri Oct 14 2022
DuPage
La Salle-Kendall
Grundy
Northern Cook
Central Cook
Southern Cook
Northern Will
Southern Will
Eastern Will
Lake IN
Porter
Including the cities of Naperville, Wheaton, Downers Grove, Lombard, Carol Stream, Ottawa, Streator, La Salle, Mendota, Marseilles, Oswego, Yorkville, Plano, Morris, Coal City, Minooka, Evanston, Des Plaines, Schaumburg, Palatine, Northbrook, Chicago, Cicero, Oak Lawn, Oak Park, La Grange, Calumet City, Oak Forest, Lemont, Orland Park, Park Forest, Joliet, Bolingbrook, Plainfield, Mokena, Channahon, Manhattan, Wilmington, Crete,
Peotone, Beecher, Gary, Hammond, Merrillville, Portage, Valparaiso, and Chesterton
332 AM CDT Fri Oct 14 2022
…ELEVATED FIRE DANGER THIS AFTERNOON…
The combination of strong winds and dry conditions will result in an elevated fire danger and associated threat for fire spread this afternoon.
Outdoor burning is not recommended, and extra caution is urged around any equipment that may cause fire ignition. Any fires will pose an increased risk of spreading rapidly out of control.
No watches or warnings issued near O'Hare at 09:00 a.m.
Updates at Arlingtoncardinal.com/NWSChicago
Weather hazards expected…
Limited Non Thunderstorm Wind Risk.
Significant Fire Weather Risk.
Gusty southwest winds up to 40 mph are possible this afternoon. These winds will combine with very dry conditions to produce a
high fire danger south of the Kankakee River Valley and elevated fire danger across much of the rest of the area.
Relative Humidity as low as 25% with wind gusts over 30 MPH forecast from 2pm to 4pm.
======================
O'HARE FORECAST …
Forecast Beginning Friday, Oct. 14, 2022
Friday: Partly sunny, with a high near 57. Breezy, with a south southwest wind 10 to 15 mph increasing to 15 to 20 mph in the afternoon. Winds could gust as high as 35 mph.
Friday Night: Scattered showers, mainly before 11pm. Cloudy during the early evening, then gradual clearing, with a low around 35. Breezy, with a west wind 10 to 20 mph, with gusts as high as 30 mph. Chance of precipitation is 30%.
Saturday: Mostly sunny, with a high near 52. West wind 10 to 15 mph, with gusts as high as 20 mph.
Saturday Night: Partly cloudy, with a low around 41. Southwest wind 5 to 10 mph, with gusts as high as 15 mph.
Sunday: Mostly sunny, with a high near 54. West northwest wind 5 to 15 mph, with gusts as high as 20 mph.
Sunday Night: A slight chance of rain showers after 2am, mixing with snow after 5am. Mostly cloudy, with a low around 35. Chance of precipitation is 20%.
Monday: A slight chance of rain and snow showers before 8am, then a slight chance of rain showers. Partly sunny, with a high near 45. Chance of precipitation is 20%.
Monday Night: Partly cloudy, with a low around 31.
Tuesday: Mostly sunny, with a high near 46.
Tuesday Night: Partly cloudy, with a low around 30.
Wednesday: Mostly sunny, with a high near 48.
Wednesday Night: Partly cloudy, with a low around 35.
Thursday: Mostly sunny, with a high near 55.
Weather Forecast, Observations Archive NWS O-Hare
Weather Forecast, Night Sky Archive NWS O-Hare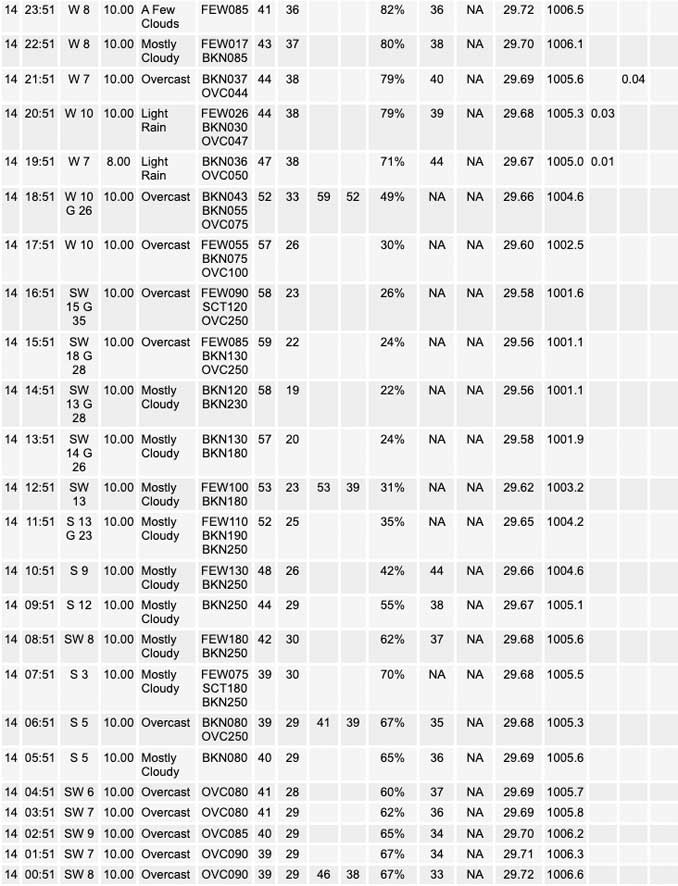 KORD & KPWK Hourly Weather Observations









NORTH AMERICA BELOW (SCROLL ⇩⇩)
Weather WIDE (MOBILE TURN SIDEWAYS)
SPC Convective Outlook on
CHICAGOWEATHERSTATION.COM

ChicagoWeatherStation.com I O'Hare Normal Temps/Precip I O'Hare Record Temps, Precip, Snow
LIVE RADAR | STORM TRACKS | UNISYS US IR SAT | UNISYS Midwest IR SAT | UNISYS More IR SAT
WunderMap® with Temperature/Wind Data || Google: Arlington Heights Area Temps | US TEMPS
Full Screen Motion Weather Radar (Wunderground.com)
Midwest Cloud Cover with Arlington Heights Weather Forecast
ChicagoWeatherStation.com I O'Hare Normal Temps/Precip I O'Hare Record Temps, Precip, Snow
SUNLIGHT DATA FOR SECURITY, TRAFFIC SAFETY, AND SPORTS
SunCalc.net data with solar azimuth and trajectory, times for dawn, sunrise, solar noon, sunset, dusk …
Tweets by @CardinalWeather
NIGHT SKY THIS MONTH …
Backyard stargazers get a monthly guide to the northern hemisphere's skywatching events with "Tonight's Sky." Check the night sky objects for this month and past months in the playlist from the Space Telescope Science Institute YouTube channel (Musical track The Far River written by Jonn Serrie, from the album And the Stars Go With You courtesy of New World Music Ltd).
Get updates from The Cardinal ALL NEWS FEEDS on Facebook. Just 'LIKE' the 'Arlington Cardinal Page (become a fan of our page). The updates cover all posts and sub-category posts from The Cardinal — Arlingtoncardinal.com. You can also limit feeds to specific categories. See all of The Cardinal Facebook fan pages at Arlingtoncardinal.com/about/facebook …

Help fund The Cardinal

Arlingtoncardinal.com/sponsor
Area Forecast Discussion
National Weather Service Chicago/Romeoville, IL
639 AM CDT Fri Oct 14 2022
.SHORT TERM… Issued at 311 AM CDT Fri Oct 14 2022
Through Saturday…
Deep troughing over the Great Lakes region will exhibit little movement through Saturday, with a compact lobe of the trough expected to rotate across the CWA late this afternoon and evening. An associated surface low will cross the far northern CWA with a trailing cold front quickly shifting east through the area during this time. Main concerns in this period are focused on critical fire weather conditions for portions of the area today, strong southwest winds this afternoon, and potentially gusty scattered showers late afternoon through late-evening.
Wind: Even with WAA aloft and increasing mid-level clouds through the day, daytime heating is expected to lift mixing heights to as high as 700 hPa across the southeast half of the forecast area this afternoon. Meanwhile, low-level flow will also increase through the day, with 925/850/700 hPa flow nearing 30/40/50 knots toward sunset. Some minor suppression of deep mixing by the developing cloud cover is likely, so PBL eddies may not quite reach the strongest winds over 45 knots at the very top of the mixed layer. But mixing well into the 35-40 knot range mid to late afternoon will likely produce some surface gusts to 40 mph across the southeast half of the CWA.
Fire Wx: Deep mixing into a very dry layer marked by dew points of -10C or lower will result in afternoon RH values ranging from the mid 30s near the Wisconsin state line to around 20% east of I-55. While fine fuel moisture is marginal for fire conditions given Tuesday`s and Wednesday`s showers, forecast values are low enough provided the potential for sub-20% RH values and gusts of 35mph+ that a Red Flag Warning has been issued for areas south of the Kankakee River Valley and east of I-55. A north and westward expansion may be warranted if cloud cover trends are less and mixing becomes even more robust than expected.
Precip: A strong mid to upper-level jet core will wrap around the wave late this afternoon, placing favorable jet dynamics over most of the CWA by early this evening. With limited moisture available, potential shower coverage will be significantly reduced. Still expecting at least some scattered showers late afternoon through mid to late evening, with even some strong gusts possible across the southeast CWA given the steep low-level lapse rates and deep reservoir of dry air.
Late tonight and Saturday: Quiet conditions are expected on somewhat breezy west winds as high pressure passes across southern Illinois. Temps tonight will fall to near freezing along and west of the Fox River Valley. Frost formation will be rather limited with persistent 5-10mph west winds behind the cold front.
Kluber/NWS
&&
.LONG TERM… Issued at 258 AM CDT Fri Oct 14 2022
Saturday night through Thursday…
Initial trough and shot of colder air will be lifting out Sunday morning, but fast on the heels of the first trough, comes reinforcements fresh from Canada. This second trough digging into the Great Lakes initially, before eventually carving out a dee Plong wave trough across the eastern portion of the North America. cold air mass associated with this second trough will be even colder than the one arriving later today.
First cold front is progged to sweep across the area Sunday morning, but the strongest cold air advection looks to hold off until secondary front moves across the region Sunday evening. Gusty west to west-northwest winds expected Sunday, but currently looking like most areas should be able to climb into the 50s during the day Sunday. Behind the secondary cold front Sunday night temperatures should drop into the 30s and won`t be able to recover beyond the 40s Monday. Cold air will remain firmly in place through Tuesday with lows Monday night potentially dropping into the 20s outside of the Chicago urban heat island assuming skies clear out.
Precip threat with this reinforcing trough looks pretty minimal at this point, other than lake effect primarily on the other side of the lake. Can`t rule out some sprinkles or flurries Sunday night into Monday as shortwaves pivot around the primary upper low, but at this point chances of any measurable precip looks low. Can`t rule out some of the lake effect getting back into Porter County Monday night, but other than that, the remainder of next week looks dry in our area. Temperatures should rebound by the middle and especially the end of next week as the deep trough gradually lifts out.
– Izzi
&&
.AVIATION… For the 12Z TAFs…
* Strong and gusty southerly winds developing today * Wind shift to westerly late this afternoon/early this evening
Storm system will move quickly southeast across the region today. In advance of the low pressure, gusty southerly winds are expected to develop, initially from the southwest or south-southwest, but likely becoming closer to due southerly (180-200) this afternoon for a few hours. Very strong winds will develop above the surface this afternoon, but it is a bit unclear extent of higher cloud cover this afternoon and how much it could limit gust potential. Most likely scenario is for a few hours this afternoon with gusts to around 30kt from 190/200, but especially if we see breaks in the cloud cover south winds gusts could reach 35-40kt for a time. Winds will shift to west-northwest to west early this evening and could remain gusty for a couple hours this evening before likely easing some late this evening into the overnight.
Otherwise, some scattered showers are expected near and just behind the front early this evening. Some of the showers could help transport some some briefly gustier (westerly) winds to the surface.
– Izzi/NWS Chicago