🌘 🌑 🌗 🌕 Waning Crescent Moon, sky cover overnight Thu. to Fri. 88% to 93%, winds W, 14 to 16 MPH, G22 to 24 MPH, Low 22, 7a to 8a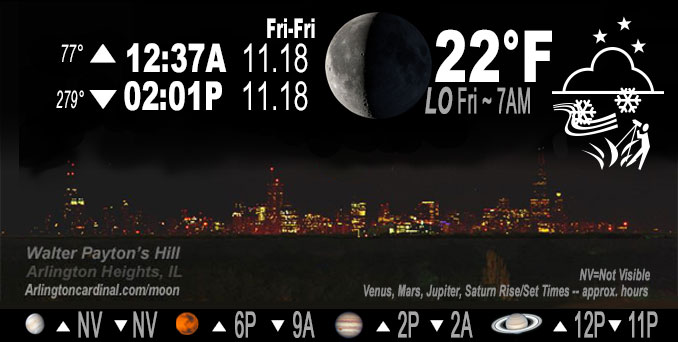 NWS CHGO | NWS HRLY | /NWSchicago | 🌡
ARLINGTON HEIGHTS WEATHER
▴ forecast7 (Arl. Hts.) | RADAR | WIDE RADAR
⏪ Hrly Data Table | Hrly Future Graph ⏩
IMPORTANT NOTE ON NWS DATA
======================
Thursday Night …
Weather hazards expected…
Limited Snow Risk Thursday Night.
Limited Excessive Cold Risk Saturday Night/Sunday Morning
DISCUSSION…
Scattered snow showers will linger through this evening evening. A few of these will produce brief bursts of snow with wind gusts up to 35 mph, resulting in rapidly-changing visibilities and patchy coatings on some roads, with elevated and less traveled roadways the most susceptible.
Hello mobile users! If you encounter mobile "unfriendly" weather page, turn your phone sideways for a better view.
======================
O'HARE FORECAST …
Forecast Beginning Thursday Night, Nov. 17, 2022
Thursday Night: Scattered snow showers, mainly before 10pm, then scattered flurries after midnight. Mostly cloudy, with a low around 22. West wind around 15 mph, with gusts as high as 25 mph. Chance of precipitation is 30%.
Friday: Scattered flurries between 11am and 5pm. Mostly cloudy, with a high near 26. Breezy, with a west wind 15 to 20 mph, with gusts as high as 25 mph.
Friday Night: Mostly cloudy, with a low around 17. West southwest wind around 15 mph, with gusts as high as 25 mph.
Saturday: A chance of flurries before 9am, then a chance of snow showers, mainly after noon. Mostly cloudy, with a high near 26. Breezy, with a south southwest wind 15 to 25 mph becoming west in the afternoon. Winds could gust as high as 35 mph. Chance of precipitation is 30%.
Saturday Night: A chance of flurries before 9pm. Partly cloudy, with a low around 12. Breezy, with a west wind 15 to 20 mph, with gusts as high as 30 mph.
Sunday: Sunny, with a high near 32.
Sunday Night: Partly cloudy, with a low around 28.
Monday: Sunny, with a high near 44.
Monday Night: Mostly clear, with a low around 29.
Tuesday: Mostly sunny, with a high near 46.
Tuesday Night: Mostly cloudy, with a low around 31.
Wednesday: Partly sunny, with a high near 45.
Wednesday Night: Mostly cloudy, with a low around 33.
Thanksgiving Day: A chance of rain. Mostly cloudy, with a high near 41.
Weather Forecast, Night Sky Archive NWS O-Hare
Weather Forecast, Observations Archive NWS O-Hare
O'Hare forecast archive and hourly weather observations archive are available HERE on the CARDINAL NEWS Magazine.
KORD/KPWK Hourly Weather Observations
Arlingtoncardinal.com/moonphases
Arlingtoncardinal.com/nightsky
NIGHT SKY THIS MONTH …
Check the night sky objects for this month and past months in the playlist from the Space Telescope Science Institute YouTube channel Backyard stargazers get a monthly guide to the northern hemisphere's skywatching events with "Tonight's Sky" (Musical track The Far River written by Jonn Serrie, from the album And the Stars Go With You courtesy of New World Music Ltd. Musical track The Far River written by Jonn Serrie, from the album And the Stars Go With You courtesy of New World Music Ltd).
Telephoto lens, ISO 100, f/11, Shutter Speed 1/100 to 1/125 for the Moon.
Get updates from The Cardinal ALL NEWS FEEDS on Facebook. Just 'LIKE' the 'Arlington Cardinal Page (become a fan of our page). The updates cover all posts and sub-category posts from The Cardinal — Arlingtoncardinal.com. You can also limit feeds to specific categories. See all of The Cardinal Facebook fan pages at Arlingtoncardinal.com/about/facebook …

Help fund The Cardinal

Arlingtoncardinal.com/sponsor
Telephoto lens, ISO 1600, f/11, Shutter Speed 2.5″ for the skyline. The skyline exposure was toned down, and brightness and contrast was adjusted in Photoshop.
Area Forecast Discussion
National Weather Service Chicago/Romeoville, IL
739 PM CST Thu Nov 17 2022
.UPDATE… Issued at 739 PM CST Thu Nov 17 2022
Some minor adjustments made to going forecast this evening, mainly to increase pops a little longer into the evening for snow showers in areas north of about I-90 across far northern IL, and south of I-80. Also added a little more liberal scattered flurry mention into the overnight hours. While we saw some quick 1-2″ amounts with more intense cluster of snow showers which moved from Rockford through the northern Chicago suburbs earlier, most areas are still expected to see little or no accumulation from these snow showers this evening.
Evening GOES vapor imagery continues to depict an upper level trough across the Great Lakes and upper Mississippi Valley regions. A stronger embedded short-wave was evident over the lake and into lower Michigan, with which the aforementioned heavier snow shower cluster was associated with. At the surface, 1010 mb low pressure was analyzed over the upper and far northern lower Michigan, with a cold front trailing southwest along a roughly Waukegan to Peoria line across northern IL as of 7 pm CST/01Z. While moisture ahead of the front has been relatively shallow, steep low-level lapse rates enhanced by cooling beneath the upper trough had been sufficient to generate at least isolated clusters of fairly impressive snow showers since mid-late afternoon. Brief visibilities of less than a half mile and a quick accumulation of up to 1-2″ of snow (even on road surfaces with temps at/just below the freezing mark) were noted with the heaviest snow showers from Rockford east across the northern Chicago suburbs. Currently another cluster of stronger snow shower activity was working eastward across the Kankakee area. These snow showers should become even less numerous and intense through late evening as the cold front pushes east, and the lingering shallow cloud deck looks to support mainly just scattered flurries into the overnight hours.
Forecast, which generally had trends decently advertised, has been adjusted slightly to bump pops especially in the south of I-80 corridor mentioned above, as well as across our northern tier of IL along/north of I-90. Also slowed the decay of snow showers slightly, maintaining chance pops especially south of I-80 through midnight. Otherwise, expanded scattered flurry mention across the area into the overnight hours, as shallow cold cloud deck will likely support the nucleation of a few flakes at times, especially as another mid- level vort currently over western IA propagates eastward overnight. Outside of perhaps the Kankakee area where some minor accums are likely in the next 1-2 hours, little or no accumulation is expected for the most part.
Remainder of the forecast into Friday looks to be in good shape. Updated digital and text forecast products are available.
Ratzer
&&
.SHORT TERM… Issued at 238 PM CST Thu Nov 17 2022
Through Friday night…
Key Messages… *Chance of scattered snow showers through this evening, potential for a few robust snow bands that will result in sharp visibility reductions and quick spotty dustings.
*A few lingering light snow showers/flurries on Friday, but otherwise cold with highs in the mid and upper 20s.
*Breezy winds around 25 to 30 mph on Friday creating low teen and single digit wind chills
An area of snow showers continues to be observed across southern Wisconsin associated with an upper-level shortwave trough that is moving out of the northern Plains and into the Great Lakes. These snow showers are expected to move southward into northern Illinois later on this afternoon and linger through this evening as the shortwave moves through the area. Forecast soundings have started to show better moisture in the DGZ which should allow these showers to maintain themselves as they move across the area. Strong low-level lapse rates around 7 C/km also continue to be noted in forecast soundings which may allow for some more organized snow bands to develop and produce hefty snowfall rates for a brief period of time. Given the convective nature of these snow showers, there continues to be uncertainty in where the strongest bands will set up, but the better environment continues to look to be for areas along and north of I-80 through 7 PM this evening. Any areas that get under these heavier bands can expect sharp changes in visibility and some slushy accumulation on roads and bridges as the band moves through.
Once the shortwave moves through this evening snow shower coverage is expected to diminish through the evening as drier air starts to filter in aloft. However, forecast soundings continue to show at least some shallow moisture present through the night which may support a couple of light snow showers and/or flurries into Friday afternoon. These showers/flurries would create little to no impact with only a light dusting of accumulation expected from any of these showers/flurries should they develop. Otherwise expect a cold end to the work week as an arctic airmass moves into the area with high temperatures on Friday struggling to get above 30 degrees with lows Friday night expected to dip into the teens. Couple these cold temperatures with the breezy westerly winds gusting around 25 to 30 mph and we will be looking at single digit wind chills heading into Saturday morning. Be sure to bundle up before heading out on Friday.
Yack/NWS Chicago