Thursday Hi 33, cloudy, 2-4″ snow, winds SW to NW to WNW, 5 to 15 to 26 MPH, G15 to 40 MPH, 12p through 12a Friday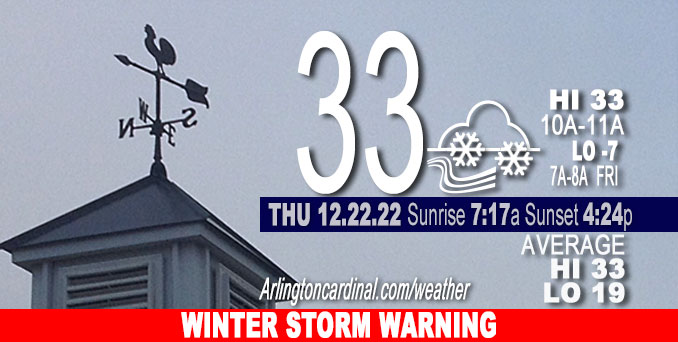 NWS CHGO | NWS HRLY | /NWSchicago | 🌡
ARLINGTON HEIGHTS WEATHER
▴ forecast7 (Arl. Hts.) | RADAR | WIDE RADAR




O'Hare (history KORD, left)
⏪ Hrly Data Table | Hrly Future Graph ⏩
IMPORTANT NOTE ON NWS DATA
Arlington Heights (history KPWK, left)
⏪ Hrly Data Table | Hrly Future Graph ⏩
======================
Thursday and Thursday Night …
Weather Hazards expected…
Significant Snow Risk Thursday afternoon and evening.
Significant Blowing Snow Risk Thursday night.
Significant Excessive Cold Risk Thursday night.
Elevated Non Thunderstorm Wind Risk Thursday night.
WINTER STORM WARNING: Major storm system affecting the area Thursday through Saturday, with the most significant impacts from accumulating and blowing snow and very strong winds occurring late Thursday afternoon and peaking at 51 MPH Friday 1:00 p.m. to 3:00 p.m.
Low -7°F Friday morning at 7am with a high of 0°F Friday at 11pm.
Low -1°F Saturday morning with a high near 8°F Saturday 2pm to 4pm.
Low 1°F Sunday 4am to 7am with a high of 11°F Sunday 2pm to 3pm.
DISCUSSION…
For Arlington Heights and nearby northwest suburbs, flurries began about 9:30 a.m., and snow begins about 10:00 a.m. Thursday. Worst case scenario snow accumulation is forecast to total about 4.4 inches. CARDINAL NEWS expects actual snowfall to underperform this forecast — falling somewhere between 2.0 inches and 4.0 inches.
Dangerous travel conditions are expected to quickly develop late this morning through this afternoon as snow spreads over the area and temperatures plummet behind a powerful Arctic front. Icy road conditions will create very hazardous travel by mid- to late-afternoon. Blowing and drifting snow due to strong west winds will also create hazardous conditions late this afternoon and tonight. Near blizzard conditions are possible tonight, especially in open areas.
Temperatures will fall rapidly Thursday afternoon. The temperature drop in Arlington Heights and nearby northwest suburbs will begin about 12 noon Thursday — about the same time that wind gusts begin from the northwest. The temperature will drop to 0°F by 8:00 p.m. with a Wind Chill of about -15°F. Wind chill values will be -29°F beginning at midnight Thursday/Friday and fall to a morning Wind Chill low of -35°F at 7:00 a.m.
Hello mobile users! If you encounter a mobile "unfriendly" weather page, turn your phone sideways for a better view.
======================
O'HARE FORECAST …
Forecast Beginning Thursday, Dec. 22, 2022
Thursday: Snow, mainly after 11am. The snow could be heavy at times. Areas of blowing snow after 3pm. Temperature rising to near 33 by 10am, then falling to around 6 during the remainder of the day. Wind chill values as low as -15. Breezy, with a south southwest wind 5 to 10 mph becoming northwest 15 to 25 mph in the afternoon. Winds could gust as high as 35 mph. Chance of precipitation is 100%. Total daytime snow accumulation of 2 to 4 inches possible.
Thursday Night: Snow, mainly before 5am. Widespread blowing snow, mainly after midnight. Low around -7. Wind chill values as low as -34. Windy, with a west northwest wind 25 to 30 mph, with gusts as high as 45 mph. Chance of precipitation is 100%. New snow accumulation of 1 to 2 inches possible.
Friday: Scattered snow showers. Widespread blowing snow. Cloudy and cold, with a high near -1. Wind chill values as low as -35. Very windy, with a west wind 30 to 35 mph, with gusts as high as 50 mph. Chance of precipitation is 50%.
Friday Night: Isolated snow showers before midnight, then scattered flurries after midnight. Widespread blowing snow. Mostly cloudy, with a low around -2. Wind chill values as low as -29. Windy, with a west wind 25 to 30 mph, with gusts as high as 45 mph. Chance of precipitation is 20%.
Saturday: A chance of flurries. Areas of blowing snow. Partly sunny and cold, with a high near 8. Breezy, with a west wind around 25 mph, with gusts as high as 40 mph.
Saturday Night: A chance of flurries before midnight. Patchy blowing snow before midnight. Partly cloudy, with a low around 1. Breezy.
Christmas Day: Mostly sunny, with a high near 11.
Sunday Night: Mostly cloudy, with a low around 3.
Monday: Partly sunny, with a high near 20.
Monday Night: Mostly cloudy, with a low around 8.
Tuesday: Partly sunny, with a high near 27.
Tuesday Night: Mostly cloudy, with a low around 19.
Wednesday: Mostly cloudy, with a high near 37.
WINTER STORM WARNING …
Winter Storm Warning URGENT – WINTER WEATHER MESSAGE National Weather Service Chicago IL 345 AM CST Thu Dec 22 2022

COUNTIES: Lake IL-DuPage-Kankakee-Iroquois-Ford-Northern Cook-Central Cook- Southern Cook-Northern Will-Southern Will-Eastern Will-

COMMUNITIES: Arlington Heights, Waukegan, Buffalo Grove, Mundelein, Gurnee, Naperville, Wheaton, Downers Grove, Lombard, Carol Stream, Kankakee, Bourbonnais, Bradley, Watseka, Gilman, Paxton, Gibson City, Evanston, Des Plaines, Schaumburg, Palatine, Northbrook, Chicago, Cicero, Oak Lawn, Oak Park, La Grange, Calumet City, Oak Forest, Lemont, Orland Park, Park Forest, Joliet, Bolingbrook, Plainfield, Mokena, Channahon, Manhattan, Wilmington, Crete, Peotone, and Beecher 345 AM CST Thu Dec 22 2022

…WINTER STORM WARNING REMAINS IN EFFECT FROM NOON TODAY TO 6 AM CST SATURDAY…

* WHAT…Snow and blowing snow producing intermittent white out conditions expected. Total snow accumulations of 3 to 6 inches, with most of the snow occurring this afternoon and evening. Rapidly deteriorating conditions with a period of snowfall rates over 1 inch per hour expected mid to late afternoon. Winds gusting as high as 50 mph expected. Wind chill values of 25 to 35 below zero expected.

* WHERE…Portions of east central and northeast Illinois.

* WHEN…From noon today to 6 AM CST Saturday.

* IMPACTS…Falling or blowing snow may result in white out conditions with zero visibility at times, making travel extremely difficult. Power outages will also be possible as a result of strong wind gusts to 50 mph. Roads will likely quickly become ice covered as temperatures rapidly fall Thursday this afternoon.

* ADDITIONAL DETAILS…Dangerously cold wind chills as low as 25 to 35 below zero tonight through Friday night can cause frostbite on exposed skin in as little as 20 minutes.

PRECAUTIONARY/PREPAREDNESS ACTIONS…

If you must travel, keep an extra flashlight, food, and water in your vehicle in case of an emergency.

The latest road conditions for Illinois can be obtained on the internet at www.gettingaroundillinois.com.
Weather Forecast, Observations Archive NWS O-Hare
Weather Forecast, Night Sky Archive NWS O-Hare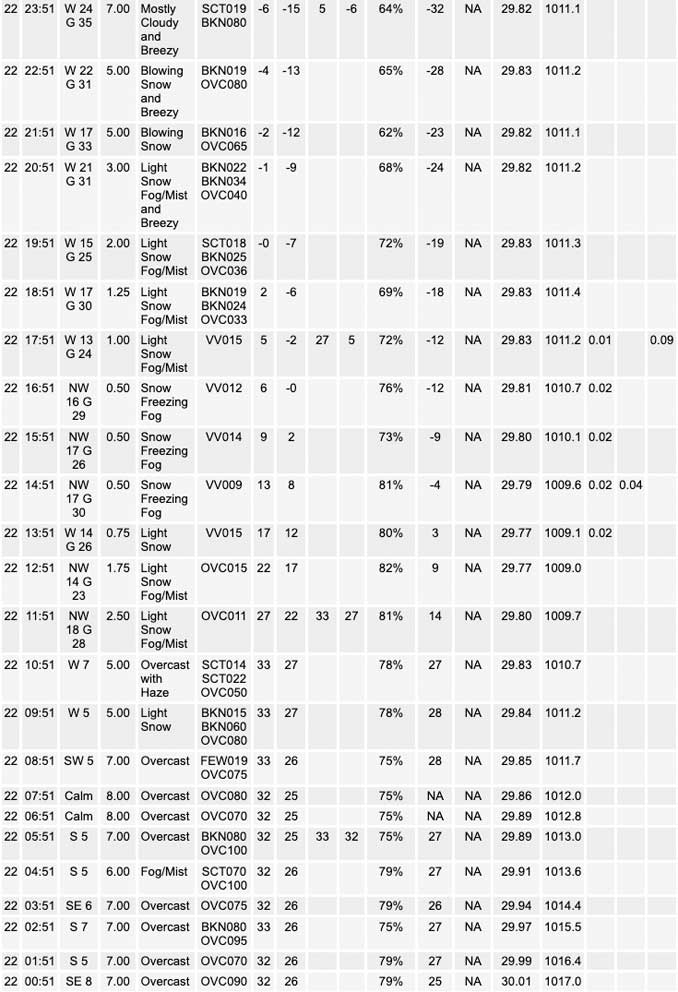 KORD & KPWK Hourly Weather Observations









NORTH AMERICA BELOW (SCROLL ⇩⇩)
Weather WIDE (MOBILE TURN SIDEWAYS)
SPC Convective Outlook on
CHICAGOWEATHERSTATION.COM

ChicagoWeatherStation.com I O'Hare Normal Temps/Precip I O'Hare Record Temps, Precip, Snow
LIVE RADAR | STORM TRACKS | UNISYS US IR SAT | UNISYS Midwest IR SAT | UNISYS More IR SAT
WunderMap® with Temperature/Wind Data || Google: Arlington Heights Area Temps | US TEMPS
Full Screen Motion Weather Radar (Wunderground.com)
Midwest Cloud Cover with Arlington Heights Weather Forecast
ChicagoWeatherStation.com I O'Hare Normal Temps/Precip I O'Hare Record Temps, Precip, Snow
SUNLIGHT DATA FOR SECURITY, TRAFFIC SAFETY, AND SPORTS
SunCalc.net data with solar azimuth and trajectory, times for dawn, sunrise, solar noon, sunset, dusk …
Tweets by @CardinalWeather
NIGHT SKY THIS MONTH …
Backyard stargazers get a monthly guide to the northern hemisphere's skywatching events with "Tonight's Sky." Check the night sky objects for this month and past months in the playlist from the Space Telescope Science Institute YouTube channel (Musical track The Far River written by Jonn Serrie, from the album And the Stars Go With You courtesy of New World Music Ltd).
Get updates from The Cardinal ALL NEWS FEEDS on Facebook. Just 'LIKE' the 'Arlington Cardinal Page (become a fan of our page). The updates cover all posts and sub-category posts from The Cardinal — Arlingtoncardinal.com. You can also limit feeds to specific categories. See all of The Cardinal Facebook fan pages at Arlingtoncardinal.com/about/facebook …

Help fund The Cardinal

Arlingtoncardinal.com/sponsor
Area Forecast Discussion
National Weather Service Chicago/Romeoville, IL
551 AM CST Thu Dec 22 2022
.SHORT TERM… Issued at 319 AM CST Thu Dec 22 2022
Through Friday night…
Dangerous and potentially life-threatening winter weather in on our doorstep this morning. Highlights for this storm include:
* Rapidly deteriorating travel conditions from west to east across the area this morning and afternoon with a round of accumulating snow (1″/hr rates) and rapidly falling temperatures behind an arctic cold front. Conditions to also be exacerbated by a flash freeze from the Chicago metro southeastward.
* Strong gusty west-northwesterly winds (gusting as high as 50 mph) late tonight through Friday, resulting in possible power outages, substantial blowing and drifting snow with white out conditions at times (most notably in open areas)
* Life threatening wind chills as low as 30 to 40 below zero late tonight into Friday morning. Wind chills remaining below 25 below zero through Saturday morning.
* True prolonged blizzard conditions most favored across northern Porter county IN due to the combination of blowing snow and continued falling lake enhanced snow through Friday night (Blizzard warning in effect here).
The surface reflection of the powerhouse upper-low currently centered over the northern Great Plains is becoming more pronounced across a large portion of the central CONUS early this morning. The arctic front is nearing the Mississippi River in northwest Illinois as of 3am, with an elongated surface trough extending SSW ahead of the front. Of most interest observationally at this time is the amplifying embedded trough across southern Nebraska into northeast Kansas that will be a key component to snowfall intensity across the area this afternoon into this evening. Recent CAMs and even some global guidance have ever-so sightly slowed the approach of this trough, allowing for more time to amplify and better align with a mid-level speed max nose extending NE and the arctic front as it pushes into the CWA late morning into the afternoon. Even with underwhelming moisture with this system, the shear magnitude of forcing will more than compensate for precip rates.
Overall changes with this forecast were to slow down the frontal passage by roughly an hour for most areas and to increase snowfall amounts roughly around and east of the I-55 corridor, including much of the Chicago metro, this afternoon. With the column quickly cooling into the DGZ coincident with the period of max forcing, a 2- 3hr window of snowfall rates of 1+" per hour are becoming more likely for this area. Additionally, the slightly slower wave timing also leads to more residence time of snow well into this evening across northeast Illinois and northwest Indiana.
Forecast snowfall amounts remained mostly unchanged across the western CWA (2-4″), but were increased by around an inch across the eastern CWA (3-6″), with a substantial portion of that total falling early afternoon through mid-evening.
High concern remains for rapidly deteriorating conditions during the onset of snow today, especially the east half of the CWA, as surface winds increase and temps fall from above freezing into the single digits in three hours or less. Roads will quickly become treacherous, with intermittent white-out conditions likely during the highest snowfall rates.
Significant consideration was made to upgrade the IL/IN bordering counties (southern Chicago metro south through Iroquois and Newton counties) to a Blizzard Warning. Life-threatening conditions are expected during this storm, especially late tonight through Friday. Both winds and visibility criteria will likely not exist for the 3hr minimum to meet Blizzard criteria this afternoon, so this weighed heavily in the decision to maintain a Winter Storm Warning. However, we will enhance messaging for this area to account for likely white out conditions, at least intermittently, through Friday.
Beyond tonight, scattered snow showers will persist through Friday and possibly well into Friday night. Deep saturation under the upper- low will remain over the area over this time, with forcing enhanced by a secondary wave rotating through the area during the afternoon and evening. Snow ratios may remain low in the arctic air mass, so any additional falling snow will be comprised of small flakes and exacerbate visibility issues from blowing snow through the day.
Kluber/NWS Chicago