FRIDAY Hi 44, mostly cloudy, decreasing clouds, winds to NW, 15 to 10 MPH, G23 to 20 MPH until 5p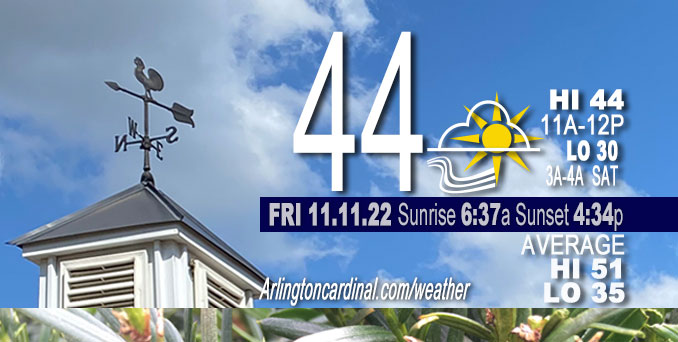 NWS CHGO | NWS HRLY | /NWSchicago | 🌡
ARLINGTON HEIGHTS WEATHER
▴ forecast7 (Arl. Hts.) | RADAR | WIDE RADAR




O'Hare (history KORD, left)
⏪ Hrly Data Table | Hrly Future Graph ⏩
IMPORTANT NOTE ON NWS DATA
Arlington Heights (history KPWK, left)
⏪ Hrly Data Table | Hrly Future Graph ⏩
======================
Friday …
No weather hazards expected…
DISCUSSION…
Robust cold front is making inroads across our forecast area early this morning with temperatures in the upper 30s west of the Fox River and west of Interstate 39. Friday morning about 9:15 a.m. most of Chicagoland is in the 40s and far southeast Chicagoland and northwest Indiana communities are reporting 50 degrees or low 50s. Winds Friday morning forecast from northwest in the teens, and gusting in the mid-20 mph range.
Hello mobile users! If you encounter mobile "unfriendly" weather page, turn your phone sideways for a better view.
======================
O'HARE FORECAST …
Forecast Beginning Friday, Nov. 11, 2022
Veterans Day/Friday: Cloudy early, then gradual clearing, with a temperature rising to near 44 by 11am, then falling to around 38 during the remainder of the day. Northwest wind around 15 mph, with gusts as high as 25 mph.
Friday Night: A chance of flurries after midnight. Increasing clouds, with a low around 30. West northwest wind 10 to 15 mph.
Saturday: A chance of flurries before noon, then a slight chance of snow showers after noon. Cloudy, with a high near 37. Northwest wind 10 to 15 mph, with gusts as high as 20 mph. Chance of precipitation is 20%.
Saturday Night: A chance of flurries before midnight. Mostly cloudy, then gradually becoming mostly clear, with a low around 26. Northwest wind around 10 mph, with gusts as high as 15 mph.
Sunday: Sunny, with a high near 39. Northwest wind 5 to 10 mph, with gusts as high as 15 mph.
Sunday Night: Mostly cloudy, with a low around 26.
Monday: Mostly cloudy, with a high near 42.
Monday Night: Mostly cloudy, with a low around 31.
Tuesday: A chance of snow. Mostly cloudy, with a high near 41.
Tuesday Night: Mostly cloudy, with a low around 28.
Wednesday: Partly sunny, with a high near 39.
Wednesday Night: Partly cloudy, with a low around 24.
Thursday: Mostly sunny, with a high near 37.
Weather Forecast, Observations Archive NWS O-Hare
Weather Forecast, Night Sky Archive NWS O-Hare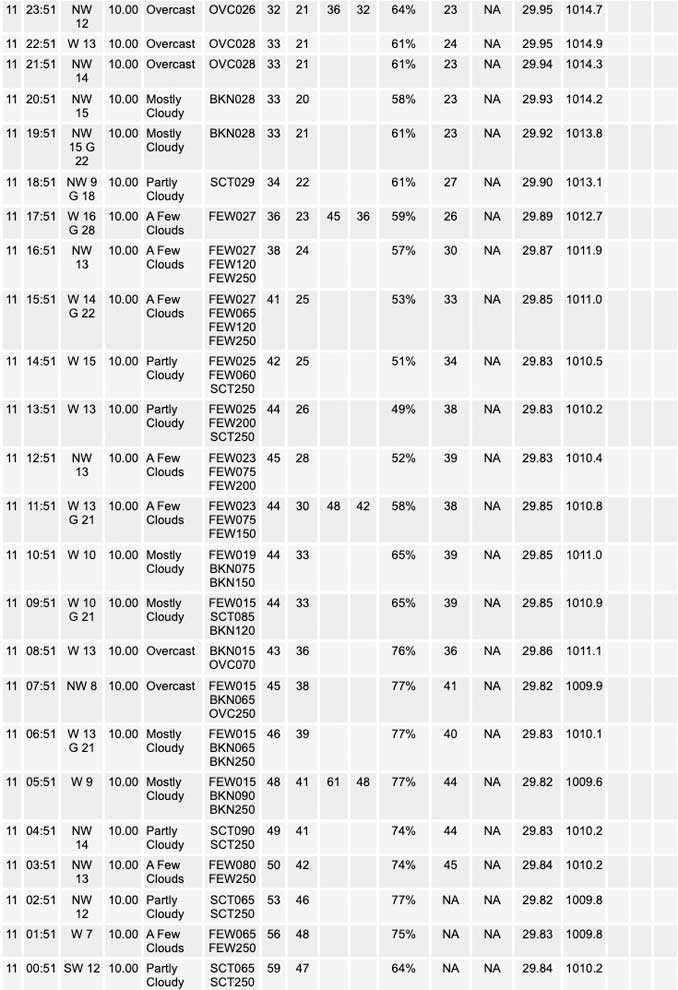 KORD & KPWK Hourly Weather Observations









NORTH AMERICA BELOW (SCROLL ⇩⇩)
Weather WIDE (MOBILE TURN SIDEWAYS)
SPC Convective Outlook on
CHICAGOWEATHERSTATION.COM

ChicagoWeatherStation.com I O'Hare Normal Temps/Precip I O'Hare Record Temps, Precip, Snow
LIVE RADAR | STORM TRACKS | UNISYS US IR SAT | UNISYS Midwest IR SAT | UNISYS More IR SAT
WunderMap® with Temperature/Wind Data || Google: Arlington Heights Area Temps | US TEMPS
Full Screen Motion Weather Radar (Wunderground.com)
Midwest Cloud Cover with Arlington Heights Weather Forecast
ChicagoWeatherStation.com I O'Hare Normal Temps/Precip I O'Hare Record Temps, Precip, Snow
SUNLIGHT DATA FOR SECURITY, TRAFFIC SAFETY, AND SPORTS
SunCalc.net data with solar azimuth and trajectory, times for dawn, sunrise, solar noon, sunset, dusk …
Tweets by @CardinalWeather
NIGHT SKY THIS MONTH …
Backyard stargazers get a monthly guide to the northern hemisphere's skywatching events with "Tonight's Sky." Check the night sky objects for this month and past months in the playlist from the Space Telescope Science Institute YouTube channel (Musical track The Far River written by Jonn Serrie, from the album And the Stars Go With You courtesy of New World Music Ltd).
Get updates from The Cardinal ALL NEWS FEEDS on Facebook. Just 'LIKE' the 'Arlington Cardinal Page (become a fan of our page). The updates cover all posts and sub-category posts from The Cardinal — Arlingtoncardinal.com. You can also limit feeds to specific categories. See all of The Cardinal Facebook fan pages at Arlingtoncardinal.com/about/facebook …

Help fund The Cardinal

Arlingtoncardinal.com/sponsor
Area Forecast Discussion
National Weather Service Chicago/Romeoville, IL
531 AM CST Fri Nov 11 2022
.SHORT TERM…
Issued at 254 AM CST Fri Nov 11 2022
Through Saturday…
Robust cold front is making inroads across our forecast area early this morning, with temperatures in the 30s inexorably inching their way eastward. An area of precipitation straddling the Mississippi River is being driven by modest f-gen and more appreciable upper divergence within the right entrance region of a 130 kt+ jet streak. This feature is forecast to continue pulling away to the north through the morning hours, which should result in gradually diminishing large scale forcing for ascent. That said, this process will be pretty slow, and think that there`s at least some potential for precipitation to continue (on a spotty basis) up to the I-55 corridor through mid to late morning. Have noted surface observations across eastern Iowa indicating a brief period of sleet, following by a transition to rain and freezing rain where wetbulb temperatures have cooled under 33 F. Based on forecast soundings, the column is actually slated to cool sufficiently to support a little sleet and the rain (freezing rain where wetbulb temps fall under 33/32) across parts of Winnebago, Ogle, and Lee counties by about 13z (7 AM). Just how much precipitation is still falling by that time remains a little unclear, and as we move deeper into the morning, the departure of primary forcing suggests precipitation chances will continue to dwindle. Have tossed in a little wintry precipitation across our far northwestern locales given the current progression of things, but not anticipating any impacts should any wintry precipitation manage to mix in given warm ground temps, even though wetbulb temps may make a run towards 32 F through mid- morning.
Once this activity scoots east of the region later this morning, it looks like we may manage to break out into at least filtered sunshine with an appreciable gap until the post-frontal cold advection stratus piles in. Temperatures will slowly fall all day north and west of I-55/57, and will only slowly climb towards 50 in our far south and east.
Stratus piles back into the region this evening and overnight. A robust shortwave–currently progressing out across the Big Bend of Texas–is forecast to amplify as is scoots northeast into the Ohio River Valley tonight. Model trends appear to be subtly farther northwest with this feature into Saturday morning and regional cross sections show at least a semblance of a developing thermally direct ageostrophic circulation as a loosely-couple jet structure develops across downstate Indiana. Pockets of modestly reduced static stability in the mid levels and classic f-gen banding signatures in hires guidance suggest that this is perhaps a feature to watch. Have not introduced any snow chances for this in my far south and east given the latest guidance distributions, although will note a handful of EPS members do pivot some light QPF as far north and west as a Paxton to Rensselaer line into Saturday morning.
Main change for the rest of the forecast area on Saturday was to introduce a mention of snow showers area-wide, mainly during the afternoon. Looks like good agreement that a series of robust vort lobes will be pushing overhead through the day, and model guidance is now in better agreement regarding better 0-2 km saturation as lapse rates steepen within the CAA regime. Still some disagreement in guidance regarding how deep things saturate (do we saturate through the DGZ, or only into the base around -10 to -14 C?), but felt there was enough of a signal to explicitly mention snow showers. Winds shouldn`t get out of hand given only modest flow in the mixed layer, but gusty winds with stronger and more developed shower are probable. Couldn`t even discount a potential for a patchy dusting on grassy surfaces here and there. Should be more of a "conversational" snow if anything, with no impacts to road surfaces.
The lake effect snow machine will get cranking through the afternoon as well, mainly into La Porte and Berrien counties given the wind directions, but certainly a potential for activity to wander into parts of Porter county. LES parameters don`t look half bad by later Saturday afternoon, conditional on sufficient lake convergence. More on the LES potential in the forthcoming long term AFD.
Carlaw/NWS Chicago