🌒 🌓 🌕 🌗 Waxing Crescent Moon, light snow ends by 10p, sky cover overnight Thu. to Fri. 100% to 20% to 70%, winds W to SW to S, 13 to 15 MPH, G18 to 30 MPH, Low 17, 1a to 5a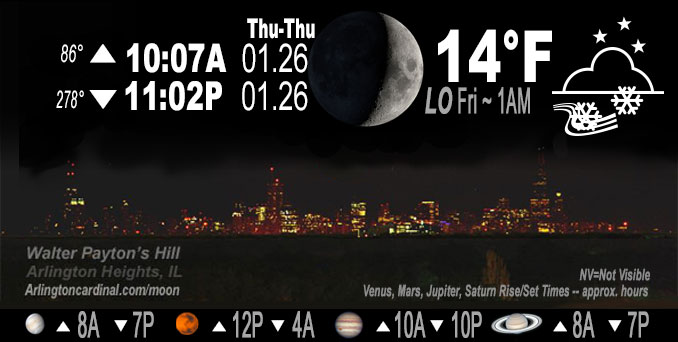 NWS CHGO | NWS HRLY | /NWSchicago | 🌡
ARLINGTON HEIGHTS WEATHER
▴ forecast7 (Arl. Hts.) | RADAR | WIDE RADAR
⏪ Hrly Data Table | Hrly Future Graph ⏩
IMPORTANT NOTE ON NWS DATA
======================
NIGHT FORECASTS …
NOTE 1: Forecast and information text below may refer to a previous night on Arlingtoncardinal.com, and might not be updated until late afternoon, evening, or overnight. However, Night Sky archives on CARDINAL NEWS Magazine include text forecasts that correspond to the lunar phase graphic above.

NOTE 2: Keep in mind lunar rise and set times don't always correspond with night weather and early morning lows because on some days during the month the moon is visible in the sky predominantly during the daytime hours.
Overnight Thursday/Friday …
Weather Hazards expected …
Limited Snow Risk in Northeast Illinois Thursday evening.
Limited Excessive Cold Risk early morning.
Limited Non Thunderstorm Wind Risk after midnight.
Limited Snow and Blowing Snow Risk after midnight.
DISCUSSION…
Scattered snow showers this evening may result in minor accumulation and spotty slippery travel in northeast Illinois. Minimum low temps were lowered. especially west of Chicago. Arlington Heights was lowered from 17°F to 14°F.
Hello mobile users! If you encounter mobile "unfriendly" weather page, turn your phone sideways for a better view.
======================
O'HARE FORECAST …
Forecast Beginning Thursday Night, Jan. 26 , 2023 …
Thursday Night: Partly cloudy, with a low around 14. Snow showers end by 10:00 p.m. Wind chill values as low as zero. Southwest wind 10 to 15 mph, with gusts as high as 20 mph.
Friday: Snow showers likely, mainly before 2pm. Patchy blowing snow before noon. Cloudy, with a high near 35. Wind chill values as low as 1. Breezy, with a south wind 15 to 20 mph, with gusts as high as 35 mph. Chance of precipitation is 70%. New snow accumulation of less than one inch possible.
Friday Night: Mostly cloudy, with a low around 19. Breezy, with a west wind 15 to 20 mph decreasing to 5 to 10 mph after midnight. Winds could gust as high as 30 mph.
Saturday: Snow, mainly after noon. High near 30. West southwest wind 5 to 10 mph becoming east northeast in the morning. Winds could gust as high as 15 mph. Chance of precipitation is 80%. New snow accumulation of 1 to 2 inches possible.
Saturday Night: Snow, mainly before midnight. Low around 22. North wind 10 to 15 mph, with gusts as high as 25 mph. Chance of precipitation is 80%.
Sunday: Mostly cloudy, with a high near 27.
Sunday Night: Mostly cloudy, with a low around 12.
Monday: Mostly cloudy, with a high near 19.
Monday Night: Partly cloudy, with a low around 2.
Tuesday: Partly sunny, with a high near 15.
Tuesday Night: A chance of snow. Partly cloudy, with a low around 5.
Wednesday: Mostly sunny, with a high near 20.
Wednesday Night: Partly cloudy, with a low around 5.
Thursday: Mostly sunny, with a high near 19.
Weather Forecast, Night Sky Archive NWS O-Hare
Weather Forecast, Observations Archive NWS O-Hare
O'Hare forecast archive and hourly weather observations archive are available HERE on the CARDINAL NEWS Magazine.
KORD/KPWK Hourly Weather Observations
Arlingtoncardinal.com/moonphases
Arlingtoncardinal.com/nightsky
NIGHT SKY THIS MONTH …
Check the night sky objects for this month and past months in the playlist from the Space Telescope Science Institute YouTube channel Backyard stargazers get a monthly guide to the northern hemisphere's skywatching events with "Tonight's Sky" (Musical track The Far River written by Jonn Serrie, from the album And the Stars Go With You courtesy of New World Music Ltd. Musical track The Far River written by Jonn Serrie, from the album And the Stars Go With You courtesy of New World Music Ltd).
Telephoto lens, ISO 100, f/11, Shutter Speed 1/100 to 1/125 for the Moon.
Get updates from The Cardinal ALL NEWS FEEDS on Facebook. Just 'LIKE' the 'Arlington Cardinal Page (become a fan of our page). The updates cover all posts and sub-category posts from The Cardinal — Arlingtoncardinal.com. You can also limit feeds to specific categories. See all of The Cardinal Facebook fan pages at Arlingtoncardinal.com/about/facebook …

Help fund The Cardinal

Arlingtoncardinal.com/sponsor
Telephoto lens, ISO 1600, f/11, Shutter Speed 2.5″ for the skyline. The skyline exposure was toned down, and brightness and contrast was adjusted in Photoshop.
Area Forecast Discussion
National Weather Service Chicago/Romeoville, IL
1054 PM CST Thu Jan 26 2023
.UPDATE… Issued at 818 PM CST Thu Jan 26 2023
Minor adjustments to going forecast tonight mainly to lower min temps a bit especially west of Chicago, and to speed up clearing across parts of northern IL per obs/satellite trends. No changes to forecast for Friday at this time, though did issue a special weather statement to highlight the potential for accumulating and blowing snow and slippery travel during portions of the morning commute, mainly north of I-80.
Water vapor imagery depicts a mid-level short wave tracking east- southeast across the area at mid-evening. Light snow and snow showers have been ongoing along/ahead of the mid-level trough axis where deeper moisture and forcing for ascent were juxtaposed, though the trailing edge of this light precipitation was clearing roughly the I-55 corridor as of this writing and will continue to wane through late evening with the wave moving off to the east. IR imagery shows a sharp clearing line in our low cloud cover working east from the I-39 corridor, and this too should continue to move east brining a period of (rare!) mostly clear skies to much of the area overnight before clouds move in again toward morning. These clearing skies, combined with a cold air mass and fresh snow cover will allow for temps to dip into the single digits in some of our typical colder spots west of the Chicago metro, with Sterling (SQI) already down to 9 F at 8 pm. A weak surface high pressure ridge was already crossing the Mississippi however, marking a shift to south winds and developing warm advection after midnight tonight, so temperatures will probably rise a bit from overnight lows by morning with cloud cover increasing toward morning as well.
Attention the turns quickly to a fairly robust mid-level short wave currently over the southern Canadian prairies and the Northern Plains. Primary mid-level forcing and a sub-1000 mb surface low pressure center will pass well north of the area into Friday. However, this system is expected to induce a strong southwesterly low level jet later tonight into Friday which will result in sufficiently strong forcing/moisture transport to produce a period of snow across the area. Strong isentropic ascent associated with 50-55 kt low level jet and steep lapse rates above 750 mb may support moderate to locally heavy snowfall rates albeit for a relatively brief period, but unfortunately during at least a portion of the Friday morning commute. Cold overnight temps and snowfall rates of perhaps an inch per hour for a time will likely allow for quick accumulation on roads, while surface winds gust 30-35 mph will make for blowing snow and poor visibility. Despite the relatively brief period of most intense accumulation and only a couple of inches of accumulation, the timing and winds will likely result in travel impacts Friday morning, and have issued a special weather statement highlighting this. Snow should taper off by midday with lingering snow showers likely becoming mixed with rain at times in the afternoon as thermodynamic profiles warm in our brief encounter with the warm sector. No changes made to Friday portion of the forecast at this time.
Ratzer/NWS Chicago
&&
.SHORT TERM… Issued at 243 PM CST Thu Jan 26 2023
Through Friday night…
Forecast key messages for this suddenly active wintry pattern with snow every 12 to 18 hours into the weekend:
* Scattered snow showers through early evening, particularly the north metro into the rush hour with accumulations under an inch
* Coldest night in a month (Dec 27) with wind chills Friday morning between 0 and 10 above
* A burst of snow probable Friday within the 8 AM to 1 PM time frame moving from west to east; heavier rates are probable and even though only a short period in any one place, it might be enough with gusty winds to result in sharply reduced visibility
* Temperatures briefly warming to above freezing Friday afternoon which will be the final time for at least a week
Satellite water vapor imagery this afternoon depicts the broad longwave trough / PV anomaly oriented from eastern Canada to the Southern Plains. Multiple embedded vorticity maxima are evident within this, including a slow-moving one over southern Wisconsin and far northwest Illinois as of 230 PM. Ahead of this is a compact area of ascent as well as low-level confluence and steepened lapse rates that support a broader area of flurries / light snow with embedded snow showers seen on radar. The trajectory of this wave along with where the low-level convergence is favors the far northern Chicago metro to see some of the more frequent snow showers through early evening. Minor accumulations under an inch are possible with temperatures below freezing, but given upstream webcams and character on radar imagery, we are not expecting noteworthy impacts.
As this wave departs eastward, it will drag the back edge of the clouds presently near the Mississippi River eastward. This clearing combined with a cold starting point going into the evening should yield lows well into the teens over inland locations, and would not be surprised to see the typical cold spots drop several degrees into the single digits later this evening given this setup over snow pack.
Attention then turns to Friday morning when another potent, more rapidly-moving short wave tracks through the Great Lakes. The surface low is well north of the area, but with it being 992 mb and speeding along, a short-lived but strong mass response in the low-level occurs. Low-level jet winds in the 850-925 mb layer are forecast to reach 50-55 kt Friday morning, resulting in robust warm advection aloft and a corridor of moisture transport and convergence. This should support a few hour period of modest to even heavy snowfall rates (near or just over 1 inch per hour), especially considering elevated lapse rates from 800-600 mb are near 7.5 C/km. Southwest winds will be gusty, even with snow cover providing a morning inversion, and it shouldn`t be a problem to reach 30 mph, with a few gusts of 35 to 40 mph possible. This does look to overlap the snowfall timing and while not a markedly dry water content, those speeds will create blowing of the falling snow and possibly of the existing snow cover. The combination of heavy rates and the gusty winds might mean a period of sharply dropping visibility in places, which some high res guidance indicates with sub-1 mile forecasts. If the rates and the winds outperform, this would ramp up impacts quite possibly to Advisory level, although likely in just a few hour window and maximum accumulations probably below three inches. Will message this with a specific graphic, but an SPS very well may be needed this eve.
The quick movement and depth of the system will result in a dragging of the warm sector of mid 30s northeastward over the forecast area. There appears to be a loss of column ice as well as a warming boundary layer, so lingering showers are likely to be in the form of rain or a rain/wet snow mix during the mid to late afternoon. Quite a bit of uncertainty in coverage of these showers, but impacts look limited during the Friday evening commute given mid 30s temperatures.
MTF/NWS Chicago