🌒 🌓 🌕 🌗 Waxing Crescent Moon, light snow, sky cover overnight Tue. to Wed. 92% to 100%, winds SSW to SE to WNW, 6 to 3 to 10 MPH, G14 MPH start 4a, Low 30, 12a to 1a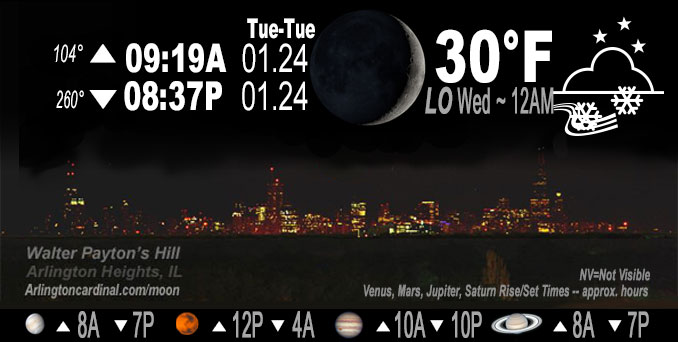 NWS CHGO | NWS HRLY | /NWSchicago | 🌡
ARLINGTON HEIGHTS WEATHER
▴ forecast7 (Arl. Hts.) | RADAR | WIDE RADAR
⏪ Hrly Data Table | Hrly Future Graph ⏩
IMPORTANT NOTE ON NWS DATA
======================
NIGHT FORECASTS …
NOTE 1: Forecast and information text below may refer to a previous night on Arlingtoncardinal.com, and might not be updated until late afternoon, evening, or overnight. However, Night Sky archives on CARDINAL NEWS Magazine include text forecasts that correspond to the lunar phase graphic above.

NOTE 2: Keep in mind lunar rise and set times don't always correspond with night weather and early morning lows because on some days during the month the moon is visible in the sky predominantly during the daytime hours.
Overnight Tuesday/Wednesday …
Weather Hazards expected …
Limited Snow Risk. Winter Weather Advisories I-80 and south.
DISCUSSION…
Snow will move into the area late Tuesday night — after midnight in Arlington Heights and nearby communities. Minor accumulations overnight Tuesday/Wednesday will be followed by additional accumulations and travel impacts through the day Wednesday.
Hello mobile users! If you encounter mobile "unfriendly" weather page, turn your phone sideways for a better view.
======================
O'HARE FORECAST …
Forecast Beginning Tuesday Night, Jan. 24, 2023 …
Tuesday Night: Snow, mainly after 4am. Low around 30. South wind 5 to 10 mph becoming east northeast after midnight. Winds could gust as high as 15 mph. Chance of precipitation is 80%. New snow accumulation of less than a half inch possible.
Wednesday: Snow. High near 34. North wind 10 to 15 mph, with gusts as high as 25 mph. Chance of precipitation is 100%. New snow accumulation of 2 to 4 inches possible.
Wednesday Night: A 30 percent chance of snow, mainly before midnight. Cloudy, with a low around 28. Northwest wind 10 to 15 mph, with gusts as high as 25 mph.
Thursday: A 20 percent chance of snow showers. Cloudy, with a high near 31. Northwest wind around 10 mph, with gusts as high as 15 mph.
Thursday Night: Mostly cloudy, with a low around 20.
Friday: A 40 percent chance of snow after noon. Cloudy, with a high near 36. Breezy.
Friday Night: Cloudy, with a low around 21. Breezy.
Saturday: Cloudy, with a high near 27.
Saturday Night: A chance of snow. Cloudy, with a low around 16.
Sunday: Cloudy, with a high near 24.
Sunday Night: Cloudy, with a low around 10.
Monday: Mostly cloudy, with a high near 19.
Weather Forecast, Night Sky Archive NWS O-Hare
Weather Forecast, Observations Archive NWS O-Hare
O'Hare forecast archive and hourly weather observations archive are available HERE on the CARDINAL NEWS Magazine.
KORD/KPWK Hourly Weather Observations
Arlingtoncardinal.com/moonphases
Arlingtoncardinal.com/nightsky
NIGHT SKY THIS MONTH …
Check the night sky objects for this month and past months in the playlist from the Space Telescope Science Institute YouTube channel Backyard stargazers get a monthly guide to the northern hemisphere's skywatching events with "Tonight's Sky" (Musical track The Far River written by Jonn Serrie, from the album And the Stars Go With You courtesy of New World Music Ltd. Musical track The Far River written by Jonn Serrie, from the album And the Stars Go With You courtesy of New World Music Ltd).
Telephoto lens, ISO 100, f/11, Shutter Speed 1/100 to 1/125 for the Moon.
Get updates from The Cardinal ALL NEWS FEEDS on Facebook. Just 'LIKE' the 'Arlington Cardinal Page (become a fan of our page). The updates cover all posts and sub-category posts from The Cardinal — Arlingtoncardinal.com. You can also limit feeds to specific categories. See all of The Cardinal Facebook fan pages at Arlingtoncardinal.com/about/facebook …

Help fund The Cardinal

Arlingtoncardinal.com/sponsor
Telephoto lens, ISO 1600, f/11, Shutter Speed 2.5″ for the skyline. The skyline exposure was toned down, and brightness and contrast was adjusted in Photoshop.
Area Forecast Discussion
National Weather Service Chicago/Romeoville, IL
1102 PM CST Tue Jan 24 2023
.UPDATE… Issued at 940 PM CST Tue Jan 24 2023
* No big changes from the full forecast issuance this afternoon
* Support for heaviest snowfall rates during the Wednesday morning commute causing hazardous travel due to snow/slush covered roads and visibility as low as one quarter to one half mile at times
The forecast for the impending snow event remains on track, with no big changes in reasoning per our full AFD issuance this afternoon. Main tweaks this evening were to hourly PoP trends, primarily later this evening to account for top down saturation allowing snow to make it through lingering modest dry air aloft. An aircraft descent sounding into Midway Airport showed the dry air below 625 mb being not too prohibitive for fairly rapid saturation overnight into the Chicago metro. While there are no observation sites across central Illinois and west central Illinois yet indicating light snow, noting the development of a fairly robust band approaching I-74 that has knocked down cloud bases below 8kft AGL. While the general PoP trends show stair- stepping north of rapidly increasing PoPs overnight, the presence of mesoscale banding may make snow onset somewhat irregular in spots. Likely will take the far northern tier longest to fully saturation and observe accumulating snow as to be expected.
Do think that the already robust banding aloft is suggesting the atmosphere "tipping its hand" regarding a quick uptick in snow rates following onset. In addition to mid-level f-gen contributing to this banding response, the forecast soundings have been consistent in featuring steep mid-upper lapse rates. This reduced static stability aloft, paired with favorable alignment of good omega (upward motion) with the DGZ, should support temporary moderate to even heavy snowfall rates at times. This will overcome relatively mild ground conditions (pavement starting at to above freezing this evening). For most of the area with possible exception of the Wisconsin state line, the pre-dawn onset of accumulating snow was a key rationale in expanding the Winter Weather Advisory northward, and don`t see any changes in that with this update.
Area of greatest concern for more prolonged heavy snow rates continues to be in our far southeast CWA (particularly Benton County), where the guidance consensus is uncomfortably close off to the southeast in an axis of 0.25-0.4″ liquid equivalent between 6am and 12pm CST/7am and 1pm EST. Lake effect/lake enhancement remains a wildcard in this forecast, due to stronger onshore flow onto the Illinois shore Wednesday afternoon probably nudging temps up into the 34-35F range and limiting the effective ratio plus mitigating road impacts even if the snow is coming down at a decent clip. Lake induced thermodynamics will improve Wednesday evening as flow orients north-northwesterly favoring portions of Lake and Porter County for 1-2″, locally 3″ additional Wednesday night. If the convergence axis shifting is delayed, improved lake effect banding could clip the Chicago shore and the parts of the immediate south suburbs near the Indiana border for a time.
Given the support for heavier snowfall rates of one half inch to one inch per hour and hazardous travel during the morning commute, included this information in the "additional details" section of the updated WSW text.
Castro/NWS Chicago
.SHORT TERM… Issued at 215 PM CST Tue Jan 24 2023
Through Wednesday night…
The main forecast points are as follows:
* Increasing confidence in a band of snow developing near/along I-88 Wednesday morning before and during rush hour, and that the band of heaviest snow near the path of the surface low will track southeast of our area.
* Increasing confidence in a slow and slippery Wednesday morning commute for much of the area, necessitating the expansion of the Winter Weather Advisory across the entire forecast area. An extension in time was also made for Lake Michigan-bordering counties to account for lake effect snow along the backside of the system.
* Snow totals through Wednesday evening are expected to range from 3-6″ along an axis from Gibson City, IL to Rensselaer, IN and 2-4″ from to Dixon, IL to the western suburbs of Chicago. A localized "minima" in snow amounts and impacts may materialize between both bands near I-80 or the Kankakee River Valley.
All eyes are on the developing low pressure system centered just to the west of San Angelo, TX at press time. Regional satellite imagery depicts the development of a classic baroclinic leaf across the Southern Plains with expanding radar returns from the OK/KS border eastward into MO and northern AR. Overall, the forecast appears to be on track with the expectation for the low to lift northeastward roughly along a path from Dallas, TX to Memphis, TN and then Louisville, KY over the next 24 hours. Along and to the northwest of the path of the low, a broad shield of snow is expected from central Oklahoma to lower Michigan within coupled upper-level jet streaks translating across the Lower Great Lakes first reaching I-80 between 12-3 AM, I-88 between 2-4 AM, and the WI state line between 3-5 AM. Snow will be steady through Wednesday morning and then taper from west to east Wednesday afternoon. The period of accumulating snow will occur from the pre-dawn hours of Wednesday to roughly noon with warming surface temperatures above the freezing mark preventing meaningful snow accumulations Wednesday afternoon.
There are two primary changes to the going forecast. First, 12Z model guidance exhibited a subtle southeastward shift in the path of the low from the previous forecast, raising confidence that a narrow band of intense snow along the immediate northwestern edge of the surface low will track from St. Louis, MO to Indianapolis, IN and to the southeast of our area (e.g. Benton county). Nevertheless, a period of steady snow is expected south of I-80 with snow rates of 0.25-0.5″/hr supporting snow totals of 3-6″, highest generally along an axis from Gibson City, IL to Rensselaer, IN.
Secondly, confidence is increasing in a secondary band of snow developing near the I-88 corridor before daybreak in association with increasing 850-500mb FGEN and steep mid-level lapse rates. While some of the initial forcing may be "lost" to saturating the column, a consensus of 12Z guidance indicates 0.15-0.25″ of QPF will fall between 09Z/3 AM and 16Z/10 AM, which with snow ratios of 10:1 to 12:1, snow rates of 0.25-0.5″/hr, and surface/road temperatures below freezing should easily allow for 2-4″ of snow to accumulate during the morning rush hour. For this reason, the Winter Weather Advisory has been expanded northward to the Wisconsin state line. (It`s worth noting confidence in travel impacts is the lowest near the Wisconsin state line as the secondary snow band may develop too far south to lead to meaningful accumulations prior to and during the morning rush hour. However, we felt it would be prudent to include the northern tier of counties just to be safe). As was mentioned in the previous forecast discussion, a local "minima" in snow totals may materialize near I-80 or the Kankakee River Valley between both bands of snow.
While snow will continue to fall after noon on Wednesday surface temperatures are expected to inch upward toward and eventually above the freezing mark decreasing the efficiency at which snow accumulates on roadways. Indeed, many roads may simply become wet by mid-Wednesday afternoon leading to the primary impact of the snow being reduced visibility. Snow should begin to taper late Wednesday afternoon as the surface low and associated upper-level forcing shift eastward. However, increasing northwesterly to northerly winds and cooling 925-850mb temperatures will support lake effect snow showers along the Lake Michigan shoreline. With winds quickly turning northeasterly by Wednesday evening, all lake effect snow should quickly shift into northwestern Indiana with the longest residence time in Porter county overnight into Thursday. For additional details on the lake effect snow, please see the Long Term Discussion below.
Borchardt/NWS