🌘 🌑 🌗 🌕 Waning Crescent Moon, rain, snow flurries, sky cover overnight Thu. to Fri. 100%, winds WNW to NW, 13 to 20 to 16 MPH, G21 to 30 to 26 MPH, Low 30, 8a to 9a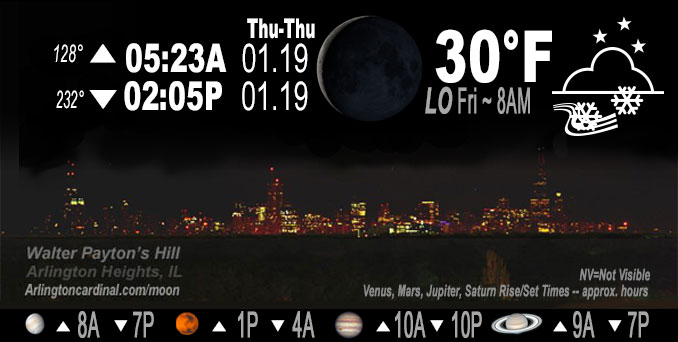 NWS CHGO | NWS HRLY | /NWSchicago | 🌡
ARLINGTON HEIGHTS WEATHER
▴ forecast7 (Arl. Hts.) | RADAR | WIDE RADAR
⏪ Hrly Data Table | Hrly Future Graph ⏩
IMPORTANT NOTE ON NWS DATA
======================
NIGHT FORECASTS …
NOTE 1: Forecast and information text below may refer to a previous night on Arlingtoncardinal.com, and might not be updated until late afternoon, evening, or overnight. However, Night Sky archives on CARDINAL NEWS Magazine include text forecasts that correspond to the lunar phase graphic above.

NOTE 2: Keep in mind lunar rise and set times don't always correspond with night weather and early morning lows because on some days during the month the moon is visible in the sky predominantly during the daytime hours.
Overnight Thursday/Friday …
No Weather Hazards expected …
Very light rain changing to snow flurries.
DISCUSSION…
Very light rain overnight. Early Friday morning, flurries and sporadic light snow showers continue to fall on a good portion of the area as we`re still feeding off of some modest low level forcing on the back edge of the departing storm system.
Hello mobile users! If you encounter mobile "unfriendly" weather page, turn your phone sideways for a better view.
======================
O'HARE FORECAST …
Forecast Beginning Thursday Night, Jan. 19, 2023 …
Thursday: A chance of rain and snow showers before 9pm, then a slight chance of snow showers between 9pm and 3am, then a chance of flurries after 3am. Cloudy, with a low around 30. Breezy, with a west northwest wind 15 to 20 mph, with gusts as high as 30 mph. Chance of precipitation is 40%.
Friday: Cloudy, with a high near 34. West northwest wind 10 to 15 mph, with gusts as high as 25 mph.
Friday Night: Mostly cloudy, with a low around 25. West wind 5 to 10 mph, with gusts as high as 15 mph.
Saturday: Partly sunny, with a high near 33. Southwest wind 5 to 10 mph.
Saturday Night: A 50 percent chance of snow, mainly after midnight. Cloudy, with a low around 28.
Sunday: A 30 percent chance of snow, mainly before noon. Cloudy, with a high near 35.
Sunday Night: Mostly cloudy, with a low around 26.
Monday: Mostly cloudy, with a high near 35.
Monday Night: Cloudy, with a low around 27.
Tuesday: Mostly cloudy, with a high near 35.
Tuesday Night: Mostly cloudy, with a low around 26.
Wednesday: Mostly cloudy, with a high near 34.
Weather Forecast, Night Sky Archive NWS O-Hare
Weather Forecast, Observations Archive NWS O-Hare
O'Hare forecast archive and hourly weather observations archive are available HERE on the CARDINAL NEWS Magazine.
KORD/KPWK Hourly Weather Observations
Arlingtoncardinal.com/moonphases
Arlingtoncardinal.com/nightsky
NIGHT SKY THIS MONTH …
Check the night sky objects for this month and past months in the playlist from the Space Telescope Science Institute YouTube channel Backyard stargazers get a monthly guide to the northern hemisphere's skywatching events with "Tonight's Sky" (Musical track The Far River written by Jonn Serrie, from the album And the Stars Go With You courtesy of New World Music Ltd. Musical track The Far River written by Jonn Serrie, from the album And the Stars Go With You courtesy of New World Music Ltd).
Telephoto lens, ISO 100, f/11, Shutter Speed 1/100 to 1/125 for the Moon.
Get updates from The Cardinal ALL NEWS FEEDS on Facebook. Just 'LIKE' the 'Arlington Cardinal Page (become a fan of our page). The updates cover all posts and sub-category posts from The Cardinal — Arlingtoncardinal.com. You can also limit feeds to specific categories. See all of The Cardinal Facebook fan pages at Arlingtoncardinal.com/about/facebook …

Help fund The Cardinal

Arlingtoncardinal.com/sponsor
Telephoto lens, ISO 1600, f/11, Shutter Speed 2.5″ for the skyline. The skyline exposure was toned down, and brightness and contrast was adjusted in Photoshop.
Area Forecast Discussion
National Weather Service Chicago/Romeoville, IL
747 PM CST Thu Jan 19 2023
.UPDATE… Issued at 747 PM CST Thu Jan 19 2023
Rain showers and drizzle have changed to flurries and light snow showers for much of northern Illinois as of 745 PM. This transition will continue across the remainder of the area through late evening. The cold advection is not particularly strong for January, but enough to end any melting of hydrometeors. Satellite water vapor imagery indicates a mid-level vorticity max across southern Wisconsin and far northern Illinois that is pivoting eastward around the broad upper low center positioned over the Great Lakes. As this disturbance inches east, flare ups in scattered snow showers such as shown by some convection allowing models (CAMs) are possible mainly north of I-80. With relatively mild air and pavement temperatures in the mid 30s being slow to fall, both accumulation and impacts remain unlikely.
Otherwise, westerly winds will continue to gust to 25 to 30 mph through the rest of tonight with a cold advection profile in the low-levels. Temperatures will not fall much given upstream observations as well as the continued blanket of clouds. While the 32F isotherm is about to enter the western forecast area and glide across through early overnight, the winds will likely help dry the pavement equally quick, so not expecting slick spots to be a major issue, though spotty ones might materialize. Also to note, scattered flurries are probable overnight that may continue Friday morning given several models indicating saturation around -8C to -10C at the top of the cold advection profile.
MTF
&&
.SHORT TERM… Issued at 250 PM CST Thu Jan 19 2023
Through Friday night…
Main forecast concerns… *Rain showers continue to move through the area this afternoon with some areas seeing a transition to snow showers this evening. Little to no accumulation is expected.
*Blustery winds persisting through tonight before gradually easing Friday afternoon.
Showers are continuing to move across northeastern Illinois this afternoon under the influence of an upper-level low that continues to swirl above the southern Great Lakes. At this time showers are falling in the form of rain, but recent aircraft soundings are showing that the most of the column is below freezing except for the lowest couple thousand feet or so. Forecast soundings continue to show that this surface warm layer should cool as cold advection strengthens this evening which looks to transition the rain showers over to snow showers/flurries, especially for areas north of I-88, after 6 PM. However, there continues to be some uncertainty as to the coverage of snow showers this evening as forecast soundings are showing that drier air would be trying to work into the DGZ which would limit the snow production and keep precipitation more along the lines of flurries or a rain-snow mix. Given this uncertainty I did maintain a mention of rain-snow mix for most of the Chicago metro and areas south of I-80 where temperature profiles look more marginal. Any snow showers/flurries that do materialize this evening will lead to little or no accumulations due to the wet and above freezing ground conditions, although some visibility reductions may be seen under some of the snow showers.
In addition to the showers, winds will also continue to increase this evening as the cold advection allows the atmosphere to mix into stronger winds aloft. Gusts around 25 to 30 mph are expected to persist through the overnight hours and into Friday morning before winds gradually start to ease Friday afternoon. The combination of these breezy conditions and the lowering temperatures will create wind chills in the upper teens and lower 20s by Friday morning.
Heading into our Friday, the showers/flurries will be coming to an end by daybreak for most with the exception of some lingering flurries in far northeastern Porter County, IN. However, skies will remain mostly cloudy through Friday night as mid-level moisture lingers aloft. The overcast skies in combination with the cold advection will keep temperatures more in line with typical January temperatures as highs are expected to top out in the low to mid 30s Friday afternoon. Friday night will also be chilly with temperatures dipping into the low to mid 20s by Saturday morning.
Yack/NWS Chicago