Thursday Hi 42, cloudy, rain 12p to 7p, winds SW to W to WNW, 7 to 20 to 17 MPH, G15 to 30 to 29 MPH, then tapering Friday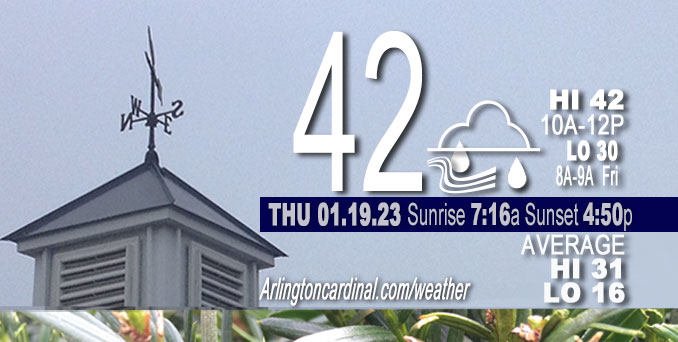 NWS CHGO | NWS HRLY | /NWSchicago | 🌡
ARLINGTON HEIGHTS WEATHER
▴ forecast7 (Arl. Hts.) | RADAR | WIDE RADAR




O'Hare (history KORD, left)
⏪ Hrly Data Table | Hrly Future Graph ⏩
IMPORTANT NOTE ON NWS DATA
Arlington Heights (history KPWK, left)
⏪ Hrly Data Table | Hrly Future Graph ⏩
======================
Thursday and Thursday Night …
Weather Hazards expected …
Significant Fog Risk This Morning.
DISCUSSION…
Fog is expected Thursday morning, some of which will likely be dense.
======================
O'HARE FORECAST …
MIDWAY — problem with NWS O'Hare
Forecast Beginning Thursday, Jan. 19, 2023
Thursday: A chance of rain with a slight chance of drizzle before 2pm, then showers, mainly after 2pm. Areas of fog before 1pm. Temperature falling to around 38 by 5pm. Southwest wind 5 to 15 mph, with gusts as high as 20 mph. Chance of precipitation is 80%. New precipitation amounts of less than a tenth of an inch possible.
Thursday Night: A chance of rain and snow showers before 9pm, then a slight chance of snow showers between 9pm and 3am, then a chance of flurries after 3am. Cloudy, with a low around 30. Breezy, with a west northwest wind 15 to 20 mph, with gusts as high as 30 mph. Chance of precipitation is 40%.
Friday: Cloudy, with a high near 34. West northwest wind 10 to 15 mph, with gusts as high as 25 mph.
Friday Night: Mostly cloudy, with a low around 25. West wind 5 to 10 mph, with gusts as high as 15 mph.
Saturday: Partly sunny, with a high near 33. Southwest wind 5 to 10 mph.
Saturday Night: A 50 percent chance of snow, mainly after midnight. Cloudy, with a low around 28.
Sunday: A 30 percent chance of snow, mainly before noon. Cloudy, with a high near 35.
Sunday Night: Mostly cloudy, with a low around 26.
Monday: Mostly cloudy, with a high near 35.
Monday Night: Cloudy, with a low around 27.
Tuesday: Mostly cloudy, with a high near 35.
Tuesday Night: Mostly cloudy, with a low around 26.
Wednesday: Mostly cloudy, with a high near 34.
Weather Forecast, Observations Archive NWS O-Hare
Weather Forecast, Night Sky Archive NWS O-Hare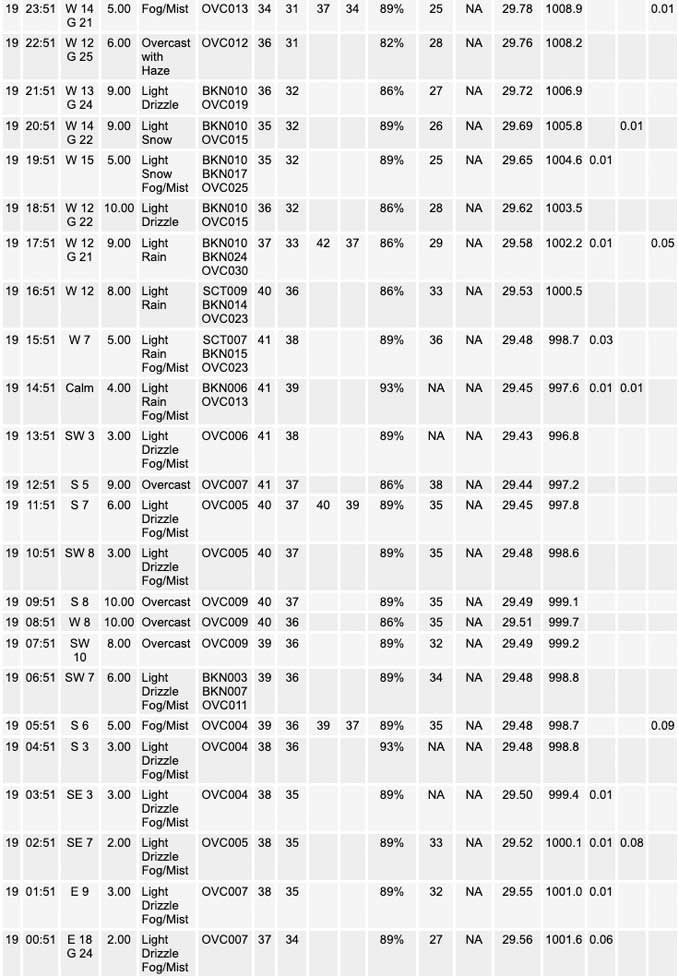 KORD & KPWK Hourly Weather Observations









NORTH AMERICA BELOW (SCROLL ⇩⇩)
Weather WIDE (MOBILE TURN SIDEWAYS)
SPC Convective Outlook on
CHICAGOWEATHERSTATION.COM

ChicagoWeatherStation.com I O'Hare Normal Temps/Precip I O'Hare Record Temps, Precip, Snow
LIVE RADAR | STORM TRACKS | UNISYS US IR SAT | UNISYS Midwest IR SAT | UNISYS More IR SAT
WunderMap® with Temperature/Wind Data || Google: Arlington Heights Area Temps | US TEMPS
Full Screen Motion Weather Radar (Wunderground.com)
Midwest Cloud Cover with Arlington Heights Weather Forecast
ChicagoWeatherStation.com I O'Hare Normal Temps/Precip I O'Hare Record Temps, Precip, Snow
SUNLIGHT DATA FOR SECURITY, TRAFFIC SAFETY, AND SPORTS
SunCalc.net data with solar azimuth and trajectory, times for dawn, sunrise, solar noon, sunset, dusk …
Tweets by @CardinalWeather
NIGHT SKY THIS MONTH …
Backyard stargazers get a monthly guide to the northern hemisphere's skywatching events with "Tonight's Sky." Check the night sky objects for this month and past months in the playlist from the Space Telescope Science Institute YouTube channel (Musical track The Far River written by Jonn Serrie, from the album And the Stars Go With You courtesy of New World Music Ltd).
Get updates from The Cardinal ALL NEWS FEEDS on Facebook. Just 'LIKE' the 'Arlington Cardinal Page (become a fan of our page). The updates cover all posts and sub-category posts from The Cardinal — Arlingtoncardinal.com. You can also limit feeds to specific categories. See all of The Cardinal Facebook fan pages at Arlingtoncardinal.com/about/facebook …

Help fund The Cardinal

Arlingtoncardinal.com/sponsor
Area Forecast Discussion
National Weather Service Chicago/Romeoville, IL
1218 PM CST Thu Jan 19 2023
.UPDATE… Issued at 1023 AM CST Thu Jan 19 2023
Two areas of low pressure continue to move across northeastern Illinois this morning which is helping to maintain the ongoing fog. While some areas are still seeing some locally dense fog, webcams and observations have been showing improvements which if trends continue may allow for the expiration of the Dense Fog Advisory early. Regardless, those traveling this morning should continue to use caution when encountering fog and use low beams.
As the lows continue to move eastward through the rest of the morning the cold front currently moving across west central Illinois will move across our CWA this afternoon into the evening. As the front comes through the fog will lift as showers are expected to develop and spread across the area mainly in the form of rain. However, forecast soundings are showing ample amounts of cold air aloft and good saturation of the DGZ which may allow for some wet snow to mix in with the rain this evening. The main uncertainty is if the lowest 1000 ft will be able to get cold enough to turn precipitation completely over to snow. Regardless impacts look to be minimal as pavement temperatures look to remain above freezing which should limit any accumulations. Winds will also be increasing as the front comes through with gusts around 30 mph persisting through the night before gradually easing on Friday.
Overall the going forecast covers the aforementioned expectations well with only minor adjustments made to match ongoing trends.
Yack
&&
.SHORT TERM… Issued at 310 AM CST Thu Jan 19 2023
Through Friday…
Main forecast highlights through the period include:
* Period of very low clouds, occasional drizzle and fog this morning. Some locally dense fog is likely.
* Blustery west winds develop through the afternoon and continue tonight.
* Another period of rain showers developing early this afternoon, and likely mixing with, or changing over to snow showers and flurries from west to east late this afternoon and evening. Little to no snow accumulation expected.
Satellite imagery early this morning depicts the center circulation associated with the main upper low now approaching far northwestern MO, with a well-defined dry slot noted to the east now impinging into southern WI. The heavier more persistent warm air advection wing of rain has since shifted north of the area, and we now find ourselves within an area of abating winds and drizzle just ahead of the approaching board surface low just to our south and southwest. Winds are expected to remain light and somewhat variable this morning as the surface low shifts overhead. The light wind regime combined with ample low-level moisture will set the stage for very low clouds and fog across the area this morning. Upstream trends across MO support this thinking, where numerous sites are currently reporting sub mile visibilities in fog. The expectation is that we will have a foggy morning across most of the area as the surface low, and the accompanying airmass shifts northward into northern IL over the next few hours. While we currently have no plans for a dense fog advisory, its not out of the question that one could be needed for a few hours this morning. At this time we plan to continue to monitor observation trends over the next few hours to identify the possible need for one.
The fog will improve across the area into this afternoon as winds begins to pick up out from the west following the northeastward shift of the surface low. These winds will become gusty (up to around 35 mph) by early afternoon across central IL, then across northeastern IL and northwestern IN by early this evening as we begin to cold air advect along the southwestern periphery of the exiting surface low. Winds are expected to remain gusty tonight, then gradually abate during the day Friday as an an area of high pressure builds into the Mid-Missouri Valley.
Another period of precipitation is expected to develop into the area this afternoon as the main upper low over northwestern MO slingshots eastward into southern WI and northern IL. Lapse rates will steepen as colder temperatures aloft shift overhead later today under the upper low. This should thus support more showery precipitation, likely initially in the form of rain as wetbulb zero heights remain high. However, colder surface temperatures are expected to gradually work their way eastward through the afternoon and this should allow snow to to begin to mix in from west to east across the area later this afternoon into this evening. Snow showers and/or flurries are likely to continue across the area tonight as additional disturbances shift across the area within a cyclonic upper level flow pattern. No significant snow accumulation is expected from these snow showers, but a minor coating cannot be ruled out.
Skies will remain cloudy on Friday and temperatures will hold in the lower to middle 30s for highs following early morning lows in the upper 20s to around 30.
KJB/NWS Chicago