Monday Hi 42, partly sunny, winds SW to SSW, calm to 7 to 9 MPH, G13 to 16 to 13 to 15 MPH start 8a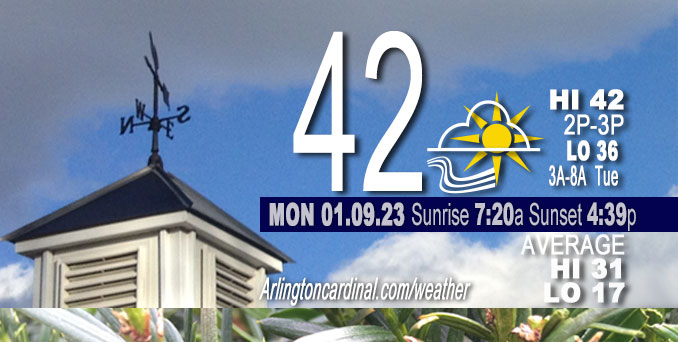 NWS CHGO | NWS HRLY | /NWSchicago | 🌡
ARLINGTON HEIGHTS WEATHER
▴ forecast7 (Arl. Hts.) | RADAR | WIDE RADAR




O'Hare (history KORD, left)
⏪ Hrly Data Table | Hrly Future Graph ⏩
IMPORTANT NOTE ON NWS DATA
Arlington Heights (history KPWK, left)
⏪ Hrly Data Table | Hrly Future Graph ⏩
======================
Monday and Monday Night …
Weather Hazards expected…
Limited Fog Risk this morning.
DISCUSSION…
Pockets of locally dense fog are expected across parts of northern Illinois, which may result in the development of a few slick spots (apparently freezing fog with frozen condensation on roadways).
======================
O'HARE FORECAST …
Forecast Beginning Monday, Jan. 09, 2023
Monday: Patchy fog before 7am. Otherwise, mostly sunny, with a high near 42. Southwest wind 5 to 10 mph, with gusts as high as 15 mph.
Monday Night: Mostly cloudy, with a low around 34. South wind 5 to 10 mph, with gusts as high as 15 mph.
Tuesday: Partly sunny, with a high near 41. West southwest wind around 5 mph, with gusts as high as 15 mph.
Tuesday Night: Mostly cloudy, with a low around 31. West southwest wind around 5 mph becoming south southeast after midnight.
Wednesday: Mostly cloudy, with a high near 43. South southeast wind around 5 mph becoming west in the afternoon. Winds could gust as high as 10 mph.
Wednesday Night: A slight chance of rain after midnight, mixing with snow after 3am. Mostly cloudy, with a low around 33. Chance of precipitation is 20%.
Thursday: A chance of rain and snow before noon, then a chance of snow. Mostly cloudy, with a high near 38. Chance of precipitation is 30%.
Thursday Night: Mostly cloudy, with a low around 29.
Friday: Mostly cloudy, with a high near 34.
Friday Night: Partly cloudy, with a low around 23.
Saturday: Mostly sunny, with a high near 35.
Saturday Night: Partly cloudy, with a low around 28.
Sunday: Partly sunny, with a high near 41.
Weather Forecast, Observations Archive NWS O-Hare
Weather Forecast, Night Sky Archive NWS O-Hare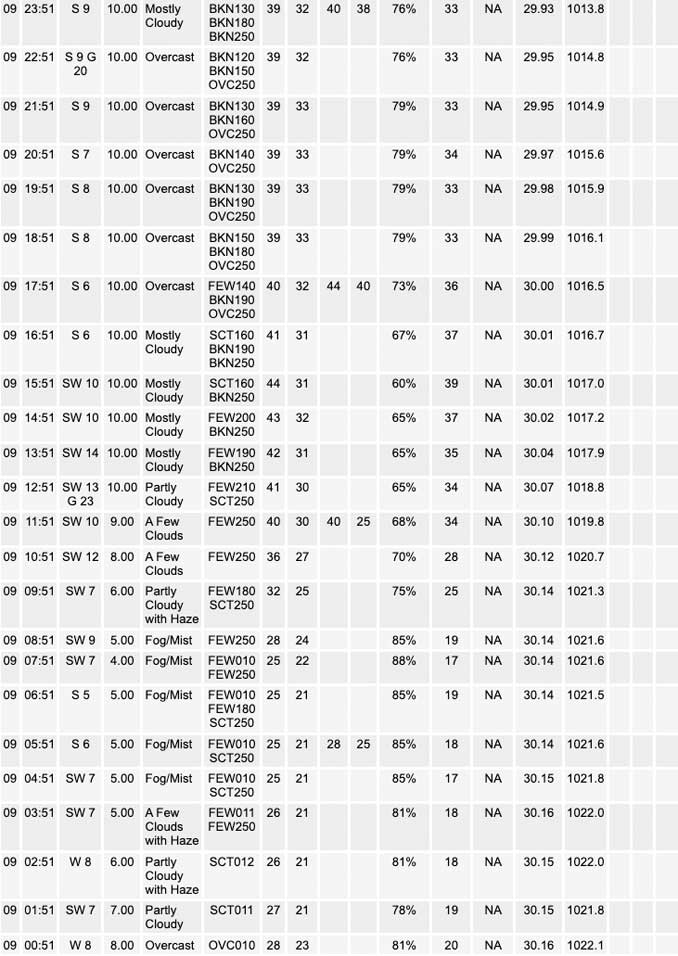 KORD & KPWK Hourly Weather Observations









NORTH AMERICA BELOW (SCROLL ⇩⇩)
Weather WIDE (MOBILE TURN SIDEWAYS)
SPC Convective Outlook on
CHICAGOWEATHERSTATION.COM

ChicagoWeatherStation.com I O'Hare Normal Temps/Precip I O'Hare Record Temps, Precip, Snow
LIVE RADAR | STORM TRACKS | UNISYS US IR SAT | UNISYS Midwest IR SAT | UNISYS More IR SAT
WunderMap® with Temperature/Wind Data || Google: Arlington Heights Area Temps | US TEMPS
Full Screen Motion Weather Radar (Wunderground.com)
Midwest Cloud Cover with Arlington Heights Weather Forecast
ChicagoWeatherStation.com I O'Hare Normal Temps/Precip I O'Hare Record Temps, Precip, Snow
SUNLIGHT DATA FOR SECURITY, TRAFFIC SAFETY, AND SPORTS
SunCalc.net data with solar azimuth and trajectory, times for dawn, sunrise, solar noon, sunset, dusk …
Tweets by @CardinalWeather
NIGHT SKY THIS MONTH …
Backyard stargazers get a monthly guide to the northern hemisphere's skywatching events with "Tonight's Sky." Check the night sky objects for this month and past months in the playlist from the Space Telescope Science Institute YouTube channel (Musical track The Far River written by Jonn Serrie, from the album And the Stars Go With You courtesy of New World Music Ltd).
Get updates from The Cardinal ALL NEWS FEEDS on Facebook. Just 'LIKE' the 'Arlington Cardinal Page (become a fan of our page). The updates cover all posts and sub-category posts from The Cardinal — Arlingtoncardinal.com. You can also limit feeds to specific categories. See all of The Cardinal Facebook fan pages at Arlingtoncardinal.com/about/facebook …

Help fund The Cardinal

Arlingtoncardinal.com/sponsor
Area Forecast Discussion
National Weather Service Chicago/Romeoville, IL
536 AM CST Mon Jan 9 2023
.SHORT TERM… Issued at 343 AM CST Mon Jan 9 2023
Through Tuesday…
Fairly tranquil weather is in store for the start of this week, but a couple of forecast nuisances remain for today and Tuesday nevertheless, namely fog/freezing fog this morning and a low probability potential for rain, drizzle, and/or freezing drizzle overnight Monday into Tuesday.
The stubborn sheet of stratus has finally begun to peel off to the east here early this morning. While low-level warm air and moisture advection may foster the redevelopment of some of this low cloud cover over the next several hours, the general expectation is that skies won`t be obscured much through this afternoon. This may be a welcome sight for many considering that we haven`t seen much of the Sun (if at all) so far this calendar year, but in the very immediate near term, this may not be the greatest thing as the clearing skies have facilitated the development of fog across much of northern Illinois early this morning, particularly around and west of the I-39 corridor. Low-level flow has fortunately remained elevated just enough to prevent this fog from becoming dense across most of the forecast area so far, but web cams in the Rochelle area have shown that there are some pockets of locally denser fog out there, and given that temperatures are in the teens and 20s this morning, this does lead to some concern that this fog could lead to some slick spots on roadways where it ends up being densest. Will hoist a Special Weather Statement to more formally message this potential for now, and will continue to keep an eye on observational trends to see if any refinements to our messaging are needed.
With the Sun expected to make an appearance today, perhaps for several hours, expecting to see several 40+ degree readings across our CWA this afternoon before cloud cover begins to increase once again late this afternoon into this evening as a clipper-like shortwave approaches the region. Temperature falloff tonight should be minimal with modest warm air advection off of southerly winds likely to keep temperature readings more or less steady through much of the overnight hours before a cold front associated with a weak surface low that will be moving across Wisconsin makes inroads from the northwest. The timing of this front`s arrival towards daybreak may make it so that temperatures won`t fall much behind it, but it should at least stunt diurnal warming to some extent on Tuesday, especially if it ends up being accompanied by stratus, like most guidance seems to be suggesting.
The aforementioned shortwave could also play a role in generating precipitation in our CWA in the Monday overnight into Tuesday morning time frame. Progged moisture profiles during this time frame don`t look particularly stellar as the wave arrives, though some guidance (mainly the more wet-biased guidance) still does spit out some light QPF in our forecast area as the wave elicits an adequate UVV response. Forecast soundings also indicate that the post-frontal stratus deck could grow deep enough to be marginally supportive of drizzle Tuesday morning into potentially the afternoon as well, though this deeper low-level moisture will be lagging the better forcing for ascent associated with the shortwave. All in all, the puzzle pieces for Tuesday morning`s precipitation potential just don`t seem to match up well enough at this point to warrant a PoP increase into the slight chance PoP category just yet, so have maintained silent 10-14% PoPs across much of our CWA for now. Depending on the timing of the cold front`s arrival, it`s possible that surface temperatures will be near or below freezing, so will need to monitor forecast trends closely given that there is a non- zero threat of freezing drizzle Tuesday morning. Will also need to watch the potential for fog once again Tuesday morning behind the cold front, but was not quite confident enough in post-frontal fog development to introduce a formal fog mention into the forecast grids yet.
Ogorek/NWS Chicago