Sunday Hi 32, mostly cloudy, winds SW to W to NW to W, calm to 3 to 9 to 7 MPH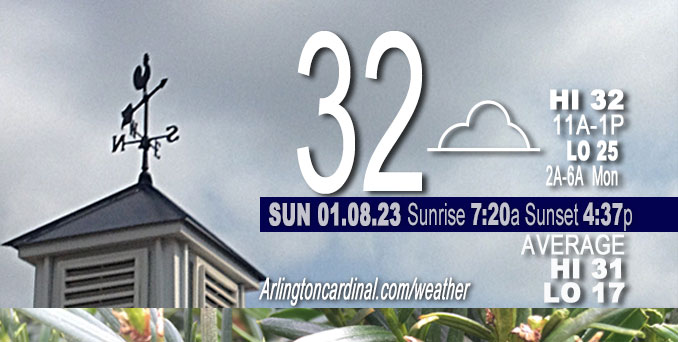 NWS CHGO | NWS HRLY | /NWSchicago | 🌡
ARLINGTON HEIGHTS WEATHER
▴ forecast7 (Arl. Hts.) | RADAR | WIDE RADAR




O'Hare (history KORD, left)
⏪ Hrly Data Table | Hrly Future Graph ⏩
IMPORTANT NOTE ON NWS DATA
Arlington Heights (history KPWK, left)
⏪ Hrly Data Table | Hrly Future Graph ⏩
======================
Sunday and Sunday Night …
No Weather Hazards expected…
Quiet day; maybe some snow flurries as a weak and slow moving upper level impulse continues to slide eastward into the Lower Ohio Valley.
DISCUSSION…
A weak and slow moving upper level impulse continues to slide eastward into the Lower Ohio Valley early Sunday afternoon. This disturbance has resulted in some light snow and flurry activity into early this afternoon across central IL and IN, but has not resulted in any real impacts. Expect this activity to shift out of my the area over the next couple hours with no accumulation expected.
Outside of the flurry activity over southern sections of the area, the persistent low cloud cover has continued to be the main story for much of far northern IL, though recently it has began showing signs of scattering out across parts of Chicago and points southeastward into northwestern IN. This low cloud cover has remained essentially locked in place the past few days thanks to the combination of a substantial low-level moisture trapping subsidence inversion a few thousand feet off the ground and very light near surface steering flow near an area of surface high pressure. Fortunately, it appears this will be changing tonight as the surface high settles to our south and allows for an increase in low-level westerly flow overhead. This may act to shift the clearing line, currently across eastern IA, eastward across our area tonight. If this clearing line does indeed work across the area tonight, we may have to watch for some fog development into early Monday morning. At this time, however, it appears surface winds may remain elevated enough tonight to keep any fog development patchy in coverage.
Conditions on Monday should be warmer as we southwesterly winds late tonight and Monday transport a warmer airmass overhead. We also look favorable to see some sun tomorrow, though higher level cloud cover does look to increase overhead during the afternoon. Temperatures are expected to warm into the low 40s, some 10 degrees above normal for mid-January.
======================
O'HARE FORECAST …
MIDWAY — problem with NWS O'Hare
Forecast Beginning Sunday, Jan. 08, 2023
Sunday: A chance of flurries between 7am and 1pm. Mostly cloudy, with a high near 36. Calm wind becoming west around 5 mph in the afternoon.
Sunday Night Mostly cloudy. Lows in the mid 20s. West winds 5 to 10 mph.
Monday Mostly cloudy in the morning, then becoming partly cloudy. Highs in the lower 40s. Southwest winds 5 to 10 mph.
Monday Night Mostly cloudy. Near steady temperature in the mid 30s. South winds 5 to 10 mph.
Tuesday Mostly cloudy. Highs in the mid 40s. Southwest winds 5 to 10 mph.
Tuesday Night Mostly cloudy. Lows in the lower 30s. Southwest winds around 5 mph.
Wednesday Mostly cloudy. Highs in the mid 40s.
Wednesday Night Mostly cloudy. A slight chance of rain and snow after midnight. Lows in the mid 30s. Chance of precipitation 20 percent.
Thursday Cloudy with a chance of rain and snow. Highs in the upper 30s. Chance of precipitation 40 percent.
Thursday Night Cloudy. A chance of snow in the evening. Lows in the lower 30s. Chance of precipitation 30 percent.
Friday Mostly cloudy. Highs in the mid 30s.
Friday Night Mostly cloudy in the evening, then becoming partly cloudy. Lows in the mid 20s.
Saturday Partly cloudy in the morning, then becoming mostly sunny. Highs in the mid 30s.
Saturday Night Partly cloudy in the evening, then becoming mostly cloudy. Lows around 30.
Sunday Mostly cloudy. Highs in the lower 40s.
Weather Forecast, Observations Archive NWS O-Hare
Weather Forecast, Night Sky Archive NWS O-Hare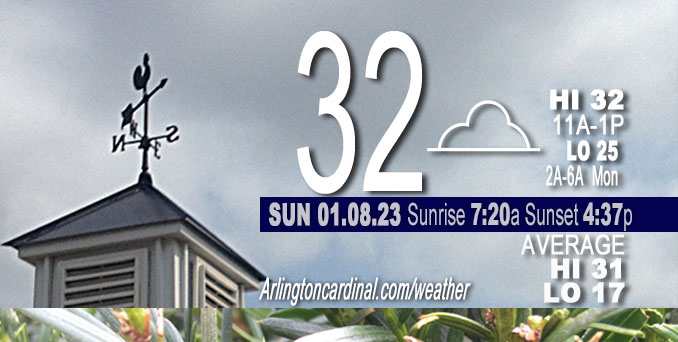 KORD & KPWK Hourly Weather Observations









NORTH AMERICA BELOW (SCROLL ⇩⇩)
Weather WIDE (MOBILE TURN SIDEWAYS)
SPC Convective Outlook on
CHICAGOWEATHERSTATION.COM

ChicagoWeatherStation.com I O'Hare Normal Temps/Precip I O'Hare Record Temps, Precip, Snow
LIVE RADAR | STORM TRACKS | UNISYS US IR SAT | UNISYS Midwest IR SAT | UNISYS More IR SAT
WunderMap® with Temperature/Wind Data || Google: Arlington Heights Area Temps | US TEMPS
Full Screen Motion Weather Radar (Wunderground.com)
Midwest Cloud Cover with Arlington Heights Weather Forecast
ChicagoWeatherStation.com I O'Hare Normal Temps/Precip I O'Hare Record Temps, Precip, Snow
SUNLIGHT DATA FOR SECURITY, TRAFFIC SAFETY, AND SPORTS
SunCalc.net data with solar azimuth and trajectory, times for dawn, sunrise, solar noon, sunset, dusk …
Tweets by @CardinalWeather
NIGHT SKY THIS MONTH …
Backyard stargazers get a monthly guide to the northern hemisphere's skywatching events with "Tonight's Sky." Check the night sky objects for this month and past months in the playlist from the Space Telescope Science Institute YouTube channel (Musical track The Far River written by Jonn Serrie, from the album And the Stars Go With You courtesy of New World Music Ltd).
Get updates from The Cardinal ALL NEWS FEEDS on Facebook. Just 'LIKE' the 'Arlington Cardinal Page (become a fan of our page). The updates cover all posts and sub-category posts from The Cardinal — Arlingtoncardinal.com. You can also limit feeds to specific categories. See all of The Cardinal Facebook fan pages at Arlingtoncardinal.com/about/facebook …

Help fund The Cardinal

Arlingtoncardinal.com/sponsor
Area Forecast Discussion
National Weather Service Chicago/Romeoville, IL
1145 AM CST Sun Jan 8 2023
.SHORT TERM… Issued at 328 AM CST Sun Jan 8 2023
Through Monday…
Short term forecast concerns continue to revolve around the extent of light snow today across the far southern cwa counties, fog trends (or lack thereof) today, and cloud cover into tonight associated with our tenacious low stratus deck.
Slow-moving weak upper low was evident across southern IA in GOES vapor imagery early this morning, with an upper level jet streak noted from AR into the lower Ohio Valley. With better dynamics associated with the jet located well to our south, deeper low level moisture was limited to the lower Mississippi Valley in the vicinity of a weakening surface low pressure wave along the TN/MS border at 08Z. A pocket of mid-level moisture was evident south/southeast of the upper low per the 00Z TOP RAOB, with weak isentropic ascent provided by the modest mass response of the upper low producing an area of precipitation (primarily light snow) from eastern MO into central IL per region radar and surface obs. RAP forecast soundings depict the deepest saturation across the WFO ILX forecast area, with a more substantial dry layer noted between roughly 900-750/700 mb across our southern tier of counties (and much drier profiles north of the Illinois/Kankakee river valleys). Therefore it is this area, roughly along/south of a KPNT-KRZL line which will likely see some light snow and flurries develop this morning, then eventually end from west to east this afternoon as the upper low drifts slowly eastward. Best chance of a spotty dusting or tenth of an inch will be along the LOT/ILX border, and no impacts are expected from this.
Elsewhere, a shallow but persistent low stratus deck continues to hang tough across much of the region this morning (except for our southeastern cwa where additional cloud cover was spreading in with the approaching upper low). Previous shifts had concerns that this low stratus deck may build down into dense fog and freezing fog across our western counties this morning. While this has been an issue farther west across IA, forecast soundings indicate ground and air temps remain above crossover temperatures across the forecast area this morning. Have backed off to just a patchy fog mention far west along our border with DVN, and have removed freezing fog from the forecast. That said, we`ll need to monitor trends to our west later today as low level winds eventually veer west-southwest and could begin to advect IA fog into WI and northwest IL this afternoon and evening. Confidence in this is fairly low at this time.
Otherwise, stratus is expected to linger across most of the forecast area at least into this evening, before deep subsidence develops in the wake of the upper low and a second mid-level wave currently dropping southeast across eastern North Dakota. Lowering inversion heights beneath this subsidence may be able to erode holes in the low cloud deck especially across west/southwest counties. Any clearing could also aid in shallow fog development however, as surface winds diminish in the vicinity of a weak high pressure ridge.
Cloud cover should limit temps to the low-mid 30s today, though Monday does look to warm into the upper 30s/around 40 as winds become southwest and modest warm advection develops ahead of our next approaching wave currently seen in vapor imagery over North Dakota. May even see some peaks of sun Monday if stratus does break up and before high clouds increase later in the day.
Ratzer/NWS Chicago