🌒 🌓 🌕 🌗 Waxing Crescent Moon, rain after 2a, sky cover overnight Sun. to Mon. 0% to 95%, winds ESE to SE, 8 to 24 MPH, G 18 to 39 to 21 MPH, 12a to 12p, Low 33, 12a to 1a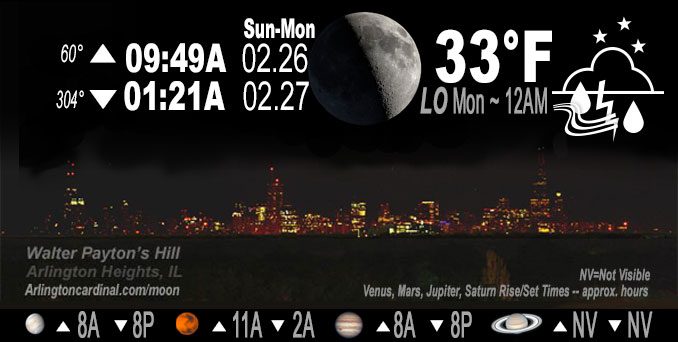 NWS CHGO | NWS HRLY | /NWSchicago | 🌡
ARLINGTON HEIGHTS WEATHER
▴ forecast7 (Arl. Hts.) | RADAR | WIDE RADAR
⏪ Hrly Data Table | Hrly Future Graph ⏩
IMPORTANT NOTE ON NWS DATA
======================
NIGHT FORECASTS …
NOTE: Keep in mind lunar rise and set times don't always correspond with night weather and early morning lows because on some days during the month the moon is visible in the sky predominantly during the daytime hours.
Overnight Sunday/Monday …
Weather Hazards expected
Limited Non Thunderstorm Wind Risk mainly after midnight.
Monday…
Limited Severe Thunderstorm Risk.
Limited Flooding Risk. Rain total of 1.26″ between 2:00 a.m. and noon Monday forecast for Arlington Heights and nearby communities.
Elevated Non Thunderstorm Wind Risk.
DISCUSSION…
A strong storm system will bring a period of rain and embedded thunderstorms overnight and Monday morning. Rainfall over saturated soils may lead to ponding in low-lying areas and rises in river levels. In addition, a band of strong to severe thunderstorms with damaging winds and even a brief tornado may race through Illinois and Indiana but south of Interstate 80 between 7 and 11 AM.
Hello mobile users! If you encounter a mobile "unfriendly" weather page, turn your phone sideways for a better view.
======================
O'HARE FORECAST …
Forecast Beginning Sunday Night, Feb. 26, 2023 …
Sunday Night: Rain likely, then rain and possibly a thunderstorm after 4am. Some of the storms could produce gusty winds. Temperature falling to near 33 by 10pm, then rising to around 39 during the remainder of the night. Breezy, with an east southeast wind 5 to 10 mph increasing to 15 to 20 mph after midnight. Winds could gust as high as 40 mph. Chance of precipitation is 90%. New rainfall amounts between a quarter and half of an inch possible.
Monday: Rain and possibly a thunderstorm before noon, then scattered showers after 5pm. Some of the storms could produce gusty winds and heavy rain. High near 53. Breezy, with an east southeast wind 20 to 25 mph becoming west 10 to 15 mph in the afternoon. Winds could gust as high as 40 mph. Chance of precipitation is 100%. New precipitation amounts between three quarters and one inch possible.
Monday Night: Mostly cloudy, with a low around 35. Breezy, with a west northwest wind 10 to 15 mph increasing to 15 to 20 mph in the evening. Winds could gust as high as 45 mph.
Tuesday: Mostly sunny, with a high near 48. West northwest wind 5 to 15 mph becoming south southeast in the afternoon. Winds could gust as high as 25 mph.
Tuesday Night: A 40 percent chance of showers after midnight. Mostly cloudy, with a low around 38. East southeast wind 10 to 15 mph, with gusts as high as 25 mph.
Wednesday: Partly sunny, with a high near 56.
Wednesday Night: A 20 percent chance of showers. Mostly cloudy, with a low around 31.
Thursday: Mostly cloudy, with a high near 37.
Thursday Night: A chance of snow. Mostly cloudy, with a low around 27. Blustery.
Friday: A chance of snow before noon. Partly sunny, with a high near 35. Breezy.
Friday Night: Partly cloudy, with a low around 24.
Saturday: Partly sunny, with a high near 41.
Saturday Night: Partly cloudy, with a low around 28.
Sunday: Mostly sunny, with a high near 46.
Weather Forecast, Night Sky Archive NWS O-Hare
Weather Forecast, Observations Archive NWS O-Hare
O'Hare forecast archive and hourly weather observations archive are available HERE on the CARDINAL NEWS Magazine.
KORD/KPWK Hourly Weather Observations
Arlingtoncardinal.com/moonphases
Arlingtoncardinal.com/nightsky
NIGHT SKY THIS MONTH …
Check the night sky objects for this month and past months in the playlist from the Space Telescope Science Institute YouTube channel Backyard stargazers get a monthly guide to the northern hemisphere's skywatching events with "Tonight's Sky" (Musical track The Far River written by Jonn Serrie, from the album And the Stars Go With You courtesy of New World Music Ltd. Musical track The Far River written by Jonn Serrie, from the album And the Stars Go With You courtesy of New World Music Ltd).
Telephoto lens, ISO 100, f/11, Shutter Speed 1/100 to 1/125 for the Moon.
Get updates from The Cardinal ALL NEWS FEEDS on Facebook. Just 'LIKE' the 'Arlington Cardinal Page (become a fan of our page). The updates cover all posts and sub-category posts from The Cardinal — Arlingtoncardinal.com. You can also limit feeds to specific categories. See all of The Cardinal Facebook fan pages at Arlingtoncardinal.com/about/facebook …

Help fund The Cardinal

Arlingtoncardinal.com/sponsor
Telephoto lens, ISO 1600, f/11, Shutter Speed 2.5″ for the skyline. The skyline exposure was toned down, and brightness and contrast was adjusted in Photoshop.
Area Forecast Discussion
National Weather Service Chicago/Romeoville, IL
606 PM CST Sun Feb 26 2023
.SHORT TERM… Issued at 135 PM CST Sun Feb 26 2023
Through Monday night…
The key forecast points are as follows:
* "Thump" of rain during the Monday morning commute with rises in river levels and ponding in fields and low-lying areas
* Threat for severe weather / damaging winds between 7-11 AM Monday morning primarily along and south of I-80
* Periods of gusty winds on Monday with highest confidence Monday afternoon and evening with gusts near 40 mph
Technical Discussion:
Recent CONUS satellite imagery and surface analyses depict impressive low-level moisture advection across the Southern Plains ahead of a compact upper-level trough traversing through the Four Corners region. As the trough ejects across the Rocky Mountains this evening, rapid lee cyclogenesis and intense height falls/DCVA will allow for explosive severe thunderstorm development near the Oklahoma/Texas panhandle borders within a "just-in-time" narrow warm sector advancing northward out of central Texas. An ensemble of high resolution model guidance remains steadfast that the upper-level trough will acquire a negative tilt while propagating northeastward toward the Great Lakes tonight, enabling the parent surface low to quickly deepen to around 980mb (or lower) just to the southwest of Des Moise, IA by daybreak Monday.
Increasingly diffluent upper-level flow and impressive surface pressure falls on the order of 15mb/6hr will demand the development of an intense low-level jet with 850/700mb flow progged to increase to 65kt/80kt across the mid-Mississippi River. Such strong low-level flow will lift a plume of anomalously moist Gulf air characterized by PWATs of 1.2-1.3″ into the Great Lakes by early Monday morning. The combination of upper-level lift and plentiful column moisture will support the development and northeastward expansion of a shield of steady rain into our area overnight. While the system will move through quickly (rain should only last about 6 to 8 hours at any given location), ensemble model guidance continues to advertise widespread rain totals in the neighborhood of 0.75-1.25″ with locally higher amounts by the time rain tapers toward noon. NCRFC forecasts suggest several points along local rivers are likely to rise toward bankfull or even minor flood stage after rain ends. In addition, above-average soil moisture (and lingering standing water in ditches and farm fields) will likely lead to worsening ponding on roads and low-lying areas. For these reasons, we will reissue a Hydrologic Outlook (ESF) and consider adding river flood watches once the rainfall footprint is known.
We remain concerned that an out-of-season severe weather threat may materialize Monday morning (7-11AM) generally along and south of Interstate 80 along the back edge of the aforementioned rain shield. Owing to intense forcing along the leading edge mid- level cooling in the southern Plains, evening severe thunderstorms in central Oklahoma appear poised to develop "upscale" into a derecho while racing into Missouri overnight. In spite of unfavorable diurnal timing, continued mid-level cooling overspreading the northward-progressing narrow warm sector will maintain the integrity of a plume of 250+J/kg of MLCAPE into Illinois and Indiana roughly along and south of I-80 and along the western fringe of the northeastward-racing derecho. Now, whether or not the effective inflow into individual convective cells will remain tied to the lagging instability axis is questionable (e.g. the storms may simply move to fast). Regardless, we`d be remiss to ignore the potential that the derecho maintains at least some organized form while racing through Illinois and Indiana Monday morning. The main threat will be damaging surface winds greater than 60 mph and brief EF0/EF-1 caliber tornadoes, particularly near any sustained bowing segment. Again, the main threat area appears to be along and south of I-80 between the hours of 7 and 11 AM CST.
There is one other scenario worthy of discussion… Interestingly, CAM guidance depicts the potential for linear segments to break into semi-discrete cells while moving into Illinois, perhaps in response to strong low-level shear (0-500m shear of 20-25kt; 0-1 km shear of 30-40 kt). If such a semi- discrete storm mode is realized and effective inflow remains tied to the near-surface layer lagging to the west, the threat for brief tornadoes would increase markedly. It`s worth noting CAM guidance is likely omitting updraft helicity swaths owing to shallow/narrow updraft sizes. Confidence in such a scenario is exceedingly low (a lot really has to overlap just right and it`s far more likely they *don`t* overlap) but still needs to be monitored overnight.
The final weather concern with the system is wind in two periods. The first part is early Monday morning as the low-level jet intensifies overhead. While low-level stability should prevent mixing into the base of the LLJ through the overnight hours, steepening low to mid-level lapse rates may allow for a brief (2-3 hour) period of southeasterly wind gusts at or above 45 mph prior to the convective threat outlined above. The second period of winds should arrive Monday afternoon as west winds increase in the wake of the departing systems. BUFKIT overviews and ensemble data continue to show support for westerly wind gusts near 40 mph through about midnight Tuesday morning.
In sake of completeness, temperatures Monday afternoon should remain in the mid to upper 50s, though some potential exists for highs to overperform if any clearing can occur. However, cooling 500mb temperatures should support stratus and even a few scattered rain showers through the evening lowering confidence in the most optimistic temperature scenarios (e.g. ECMWF).
Borchardt/NWS Chicago