Monday Hi 57, rain ends by 12p, mostly cloudy, winds SE to E to SW to W to WNW, 21 to 9 to 17 to 21 to 17 MPH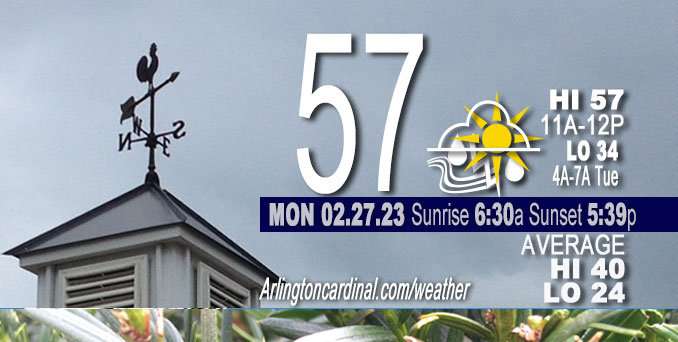 NWS CHGO | NWS HRLY | /NWSchicago | 🌡
ARLINGTON HEIGHTS WEATHER
▴ forecast7 (Arl. Hts.) | RADAR | WIDE RADAR




O'Hare (history KORD, left)
⏪ Hrly Data Table | Hrly Future Graph ⏩
IMPORTANT NOTE ON NWS DATA
Arlington Heights (history KPWK, left)
⏪ Hrly Data Table | Hrly Future Graph ⏩
======================
Monday and Monday Evening …
Weather Hazards expected …
Limited Non Thunderstorm Wind Risk.
DISCUSSION…
Rain ending by noon. West winds are expected to increase and gust to 40 mph this evening.
======================
O'HARE FORECAST …
Forecast Beginning Monday, Feb. 27, 2023
Monday: Rain and possibly a thunderstorm before noon, then scattered showers after 5pm. Some of the storms could produce gusty winds and heavy rain. High near 53. Breezy, with an east southeast wind 15 to 20 mph becoming south 10 to 15 mph in the afternoon. Winds could gust as high as 35 mph. Chance of precipitation is 100%. New precipitation amounts between three quarters and one inch possible.
Monday Night: Mostly cloudy, with a low around 35. Breezy, with a west northwest wind 10 to 20 mph, with gusts as high as 40 mph.
Tuesday: Mostly sunny, with a high near 48. West northwest wind 5 to 10 mph becoming southeast in the afternoon. Winds could gust as high as 20 mph.
Tuesday Night: A 40 percent chance of showers after midnight. Mostly cloudy, with a low around 38. East southeast wind 10 to 15 mph becoming south after midnight. Winds could gust as high as 20 mph.
Wednesday: Partly sunny, with a high near 56.
Wednesday Night: A 20 percent chance of showers. Mostly cloudy, with a low around 31.
Thursday: Mostly cloudy, with a high near 37.
Thursday Night: A chance of snow. Mostly cloudy, with a low around 27. Blustery.
Friday: A chance of snow before noon. Partly sunny, with a high near 35. Breezy.
Friday Night: Partly cloudy, with a low around 24. Blustery.
Saturday: Partly sunny, with a high near 41.
Saturday Night: Partly cloudy, with a low around 28.
Sunday: Mostly sunny, with a high near 46.
Weather Forecast, Observations Archive NWS O-Hare
Weather Forecast, Night Sky Archive NWS O-Hare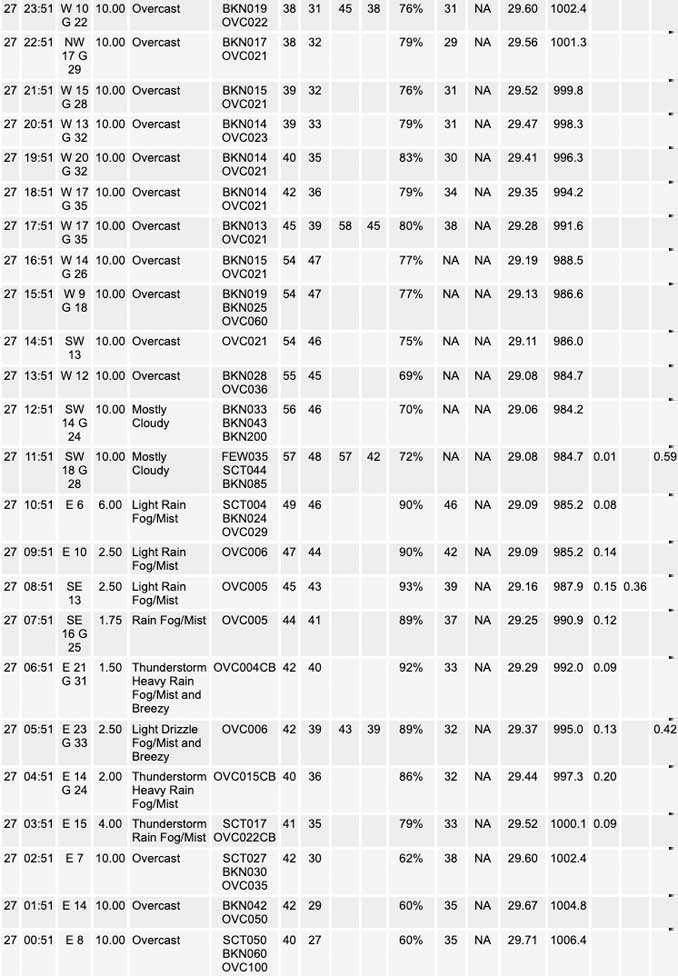 KORD & KPWK Hourly Weather Observations









NORTH AMERICA BELOW (SCROLL ⇩⇩)
Weather WIDE (MOBILE TURN SIDEWAYS)
SPC Convective Outlook on
CHICAGOWEATHERSTATION.COM

ChicagoWeatherStation.com I O'Hare Normal Temps/Precip I O'Hare Record Temps, Precip, Snow
LIVE RADAR | STORM TRACKS | UNISYS US IR SAT | UNISYS Midwest IR SAT | UNISYS More IR SAT
WunderMap® with Temperature/Wind Data || Google: Arlington Heights Area Temps | US TEMPS
Full Screen Motion Weather Radar (Wunderground.com)
Midwest Cloud Cover with Arlington Heights Weather Forecast
ChicagoWeatherStation.com I O'Hare Normal Temps/Precip I O'Hare Record Temps, Precip, Snow
SUNLIGHT DATA FOR SECURITY, TRAFFIC SAFETY, AND SPORTS
SunCalc.net data with solar azimuth and trajectory, times for dawn, sunrise, solar noon, sunset, dusk …
Tweets by @CardinalWeather
NIGHT SKY THIS MONTH …
Backyard stargazers get a monthly guide to the northern hemisphere's skywatching events with "Tonight's Sky." Check the night sky objects for this month and past months in the playlist from the Space Telescope Science Institute YouTube channel (Musical track The Far River written by Jonn Serrie, from the album And the Stars Go With You courtesy of New World Music Ltd).
Get updates from The Cardinal ALL NEWS FEEDS on Facebook. Just 'LIKE' the 'Arlington Cardinal Page (become a fan of our page). The updates cover all posts and sub-category posts from The Cardinal — Arlingtoncardinal.com. You can also limit feeds to specific categories. See all of The Cardinal Facebook fan pages at Arlingtoncardinal.com/about/facebook …

Help fund The Cardinal

Arlingtoncardinal.com/sponsor
Area Forecast Discussion
National Weather Service Chicago/Romeoville, IL
557 AM CST Mon Feb 27 2023
.MESOSCALE DISCUSSION… Issued at 509 AM CST Mon Feb 27 2023
Have been monitoring the progression and evolution of a pencil- thin line of low-topped convection (have not seen any lightning within the line itself) now crossing into central Illinois. Two severe-caliber measured wind reports out of Jefferson City and Columbia Regional Airports just around 10z (4 AM) were associated with line breaks within the main convective mass, but have not seen gusts that high recently (at least not on a measured basis). Based on extrapolation of this feature, it appears this line may now *just* be outpacing the reservoir of surface-based on near- surface-based instability which is having a hard time keeping pace, and recent radar returns overall look less organized. If this trend continues, the threat for damaging wind gusts may continue to diminish. Latest timing has this feature approaching Pontiac towards 8 AM, Kankakee towards 9 AM, and then into NW Indiana thereafter. Will continue to keep tabs on things, but immediate term trends are encouraging from a lowering severe risk perspective. Given how fast these elements are moving, gusty winds are certainly on the table either way.
Have started to see an expansion in the number of wind advisory peak wind gusts behind this convective line (the "pop" alluded to in previous discussions) as an initial push of cold advection develops. Guidance suggesting a brief 3 hour or so window (8-11 am or thereabouts) of near advisory gusts will be possible as the line passes, mainly across the southernmost row of our counties.
Carlaw/NWS
&&
.SHORT TERM… Issued at 136 AM CST Mon Feb 27 2023
Through Tuesday…
Moisture-channel and radar loops reveal a classic picture of a deepening/maturing mid-latitude cyclone now hauling across the Central Plains. Rapid northward moisture fluxes are ongoing, with analyzed 1 inch PWATs now pushing across central Illinois. At the leading edge of this anomalously deep moisture is a region of impressively-steepened lapse rates in the 2-5 km layer. Have noted quite the increase in lightning/GLM flashes over the past few hours off to our west as intensifying leading frontogenetic circulation is impinging on this reservoir of elevated instability. Have expanded the initial mention for thunderstorms and beefed chances up with this incipient band of forcing. Not anticipating severe weather with this activity given effective shear for elevated parcels above 850 mb generally less than 20 kts.
Widespread soaking–at times heavy–rainfall will intercept the morning commute here as stronger forcing for ascent overspreads the region amidst an airmass characterized by PWATs pushing towards 1.3 inch which is quite impressive for this time of year (easily running in near-record territory). As we`ve been messaging over the last several days, while rain will fall heavily for a period, and likely heavily enough to knock visibilities down under a mile at times, the rapid forward motion of this system will limit the window for this to just a few hours, limiting the overall flash flood threat. Widespread rainfall amounts around 0.75-1.25 inches remain a good bet, and localized swaths in excess of 2 inches certainly remain on the table resulting in ponding on roadways and dips/low spots.
We continue to focus on the severe potential for this morning. Have recently noted a "filling in" of the pencil thin line of shallow/low-topped convection pushing our of Kansas and into Missouri. Thus far, the reservoir of near-surface-based instability is just keeping pace with the leading edge of this shallow convection, and latest guidance suggest it will continue to do so as activity pushes through central Illinois towards and after daybreak. Steeper near-surface lapse rates will trail the line, but it doesn`t take a lot of low-level CAPE for issues to arise in environments with kinematics as significant as this. We`ll be keeping an eye on upstream trends, and if the shallow convective line continues to fill in, the severe threat would commensurately increase into our area after daybreak.
Based on upstream steady-state timing and latest hires guidance trends, the severe threat looks to inch its way into our south/southwest locales after about 730 AM and then getting out of the area entirely before noon. Main threat looks to be from localized swaths of strong-damaging wind gusts, but favorable low- level shear orientation and the presence of sufficient MLCINH reductions would support a threat for a few brief embedded mesovortex tornadoes. Main severe threat area appears along and south of I-80, although it may extend as far north as Chicago/central Cook county this morning. Some guidance has hinted at a secondary line of convection materializing ahead of the 500 mb vort max late this morning/early afternoon. Not totally sure about this, but a gusty wind threat would also materialize if this activity develops given the steeper 0-3 km lapse rates which would be in place by that time.
Wind gusts continue to look like they`ll stay just under wind advisory criteria (at least on a prevailing/widespread basis), with a notable decrease this morning and afternoon as the surface low moves overhead. Secondary and deeper cold advective regime pushes into the region late this afternoon and evening, and that continues to look like the period where more widespread 35 to 45 mph gusts will be favored along with sporadic gusts above 45 mph. No Wind Advisory for this period given the localized/brief nature of these stronger gusts right now.
After lingering spotty showers/drizzle end early this evening, conditions will be quieter (but a bit breezy) into Tuesday morning. Widespread stratus looks like it`ll at least try to hang on into Tuesday afternoon, so this may have an impact on high temperatures. If clouds hang on longer, highs would struggle to get much into the low-mid 40s.
Carlaw/NWS Chicago