🌖 🌗 🌑 🌓 Waning Gibbous Moon, heavy rain 1a to 10a Thu., sky cover overnight Wed. to Thu. 99% to 100%, winds SE to ENE, 6 to 18 to 10 MPH, G16 to 29 to 15 MPH 2a to 8a, Low 35, 1a to 2a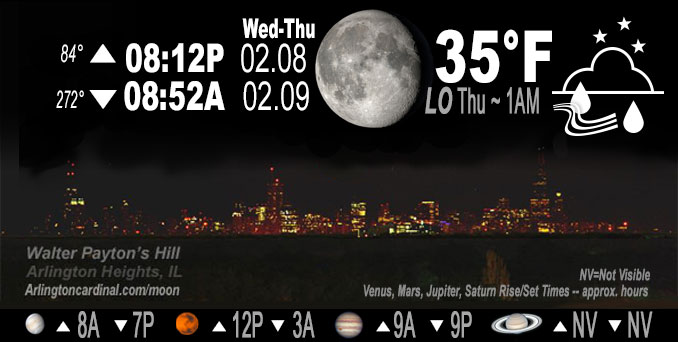 NWS CHGO | NWS HRLY | /NWSchicago | 🌡
ARLINGTON HEIGHTS WEATHER
▴ forecast7 (Arl. Hts.) | RADAR | WIDE RADAR
⏪ Hrly Data Table | Hrly Future Graph ⏩
IMPORTANT NOTE ON NWS DATA
======================
NIGHT FORECASTS …
NOTE 1: Forecast and information text below may refer to a previous night on Arlingtoncardinal.com, and might not be updated until late afternoon, evening, or overnight. However, Night Sky archives on CARDINAL NEWS Magazine include text forecasts that correspond to the lunar phase graphic above.

NOTE 2: Keep in mind lunar rise and set times don't always correspond with night weather and early morning lows because on some days during the month the moon is visible in the sky predominantly during the daytime hours.
Overnight Wednesday/Thursday …
Weather Hazards expected …
Limited Thunderstorm Risk (in south Chicagoland).
Be prepared for wind gusts peaking to 38 MPH Thursday 4:00 p.m. to 5:00 p.m. Wind Advisory south of I-80.
DISCUSSION…
Widespread rain will move over the area tonight with embedded thunderstorms possible late (in south Chicagoland). Total rainfall forecast is 1.28″ for Arlington Heights with heavy rain likely from 1:00 a.m. to 10:00 a.m. Thursday. The rainy period is forecast to begin with sleet from 9:00 p.m. to 11:00 p.m. Wednesday, and end with a little wet snow from 4:00 p.m. to 11:00 p.m. Thursday.
Rainfall will occasionally be heavy overnight. This may result in minor ponding on roadways that could linger into the Thursday morning commute.
Hello mobile users! If you encounter mobile "unfriendly" weather page, turn your phone sideways for a better view.
======================
O'HARE FORECAST …
Forecast Beginning Wednesday Night, Feb. 8 , 2023 …
Wednesday Night: A chance of rain and sleet between 9pm and midnight, then rain. Low around 35. East southeast wind 5 to 10 mph becoming northeast 10 to 15 mph after midnight. Winds could gust as high as 30 mph. Chance of precipitation is 100%. Little or no sleet accumulation expected.
Thursday: Rain before noon, then a chance of showers, mainly between noon and 3pm. Steady temperature around 38. Breezy, with an east southeast wind 5 to 10 mph becoming west northwest 15 to 25 mph. Winds could gust as high as 40 mph. Chance of precipitation is 100%. New precipitation amounts between a half and three quarters of an inch possible.
Thursday Night: A slight chance of rain and snow showers before midnight. Cloudy, with a low around 30. Blustery, with a west northwest wind 15 to 20 mph decreasing to 10 to 15 mph after midnight. Winds could gust as high as 35 mph. Chance of precipitation is 20%.
Friday: Partly sunny, with a high near 33. Northwest wind around 10 mph, with gusts as high as 15 mph.
Friday Night: Mostly clear, with a low around 20. North northwest wind 5 to 10 mph.
Saturday: Sunny, with a high near 38.
Saturday Night: Mostly clear, with a low around 26.
Sunday: Sunny, with a high near 45.
Sunday Night: Partly cloudy, with a low around 31.
Monday: Partly sunny, with a high near 46.
Monday Night: Mostly cloudy, with a low around 31.
Tuesday: A chance of rain. Partly sunny, with a high near 47.
Tuesday Night: A chance of rain. Mostly cloudy, with a low around 37.
Wednesday: Mostly cloudy, with a high near 47.
Weather Forecast, Night Sky Archive NWS O-Hare
Weather Forecast, Observations Archive NWS O-Hare
O'Hare forecast archive and hourly weather observations archive are available HERE on the CARDINAL NEWS Magazine.
KORD/KPWK Hourly Weather Observations
Arlingtoncardinal.com/moonphases
Arlingtoncardinal.com/nightsky
NIGHT SKY THIS MONTH …
Check the night sky objects for this month and past months in the playlist from the Space Telescope Science Institute YouTube channel Backyard stargazers get a monthly guide to the northern hemisphere's skywatching events with "Tonight's Sky" (Musical track The Far River written by Jonn Serrie, from the album And the Stars Go With You courtesy of New World Music Ltd. Musical track The Far River written by Jonn Serrie, from the album And the Stars Go With You courtesy of New World Music Ltd).
Telephoto lens, ISO 100, f/11, Shutter Speed 1/100 to 1/125 for the Moon.
Get updates from The Cardinal ALL NEWS FEEDS on Facebook. Just 'LIKE' the 'Arlington Cardinal Page (become a fan of our page). The updates cover all posts and sub-category posts from The Cardinal — Arlingtoncardinal.com. You can also limit feeds to specific categories. See all of The Cardinal Facebook fan pages at Arlingtoncardinal.com/about/facebook …

Help fund The Cardinal

Arlingtoncardinal.com/sponsor
Telephoto lens, ISO 1600, f/11, Shutter Speed 2.5″ for the skyline. The skyline exposure was toned down, and brightness and contrast was adjusted in Photoshop.
Area Forecast Discussion
National Weather Service Chicago/Romeoville, IL
559 PM CST Wed Feb 8 2023
.SHORT TERM… Issued at 253 PM CST Wed Feb 8 2023
Through Thursday Evening…
Main Forecast Messages and Concerns:
* Wind Advisory 8 AM to 6 PM CST Thursday for counties south of I-80 and near and southeast of I-55 for gusts up to 50-55 mph, with localized higher gusts possible near and south of US-24
* Periodic heavy rainfall rates tonight into Thursday morning with continued high confidence in a soaking rain event, with heaviest rates likely tied to embedded more robust convective elements
* Marginal severe threat south of I-80 pre-dawn through Thursday morning, primarily for potential damaging convective wind gusts greater than the already strong background flow
The big picture of a fast moving deepening area of low pressure bringing a variety of sensible weather impacts to our area on Thursday has not changed. In addition, a signal for strong to locally damaging southwest to west winds continues for areas south of I-80 and near and southeast of I-55. However, changes/wobbles in the smaller scale details do have an effect on some elements for tomorrow`s forecast, particularly the threat for wet snow accumulations in our northwest CWA counties.
Surface low pressure will deepen from analyzed 1013 mb over the Arklatex as of this writing to the 995-997 mb range early Thursday morning just north of Quincy Illinois and then track to Lake Huron early Thursday evening. This forecast path represents a wobble back westward vs. the consensus on last night`s model guidance. As alluded to above, this primarily affected the wet snow potential within the CWA, but not a huge change in other advertised elements.
Strong Winds:
The fast forward speed of the surface low will result in impressive pressure falls out ahead of it, up to 15 mb/6-hour and up to 7-10 mb/3-hour early Thursday morning. This will be followed by similar magnitude pressure rises Thursday afternoon. Very strong low-level wind fields with the system are thus a concern given the isallobaric response, a mechanism that can hel Pmix down stronger momentum aloft. In addition, the wrapped u Pnature of the synoptic system will result in low-level cold advection from the southwest as early as the late morning hours, steepening low-level lapse rates.
Forecast surface low path will bring an initial surge in southwesterly winds near and south of the Illinois and Kankakee Rivers from mid morning through early afternoon. During this time, concern is greatest for frequent gusts to 55 mph near and south of US-24 (lower magnitude up to Kankakee Valley) and potential for localized gusts to 60 mph. Direction will shift to west/west- northwest in the afternoon in the wake of the surface low, with a broader area of gusts to 40-50 mph, strongest south of I-80.
While there remains some concern for high wind criteria gusts near/around 60 mph, confidence in occurrence is too low for warning issuance, and the lack of leaves on the trees this time of year does make a big difference in potential impacts. Therefore, in collaboration with WFO ILX and IWX, opted for a Wind Advisory. The northern extent of the advisory is a bit lower confidence, as there will be a sharp cut-off in the strong southwest winds through early afternoon near the path of the surface low. So if the surface low tracks a bit farther south, winds will be lighter through mid day closer to I-80.
Castro
Localized Severe Convective Wind Gust Threat South of I-80:
While little or no surface based instability is expected late tonight into early Thursday morning, southern and southeastern portions of our forecast area are expected to briefly get into the warm sector. Dewpoints will likely rise into 50s, which should weaken the magnitude of the boundary layer stability. Expect very strong forcing as shortwave trough lifts negatively tiled across the region Thursday morning, deepening as it does so.
Given the impressive dynamics, a strongly forced squall line of shallow convection seems plausible, if not likely, along the cold front. With 60kt+ winds lurking within 1km of the surface, it wouldn`t take much for this squall line to mix some of this higher momentum air to the surface in gusts. Not expecting any lightning with this squall line, due to the shallow nature of the convection and lack of instability, but the lack of lightning will not preclude threat of severe convective wind gusts.
– Izzi
Heavy Rainfall Tonight-Thursday Morning:
The rapid movement of the surface low and mass fields with the synoptic system will prompt an intense low level wind response, with impressive moisture transport the result. A plume of PWATs of 1.25″ to locally pushing 1.4″ will be drawn northward, which is u Pto 300-400% of normal for this portion of February. This will replace the bone dry ~0.2″ PWAT air mass currently in place.
As potent 500 mb short-wave speeds northeastward tonight with increasingly favorable jet dynamics, strong large scale ascent plus isentropic ascent from the strong low level jet and associated warm/moist advection will cause precipitation shield to rapidly expand northward this evening into the overnight. To Pdown saturation and wet-bulbing of the lingering dry wedge aloft with northward extent may support a brief period of sleet near precipitation onset, but not anticipating any impacts with this.
Although mid-level lapse rates will steepen tonight, instability will remain meager enough with low ELs to greatly limit if not eliminate entirely the threat for any lightning strikes. Expect there to be embedded convective elements moving rapidly north- northeastward and these convective elements associated with ~40-50 dBZ radar echoes to be capable of temporary heavy rainfall rates until dry slot impingement from south to north during the day on Thursday.
Looking at 6-hour rain amounts between midnight and 6 AM to between 3/4″ and locally 1″ near and south of I-88 and additional totals of 1/2 to 3/4″ near and north of I-88 Thursday morning. The forecast rainfall totals came down slightly into the 1-1.3″ range roughly, though given the anomalously high PWATs involved, can`t rule out 1.5 to locally 2″ rainfall totals. Overall, despite the occasional downpours tonight into Thursday morning, think the fast movement of any true heavy rain rates will preclude much of a flood threat aside from ponding on some roads and short-term river rises.
Mix or Change to Wet Snow Late Morning-Mid Afternoon Thursday:
The farther west surface low path across the area is now expected to keep the heavy mesoscale banding with this system just to the northwest of our far northwest CWA counties. Cold advection is expected to cool the column to become wet snow supportive as early as the late morning in northwest Illinois. However, note on forecast soundings for RFD that super-saturation of the DGZ is not attained, even on the 12z GFS which had a more aggressive snow output. There will certainly be strong ascent and bursts of wet snow that could knock down visibility under 1 mile will be possible.
That said, the intense frontogenetical response is expected to position itself from northeast Iowa to far northwest Illinois to interior southern and central Wisconsin (i.e.. DBQ and Galena to MSN corridor). The encroaching mid-level dry intrusion and subsidence south of the heavy banding should combine to preclude any prolonged heavier rates. This is important because to overcome the mild and wet ground conditions and above freezing temperatures, sustained heavy snow rates will be needed. With the model consensus in overall decent agreement in the longer duration heavy snow staying northwest of our far NW CWA, any accumulation more than a slushy coating to an inch on colder surfaces will be tough to come by and road impacts appear unlikely at this point. As a final note though, since the location of f-gen aided banding is a tougher element to pin down and there have been some directional wobbles with this system, it will still bear close monitoring.
Castro