Thursday Hi 46, mostly cloudy, rain ends 10p, winds NE to SW to NW, 12 to 8 to 22 to 15 MPH, G22 to 34 to 22 MPH continuing Friday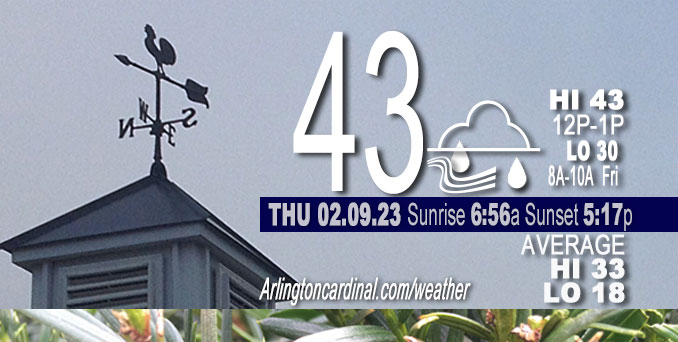 NWS CHGO | NWS HRLY | /NWSchicago | 🌡
ARLINGTON HEIGHTS WEATHER
▴ forecast7 (Arl. Hts.) | RADAR | WIDE RADAR




O'Hare (history KORD, left)
⏪ Hrly Data Table | Hrly Future Graph ⏩
IMPORTANT NOTE ON NWS DATA
Arlington Heights (history KPWK, left)
⏪ Hrly Data Table | Hrly Future Graph ⏩
======================
Thursday and Thursday Night …
Weather Hazards expected …
Elevated Non Thunderstorm Wind Risk.
Limited Snow Risk.
DISCUSSION…
Light sprinkles began about 2:45 a.m. and significant rain began about 3:45 a.m. Thursday. Heaviest period of rain was about 7:00 a.m. to 8:00 a.m. Rainfall amount .68 inch by 9:00 a.m.
Southwest winds will gust to 45 to 55 mph across locations south of I-80 and along and east of I-55 today, with the highest gusts south of the Kankakee River Valley.
Rain will change to snow over northwest and portions of far northern Illinois late this morning into early afternoon. Some of this snow may briefly fall heavy and result in some minor slushy accumulations. Wet snow may fall between 4:00 p.m. and 10:00 p.m. Thursday near Arlington Heights, but no significant accumulation is forecast.
Daily low temperatures and daily high temperatures are on the way up. We're gaining about 2 minutes of daylight every day in the progression toward vernal equinox, March 20, 2023.
======================
O'HARE FORECAST …
Forecast Beginning Thursday, Feb. 09, 2023
Thursday: Rain showers before 5pm, then rain likely, possibly mixed with snow showers. Some thunder is also possible. High near 43. Breezy, with an east wind 10 to 15 mph becoming northwest 15 to 20 mph in the afternoon. Winds could gust as high as 35 mph. Chance of precipitation is 100%. Little or no snow accumulation expected.
Thursday Night: A chance of rain and snow showers, mainly before 10pm. Cloudy, with a low around 30. Blustery, with a west northwest wind 20 to 25 mph decreasing to 10 to 15 mph after midnight. Winds could gust as high as 35 mph. Chance of precipitation is 50%.
Friday: Mostly cloudy, then gradually becoming sunny, with a high near 34. Northwest wind 10 to 15 mph, with gusts as high as 20 mph.
Friday Night: Mostly clear, with a low around 20. Northwest wind 5 to 10 mph becoming light west after midnight. Winds could gust as high as 15 mph.
Saturday: Sunny, with a high near 39. Light west wind becoming southwest 10 to 15 mph in the morning.
Saturday Night: Mostly clear, with a low around 27.
Sunday: Sunny, with a high near 46.
Sunday Night: Mostly cloudy, with a low around 31.
Monday: Partly sunny, with a high near 44.
Monday Night: Partly cloudy, with a low around 31.
Tuesday: Mostly sunny, with a high near 49.
Tuesday Night: A chance of rain. Mostly cloudy, with a low around 38.
Wednesday: A chance of rain. Mostly cloudy, with a high near 47.
Weather Forecast, Observations Archive NWS O-Hare
Weather Forecast, Night Sky Archive NWS O-Hare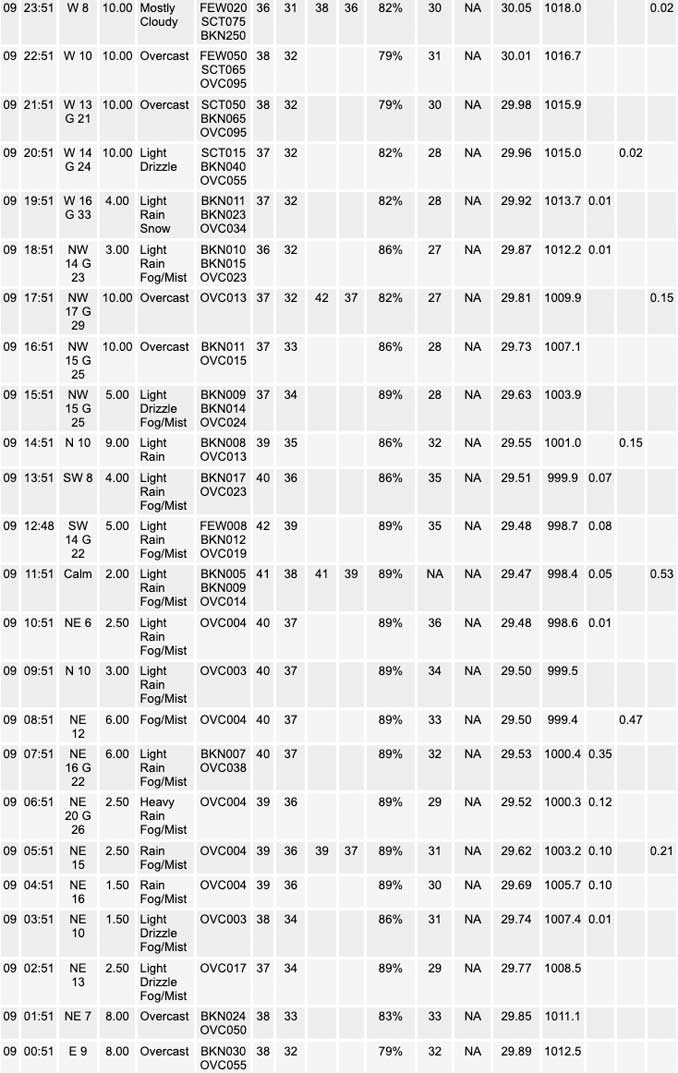 KORD & KPWK Hourly Weather Observations









NORTH AMERICA BELOW (SCROLL ⇩⇩)
Weather WIDE (MOBILE TURN SIDEWAYS)
SPC Convective Outlook on
CHICAGOWEATHERSTATION.COM

ChicagoWeatherStation.com I O'Hare Normal Temps/Precip I O'Hare Record Temps, Precip, Snow
LIVE RADAR | STORM TRACKS | UNISYS US IR SAT | UNISYS Midwest IR SAT | UNISYS More IR SAT
WunderMap® with Temperature/Wind Data || Google: Arlington Heights Area Temps | US TEMPS
Full Screen Motion Weather Radar (Wunderground.com)
Midwest Cloud Cover with Arlington Heights Weather Forecast
ChicagoWeatherStation.com I O'Hare Normal Temps/Precip I O'Hare Record Temps, Precip, Snow
SUNLIGHT DATA FOR SECURITY, TRAFFIC SAFETY, AND SPORTS
SunCalc.net data with solar azimuth and trajectory, times for dawn, sunrise, solar noon, sunset, dusk …
Tweets by @CardinalWeather
NIGHT SKY THIS MONTH …
Backyard stargazers get a monthly guide to the northern hemisphere's skywatching events with "Tonight's Sky." Check the night sky objects for this month and past months in the playlist from the Space Telescope Science Institute YouTube channel (Musical track The Far River written by Jonn Serrie, from the album And the Stars Go With You courtesy of New World Music Ltd).
Get updates from The Cardinal ALL NEWS FEEDS on Facebook. Just 'LIKE' the 'Arlington Cardinal Page (become a fan of our page). The updates cover all posts and sub-category posts from The Cardinal — Arlingtoncardinal.com. You can also limit feeds to specific categories. See all of The Cardinal Facebook fan pages at Arlingtoncardinal.com/about/facebook …

Help fund The Cardinal

Arlingtoncardinal.com/sponsor
Area Forecast Discussion
National Weather Service Chicago/Romeoville, IL
616 AM CST Thu Feb 9 2023
.MESOSCALE DISCUSSION… Issued at 615 AM CST Thu Feb 9 2023
Based on mesonet observations, it appears as that the warm front is quickly lifting north into Ford, Iroquois and Benton Counties. South of the warm front, temperatures and dewpoints warm into the 50s. While there is likely little or no sfc based instability, the higher boundary layer theta-e is resulting in weaker static stability and has allowed the band of showers moving across the area to transport some of the stronger winds just off the deck down to the surface in gusts. Within the last 45 minutes, have had measured gusts of 40kt at CMI and 49kt at MTO. As warm front continues to lift north, threat of 40kt to perhaps as high as 50kt gusts will spread north into our southeastern counties the next couple hours. Greatest threat for near 50kt gusts is probably across Benton and southern Jasper Counties.
– Izzi
&&
.SHORT TERM… Issued at 258 AM CST Thu Feb 9 2023
Through Friday…
Key messages:
* A 1-2 hour window of heavy rainfall during the morning commute
* Arcs of rapidly-moving showers probable 6 to 9 A.M. south of I-80 and east of I-55; gusts enough to down limbs possible
* Broader scale wind gusts to 45 to 55 mph south of I-80 today
* Rain changing to snow over the northwest forecast area today and potential it changes to a briefly heavy snow with quick accums on mainly grass in parts of Ogle and Winnebago Counties
Morning Rainfall…
A classic satellite water vapor presentation early this morning of the negatively-titled mid level low over the Ozarks. Upper diffluence ahead of this is fanning over Illinois and Indiana, as is a 115 kt poleward-oriented upper jet. This is assisting a widespread area of rain, some heavy, to blossom ahead of the surface warm front across central/southern Illinois. This is also on the nose of a 65-70 kt low-level jet near 1 km as sampled on the KPAH VWP, which should sustain this heavier rain through our CWA. While there has been almost no lightning thus far, elevated lapse rates are 6.5 to 7C/km (not poor) as this progresses through. So would not be surprised in this pattern to see spotty lighting in the region around daybreak. Convection-allowing models (CAMs) have an excellent handle on this heavier rain zone and have it moving through the metro from 6 to 8 A.M. With this being the rush hour, motorists can expect some slowed travel and possibly localized ponding on roads. Again the true flood threat looks very low due to amounts well below flash flood guidance by and a quick progression to the heavier rates.
Gusty Shower Potential…
Regional radar mosaic as of 230 A.M. indicates a couple arcs of broken convective cells from St. Louis through Paducah tracking northeast at 60 mph. These are ahead of the strengthening system cold front, which will become more of an occluded front over parts of central Illinois. The arcs of showers are on or near the northwest end of the low-level warm sector, characterized by temperatures and dew points in the 50s. Extrapolation of these arcs have them arriving in the southern/southeastern forecast area near 6 A.M. Lightning potential is low with these given equilibrium levels (ELs) only around heights of -5C. We will be keeping an eye on radar trends and observed wind gusts as these near. If this fills in more with higher reflectivity, even if very narrow, it would likely produce some convectively-enhanced gusts near or possibly to severe limits given the wind field of 60 kt at ~2,000 ft. The SPC Level 1 of 5 risk handles this well. Brief mesovortexgenesis is a non-zero threat in these scenarios and there is about 40 degrees of veering in the hodograph for the lowest 500 m at forecast soundings near Rensselaer, IN.
Strong Winds…
By mid to late morning, the upper and surface low centers of this mature system will be over the CWA, with its cold/occluded front wrapping northeast through the southeast half of the forecast area. The 1-2 hour time immediately behind the aforementioned shower arcs/lines may see some of the higher mixing depths before stratus moves in and be favored for some of the 55 mph gusts. Even with the stratus, a pronounced isallobaric component to the wind will be present with a fall/rise couplet of -12/+15 mb per 6 hours. So frequent sustained winds of 30+ mph in much of the Advisory area, especially south of the Kankakee River Valley, look on track. Gusts of 45 to 50 mph with brief higher should occur in this area. The northern end of the Advisory is a bit more marginal, owing to a slight southeast wobble in the surface low path compared to yesterday`s forecast. Nonetheless, the Advisory is fine as is, so no changes made to it early this morning.
Late Morning into Afternoon including Snow Potential…
As the low moves northeast through the CWA, the mid-level dry slot overriding the southeast 2/3 of the CWA should change the coverage mode from widespread rain early this morning to scattered showers (30-60 percent coverage) late morning into afternoon. The northwest 1/3 of the CWA will be under strengthening deformation and increasing cold advection, especially after ~10 A.M. Within the deformation, strong lower to mid-level frontogenesis (f-gen) has been consistently forecast from eastern Iowa through far northwest Illinois into southern Wisconsin. Instability is indicated above this, and a couple models have shown some dee Players (>100 mb) of saturated negative EPV. This continues to be focused just northwest of the forecast area, but even at this short distance out in time it is precariously close. The 00Z HREF, for instance, indicates 30-40 percent chance of a couple hours of 1+ inch snowfall rates near midday in far western Ogle and Winnebago Counties. A couple things that still point against notable impacts if this were to shift southeast more are 1.) limited time with full, deep saturation, as there could be times mid-late morning here the DGZ is not saturated, and 2.) marginal air temperatures in the mid 30s and mild pavement temperatures at or slightly above that. Certainly heavier rates could overcome point number 2, but the duration of truly heavy rates in our area still looks limited (<3 hours) as opposed to just northwest. As the low tracks into lower Michigan later this afternoon, cold advection will encompass the entire CWA. A few wind gusts of 45 mph north of the Advisory area could occur, especially toward LaSalle and Lee Counties. With the cold advection and still deformation forcing, some showers or even drizzle should continue, with the rain/snow line shifting east. This looks to get into Chicago during the late day commute, but with above freezing air and pavement temperatures, impacts would be very minimal besides brief lowered visibility if snow showers are occurring. Tonight and Friday... Lingering light snow showers or drizzle may be seen along/north of I-80 this evening due to a subtle northern stream wave behind the rapidly departing low. Northwest winds will gradually ease. A good signal for continued stratus, so that should kee Ptemperatures from markedly falling. With northwest winds around 10-15 mph throughout Friday and stratus to start the day, temperatures should not rebound much with highs at or slightly below normal. Confidence is on the higher side for clearing to occur from west to east during the afternoon. MTF/NWS Chicago