Wednesday Hi 50 (12a), mostly cloudy, winds SW to WSW to NW to N, 20 to 21 to 6 to 10 to 13 MPH, G38 to 46 to 11 to 13 MPH rising through Thursday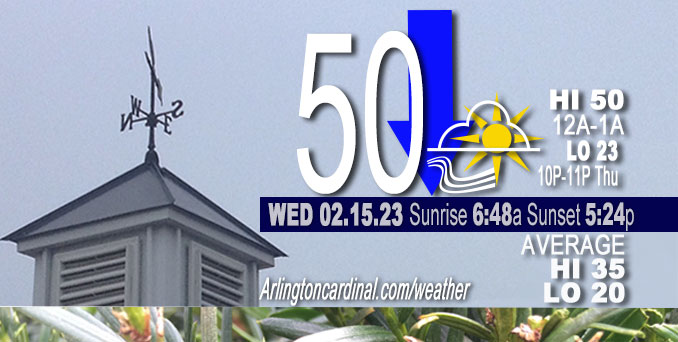 NWS CHGO | NWS HRLY | /NWSchicago | 🌡
ARLINGTON HEIGHTS WEATHER
▴ forecast7 (Arl. Hts.) | RADAR | WIDE RADAR




O'Hare (history KORD, left)
⏪ Hrly Data Table | Hrly Future Graph ⏩
IMPORTANT NOTE ON NWS DATA
Arlington Heights (history KPWK, left)
⏪ Hrly Data Table | Hrly Future Graph ⏩
======================
Wednesday and Wednesday Evening …
Weather Hazards expected …
Elevated Non Thunderstorm Wind Risk this morning.
Limited Ice Accumulation Risk late tonight.
DISCUSSION…
Southwest to west winds will gusts to 45 to 50 mph are likely across the area this morning.
A mix of snow, sleet and freezing rain will develop after midnight tonight across portions of northern Illinois. Minor ice and snow accumulations by morning may make for slippery travel in some areas, mainly west and northwest of Chicago.
Daily low temperatures and daily high temperatures are on the way up. We're gaining about 2 minutes of daylight every day in the progression toward vernal equinox, March 20, 2023.
======================
O'HARE FORECAST …
Forecast Beginning Wednesday, Feb. 15, 2023
Wednesday: Mostly cloudy, with a high near 46. Breezy, with a west southwest wind 15 to 20 mph, with gusts as high as 30 mph.
Wednesday Night: Mostly cloudy, with a low around 32. West wind 5 to 15 mph becoming northeast after midnight. Winds could gust as high as 25 mph.
Thursday: Rain, snow, freezing rain, and sleet before noon, then rain and snow, possibly mixed with sleet between noon and 3pm, then snow after 3pm. Temperature falling to around 29 by 5pm. Breezy, with a northeast wind 15 to 25 mph, with gusts as high as 35 mph. Chance of precipitation is 100%. Little or no ice accumulation expected. New snow and sleet accumulation of 2 to 4 inches possible.
Thursday Night: Snow likely, mainly before 9pm. Mostly cloudy, with a low around 16. Blustery, with a north northwest wind 20 to 25 mph decreasing to 15 to 20 mph after midnight. Winds could gust as high as 40 mph. Chance of precipitation is 60%. New snow accumulation of less than one inch possible.
Friday: Sunny, with a high near 26. North northwest wind around 10 mph becoming west southwest in the afternoon. Winds could gust as high as 20 mph.
Friday Night: Clear, with a low around 19. Breezy.
Saturday: Sunny, with a high near 43. Breezy.
Saturday Night: Partly cloudy, with a low around 32.
Sunday: Mostly sunny, with a high near 47.
Sunday Night: Mostly cloudy, with a low around 30.
Monday Washington's Birthday: Mostly cloudy, with a high near 42.
Monday Night: Mostly cloudy, with a low around 27.
Tuesday: Mostly cloudy, with a high near 36.
Weather Forecast, Observations Archive NWS O-Hare
Weather Forecast, Night Sky Archive NWS O-Hare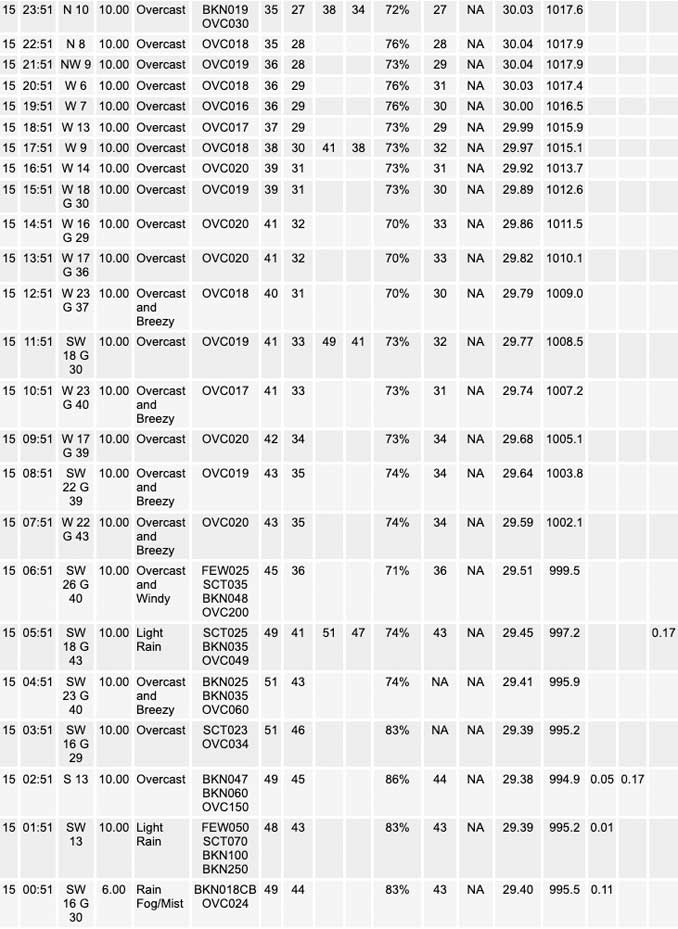 KORD & KPWK Hourly Weather Observations









NORTH AMERICA BELOW (SCROLL ⇩⇩)
Weather WIDE (MOBILE TURN SIDEWAYS)
SPC Convective Outlook on
CHICAGOWEATHERSTATION.COM

ChicagoWeatherStation.com I O'Hare Normal Temps/Precip I O'Hare Record Temps, Precip, Snow
LIVE RADAR | STORM TRACKS | UNISYS US IR SAT | UNISYS Midwest IR SAT | UNISYS More IR SAT
WunderMap® with Temperature/Wind Data || Google: Arlington Heights Area Temps | US TEMPS
Full Screen Motion Weather Radar (Wunderground.com)
Midwest Cloud Cover with Arlington Heights Weather Forecast
ChicagoWeatherStation.com I O'Hare Normal Temps/Precip I O'Hare Record Temps, Precip, Snow
SUNLIGHT DATA FOR SECURITY, TRAFFIC SAFETY, AND SPORTS
SunCalc.net data with solar azimuth and trajectory, times for dawn, sunrise, solar noon, sunset, dusk …
Tweets by @CardinalWeather
NIGHT SKY THIS MONTH …
Backyard stargazers get a monthly guide to the northern hemisphere's skywatching events with "Tonight's Sky." Check the night sky objects for this month and past months in the playlist from the Space Telescope Science Institute YouTube channel (Musical track The Far River written by Jonn Serrie, from the album And the Stars Go With You courtesy of New World Music Ltd).
Get updates from The Cardinal ALL NEWS FEEDS on Facebook. Just 'LIKE' the 'Arlington Cardinal Page (become a fan of our page). The updates cover all posts and sub-category posts from The Cardinal — Arlingtoncardinal.com. You can also limit feeds to specific categories. See all of The Cardinal Facebook fan pages at Arlingtoncardinal.com/about/facebook …

Help fund The Cardinal

Arlingtoncardinal.com/sponsor
Area Forecast Discussion
National Weather Service Chicago/Romeoville, IL
757 AM CST Wed Feb 15 2023
.SHORT TERM… Issued at 328 AM CST Wed Feb 15 2023
Through Thursday night…
Today…
* Wind advisory remains in effect until noon today.
Early morning surface analysis places deep 985 mb low over northwest Wisconsin. An occluded frontal boundary extended southward through Illinois to a triple point over the far southern tip of the state, while a secondary cold front trailed southwest from the low across western Iowa. GOES vapor imagery indicated a deep upper low aloft. This system will continue to track off to the northeast and away from the region today, with any lingering showers expected to end early this morning. Southwest surface winds which have eased a bit near the occluded frontal trough are expected to increase again toward sunrise as cold advection deepens mixing across the area, with a period of advisory-level winds still expected again from around sunrise into the morning hours. Winds will then shift west and very gradually diminish later today. Wind advisory headlines remain unchanged, with a noon expiration time. Temps will remain relatively mild for the time of year, ranging from mid-40s northwest to the low-mid 50s far southeast.
Ratzer/NWS Chicago
Tonight through Thursday night…
Key messages for Thursday`s storm system:
* Forecast remains on track for a swath of accumulating snow to fall across mainly portions of northern Illinois on Thursday with a wintry mix expected to occur just south of this accumulating snow corridor. Rain remains the favored precipitation type roughly along and south of a Pontiac, IL to Valparaiso, IN line for most of the event.
* Precipitation is expected to arrive sometime early Thursday morning and continue through the day before ending in most locations Thursday evening. Impacts to the afternoon commute are likely in most locations where the wintry precipitation occurs, and the morning commute *may* be impacted in some locations as well.
* A sharp cutoff in snow totals is likely to occur somewhere across northern Illinois.
* A Winter Storm Watch remains in effect for Ogle, Winnebago, Boone, and McHenry counties, where the potential for 6+" snow accumulations is highest. Lake County (IL) has been added to this watch with this forecast package.
* A Winter Weather Advisory has been issued for Lee, La Salle, DeKalb, Kane, Kendall, DuPage, and northern Cook counties to highlight the potential for hazardous travel caused by accumulating snow, freezing rain, and/or sleet here. A southward expansion of this advisory may be necessary in forthcoming forecast packages if confidence increases in the higher snow accumulations and/or icing occurring farther south.
[Updated at 7:57 AM CST to add additional details]
An upper-level trough currently over the Four Corners region will play a key role in the development of a low pressure system that is expected to travel along a southwest-to-northeast oriented baroclinic zone from the Texas Panhandle into southern/central Illinois and Indiana over the next 24-36 hours. There`s still some some spread in guidance regarding the exact track the center of the surface low will take with the "cone of uncertainty" for its track roughly bounded by a St.Louis, MO to Lafayette, IN line on its north side and the Ohio River on its south side. As a result, there`s still some wiggle room for how much and what type of precipitation falls where, but the big picture idea remains the same in that warm air advection-driven rainfall will spread northeastward along the low`s eastern flank while an axis of largely frontogenesis/deformation-driven snowfall will occur 100+ miles northwest of the low center, with a mixed bag of precipitation types likely to occur between the main snow swath and the low center.
While the low`s center should track southeast of our CWA`s boundaries, surface temperatures immediately to the northwest of the low will be in the mid 30s to mid 40s, and barring the low taking a track that is on the far southern end of the spectrum of guidance, thermal profiles will support rain as the primary precipitation type across our southeastern counties. Cloud ice may also be lacking here as a result of a fairly pronounced dry slot blasting overhead, which could support drizzle here at times regardless of how cold thermal profiles ultimately end up being. There is also a lower end chance of an isolated storm or two occurring across our far southeastern CWA, but the guidance that had been most excited about this has seemingly backed off a bit on this potential. So, in all likelihood, the thunderstorm activity associated with this system will remain to our southeast, where the better instability reservoir will reside.
Shifting attention to the colder side of the baroclinic zone, a 50-mile or so wide corridor featuring a wintry mix including both freezing rain and sleet is likely to set up somewhere across our CWA, likely including part the Chicago metro, as a warm layer aloft overrides colder air at the surface. A glaze or slightly more of icing may occur on various surfaces within this corridor, though air temperatures at ground level being precariously close to 32F in this corridor and pavement temperatures being relatively warm coming into this event may preclude greater impacts.
Farther north and northwest, the warmer air aloft won`t quite cross the zero isotherm, and thus, all snow can be expected across our northwestern and far northern CWA near the Illinois/Wisconsin state line. A fairly pronounced f-gen signal will support banded snowfall that may fall heavy at times with strong upper-level divergence within the right entrance region of an anticyclonically- arcing ~170 kt upper jet, steep mid-level rates, and the presence of pockets of convective upright instability all expected to aid in snowfall production wherever the main deformation axis sets up. There are other factors, though, that could play a role in limiting how much snow we`ll get compared to what most model guidance is currently advertising, including the aforementioned dry slot preventing complete saturation of the dendritic growth zone (resulting in poorer quality snowflakes and lower snow-to- liquid ratios) and the possibility of convection to our south limiting much moisture will reach our latitude. Also worth noting is that setups similar to this one featuring a positively-tilted trough and a not overly deep low have also underperformed here in the past when other mitigating factors such as dry slots and moisture robbing have been involved.
Considering everything altogether, the odds of a heavy snow band capable of producing an axis of 6+" snow accumulations setting u Psomewhere in our northern CWA or just northwest of our CWA still appeared good enough to let the Winter Storm Watch ride for a little while longer and punt the decision on whether to upgrade to a warning or to replace it with a Winter Weather Advisory to the day shift. Did opt to add Lake County, IL to the watch with this forecast package as a modest degree of lake enhancement may play a role in getting snow totals above the 6″ threshold in some parts of the county.
Farther south in our CWA, the snowfall forecast is one of lower confidence as a sharp snowfall gradient is likely to occur, but between the possibility of the higher snowfall accumulations shifting farther south and the current likelihood of accumulating snow, sleet, and freezing rain causing hazardous travel (including during the afternoon commute, and possibly the morning commute as well), felt it would be prudent to issue a Winter Weather Advisory for the tier or two of counties south of the current watch. The snow and wintry mix may accumulate south of the current advisory, but surface temperatures in the locations just outside of the current advisory may just end up being warm enough to prevent more notable impacts (i.e. icing occurring or multiple inches of snow accumulating on roadways). So, for now, the advisory covers where confidence in these impacts occurring was highest, but additional consideration to expanding the advisory southward will need to be given in forthcoming forecast updates/packages.
The baroclinic zone will eventually begin to make meaningful eastward progress late Thursday afternoon and evening as the low starts to pull away, so a transition to all snow is probable across most of our CWA prior to precipitation ending. The shorter residence time of the snowfall and weaker overall forcing for ascent should only result in minor accumulations up to 1 to 2 inches or so occurring at locations that were missed by the main snow swath earlier on. Lake effect snow may also linger around well into the night in parts of northwest Indiana, but any additional accumulations caused by this would also be minor.
Temperatures will tumble into the teens across most of our CWA overnight, and while brisk northerly to northwesterly winds will be slowly tapering off during this time, minimum wind chills may fall to near or just below 0 degrees across portions of northern Illinois overnight.
Ogorek/NWS Chicago