Wednesday Hi 37, rain, freezing rain, sleet, partly cloudy to mostly cloudy, winds WNW to W to SE to E, 20 to 6 to 11 MPH, G32 to 34 to 14 MPH end 12p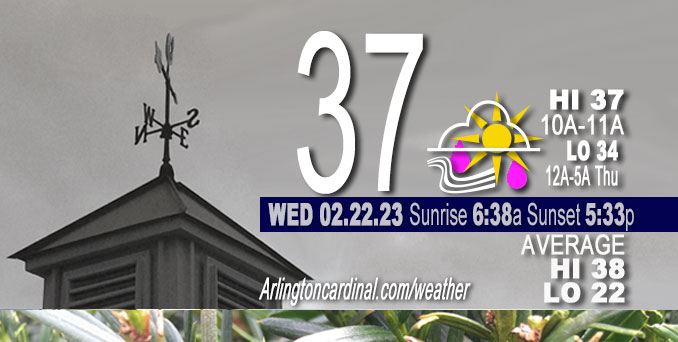 NWS CHGO | NWS HRLY | /NWSchicago | 🌡
ARLINGTON HEIGHTS WEATHER
▴ forecast7 (Arl. Hts.) | RADAR | WIDE RADAR




O'Hare (history KORD, left)
⏪ Hrly Data Table | Hrly Future Graph ⏩
IMPORTANT NOTE ON NWS DATA
Arlington Heights (history KPWK, left)
⏪ Hrly Data Table | Hrly Future Graph ⏩
======================
Wednesday and Wednesday Evening …
Weather Hazards expected …
Significant Ice Accumulation Risk across far northern Illinois (excluding northwest suburbs near Arlington Heights).
Limited Sleet Risk across far northern Illinois (excluding northwest suburbs near Arlington Heights).
Limited Thunderstorm Risk…with an associated:
Limited damaging wind risk far south…up to 60 mph.
Elevated Flooding Risk near and southeast of I-55.
Limited Non Thunderstorm Wind Risk.
Light freezing rain, fog and mist reported around noon at Chicago Executive Airport. Precipitation turned back to rain as expected by 1:00 p.m. No freezing rain reported at O'Hare International Airport. Heavier freezing rain reported at Waukegan National Airport.
DISCUSSION…
Ice accumulations are likely today and tonight north of I-88 and especially along and north of I-90 where tree damage and power outages are possible. The ice accumulations may also cause slick roads, with bridges and overpasses most susceptible. Accumulating sleet may also occur and contribute to travel impacts near the Wisconsin state line.
Periods of heavy rainfall, particularly this afternoon, may cause localized flooding, with river and stream rises likely. If strong thunderstorms occur south of US-24 this afternoon, there will be a threat for localized damaging wind gusts with these.
Daily low temperatures and daily high temperatures are on the way up. We're gaining about 2 minutes of daylight every day in the progression toward vernal equinox, March 20, 2023.
======================
O'HARE FORECAST …
Forecast Beginning Wednesday, Feb. 22, 2023
Wednesday: Rain and possibly a thunderstorm. High near 34. Breezy, with an east northeast wind around 20 mph, with gusts as high as 30 mph. Chance of precipitation is 100%. New rainfall amounts between a half and three quarters of an inch possible.
Wednesday Night: Rain, mainly before midnight. Low around 33. Breezy, with a northeast wind 15 to 20 mph, with gusts as high as 30 mph. Chance of precipitation is 90%. New precipitation amounts between a tenth and quarter of an inch possible.
Thursday: Mostly cloudy, with a high near 42. Breezy, with a south southwest wind 10 to 15 mph becoming west southwest 20 to 25 mph in the morning. Winds could gust as high as 45 mph.
Thursday Night: Mostly cloudy, with a low around 17. Breezy, with a west northwest wind 10 to 20 mph, with gusts as high as 35 mph.
Friday: Partly sunny, with a high near 27. Northwest wind 5 to 10 mph becoming east northeast in the afternoon.
Friday Night: A 20 percent chance of snow. Cloudy, with a low around 23.
Saturday: Mostly sunny, with a high near 40.
Saturday Night: Mostly clear, with a low around 28.
Sunday: Sunny, with a high near 45.
Sunday Night: Rain likely after midnight. Mostly cloudy, with a low around 37.
Monday: Rain. Mostly cloudy, with a high near 53. Breezy.
Monday Night: A chance of rain. Mostly cloudy, with a low around 31. Breezy.
Tuesday: Sunny, with a high near 43. Breezy.
Weather Forecast, Observations Archive NWS O-Hare
Weather Forecast, Night Sky Archive NWS O-Hare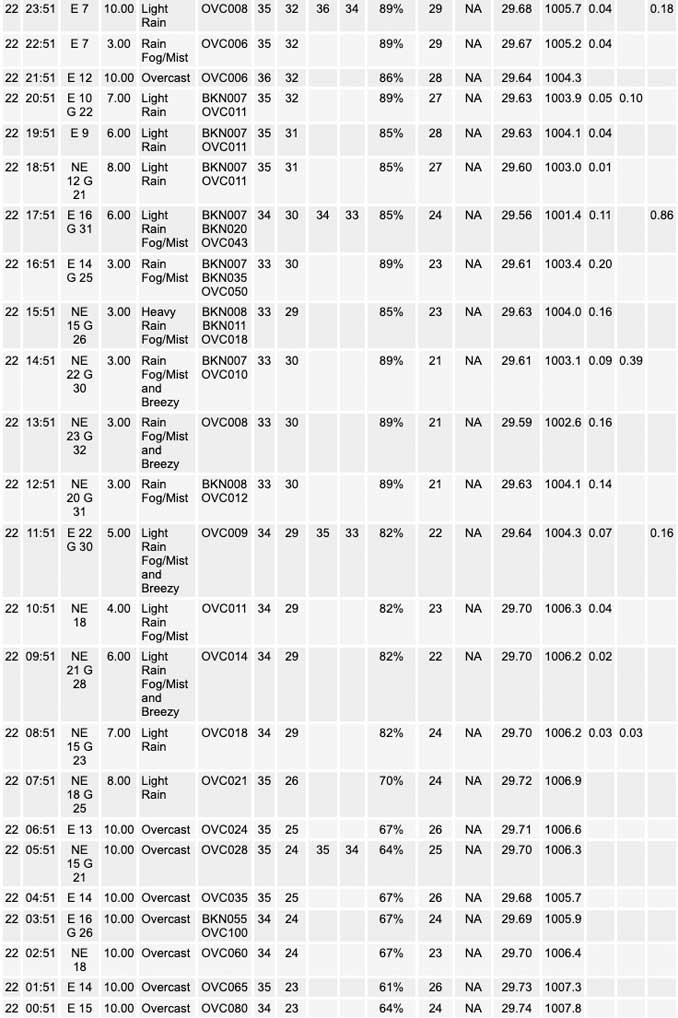 KORD & KPWK Hourly Weather Observations









NORTH AMERICA BELOW (SCROLL ⇩⇩)
Weather WIDE (MOBILE TURN SIDEWAYS)
SPC Convective Outlook on
CHICAGOWEATHERSTATION.COM

ChicagoWeatherStation.com I O'Hare Normal Temps/Precip I O'Hare Record Temps, Precip, Snow
LIVE RADAR | STORM TRACKS | UNISYS US IR SAT | UNISYS Midwest IR SAT | UNISYS More IR SAT
WunderMap® with Temperature/Wind Data || Google: Arlington Heights Area Temps | US TEMPS
Full Screen Motion Weather Radar (Wunderground.com)
Midwest Cloud Cover with Arlington Heights Weather Forecast
ChicagoWeatherStation.com I O'Hare Normal Temps/Precip I O'Hare Record Temps, Precip, Snow
SUNLIGHT DATA FOR SECURITY, TRAFFIC SAFETY, AND SPORTS
SunCalc.net data with solar azimuth and trajectory, times for dawn, sunrise, solar noon, sunset, dusk …
Tweets by @CardinalWeather
NIGHT SKY THIS MONTH …
Backyard stargazers get a monthly guide to the northern hemisphere's skywatching events with "Tonight's Sky." Check the night sky objects for this month and past months in the playlist from the Space Telescope Science Institute YouTube channel (Musical track The Far River written by Jonn Serrie, from the album And the Stars Go With You courtesy of New World Music Ltd).
Get updates from The Cardinal ALL NEWS FEEDS on Facebook. Just 'LIKE' the 'Arlington Cardinal Page (become a fan of our page). The updates cover all posts and sub-category posts from The Cardinal — Arlingtoncardinal.com. You can also limit feeds to specific categories. See all of The Cardinal Facebook fan pages at Arlingtoncardinal.com/about/facebook …

Help fund The Cardinal

Arlingtoncardinal.com/sponsor
Area Forecast Discussion
National Weather Service Chicago/Romeoville, IL
627 AM CST Wed Feb 22 2023
.SHORT TERM… Issued at 310 AM CST Wed Feb 22 2023
Through Thursday…
We have opted shift the headlines towards an ice storm warning for the inland northern tier IL counties for today and tonight as confidence continues to increase in temperatures here remaining below freezing through the entire precipitation event. Other change to headlines was to add in Lee, Dupage and northern Cook into the advisory as these area also look likely to experience some minor icing impacts, especially this morning.
Overall, the main concerns from this precipitation event today and tonight include:
* Significant icing threat across far northern IL, with greatest icing amounts likely across the northern tier counties in IL inland from the lake. These areas are likely to remain below freezing through the entire event today and tonight, thus resulting in up to a half inch of flat ice accumulation, with additional sleet accumulations also possible near the WI state line. Also of concern is the fact that east-northeast winds will be gusting up around 35 mph this afternoon and evening, thus exacerbating the potential impacts to tree limbs and power lines from the ice accumulations.
* Hydro concerns also continue to be elevated through early evening as a period of steady heavy rainfall occurs. The highest threat area for a narrow east-northeastward oriented corridor of 2″+ inch rainfall amounts and potential flooding continues to be favored generally southeast of the I-55 corridor. This area is likely to see the most intense periods of west to east training convective cells north of the surface warm frontal boundary into early this evening. As such, the potential exists for localized excessive rainfall amounts that may lead to flash flooding and significant rises on area streams and rivers. We have opted to hold off on issuing a flood watch, and instead continue to message this threat in an ESF.
* In addition to the variety of precipitation types this storm will also bring with it blustery winds today with even stronger winds for Thursday. Guidance seems to have tracked slightly further southward with the initial surface low that is expected to move across central Illinois into central Indiana later today. This track is expected to generate blustery east- northeasterly winds across much of the area, but especially for areas along and north of I-80 where gusts of 30 to 35 mph are expected. As this initial low moves east, a stronger secondary surface low is expected to move across the region overnight tonight into the early part of Thursday morning. Strong pressure rises on the order of 10 to 15 mb per 6 hours are expected in the wake of this low which will increase winds during the morning hours on Thursday with the strongest winds expected peak during the late morning and afternoon. While forecast soundings are not showing nearly as strong of winds aloft as this time yesterday, it still looks like we will be able to generate gusts in the 40 to 45 mph range as the cold advection in the wake of the low deepens the mixing potential. Winds will slowly begin to ease late Thursday evening and continue to do so through the night.
KJB/Yack/NWS Chicago
1058 AM CST Wed Feb 22 2023
.UPDATE… Issued at 1058 AM CST Wed Feb 22 2023
Widespread rain falls on the area this morning with intermittent reports of freezing rain popping up along and north of the I-88 corridor. Sites near and north of I-88 have been right around freezing through the morning, though most have managed to drop a degree or two over the past couple of hours. This is likely due to a combination of sub-freezing wet bulbs and dynamic cooling as a result of ample synoptic ascent underneath the right entrance region of a robust upper jet max. So long as ambient surface temps remain at or just below freezing, the freezing rain threat will continue as persistent 850-700mb WAA keeps thermal profiles favorable. Additionally, as the warm front currently draped across south- central IL gradually inches northward into the afternoon, a slight uptick in ascent is expected to interact with a pronounced low level f-gen band and a strong negative EPVg signature to produce more moderate rainfall across the area which would accelerate ice accretion where freezing rain is occurring.
However, this shift in the front may also nudge temperatures up a degree or two, possibly limiting the freezing rain threat to Illinois` northern-most counties through the afternoon. A few tenths to near half an inch of ice accumulation still appear attainable across portions of extreme northern IL. As far as travel impacts go, the marginal surface temperatures likely mean most main roads will remain warm enough to inhibit ice accretion. Though elevated and secondary roads, especially those that may not have been treated, should be approached with caution.
Similarly, rain rates across the southern CWA are also expected to increase over the next couple of hours as even greater forcing closer to the encroaching front, efficient low level instability, and PWATS of up to 1.4 inches converge on the area this afternoon. The primary threat for prolonged periods of moderate to heavy rain exists through the afternoon before the storm starts to trek out of the area beginning in the early evening. Widespread one to two inch storm totals are expected with sporadic amounts to near 3 inches possible. The thunderstorm threat will also extend northward a bit into the afternoon with MUCAPE values as high as 100 J/Kg extending as far north as I-80. In the far southern CWA, latest RAP guidance suggests we could be pushing near 600 J/Kg of MUCAPE. A marginal severe threat exists mainly for areas south of the CWA boundary where instability and forcing is greater nearer to the warm front and the LLJ is notably stronger. Although, a few severe thunderstorms sneaking into the far southern CWA producing some strong winds wouldn`t be all to surprising.
Doom/NWS Chicago
149 PM CST Wed Feb 22 2023
.MESOSCALE DISCUSSION… Issued at 149 PM CST Wed Feb 22 2023
Strong warm front bisects the state, extending from north of St Louis east to just south of Champaign. Recent observational trends show the warm front making some northward advancement, however, given the very weak pressure falls north of the front, suspect the northward advancement of the front will slow. It could get briefly close to southern Iroquois and southern Benton counties before surface low north of St Louis pushes east into Indiana early this evening.
To the south of the warm front, temperatures are in the mid to upper 60s with dewpoints in the lower 60s. Air mass to the north of the warm front, sampled nicely by an 1745Z sounding from Valparaiso University depicts a shallow, but very strong frontal inversion with near +9C T and Td 900-850mb, indicative of very steeply sloped isentropic surfaces. Strong isentropic ascent combined with unseasonably moist air mass is supporting a broad swath of moderate to heavy rain across about the southern 1/2 to 2/3 of the CWA. Some convection over far southern CWA is resulting in locally heavier rainfall rates.
Generally expecting rainfall to result in nuisance/advisory type minor flooding late this afternoon into early this evening, mainly south of I-80. Portions of Benton, southern Ford, and southern Iroquois Counties saw over an inch of rain with the overnight convection, so will be keeping a close eye on those areas for the possibility of a localized flash flood threat developing. Still not seeing anything that would suggest the need for a flood watch today.
Regarding a localized severe threat over far southern CWA. Narrow, strongly forced squall line along cold over west central Illinois south to just west of St Louis will continue to move eastward across Illinois the next several hours. Instability is meager, even in the warm sector, but strong frontal forcing and shear could allow for a convective wind threat and perhaps brief/weak mesovortex tornado threat continuing with this line across the warm sector. If warm front makes it into far southern CWA, then there could be a very brief window with a severe threat into Benton and southern Iroquois, but by and large threat looks likely to remain south of our CWA with mainly just moderate to locally heavy rainfall expected.
– Izzi