Monday Hi 57, partly sunny to mostly cloudy, winds SE to NE, 6 to 14 MPH, G15 to 23 MPH, continuing Tuesday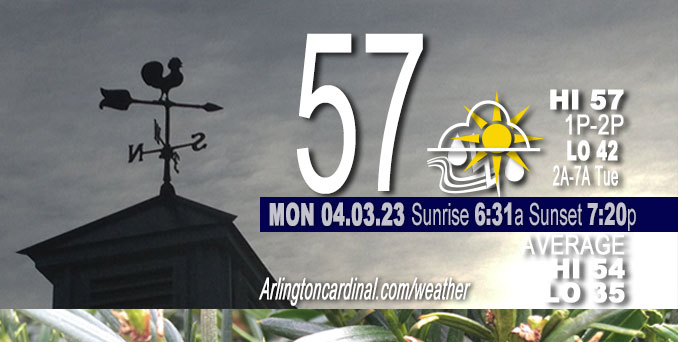 NWS CHGO | NWS HRLY | /NWSchicago | 🌡
ARLINGTON HEIGHTS WEATHER
▴ forecast7 (Arl. Hts.) | RADAR | WIDE RADAR




O'Hare (history KORD, left)
⏪ Hrly Data Table | Hrly Future Graph ⏩
IMPORTANT NOTE ON NWS DATA
Arlington Heights (history KPWK, left)
⏪ Hrly Data Table | Hrly Future Graph ⏩
Hello mobile users! If you encounter a mobile "unfriendly" weather page, turn your phone sideways for a better view.
======================
Monday and Monday Evening …
Weather Hazards expected …
Limited Thunderstorm Risk with associated …
Limited Hail Risk…up to quarter size.
Monday high temperature 57 slightly above normal 54.
DISCUSSION…
Scattered thunderstorms are possible late this afternoon and tonight. A few of these thunderstorms may be strong to severe with large hail the primary severe weather threat.
======================
O'HARE FORECAST …
Forecast Beginning Monday, Apr. 03, 2023
Monday: A chance of showers, with thunderstorms also possible after 4pm. Mostly cloudy, with a high near 57. Southeast wind 5 to 10 mph becoming east northeast in the afternoon. Chance of precipitation is 40%.
Monday Night: Showers and possibly a thunderstorm before 4am, then showers likely. Low around 41. East northeast wind 10 to 15 mph, with gusts as high as 30 mph. Chance of precipitation is 90%. New rainfall amounts between a quarter and half of an inch possible.
Tuesday: Showers likely, with thunderstorms also possible after 7am. Cloudy, with a high near 64. East northeast wind around 15 mph, with gusts as high as 30 mph. Chance of precipitation is 60%. New rainfall amounts of less than a tenth of an inch, except higher amounts possible in thunderstorms.
Tuesday Night: Showers and thunderstorms likely, mainly before 1am. Mostly cloudy, with a low around 60. Breezy, with a south southeast wind 15 to 20 mph, with gusts as high as 40 mph. Chance of precipitation is 60%.
Wednesday: A chance of showers and thunderstorms before 4pm, then a slight chance of showers. Partly sunny, with a high near 70. Windy, with a southwest wind around 30 mph, with gusts as high as 45 mph. Chance of precipitation is 50%.
Wednesday Night: Mostly clear, with a low around 33. Windy.
Thursday: Sunny, with a high near 50. Breezy.
Thursday Night: Clear, with a low around 33.
Friday: Sunny, with a high near 53.
Friday Night: Partly cloudy, with a low around 39.
Saturday: Mostly sunny, with a high near 63.
Saturday Night: Partly cloudy, with a low around 47.
Sunday: Mostly sunny, with a high near 66.
Weather Forecast, Observations Archive NWS O-Hare
Weather Forecast, Night Sky Archive NWS O-Hare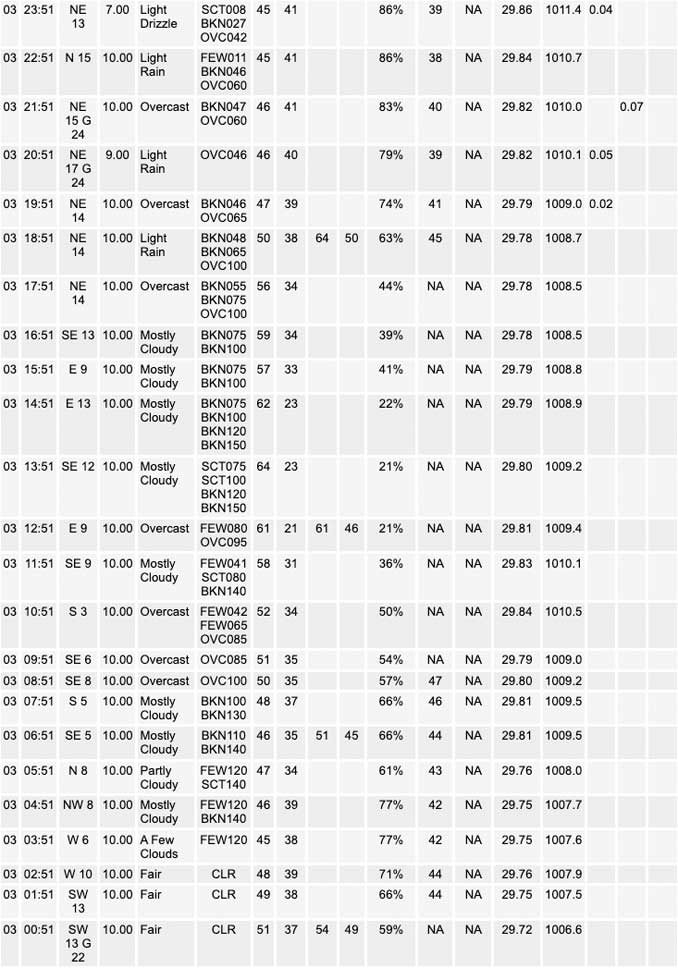 KORD & KPWK Hourly Weather Observations









NORTH AMERICA BELOW (SCROLL ⇩⇩)
Weather WIDE (MOBILE TURN SIDEWAYS)
SPC Convective Outlook on
CHICAGOWEATHERSTATION.COM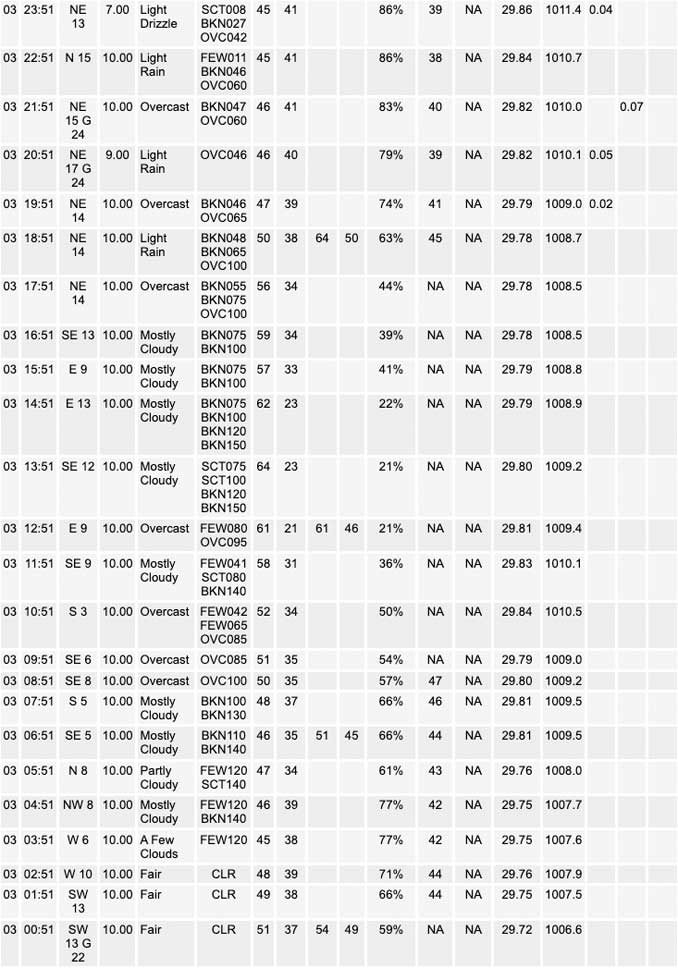 WunderMap® with Temperature/Wind Data || Google: Arlington Heights Area Temps | US TEMPS
Midwest Cloud Cover with Arlington Heights Weather Forecast
ChicagoWeatherStation.com I O'Hare Normal Temps/Precip I O'Hare Record Temps, Precip, Snow
SUNLIGHT DATA FOR SECURITY, TRAFFIC SAFETY, AND SPORTS
SunCalc.net data with solar azimuth and trajectory, times for dawn, sunrise, solar noon, sunset, dusk …
Tweets by @CardinalWeather
NIGHT SKY THIS MONTH …
Backyard stargazers get a monthly guide to the northern hemisphere's skywatching events with "Tonight's Sky." Check the night sky objects for this month and past months in the playlist from the Space Telescope Science Institute YouTube channel (Musical track The Far River written by Jonn Serrie, from the album And the Stars Go With You courtesy of New World Music Ltd).
Get updates from The Cardinal ALL NEWS FEEDS on Facebook. Just 'LIKE' the 'Arlington Cardinal Page (become a fan of our page). The updates cover all posts and sub-category posts from The Cardinal — Arlingtoncardinal.com. You can also limit feeds to specific categories. See all of The Cardinal Facebook fan pages at Arlingtoncardinal.com/about/facebook …

Help fund The Cardinal

Arlingtoncardinal.com/sponsor
/////////////>
Area Forecast Discussion
National Weather Service Chicago/Romeoville, IL
624 AM CDT Mon Apr 3 2023
.SHORT TERM… Issued at 332 AM CDT Mon Apr 3 2023
Through Tuesday night…
A diffuse cold front has meandered into our region early this morning and will get a little bit of a reinforcing boost through the day. A developing warm frontal zone will continue moving northward out of central Missouri this morning, eventually becoming quasistationary somewhere in the vicinity of our southernmost locales this afternoon. There`s still a decent amount of spread in the guidance regarding where this boundary will stall, but it seems like there`s a decent potential for it to set up shop somewhere around US 24 which would result in a decent north-south temperature gradient today.
Regional satellite loops reveal isentropic ascent at work off to our west, elucidated by an expanding area of mid-level stratus. Expectation is for this to continue to expand this morning. Plenty of dry air below 700 mb, particularly for areas north of I-80 suggest precipitation chances will stay pretty muted through the morning (at most a few sprinkles), but look to increase more meaningfully through this afternoon and especially this evening and overnight as deeper warm advection overspreads the region and the lower levels saturate. In our far south this afternoon, if the aforementioned warm front does move into our region, some forecast soundings suggest a low but non-zero potential for surface-based, rotating convection with favorable effective dee Player shear values over 40-50 kts and quite a bit of low-level veering of the wind profiles. Not seeing much, if any, guidance developing surface-based convection late this afternoon, but something to keep one eye on.
Tonight, elevated showers will likely be expansive in coverage along with embedded thunderstorms as a plume of steeper lapse rates moves in overhead. Still seeing differences in guidance with the handling of lingering warm pockets above the elevated effective inflow bases which will have an impact on the coverage of thunderstorms. That said, most guidance seems to support the idea of a few hundred joules/kg of MUCAPE available with sufficient deep layer shear to support a few thunderstorms capable of producing perhaps some marginally severe hail into Tuesday morning.
Main focus then turns to the potential for severe weather mainly late Tuesday afternoon and evening. As we`ve been noting, this setup appears to be much more "conditional" than last Friday`s for a number of reasons. First is that large scale forcing will be more subtle/weaker as the parent 500 mb low is currently forecast to be well west across western/central Nebraska and South Dakota by early Tuesday evening. Second is that capping will be playing more of a central role as an expansive EML plume characterized by extremely steep mid-level lapse rates and attendant warm nose around 800 mb will likely result in considerably MLCIN through much of the afternoon hours. Whether or not the aforementioned subtle large scale forcing is able to overcome this is one of the main questions yet to be answered and will mean the difference between few to no storms in the local area versus a potential significant severe episode in the region.
From a conceptual standpoint, the surface warm front will make slow, but gradual northward progress through the region on Tuesday as more notable pressure falls develop across Wisconsin and Iowa. Seems like the front`s forward progress will probably get held u Pa bit by the cool lake with it having a harder time making progress north of the Wisconsin state line during the evening. Wide open Gulf trajectories will allow an expansive region of 60s dewpoints to surge northward although forecast soundings continue to indicate the moist layer will be somewhat shallow. Still, seeing signs of higher dewpoints pooling near the warm front, possibly in response to mixing into higher mixing-ratio air just off the surface (with this in mind drizzle and pockets of fog appear possible Tuesday morning and even into the afternoon north of the front). Even the WRF-ARW which utilizes a more aggressive PBL scheme and tends to readily "mix-out" shallow moist layers holds onto low 60s dewpoints up to the I-88 corridor.
The big question here is whether the base of the relatively warm EML plume can be lifted and cooled sufficiently by only very modest large scale forcing for ascent with neutral or even positive mid-level height tendencies noted over us in a narrow window during the late-afternoon and early-evening. The ECMWF and GFS both have been consistently saying "yes" to this question as the nose of a 60-70 kt 500 mb jet max pushes across central Illinois during the afternoon hours, but it`s easy to find other guidance which says "no", leaving too much convective inhibition in place for thunderstorm initiation. That said, am somewhat concerned by potential trends noted in hires guidance which seem to be headed more towards the ECMWF/GFS camp in eroding the capping layer just enough to result in explosive thunderstorm development somewhere across eastern Iowa/northeast Missouri/west-central Illinois, and seems like more than half of the EPS members do so as well based on a cursory glance.
IF convection develops, it would have access to an highly volatile cocktail of high instability and truly eye-popping kinematic parameters with large, sweeping/looping hodographs driving very high effective SRH and, importantly, significant low-level storm-relative inflows. While a cap bust scenario is still on the table (one where inhibition remains too high and storms struggle to develop or don`t develop at all), it`s hard (and probably foolish) to ignore the consistency of the ECMWF, GFS, and now recent runs of the extended HRRR. Corridor of most focused severe weather potential would seem to be setting across roughly the northwest half of the CWA late Tuesday afternoon into the mid-late evening with all modes of severe weather possible, but contingent on robust convective development materializing in the first place. Given the presence of at least some capping, it`s also possible that only a few storms develop or become severe, but any of these would have the potential to drop sig tors given the parameter space. It`s also conceivable that initial severe thunderstorms start to weaken a bit during the evening as CIN increases with the loss of daytime heating and as they get close to or cross the warm front. We`ll highlight these two scenarios in our graphical messaging today to try to better explain the vast chasm that exists between outcomes.
Once convection departs, things look somewhat quieter for much of the Tuesday night locally. Will have to keep an eye on linear convective segments on the surging cold front to our west, but latest expectation is for these to slowly weaken with time as it heads into an increasingly capped environment, with activity not reaching our area until near daybreak.
Carlaw/NWS Chicago