🌒 🌓 🌕 🌗 Waxing Crescent Moon, rain, sky cover overnight Fri. to Sat. 95% to 100%, winds ENE to NE, 10 to 16 MPH, Low 34, 6a to 11a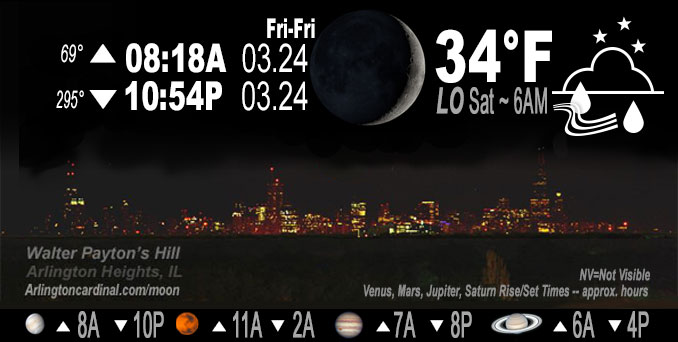 NWS CHGO | NWS HRLY | /NWSchicago | 🌡
ARLINGTON HEIGHTS WEATHER
▴ forecast7 (Arl. Hts.) | RADAR | WIDE RADAR
⏪ Hrly Data Table | Hrly Future Graph ⏩
IMPORTANT NOTE ON NWS DATA
Hello mobile users! If you encounter a mobile "unfriendly" weather page, turn your phone sideways for a better view.
======================
NIGHT FORECASTS …
NOTE: Keep in mind lunar rise and set times don't always correspond with night weather and early morning lows because on some days during the month the moon is visible in the sky predominantly during the daytime hours.
Overnight Friday/Saturday …
Weather Hazards expected (NOTE: FORECAST WAS LARGELY INACCURATE WITH NO SNOW IN NORTHWEST SUBURBS NEAR ARLINGTON HEIGHTS)
Significant Snow Risk late tonight north of I-88.
DISCUSSION…
Rain will rapidly transition to wet snow late tonight, mainly for areas near and north of I-88. Snowfall rates of 1 to 2 inches per hour are possible in a narrow corridor across northern Illinois which will lead to snow-coated roadways and hazardous travel conditions.
======================
O'HARE FORECAST …
Forecast Beginning Friday Night, Mar. 24, 2023 …
Friday Night: Rain before 4am, then rain and snow. The rain could be heavy at times. Low around 33. Breezy, with an east northeast wind 15 to 20 mph, with gusts as high as 30 mph. Chance of precipitation is 100%. Total nighttime snow accumulation of less than a half inch possible.
Saturday: Rain and snow, mainly before 4pm. High near 37. Breezy, with a north wind 15 to 20 mph becoming west in the afternoon. Winds could gust as high as 35 mph. Chance of precipitation is 100%. New snow accumulation of less than one inch possible.
Saturday Night: Partly cloudy, with a low around 29. West southwest wind 5 to 10 mph, with gusts as high as 20 mph.
Sunday: Partly sunny, with a high near 44. Calm wind becoming north northeast around 5 mph in the afternoon.
Sunday Night: A 30 percent chance of rain after 1am. Mostly cloudy, with a low around 32. Northeast wind around 10 mph, with gusts as high as 20 mph.
Monday: A chance of rain and snow. Mostly cloudy, with a high near 42. Chance of precipitation is 40%.
Monday Night: A 30 percent chance of rain, mainly after 1am. Mostly cloudy, with a low around 30.
Tuesday: Partly sunny, with a high near 45.
Tuesday Night: Partly cloudy, with a low around 29.
Wednesday: Partly sunny, with a high near 46.
Wednesday Night: A chance of rain. Mostly cloudy, with a low around 36.
Thursday: A chance of rain. Mostly cloudy, with a high near 51.
Thursday Night: Rain. Mostly cloudy, with a low around 42.
Friday: A chance of rain. Mostly cloudy, with a high near 58. Breezy.
Weather Forecast, Night Sky Archive NWS O-Hare
Weather Forecast, Observations Archive NWS O-Hare
O'Hare forecast archive and hourly weather observations archive are available HERE on the CARDINAL NEWS Magazine.
KORD/KPWK Hourly Weather Observations
Arlingtoncardinal.com/moonphases
Arlingtoncardinal.com/nightsky
NIGHT SKY THIS MONTH …
Check the night sky objects for this month and past months in the playlist from the Space Telescope Science Institute YouTube channel Backyard stargazers get a monthly guide to the northern hemisphere's skywatching events with "Tonight's Sky" (Musical track The Far River written by Jonn Serrie, from the album And the Stars Go With You courtesy of New World Music Ltd. Musical track The Far River written by Jonn Serrie, from the album And the Stars Go With You courtesy of New World Music Ltd).
Telephoto lens, ISO 100, f/11, Shutter Speed 1/100 to 1/125 for the Moon.
Get updates from The Cardinal ALL NEWS FEEDS on Facebook. Just 'LIKE' the 'Arlington Cardinal Page (become a fan of our page). The updates cover all posts and sub-category posts from The Cardinal — Arlingtoncardinal.com. You can also limit feeds to specific categories. See all of The Cardinal Facebook fan pages at Arlingtoncardinal.com/about/facebook …

Help fund The Cardinal

Arlingtoncardinal.com/sponsor
Telephoto lens, ISO 1600, f/11, Shutter Speed 2.5″ for the skyline. The skyline exposure was toned down, and brightness and contrast was adjusted in Photoshop.
/////////////>
Area Forecast Discussion
National Weather Service Chicago/Romeoville, IL
923 PM CDT Fri Mar 24 2023
.UPDATE… Issued at 923 PM CDT Fri Mar 24 2023
Couple tweaks to going forecast, mainly to expand the winter storm warning a tier of counties south and adding a few counties into an advisory.
Very little to add to the very well written and informative afternoon short term AFD below. Satellite imagery this evening is a text book example of cyclogenesis. Pronounced mid level dry intrusion and attendant plume of steep mid and upper level lapse rates adjacent to the blossoming TROWAL over northern Missouri really is a classic set-up for convective snow and possible thundersnow Saturday morning. Have introduced slight chance of thunderstorms into the grids over northern IL 09-15z.
Trend in hires guidance has been upward this afternoon and early evening with QPF and given PWATs (nearing 3/4″) getting about as high as they can get with snowfall, hard to dispute the higher QPF. The HRRR modeled snow depth (which accounts for compaction and melting) has been trending upward as well (this is different than the 10:1 and Kuchera method snowfall forecasts) with max accums over 10″ within the band of heavy snow. This HRRR product did pretty well with snowfall amounts last wet snow event earlier in the month, so given its track record opted to err on side of caution and expand headlines a bit farther south. The HRRR snow depth is bringing 6″ totals into northern/western Lee, most of DeKalb, and northwestern Kane County.
Snowfall rates could reach 2″/hour, which would likely result in snow eventually accumulating even on untreated main roads.
Updated WSW has been issued and derived products will be out momentarily.
– Izzi
&&
.SHORT TERM… Issued at 257 PM CDT Fri Mar 24 2023
Through Saturday…
Main forecast messages through Saturday:
* Widespread rain arriving this evening, quickly transitioning to a wet snow in far northern Illinois overnight (transition to all snow occurring later towards daybreak towards the I-88 and I-80 corridors and the heart of the Chicago metro)
* Intense snowfall rates (likely 1+"/hour at times) are likely to produce a narrow corridor of 6+" of heavy, wet snow accumulation in portions of interior northern Illinois and in locations near/along the Illinois-Wisconsin state line
* Travel impacts in the form of sharply reduced visibilities and slushy snow accumulations on roadways are likely within the corridor of heavier snowfall. Uncertainty exists whether snow will accumulate on main thoroughfares due to mild antecedent conditions and near-surface air temperatures remaining near 32F, though accumulations are more likely on secondary/untreated roadways, as well as bridges and overpasses.
* The Winter Weather Advisory for Ogle, Winnebago, Boone, McHenry, and Lake counties in far northern Illinois has been upgraded to a Winter Storm Warning. This is where 6+" of snow accumulation is presently most likely to occur. The timing of this headline was left unchanged (from 1 AM CDT through 1 PM CDT).
* A Winter Weather Advisory remains in effect for Lee, DeKalb, and Kane counties from 1 AM CDT through 1 PM CDT. Northern Cook County has been added to this advisory, though only from 7 AM CDT through 1 PM CDT given the expected later start time of snow there. At least 3″ of snow may fall in at least portions of these counties, and the heavy snow rates may lead to hazardous travel here as well.
* There is still room for the location of the narrow heavy snow corridor to wobble north or south by roughly a tier of so of counties. Thus, headline changes may still need to be made tonight once observational trends become clearer.
[Updated at 3:40 PM CDT to provide additional details]
Surface cyclogenesis is well underway over the Ozarks and Ouachitas of western Arkansas and eastern Oklahoma with a recent surface analysis revealing the center of a 1002 mb surface low near Fort Smith, AR at 19Z. Strong upper-level divergence downwind of the base of an upper-level trough currently centered over the southern Rockies/southern High Plains and in the right entrance region of a 155+ kt upper-level jet core will foster the continued deepening of this low as it lifts northeastward, with a mean sea level pressure of about 985-990 mb likely to be attained by the time the low center reaches our latitude around daybreak tomorrow. Excellent synoptic forcing for ascent will cause a broad shield of precipitation to spread into our forecast area from south to north throughout this evening, while winds will gradually become blustrier with time as the center of the deepening low approaches.
With surface temperatures in the mid 30 to low 40s (coldest north; warmest south) at the onset of precipitation, most, if not all of our forecast area will see rain initially. However, thermal profiles in interior far northern Illinois look cold enough to where precipitation may either be snow or a rain/snow mix initially at onset, or will quickly change over to all snow within 2-3 hours of onset after robust dynamic/evaporative cooling all but eliminates any lingering hydrometeor melting energy within the atmospheric column. This transition to all snow should be more gradual farther south towards the I-88 and I-80 corridors and into the heart of the Chicago metro, but the expectation is that thermal profiles should become supportive of mostly or all snow at these locations by around daybreak Saturday. Locations south of I-80, and even more so south of the Kankakee and Illinois river valleys, may not witness this full changeover and only see rain throughout the duration of this event. Can`t rule out some embedded thunderstorms occurring in the southern half or so of our CWA as well given the dynamics in play.
As has been discussed the past couple of days, intense snowfall rates likely exceeding 1″/hour at times are likely to be seen wherever the main snowfall deformation axis sets up, owing to the strong synoptic forcing for ascent that will be augmented by robust mesoscale forcing induced by a pronounced frontogenetic circulation, as well as the presence of steep upper-level lapse rates/convective upright instability and deep column moisture. As is usually the case in these late-season events, heavy snow rates will be a must in order for any meaningful snow accumulations to occur given the mild antecedent conditions that we`ve experienced in the lead-u Pto this event, as well as the fact that near-surface air temperatures likely won`t fall much below freezing throughout the duration of the event, and should even remain above freezing across a large chunk of our CWA that is expected to see snow. This scenario is actually somewhat similar to the one we saw two weeks on March 9-10, when strong frontogenetic forcing coincident with steep lapse rates laid down a swath of 6+" of snow across far northern Illinois into southern Wisconsin despite mild antecedent conditions and marginal air temperatures. Road impacts with that event were primarily limited to secondary, untreated, and elevated roadways with mild pavement temperatures and road treatments keeping most main thoroughfares in relatively good shape, and have a hunch that something similar may be seen with this event. Regardless of whether the snow ends up accumulating on roadways, sharply reduced visibilities are likely within the more intense snowfall, and that on its own could still lead to hazardous travel for any motorists who will be traveling early Saturday morning in northern Illinois.
The frontogenesis signal with that March 9-10 event was perhaps not as pronounced and more ephemeral than what most forecast guidance is suggesting will be the case for this event, which leads to the thinking that the snow rates with this event will be more intense and longer lasting than what we saw two weeks ago. However, one key consideration with this setup that wasn`t present for the March 9-10 event is that there is a large wad of convection to our south. Since models often struggle with handling convection, there are often errors in how they handle the intensity and placement of snowfall on the northern sides of systems like these. As a result, there are still some lingering uncertainties regarding exact snowfall totals and the placement of the narrow heavy snow corridor, which based on recent guidance, could still shift north/west or south/east by a tier or so of counties compared to what we`re currently forecasting. For seemingly the umpteenth this cold season, a sharp snowfall gradient is also likely to be seen somewhere between the Illinois-Wisconsin state line and the I-88/I-80 corridors and heart of the Chicago metro, where a longer duration of rain and slightly milder surface temperatures will limit how much snow will be able to accumulate.
Putting everything together, confidence was high enough in a narrow corridor of 6+" of snow accumulation occurring across our far northern counties to warrant an upgrade to a Winter Storm Warning there, even though overall travel impacts may not necessarily end up being truly Winter Storm Warning-worthy. The Winter Weather Advisory was kept for Lee, DeKalb, and Kane counties, where heavy snowfall may produce lesser accumulations, but still some travel impacts. Northern Cook County was also added to this advisory with confidence now being slightly higher in 3+" snow accumulations and associated travel impacts occurring in at least far western portions of this headline zone.
Precipitation should end from west to east late Saturday morning and into the afternoon. Warming daytime temperatures and perhaps some glimpses on sunshine may melt a large chunk of the newly minted snowpack prior to sunset.
Ogorek/NWS Chicago