Sunday Hi 46, partly sunny, light rain until 9p, winds NE, to E to NNE, calm to 6 to 11 to 7 MPH, G17 to 20 to 17 MPH, 3p to 5p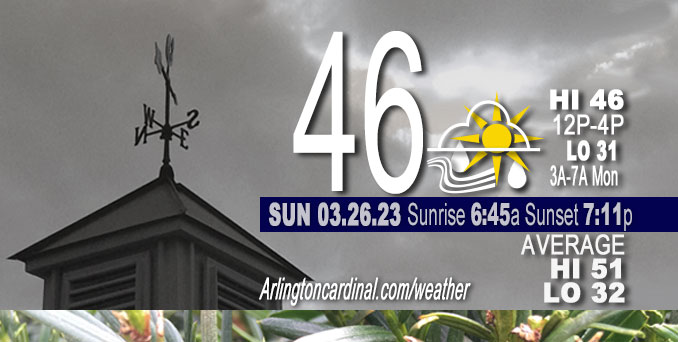 NWS CHGO | NWS HRLY | /NWSchicago | 🌡
ARLINGTON HEIGHTS WEATHER
▴ forecast7 (Arl. Hts.) | RADAR | WIDE RADAR




O'Hare (history KORD, left)
⏪ Hrly Data Table | Hrly Future Graph ⏩
IMPORTANT NOTE ON NWS DATA
Arlington Heights (history KPWK, left)
⏪ Hrly Data Table | Hrly Future Graph ⏩
Hello mobile users! If you encounter a mobile "unfriendly" weather page, turn your phone sideways for a better view.
======================
Sunday and Sunday Evening …
Weather Hazards expected …
Limited Thunderstorm Risk…I-88 and south
Limited Damaging Thunderstorm Wind Risk…up to 60 mph.
Limited Tornado Risk.
DISCUSSION…
Periods of heavy wet snow can be expected this morning, primarily northwest of a line from near Mendota to Waukegan. Snowfall rates of 1 to 2 inches per hour are possible in a narrow corridor across northwestern Illinois which will lead to snow-coated roadways and hazardous travel conditions.
Heaviest snow (3-7 inches) expected from about Antioch west to around 25 miles northwest of Rockford.
According to NWS Chicago, there is increasing concern that an encroaching dry slot is "robbing us" of cloud ice later this morning and keeping rain from transitioning over to snow, at least for a while over the central and southeastern Chicagoland. Forecast soundings suggest that once the dry slot moves in prior to daybreak, we will remain saturated only up to roughly 800 or 750mb. This should certainly be deep enough saturation to keep precip going into the morning, but a nearly isothermal profile through the low levels means the top of the saturated layer will be sitting near or just below freezing. We should see some mid level moisture recover into mid-morning as the TROWAL begins moving overhead and then we could see a period of snow further south and east. But, if this dry air does end up keeping much of the area under rain or drizzle this morning, then the sharp cutoff in snow totals we`re expecting will probably be even more pronounced than we thought. Snow will then taper off to the northeast through the afternoon. No major changes to snow totals with areas under the warning still expected to see around 6-9 inches by the end of the morning. No changes to headlines are planned at this time either.
======================
O'HARE FORECAST …
Forecast Beginning Sunday, Mar. 26, 2023
Sunday: A chance of showers, with thunderstorms also possible after 4pm. Mostly cloudy, with a high near 50. East wind 5 to 10 mph, with gusts as high as 15 mph. Chance of precipitation is 50%.
Sunday Night: A chance of showers and thunderstorms before 7pm, then a chance of showers between 7pm and 10pm. Cloudy, then gradually becoming partly cloudy, with a low around 32. North wind 5 to 10 mph. Chance of precipitation is 40%.
Monday: Mostly sunny, with a high near 42. North northeast wind around 10 mph, with gusts as high as 15 mph.
Monday Night: Partly cloudy, with a low around 28. North northeast wind 5 to 10 mph becoming light north after midnight.
Tuesday: Partly sunny, with a high near 46. Northwest wind 5 to 10 mph.
Tuesday Night: Partly cloudy, with a low around 32.
Wednesday: A 20 percent chance of snow. Mostly cloudy, with a high near 45.
Wednesday Night: Partly cloudy, with a low around 28.
Thursday: A chance of showers after 1pm. Partly sunny, with a high near 54.
Thursday Night: Showers. Mostly cloudy, with a low around 49. Breezy.
Friday: Showers. Mostly cloudy, with a high near 63. Breezy.
Friday Night: Showers likely. Mostly cloudy, with a low around 39. Breezy.
Saturday: Mostly sunny, with a high near 47. Breezy.
Weather Forecast, Observations Archive NWS O-Hare
Weather Forecast, Night Sky Archive NWS O-Hare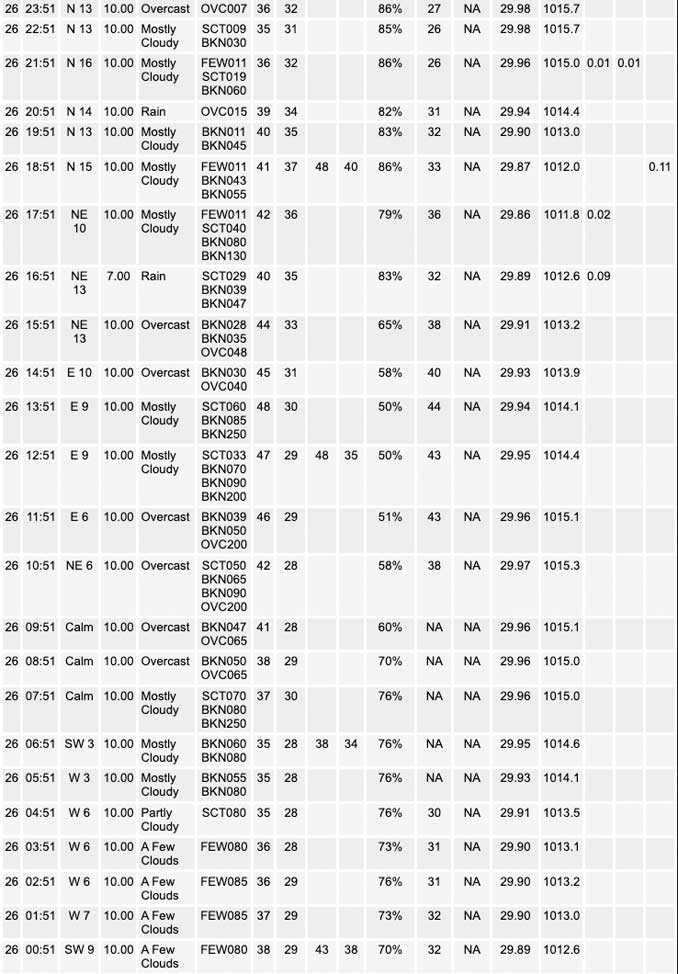 KORD & KPWK Hourly Weather Observations









NORTH AMERICA BELOW (SCROLL ⇩⇩)
Weather WIDE (MOBILE TURN SIDEWAYS)
SPC Convective Outlook on
CHICAGOWEATHERSTATION.COM

ChicagoWeatherStation.com I O'Hare Normal Temps/Precip I O'Hare Record Temps, Precip, Snow
LIVE RADAR | STORM TRACKS | UNISYS US IR SAT | UNISYS Midwest IR SAT | UNISYS More IR SAT
WunderMap® with Temperature/Wind Data || Google: Arlington Heights Area Temps | US TEMPS
Full Screen Motion Weather Radar (Wunderground.com)
Midwest Cloud Cover with Arlington Heights Weather Forecast
ChicagoWeatherStation.com I O'Hare Normal Temps/Precip I O'Hare Record Temps, Precip, Snow
SUNLIGHT DATA FOR SECURITY, TRAFFIC SAFETY, AND SPORTS
SunCalc.net data with solar azimuth and trajectory, times for dawn, sunrise, solar noon, sunset, dusk …
Tweets by @CardinalWeather
NIGHT SKY THIS MONTH …
Backyard stargazers get a monthly guide to the northern hemisphere's skywatching events with "Tonight's Sky." Check the night sky objects for this month and past months in the playlist from the Space Telescope Science Institute YouTube channel (Musical track The Far River written by Jonn Serrie, from the album And the Stars Go With You courtesy of New World Music Ltd).
Get updates from The Cardinal ALL NEWS FEEDS on Facebook. Just 'LIKE' the 'Arlington Cardinal Page (become a fan of our page). The updates cover all posts and sub-category posts from The Cardinal — Arlingtoncardinal.com. You can also limit feeds to specific categories. See all of The Cardinal Facebook fan pages at Arlingtoncardinal.com/about/facebook …

Help fund The Cardinal

Arlingtoncardinal.com/sponsor
/////////////>
Area Forecast Discussion
National Weather Service Chicago/Romeoville, IL
648 AM CDT Sun Mar 26 2023
.SHORT TERM… Issued at 346 AM CDT Sun Mar 26 2023
Through Monday…
The headline in the short term is an approaching wave that will likely bring both snow and thunderstorms to the area today. Early this morning, the system is centered near the NE/KS/MO tripoint with its warm front extending eastward into west-central IL. This system stems from a potent little shortwave with a decent low-mid level jet max wrapped around its base which will eventually swing around its lee side prior to reaching our area later today. There is considerable agreement on where this storm will track and that is across north-central IL this afternoon into the evening, namely along or just south of the I-80 corridor. The track of the warm front will play a pivotal role in temperatures across the central CWA with upper 30s expected for highs near the IL/WI stateline and upper 50s on the southern periphery of the CWA.
Before getting into the storm potential, let`s touch on snow chances: precip should begin moving in across the northern half of the CWA sometime near, or shortly after, daybreak. At this time and through mid-morning, low level thermal profiles look to be just cool enough to produce some brief snow showers or pockets of rain/snow mix. Surface temps are expected to be at or above freezing during this time and a nearly isothermal profile through about 800mb make this a fragile setup. There is some guidance that keeps that isothermal layer just a hair above freezing which would promote all rainfall. While most guidance brings in at least a little bit of snow, any snow potential could be quickly debunked if temperatures want to stay even a bit warmer than what most models are suggesting. Not to mention, the footprint of snow on the RAP and HRRR has been on a shrinking trend since last evening and it`s worth mentioning that both models have been running just a bit cool since late last night. As it stands now, it appears that potential for minor accumulations should be confined to IL`s northern-most counties. By the latter part of the morning, we will have warmed to the point where all precip for the rest of the day should be in the form of rain.
Heading into the afternoon, there is growing concern for a line of thunderstorms to develop out ahead of the cold front which has the apparent potential to be strong or severe. Low and mid level lapse rates are certainly attention-grabbing pushing 7 to even 8 K/km. Additionally, we`re looking at a very favorable shear profile with 40-50 kt of 0-3km bulk shear and roughly 60 or 70 degrees of veering through that layer. What we`re not so sure on is how much moisture we`ll be working with which will determine how much instability will build up. The Euro and GFS top dewpoints off in the lower and middle 40s and work in about 200 to 300 J/kg of MUCAPE at best. The RAP, HRRR, and NAM Nest are more aggressive resolving dew points in the lower 50s as far north as I-80 and near to over 1,000 J/kg of MUCAPE. All of the aforementioned models are doing a fine job thus far resolving this system including recent temp/dewpoint trends so it`s tough to say which basket to put most of our eggs into. Nonetheless, even the less aggressive approach from the GFS and Euro are still ample for low-topped severe storms to occur, but the more robust vertical moisture transport would certainly help. The primary concern with these storms is damaging straight-line winds. However, the shear profile is such that a brief tornado or two cannot be discounted, especially with what looks to be a notable line-normal component in the wind field up through about 1km. This line of storms is expected to move across the CWA approximately near and south of I-80 from the early to late afternoon. The far southern CWA will see a higher potential for strong storms in the wake of greater instability. All the while, scattered showers will continue across areas further north. The area should be dry by the early evening and remain as such through the night and through the day on Monday.
Doom/NWS Chicago