🌔 🌕 🌗 🌑 Waxing Gibbous Moon, showers and thunderstorms, sky cover overnight Mon. to Tue. 90% to 95% to 92%, winds ENE to NE, 11 to 17 to 11 MPH, G17 to 25 to 18 MPH, Low 43, 5a to 7a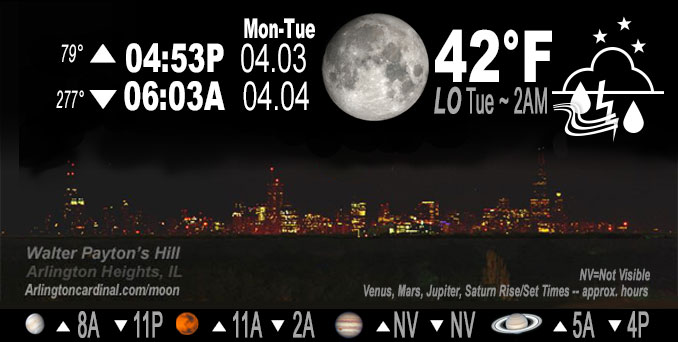 NWS CHGO | NWS HRLY | /NWSchicago | 🌡
ARLINGTON HEIGHTS WEATHER
▴ forecast7 (Arl. Hts.) | RADAR | WIDE RADAR
⏪ Hrly Data Table | Hrly Future Graph ⏩
IMPORTANT NOTE ON NWS DATA
Hello mobile users! If you encounter a mobile "unfriendly" weather page, turn your phone sideways for a better view.
======================
NIGHT FORECASTS …
NOTE: Keep in mind lunar rise and set times don't always correspond with night weather and early morning lows because on some days during the month the moon is visible in the sky predominantly during the daytime hours.
Overnight Monday/Tuesday …
Weather Hazards expected …
Limited Thunderstorm Risk…with an associated …
Limited Hail Risk…up to quarter size.
DISCUSSION…
Scattered thunderstorms are possible overnight Monday to Tuesday. A few of these thunderstorms may be strong to severe with large hail the primary severe weather threat.
======================
O'HARE FORECAST …
Forecast Beginning Monday Night, Apr. 03, 2023 …
Monday Night: Showers and possibly a thunderstorm before 4am, then showers likely. Low around 41. East northeast wind 10 to 15 mph, with gusts as high as 30 mph. Chance of precipitation is 90%. New rainfall amounts between a quarter and half of an inch possible.
Tuesday: Showers likely, with thunderstorms also possible after 7am. Cloudy, with a high near 64. East northeast wind around 15 mph, with gusts as high as 30 mph. Chance of precipitation is 60%. New rainfall amounts of less than a tenth of an inch, except higher amounts possible in thunderstorms.
Tuesday Night: Showers and thunderstorms likely, mainly before 1am. Mostly cloudy, with a low around 60. Breezy, with a south southeast wind 15 to 20 mph, with gusts as high as 40 mph. Chance of precipitation is 60%.
Wednesday: A chance of showers and thunderstorms before 4pm, then a slight chance of showers. Partly sunny, with a high near 70. Windy, with a southwest wind around 30 mph, with gusts as high as 45 mph. Chance of precipitation is 50%.
Wednesday Night: Mostly clear, with a low around 33. Windy.
Thursday: Sunny, with a high near 50. Breezy.
Thursday Night: Clear, with a low around 33.
Friday: Sunny, with a high near 53.
Friday Night: Partly cloudy, with a low around 39.
Saturday: Mostly sunny, with a high near 63.
Saturday Night: Partly cloudy, with a low around 47.
Sunday: Mostly sunny, with a high near 66.
Weather Forecast, Night Sky Archive NWS O-Hare
Weather Forecast, Observations Archive NWS O-Hare
O'Hare forecast archive and hourly weather observations archive are available HERE on the CARDINAL NEWS Magazine.
KORD/KPWK Hourly Weather Observations
Arlingtoncardinal.com/moonphases
Arlingtoncardinal.com/nightsky
NIGHT SKY THIS MONTH …
Check the night sky objects for this month and past months in the playlist from the Space Telescope Science Institute YouTube channel Backyard stargazers get a monthly guide to the northern hemisphere's skywatching events with "Tonight's Sky" (Musical track The Far River written by Jonn Serrie, from the album And the Stars Go With You courtesy of New World Music Ltd. Musical track The Far River written by Jonn Serrie, from the album And the Stars Go With You courtesy of New World Music Ltd).
Telephoto lens, ISO 100, f/11, Shutter Speed 1/100 to 1/125 for the Moon.
Get updates from The Cardinal ALL NEWS FEEDS on Facebook. Just 'LIKE' the 'Arlington Cardinal Page (become a fan of our page). The updates cover all posts and sub-category posts from The Cardinal — Arlingtoncardinal.com. You can also limit feeds to specific categories. See all of The Cardinal Facebook fan pages at Arlingtoncardinal.com/about/facebook …

Help fund The Cardinal

Arlingtoncardinal.com/sponsor
Telephoto lens, ISO 1600, f/11, Shutter Speed 2.5″ for the skyline. The skyline exposure was toned down, and brightness and contrast was adjusted in Photoshop.
/////////////>
Area Forecast Discussion
National Weather Service Chicago/Romeoville, IL
210 AM CDT Tue Apr 4 2023
.UPDATE… Issued at 933 PM CDT Mon Apr 3 2023
Going forecast for the rest of tonight largely is in good shape with below points in AFD all still valid. There have been a few convective cells with 45 dbZ above the -10C height that produced small hail (half inch or less in diameter) and spotty lightning. These have been along the leading edge of a MUCAPE reservoir with as much 1,200 J/kg observed on the 00Z ILX sounding. There also is a fairly high amount of 2-6 km shear with a large looping hodograph at that elevated level. So would not be completely surprised to have an isolated marginal severe storm tonight, more so closer to the stalled surface front located just south of Peoria through Gibson City to West Lafayette. That`s dependent on some storms actually developing between ongoing showers and the front, and thus far any convective attempts there have been meager.
Looking at some of the initial 00Z guidance for Tuesday, all the points listed in the below AFD stand, especially the uncertainties. Will have to watch for scattered elevated cells north of the strengthening warm front during the day that if sustained would have a large hail threat. Some CAM guidance hints at this to be a problem. For the latter afternoon into the evening time, the northwest half of the forecast still looks like the more conditionally favored area, but as of yet no overly strong signals on a solid convective impetus. The overnight shift will take a much deeper dive into this.
MTF/NWS Chicago
&&
.SHORT TERM… Issued at 317 PM CDT Mon Apr 3 2023
Tonight through Pre-Dawn Tuesday:
Key Message and Concern:
* Isolated to widely scattered thunderstorms through tonight, with occasional lightning strikes and downpours the main threats and the strongest cores capable of producing primarily non-severe hail
The strengthening warm and moist advection aloft and associated isentropic ascent north of a sharpening warm front has already yielded scattered showers this afternoon. In addition, there`s modest but sufficient MUCAPE (up to ~100 J/kg per SPC mesoanalysis) for isolated small footprint taller cores to produce small hail (a few reports from the Chicago metro during the 12pm-3pm timeframe) and sporadic lightning strikes.
Shower coverage is expected peak in the evening and early-mid overnight as isentropic ascent continues to ramp up in the presence of sufficient deep moisture. Until a warm EML base arrives late tonight, freezing levels will remain relatively low in the 6-9kft range. Thus, the modest uptick in MUCAPE into the 200-400 J/kg range, highest I-80 and south during peak convective coverage, suggests that isolated to widely scattered t-storms and additional hail producing cells are a decent bet. It appears that even in the presence of 40-50 kt of effective bulk shear, instability will remain low enough to largely (but not completely) preclude a threat for marginally severe hail with the more robust cores, and accordingly, SPC has removed the level 1 severe risk that had been in place for parts of the area. While the quasi-stationary front will be draped over or just south of the southern CWA through the night, it appears that capping should also remain strong enough there to prevent a threat for any rogue organized surface based convection.
Coverage of showers and any lingering thunderstorms should then wane into early Tuesday as 700 mb impulses exit northeast, mid- level moisture drops off, mid-level heights rise, and the aforementioned impressive EML advects across the region, largely capping off elevated parcels from convecting. Increasing and at times gusty northeast winds north of the sharpening front will result in lows in the 40s northern 2/3 or 3/4 of the CWA, with 50s relegated far south. With the warm and moist air mass south of the front shunted well south of the modified marine air mass moving inland plus elevated northeast winds, the potential for fog development was too low for mention in the grids through the night, though some patchy drizzle may develop late as stratus layer deepens.
Castro/NWS Chicago