TUESDAY Hi 70°F around midnight, falling temps 58°F by 4p, showers, mostly cloudy, winds SSE to NE to NNW, 10 to 7 to 12MPH, G16 to 13 to 23MPH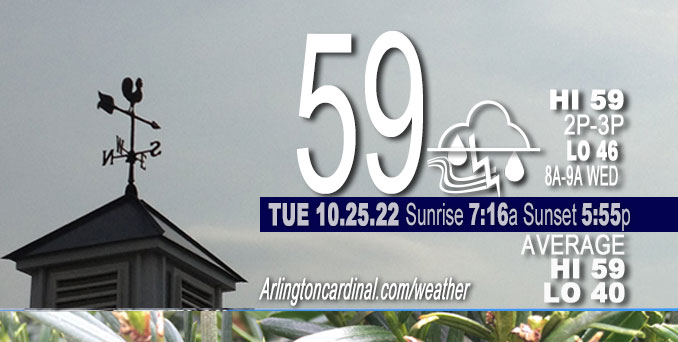 NWS CHGO | NWS HRLY | /NWSchicago | 🌡
ARLINGTON HEIGHTS WEATHER
▴ forecast7 (Arl. Hts.) | RADAR | WIDE RADAR




O'Hare (history KORD, left)
⏪ Hrly Data Table | Hrly Future Graph ⏩
IMPORTANT NOTE ON NWS DATA
Arlington Heights (history KPWK, left)
⏪ Hrly Data Table | Hrly Future Graph ⏩
======================
No watches or warnings issued near O'Hare at 9:00 a.m. Tuesday.
Updates at Arlingtoncardinal.com/NWSChicago
Chicagoland Weather hazards expected…
Today and Tonight.
Weather hazards expected…
Limited Flooding Risk.
Limited Thunderstorm Risk.
Total rain forecast for Arlington Heights9a Tuesday to 8a Wednesday is 1.96 inches with heaviest rainfall likely between 11AM Tuesday and 8AM Wednesday.
NOTES: PREPARE GUTTERS AND STORM DRAINAGE FOR TUESDAY AND TUESDAY NIGHT RAINY PERIOD: Periods of soaking rain will occur in parts of the area Tuesday and Tuesday night. Some of the rainfall could be locally heavy. A storm system will bring waves of soaking rain to portions of the area Tuesday and Tuesday night. Between 1 to 2 inches of rain is expected which may lead to localized flooding due to poor drainage. Make sure downspouts are connected to keep water away from the house to avoid basement flooding. Be sure to clear any leaves from drains.
Hazardous Weather Outlook
National Weather Service Chicago/Romeoville IL
342 AM CDT Tue Oct 25 2022
Winnebago-Boone-McHenry-Lake IL-Ogle-Lee-De Kalb-Kane-DuPage- La Salle-Kendall-Grundy-Kankakee-Livingston-Iroquois-Ford- Northern Cook-Central Cook-Southern Cook-Northern Will- Southern Will-Eastern Will-Lake IN-Porter-Newton-Jasper-Benton- 342 AM CDT Tue Oct 25 2022 /442 AM EDT Tue Oct 25 2022/
This Hazardous Weather Outlook is for portions of North Central Illinois…Northeast Illinois and Northwest Indiana.
.DAY ONE…Today and Tonight.
Weather hazards expected…
Limited Flooding Risk.
Limited Thunderstorm Risk.
DISCUSSION…
Widespread soaking rain, some of which will be heavy, will occur today and tonight. Localized minor flooding may result.
Isolated thunderstorms are also expected in the region late this morning through evening. Severe weather is not anticipated.
Hello mobile users! If you encounter mobile "unfriendly" weather page, turn your phone sideways for a better view.
======================
O'HARE FORECAST …
Forecast Beginning Tuesday, Oct. 25, 2022
Tuesday: Showers. The rain could be heavy at times. Temperature falling to around 58 by 4pm. South wind 5 to 10 mph becoming east northeast in the afternoon. Winds could gust as high as 15 mph. Chance of precipitation is 100%. New precipitation amounts between 1 and 2 inches possible.
Tuesday Night: Showers. The rain could be heavy at times. Low around 46. North wind 10 to 15 mph, with gusts as high as 30 mph. Chance of precipitation is 100%. New precipitation amounts between three quarters and one inch possible.
Wednesday: Showers likely, mainly before 9am. Cloudy through mid morning, then gradual clearing, with a high near 56. Breezy, with a north northwest wind 15 to 20 mph, with gusts as high as 30 mph. Chance of precipitation is 60%. New precipitation amounts of less than a tenth of an inch possible.
Wednesday Night: Mostly clear, with a low around 38. Northwest wind 5 to 10 mph.
Thursday: Partly sunny, with a high near 56. Light and variable wind becoming east 5 to 10 mph in the morning.
Thursday Night: Mostly cloudy, with a low around 44.
Friday: Mostly sunny, with a high near 57.
Friday Night: Mostly clear, with a low around 43.
Saturday: Sunny, with a high near 60.
Saturday Night: Mostly cloudy, with a low around 46.
Sunday: Partly sunny, with a high near 59.
Sunday Night: A chance of showers. Mostly cloudy, with a low around 47.
Monday: Mostly cloudy, with a high near 59.
Weather Forecast, Observations Archive NWS O-Hare
Weather Forecast, Night Sky Archive NWS O-Hare

If you don't see data below this blue header, you are viewing today's current weather while the full day's data is not complete; O'Hare forecast archive and hourly weather observations archive are available HERE on the CARDINAL NEWS Magazine …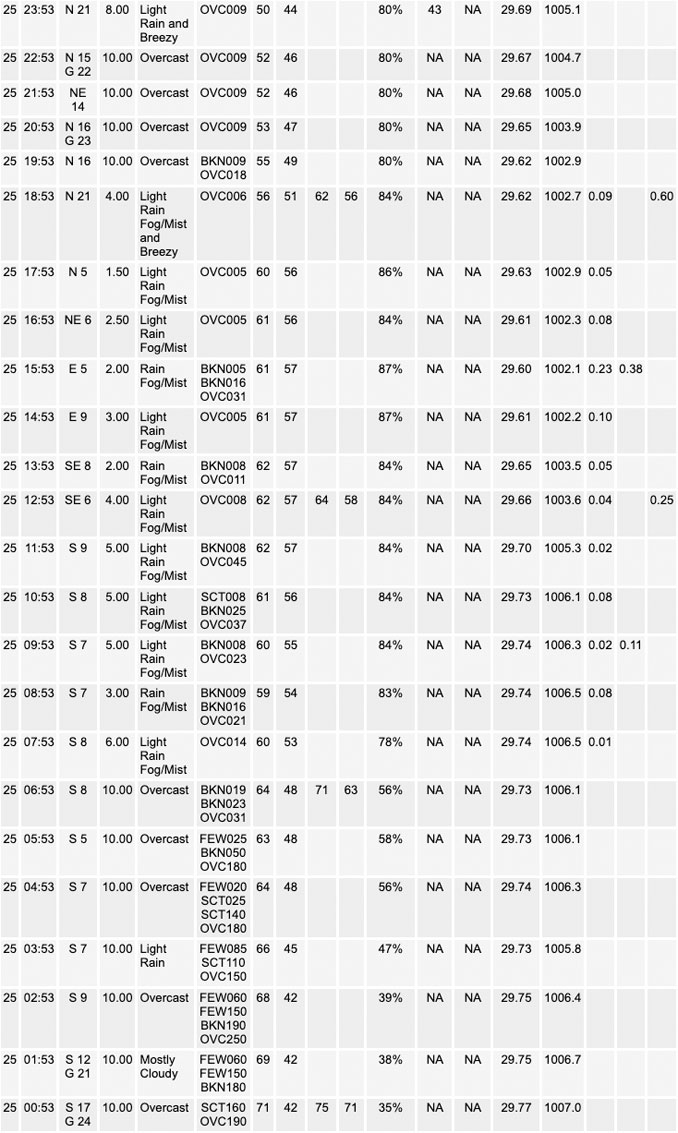 KORD & KPWK Hourly Weather Observations









NORTH AMERICA BELOW (SCROLL ⇩⇩)
Weather WIDE (MOBILE TURN SIDEWAYS)
SPC Convective Outlook on
CHICAGOWEATHERSTATION.COM

ChicagoWeatherStation.com I O'Hare Normal Temps/Precip I O'Hare Record Temps, Precip, Snow
LIVE RADAR | STORM TRACKS | UNISYS US IR SAT | UNISYS Midwest IR SAT | UNISYS More IR SAT
WunderMap® with Temperature/Wind Data || Google: Arlington Heights Area Temps | US TEMPS
Full Screen Motion Weather Radar (Wunderground.com)
Midwest Cloud Cover with Arlington Heights Weather Forecast
ChicagoWeatherStation.com I O'Hare Normal Temps/Precip I O'Hare Record Temps, Precip, Snow
SUNLIGHT DATA FOR SECURITY, TRAFFIC SAFETY, AND SPORTS
SunCalc.net data with solar azimuth and trajectory, times for dawn, sunrise, solar noon, sunset, dusk …
Tweets by @CardinalWeather
NIGHT SKY THIS MONTH …
Backyard stargazers get a monthly guide to the northern hemisphere's skywatching events with "Tonight's Sky." Check the night sky objects for this month and past months in the playlist from the Space Telescope Science Institute YouTube channel (Musical track The Far River written by Jonn Serrie, from the album And the Stars Go With You courtesy of New World Music Ltd).
Get updates from The Cardinal ALL NEWS FEEDS on Facebook. Just 'LIKE' the 'Arlington Cardinal Page (become a fan of our page). The updates cover all posts and sub-category posts from The Cardinal — Arlingtoncardinal.com. You can also limit feeds to specific categories. See all of The Cardinal Facebook fan pages at Arlingtoncardinal.com/about/facebook …

Help fund The Cardinal

Arlingtoncardinal.com/sponsor
Area Forecast Discussion
National Weather Service Chicago/Romeoville, IL
709 AM CDT Tue Oct 25 2022
.SHORT TERM…
Issued at 313 AM CDT Tue Oct 25 2022
Through Wednesday…
A different character to the weather today compared to the last several summer-like days. Key messages are:
* Wet day and night with waves of soaking rain, especially late morning through early evening, when isolated non-severe thunderstorms are also possible; slowed evening commute likely
* Increased confidence in a corridor of rainfall amounts over part of northern Illinois exceeding 2 inches and possibly near 3 inches by early Wednesday morning, while 1 to 2 inches favored elsewhere over the area
* Localized minor flooding potential in areas that see more persistent heavier rates, especially due to leaf-clogged drains
* Temperatures steady in eastern locations today while slowly falling in western locales
A 50 kt low-level jet is over the area early this morning and within this plume of moisture transport are areas of showers. Sporadically, some higher gusts have been mixed down, including a 51 mph gust at Rockford shortly after midnight (and confirmed by the observer). These winds will gradually weaken through shortly after sunrise with the surface cold front slowly easing eastward across northern Illinois. This front`s parent low is over Hudson Bay so the boundary will continue to slow and turn more into a stationary front today in response to the deepening southern stream low across Arkansas. Through mid-morning, areas of showers will continue to translate northward along the frontal zone, and much of this for the morning commute will not be heavy.
GOES-16 water vapor imagery depicts the southern stream neutrally-tilted closed upper low and vigorous 110+ kt jet streak wrapping around its southern periphery over the Southern Plains this morning. As this acquires more of a negative tilt by midday, increased forcing for ascent will spread north over Illinois and western Indiana. Guidance depicts a broadly coupled upper jet structure and a developing baroclinic leaf over the region into the afternoon. With this also drawing re-increased moisture transport into the region, rain will blossom in coverage after 10-11 A.M. The character of this will likely be more stratiform rain with variable intensity over northern Illinois, while more waves of showers east of I-57 into northwest Indiana.
The challenge remains where the heaviest rain axis will become established. Along and to the immediate west of where the surface front stalls will be a vertically-oriented frontal circulation and an enhanced area of moisture convergence at the nose of 30-40 kt low-level flow. While some moisture robbing from convection to the south may occur, that looks to be a moot point by mid- afternoon. So this is the area we and WPC have keyed in on for our forecast highest rainfall placement, and various guidance solutions still show some spread, but almost all indicate a 2+ inch axis oriented south-southwest to north-northeast across our area. The large consensus in somewhere between I-39 and I-57, including a portion if not much of the Chicago metro. Precipitable waters are forecast at 1.5 to 1.6 inches, which are right at record values for late October. In addition, some embedded thunderstorms are possible, especially in the arcs of warm air advection-driven rain showers in the eastern CWA, but these would be moving into the convergence zone. The 00Z HREF guidance (a suite of 00Z CAM solutions) has very localized probability-matched means of the QPF solutions over 3 inches in the heavy axis. Confidence on that magnitude is still on the lower side but enough signal seen to note heavy rainfall at times in the forecast.
Please see the Hydrology Discussion below for a little more, but continue with no ESF or Flood Watch based on the dry antecedent conditions, low river streamflows, and anticipated duration of heavier rainfall rates. Again would not be surprised at all to have some minor flooding in locations where drainage is blocked and then briefly overwhelmed, and this would likely overlap the evening commute.
Should also note regarding the thunder, that it`s possible some stronger storms due to some lower-rooted instability make it north near the Illinois/Indiana border region toward our far southeast forecast area. This is based more on pattern recognition than any model necessarily showing low-level CAPE. It`s an outside chance of some gustier storms late day/early evening there, but wanted to note that.
For tonight, the system deformation will continue rain over the area, though mid-level dry protrusion is expected at least into the southeast forecast area. It`s possible the deformation rain becomes quite narrow depending on how this dry wedge wraps in. It`s difficult to say and a lot of spread in model solutions on this evolution. Have continued some rain mention all the way into early Wednesday morning for eastern locations. Some of this will probably continue to be at least briefly heavy.
As for other weather with this system, some fog is possible, but the rain looks frequent enough that fog to the degree of impacting the public looks quite limited. The exceptions might be the southeast forecast area where the low is expected to track over, and near the immediate lakeshore if marine fog can develo Pwith mid to upper 50s dew points over lower 50s water temperatures.
Behind the departing low late tonight into Wednesday, cold advection will enhance with northwesterly winds gusting to 25 to 35 mph. Some gusts to 40 mph will probably be seen near the Indiana lakeshore. This will usher in drier air and confidence is high in sunshine by late morning to midday Wednesday. Highs should be close to normal, ending a six day stretch of highs above normal at that point.
MTF/NWS Chicago