SATURDAY Hi 27, mostly cloudy some clearing after 4p, snow showers, winds SW to WNW, 20 to 10 to 14 MPH, G29 to 37 to 22 MPH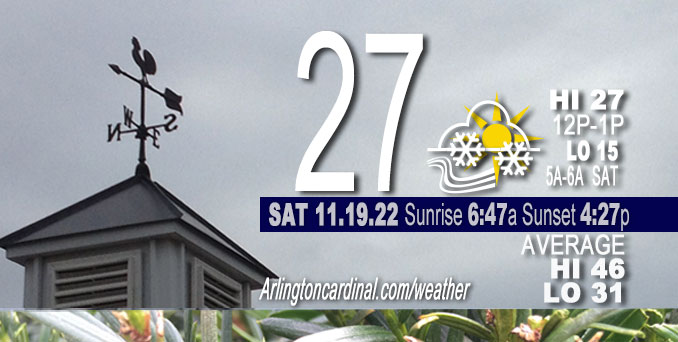 NWS CHGO | NWS HRLY | /NWSchicago | 🌡
ARLINGTON HEIGHTS WEATHER
▴ forecast7 (Arl. Hts.) | RADAR | WIDE RADAR




O'Hare (history KORD, left)
⏪ Hrly Data Table | Hrly Future Graph ⏩
IMPORTANT NOTE ON NWS DATA
Arlington Heights (history KPWK, left)
⏪ Hrly Data Table | Hrly Future Graph ⏩
======================
Saturday and Saturday Night …
Weather hazards expected…
This Hazardous Weather Outlook is for portions of North Central Illinois…Northeast Illinois and Northwest Indiana.
Limited Snow Risk.
Limited Non Thunderstorm Wind Risk.
Limited Excessive Cold Risk Tonight.
DISCUSSION…
Scattered snow showers are expected today into early this evening. The heavier snow showers will lead to reduced visibilities, and a few areas could pick up a quick coating to an inch of accumulation.
In addition, winds could gust up to 35 mph at times Saturday.
Wind chills Saturday Night/Sunday Morning are expected to drop below zero over portions of northern Illinois, mainly around and west of the Fox River Valley.
Sunday morning forecast for Arlington Heights predicts a drop to 14°F around 5:00 a.m. with a wind chill down to 2°F. A windchill of 1°F is forecast earlier with higher winds around 2:00 a.m.
Saturday's forecast low 20°F with windchill down to 7°F was on target at NWS Chicago O'Hare except a windchill of 4°F was recorded at 5:51 a.m. CARDINAL NEWS had an unofficial low reading of 18.9°F around 5:00 a.m.
======================
O'HARE FORECAST …
Forecast Beginning Saturday, Nov. 19, 2022
Saturday: Light snow likely with scattered snow showers. Cloudy, with a high near 27. Breezy, with a west wind around 20 mph, with gusts as high as 30 mph. Chance of precipitation is 60%. Total daytime snow accumulation of less than a half inch possible.
Saturday Night: Light snow likely with isolated snow showers before 9pm. Mostly cloudy, then gradually becoming mostly clear, with a low around 14. Wind chill values as low as 1. Blustery, with a west northwest wind 10 to 20 mph, with gusts as high as 30 mph. Chance of precipitation is 60%. Little or no snow accumulation expected.
Sunday: Sunny, with a high near 31. South southwest wind 10 to 15 mph, with gusts as high as 25 mph.
Sunday Night: Partly cloudy, with a low around 27. Southwest wind around 15 mph, with gusts as high as 30 mph.
Monday: Sunny, with a high near 42. Southwest wind 10 to 15 mph becoming west northwest in the afternoon. Winds could gust as high as 30 mph.
Monday Night: Mostly clear, with a low around 25.
Tuesday: Sunny, with a high near 46.
Tuesday Night: Partly cloudy, with a low around 30.
Wednesday: Mostly sunny, with a high near 47.
Wednesday Night: Mostly cloudy, with a low around 34.
Thanksgiving Day: Mostly cloudy, with a high near 45.
Thursday Night: A chance of rain and snow. Mostly cloudy, with a low around 31.
Friday: A chance of rain and snow. Mostly cloudy, with a high near 39.
Weather Forecast, Observations Archive NWS O-Hare
Weather Forecast, Night Sky Archive NWS O-Hare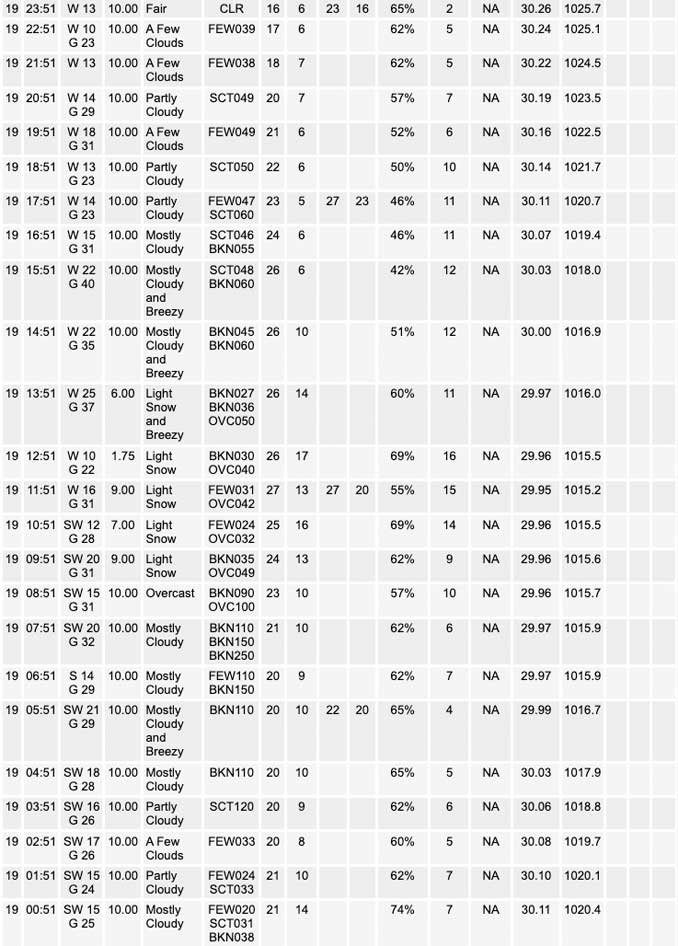 KORD & KPWK Hourly Weather Observations









NORTH AMERICA BELOW (SCROLL ⇩⇩)
Weather WIDE (MOBILE TURN SIDEWAYS)
SPC Convective Outlook on
CHICAGOWEATHERSTATION.COM

ChicagoWeatherStation.com I O'Hare Normal Temps/Precip I O'Hare Record Temps, Precip, Snow
LIVE RADAR | STORM TRACKS | UNISYS US IR SAT | UNISYS Midwest IR SAT | UNISYS More IR SAT
WunderMap® with Temperature/Wind Data || Google: Arlington Heights Area Temps | US TEMPS
Full Screen Motion Weather Radar (Wunderground.com)
Midwest Cloud Cover with Arlington Heights Weather Forecast
ChicagoWeatherStation.com I O'Hare Normal Temps/Precip I O'Hare Record Temps, Precip, Snow
SUNLIGHT DATA FOR SECURITY, TRAFFIC SAFETY, AND SPORTS
SunCalc.net data with solar azimuth and trajectory, times for dawn, sunrise, solar noon, sunset, dusk …
Tweets by @CardinalWeather
NIGHT SKY THIS MONTH …
Backyard stargazers get a monthly guide to the northern hemisphere's skywatching events with "Tonight's Sky." Check the night sky objects for this month and past months in the playlist from the Space Telescope Science Institute YouTube channel (Musical track The Far River written by Jonn Serrie, from the album And the Stars Go With You courtesy of New World Music Ltd).
Get updates from The Cardinal ALL NEWS FEEDS on Facebook. Just 'LIKE' the 'Arlington Cardinal Page (become a fan of our page). The updates cover all posts and sub-category posts from The Cardinal — Arlingtoncardinal.com. You can also limit feeds to specific categories. See all of The Cardinal Facebook fan pages at Arlingtoncardinal.com/about/facebook …

Help fund The Cardinal

Arlingtoncardinal.com/sponsor
Area Forecast Discussion
National Weather Service Chicago/Romeoville, IL
535 AM CST Sat Nov 19 2022
.SHORT TERM… Issued at 230 AM CST Sat Nov 19 2022
Through Sunday…
Skies are clearing up early this morning following an area of snow showers that has just about made its way off to our east as of 2AM. This is the result of a narrow pocket of low level dry air ahead of an additional moisture plume tied to an approaching low level trough axis. We`re already beginning to see more clouds move over the Rockford area as this next plume inches in. Clouds will continue to build across the area through the morning and into the afternoon. Underneath the low level trough is a weak occluded front that is slated to push through the CWA mid to late morning. While forcing along the boundary alone should be nothing special, any additional lift through a low-lying, saturated DGZ featuring localized pockets of low level vorticity along the trough and some modest synoptic- scale UVM will only aid in the production of a line of snow showers. Whether such a line develops is still up for debate among high-res models, though given the thermodynamic and kinematic environment within the trough, I`d say there`s a good chance of a line of at least light snow showers riding the front through the CWA, particularly over areas near and west of I-55. Following frontal passage, continued steep lapse rates through the DGZ in the CAA regime with ample moisture and help from frontal forcing with a tightening surface temperature gradient should make it fairly easy for areas of flurries and light snow showers to develop through the afternoon. Snow chances should depart the area to the east through this evening.
In addition to the snow chances, today will be a cold and windy start to the weekend. Some moderate gradient flow ahead of the impending surface trough and a mixed channel extending up to around 950mb is resulting in some gusty winds early this morning. This is pulling wind chills down into the single digits. Following several more hours of radiational cooling including a period of clear skies, wind chills by daybreak will drop even further getting into the lower single digits for most. Mixing up to around 800mb by later this morning will bring 30+ mph gusts to the area for a good chunk of the day keeping midday wind chills in the lower and middle teens.
High pressure and subsidence building underneath the windward side of the trough should dry out our atmosphere tonight and lead to clear skies tonight and lots of sun on Sunday. The clear skies and continued breezy conditions tonight will result in wind chills near or even a couple of degrees below zero by sunrise on Sunday. However, steady height rises aloft and "mild" return flow on the backside of a surface High, on top of the sunshine, will allow temperatures to warm up a few degrees from Saturday. The dry profile should keep the snow away for the latter half of the weekend.
Doom/NWS Chicago