WEDNESDAY Hi 35, mostly cloudy, snow showers, winds W to NW to W, 7 to 10 to 8 MPH, G14 to 15 MPH, 1p to 3p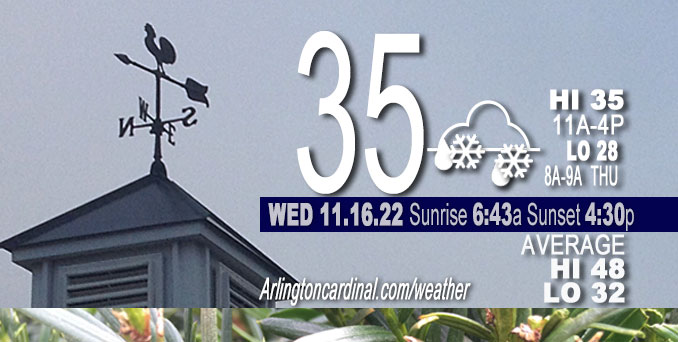 NWS CHGO | NWS HRLY | /NWSchicago | 🌡
ARLINGTON HEIGHTS WEATHER
▴ forecast7 (Arl. Hts.) | RADAR | WIDE RADAR




O'Hare (history KORD, left)
⏪ Hrly Data Table | Hrly Future Graph ⏩
IMPORTANT NOTE ON NWS DATA
Arlington Heights (history KPWK, left)
⏪ Hrly Data Table | Hrly Future Graph ⏩
======================
Wednesday and Wednesday Night …
Weather hazards expected…
Limited Snow Risk Wednesday and Thursday.
Limited Excessive Cold Risk Saturday Night/Sunday Morning
DISCUSSION…
Snow showers forecast to develop Wednesday morning and afternoon. Some snow showers will produce brief bursts of heavy snow resulting in sharply reduced visibilities. While main roads are expected to remain wet, patchy slick spots and quick coatings are possible on elevated and grassy surfaces. Snow showers will diminish in coverage through the evening.
Lake effect snow is expected across parts of northwest Indiana. Uncertainty in the placement of this band continues, but the potential for a several inches of slushy accumulations exists this afternoon and evening across far northeastern portions of Porter County.
======================
O'HARE FORECAST …
Forecast Beginning Wednesday, Nov. 16, 2022
Wednesday: Scattered snow showers before 11am, then snow showers likely, possibly mixed with rain between 11am and 5pm, then scattered snow showers after 5pm. Cloudy, with a high near 35. West wind 5 to 10 mph, with gusts as high as 15 mph. Chance of precipitation is 70%. New snow accumulation of less than one inch possible.
Wednesday Night: Isolated snow showers before 9pm, then scattered flurries after 9pm. Mostly cloudy, with a low around 28. West wind around 10 mph. Chance of precipitation is 20%.
Thursday: A chance of flurries before noon, then a chance of snow showers, mainly after 3pm. Cloudy, with a high near 34. West southwest wind 10 to 15 mph, with gusts as high as 25 mph. Chance of precipitation is 30%.
Thursday Night: A 20 percent chance of snow before midnight. Mostly cloudy, with a low around 20. West wind around 15 mph, with gusts as high as 20 mph.
Friday: Mostly cloudy, with a high near 27.
Friday Night: Mostly cloudy, with a low around 16.
Saturday: Mostly cloudy, with a high near 29.
Saturday Night: Mostly cloudy, with a low around 12.
Sunday: Sunny, with a high near 25.
Sunday Night: Partly cloudy, with a low around 19.
Monday: Sunny, with a high near 39.
Monday Night: Mostly clear, with a low around 25.
Tuesday: Mostly sunny, with a high near 42.
Weather Forecast, Observations Archive NWS O-Hare
Weather Forecast, Night Sky Archive NWS O-Hare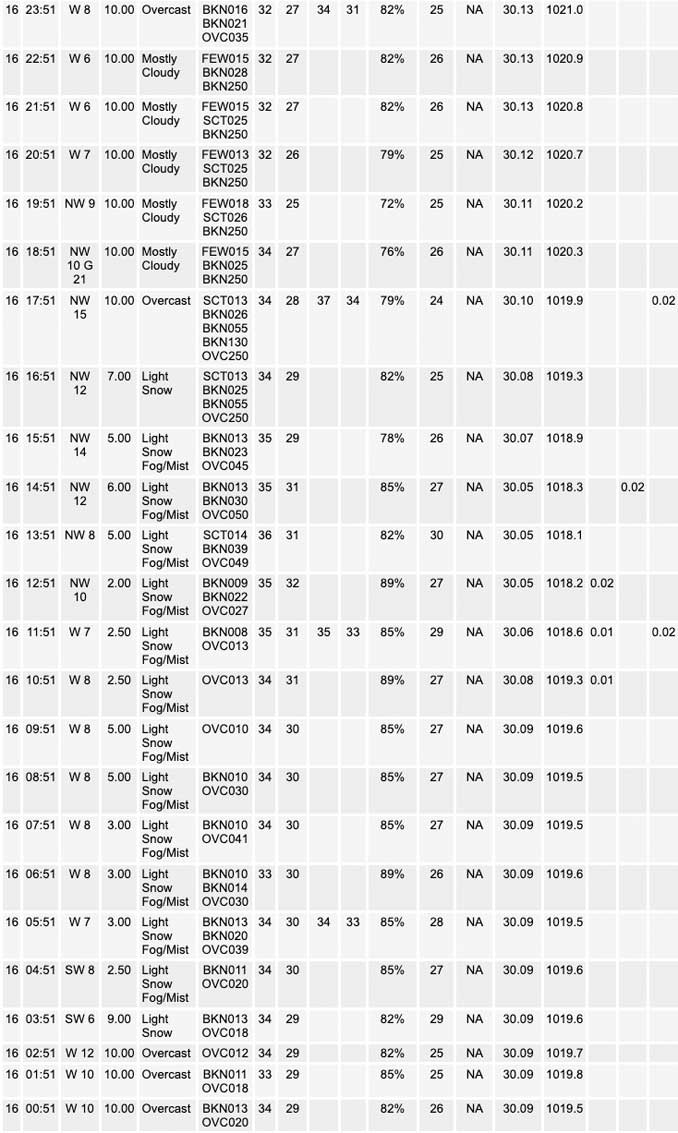 KORD & KPWK Hourly Weather Observations









NORTH AMERICA BELOW (SCROLL ⇩⇩)
Weather WIDE (MOBILE TURN SIDEWAYS)
SPC Convective Outlook on
CHICAGOWEATHERSTATION.COM

ChicagoWeatherStation.com I O'Hare Normal Temps/Precip I O'Hare Record Temps, Precip, Snow
LIVE RADAR | STORM TRACKS | UNISYS US IR SAT | UNISYS Midwest IR SAT | UNISYS More IR SAT
WunderMap® with Temperature/Wind Data || Google: Arlington Heights Area Temps | US TEMPS
Full Screen Motion Weather Radar (Wunderground.com)
Midwest Cloud Cover with Arlington Heights Weather Forecast
ChicagoWeatherStation.com I O'Hare Normal Temps/Precip I O'Hare Record Temps, Precip, Snow
SUNLIGHT DATA FOR SECURITY, TRAFFIC SAFETY, AND SPORTS
SunCalc.net data with solar azimuth and trajectory, times for dawn, sunrise, solar noon, sunset, dusk …
Tweets by @CardinalWeather
NIGHT SKY THIS MONTH …
Backyard stargazers get a monthly guide to the northern hemisphere's skywatching events with "Tonight's Sky." Check the night sky objects for this month and past months in the playlist from the Space Telescope Science Institute YouTube channel (Musical track The Far River written by Jonn Serrie, from the album And the Stars Go With You courtesy of New World Music Ltd).
Get updates from The Cardinal ALL NEWS FEEDS on Facebook. Just 'LIKE' the 'Arlington Cardinal Page (become a fan of our page). The updates cover all posts and sub-category posts from The Cardinal — Arlingtoncardinal.com. You can also limit feeds to specific categories. See all of The Cardinal Facebook fan pages at Arlingtoncardinal.com/about/facebook …

Help fund The Cardinal

Arlingtoncardinal.com/sponsor
Area Forecast Discussion
National Weather Service Chicago/Romeoville, IL
231 AM CST Wed Nov 16 2022
.SHORT TERM… Issued at 223 AM CST Wed Nov 16 2022
Through Thursday…
The key messages through Thursday are …
– Increasing coverage of snow showers/squalls this afternoon through late-evening. Some will produce bursts of heavy snow, resulting in brief significant visibility reductions and quick coatings of snow on grass and elevated surfaces.
– Developing lake effect snow into NW Indiana this afternoon and evening. Threat for transient, heavy snowfall to develop very near the Porter/La Porte county line. Some consideration was given for a Winter Weather Advisory for Porter County.
– Additional potential for isolated, gusty snow showers late Thursday afternoon.
Our primary weather driver today is a potent vort lobe spiraling slowly eastward into Iowa. While we`ve temporarily lost deeper saturation (in between systems), forecast soundings reveal the depth of saturation will increase through the morning as this aforementioned wave approaches. Lapse rates are forecast to steepen appreciably through a fairly deep layer in response, and this may allow surface-based CAPE to inch as high as 50-100 J/kg. These values are actually fairly impressive for an airmass with surface temperatures in the 30s, and with such a deeply-saturated column ahead of a robust mid-level perturbation, it looks like there`s a pretty good chance that some beefier snow showers develop this afternoon. Maximized UVVs just under the heart of the DGZ today, but the presence of positive CAPE may offset this, and think some larger dendrites are a good bet with deeper updrafts. Suppose, as well, that a stray lightning strike can`t be ruled out.
If winds within the mixed boundary layer were a smidge higher, would be much more concerned with the threat for widespread snow squalls. We`re just maybe a step down from that with mean 0-2 km flow under about 15 kts. Still, the signal in guidance today is impressive, showing embedded visibilities under a half mile, with intensity and coverage maximizing roughly 2 to 7 PM. Mid 30s air temperatures will limit any roadway accumulations, but quick accumulations on grass and elevated surfaces seem probable, and wouldn`t be surprised for some "streaky" amounts over an inch in short order. Will be messaging this a bit harder in today`s graphical suite. Snow showers will likely persist through the evening, but will diminish in coverage and intensity with time.
The other conundrum for later today and tonight is lake effect. LES parameters look very respectable, with lake-induced ELs growing upwards to 15 kft this afternoon and evening. Main question (as usual!) is where any meso-low and associated enhanced convergent axis sets up. The signal for this is very close to the eastern fringes of our CWA, right along the Porter/La Porte county line. While influences from the mild lake will likely curtail accumulations at the immediate lakeshore, snowfall rates within the heart of the LES band will easily eclipse 1 to 2 inches per hour and will readily accumulate on bridges, overpasses, and untreated surfaces (and eventually even main thoroughfares). These high rates, however, are a must for any travel impacts due to the marginal surface temperatures, and the greatest signal for this remains immediately east of our CWA, but it looks to be very close. Did give some consideration this morning for a Winter Weather Advisory for Porter County (really only for areas east of State Route 49 and north of Route 2), but just not enough confidence LES will set up in the vicinity to justify at this time. Day shift will have to keep a very close eye on radar and satellite trends today.
Tonight, there`s perhaps a small signal for some patchy freezing drizzle as the parent vort wave departs and we again lose deeper saturation. Not nearly strong enough of a signal though for a mention in the gridded forecast.
Another vigorous wave pushes into the area late Thursday afternoon. This one looks a little more moisture starved than today`s, but winds are stronger. Snow Squall parameter output on some guidance gets pretty elevated (3+ in spots) during the late afternoon. Snow shower coverage remains in questions, but did throw some "chance" pops across northern Illinois with slights farther south.
Carlaw/NWS Chicago