Saturday Hi 30, snow, 3″ by 5a Sunday, cloudy, winds WNW to N to NE, 1 to 15 MPH, G13 to 23 MPH, 2p into Sunday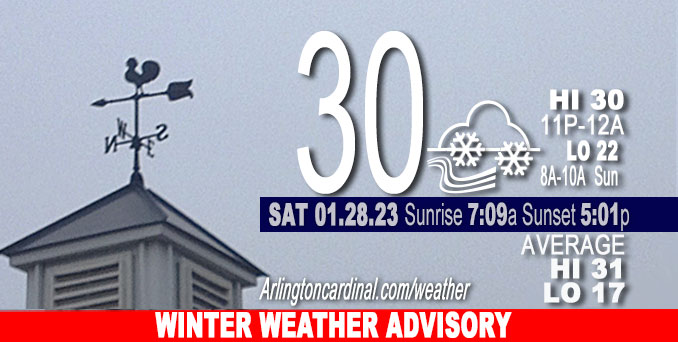 NWS CHGO | NWS HRLY | /NWSchicago | 🌡
ARLINGTON HEIGHTS WEATHER
▴ forecast7 (Arl. Hts.) | RADAR | WIDE RADAR




O'Hare (history KORD, left)
⏪ Hrly Data Table | Hrly Future Graph ⏩
IMPORTANT NOTE ON NWS DATA
Arlington Heights (history KPWK, left)
⏪ Hrly Data Table | Hrly Future Graph ⏩
======================
Saturday and Saturday Night …
Weather Hazards expected …
Elevated Snow Risk.
Elevated Ice Accumulation Risk.
DISCUSSION…
Accumulating snow is likely Saturday, Saturday night and early Sunday morning, especially north of I-80. The heaviest snowfall totals are expected north toward the Wisconsin border. Freezing rain is possible tonight, mainly near and south of I-80 where some ice accumulations is likely. By Sunday before sunrise, expect about 3.0 inches new snow accumulation south and 3.4 inches north in Arlington Heights. Expect snow accumulations of 4.8 inches in Antioch, 4.8 inches in Zion, and 4.6 inches in Harvard, Illinois. The highest snowfall rates in Arlington Heights, Antioch, Zion and Harvard are forecast to occur between 11:00 a.m. and 11:00 p.m. Saturday.
Less snow is forecast in south Chicagoland. Total snow accumulation of 1.8 inches is forecast for Naperville.
Snow accumulation forecasts have trended downward in the past 24 hours. There is significant uncertainty regarding the type of precipitation that will occur near I-80 with a warm front that could advance north more than expected. Weather watching will be interesting Saturday to see if snow accumulation outcome in Chicagoland continues to trend downward.
Snow-to-liquid ratios are forecast to be 10:1 (wet, heavy) south and 15:1 (drier, light) north.
The normal daily low temperature is now rising, beginning an increase from 16 to 17°F Saturday. The normal daily high increases from 31°F to 32°F in three days. We're gaining about 2 minutes of daylight every day in the progression toward vernal equinox, March 20, 2023. Sunset passed the milestone of 5:00 p.m. yesterday and is 5:01 p.m. today, Saturday.
======================
O'HARE FORECAST …
Forecast Beginning Saturday, Jan. 28, 2023
WINTER WEATHER ADVISORY IN EFFECT FROM 9 AM SATURDAY MORNING TO 3 AM CST SUNDAY…
Saturday: Snow likely, mainly after 11am. Cloudy, with a high near 29. Light and variable wind becoming east northeast 10 to 15 mph in the afternoon. Chance of precipitation is 70%. Total daytime snow accumulation of less than one inch possible.
Saturday Night: Snow before 9pm, then snow, possibly mixed with freezing rain between 9pm and 1am, then snow likely after 1am. Low around 22. North northeast wind around 15 mph, with gusts as high as 25 mph. Chance of precipitation is 90%. Little or no ice accumulation expected. New snow accumulation of 1 to 3 inches possible.
Sunday: A 20 percent chance of snow showers before 9am. Mostly cloudy, with a high near 25. North wind 10 to 15 mph, with gusts as high as 25 mph.
Sunday Night: A chance of flurries. Mostly cloudy, with a low around 11. Wind chill values as low as -1. North northwest wind around 10 mph, with gusts as high as 15 mph.
Monday: Mostly cloudy, with a high near 14. Northwest wind 10 to 15 mph, with gusts as high as 20 mph.
Monday Night: Partly cloudy, with a low around -3.
Tuesday: Sunny, with a high near 14.
Tuesday Night: Mostly clear, with a low around 4.
Wednesday: Partly sunny, with a high near 24.
Wednesday Night: Mostly cloudy, with a low around 10.
Thursday: Mostly sunny, with a high near 23.
Thursday Night: Partly cloudy, with a low around 5.
Friday: Mostly sunny, with a high near 22.
Weather Forecast, Observations Archive NWS O-Hare
Weather Forecast, Night Sky Archive NWS O-Hare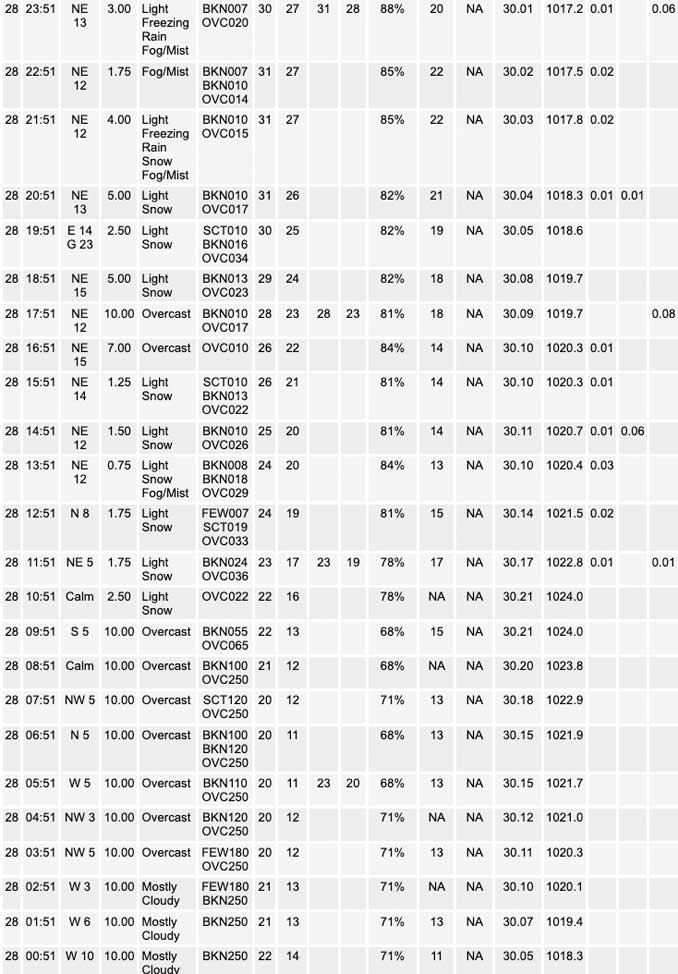 KORD & KPWK Hourly Weather Observations









NORTH AMERICA BELOW (SCROLL ⇩⇩)
Weather WIDE (MOBILE TURN SIDEWAYS)
SPC Convective Outlook on
CHICAGOWEATHERSTATION.COM

ChicagoWeatherStation.com I O'Hare Normal Temps/Precip I O'Hare Record Temps, Precip, Snow
LIVE RADAR | STORM TRACKS | UNISYS US IR SAT | UNISYS Midwest IR SAT | UNISYS More IR SAT
WunderMap® with Temperature/Wind Data || Google: Arlington Heights Area Temps | US TEMPS
Full Screen Motion Weather Radar (Wunderground.com)
Midwest Cloud Cover with Arlington Heights Weather Forecast
ChicagoWeatherStation.com I O'Hare Normal Temps/Precip I O'Hare Record Temps, Precip, Snow
SUNLIGHT DATA FOR SECURITY, TRAFFIC SAFETY, AND SPORTS
SunCalc.net data with solar azimuth and trajectory, times for dawn, sunrise, solar noon, sunset, dusk …
Tweets by @CardinalWeather
NIGHT SKY THIS MONTH …
Backyard stargazers get a monthly guide to the northern hemisphere's skywatching events with "Tonight's Sky." Check the night sky objects for this month and past months in the playlist from the Space Telescope Science Institute YouTube channel (Musical track The Far River written by Jonn Serrie, from the album And the Stars Go With You courtesy of New World Music Ltd).
Get updates from The Cardinal ALL NEWS FEEDS on Facebook. Just 'LIKE' the 'Arlington Cardinal Page (become a fan of our page). The updates cover all posts and sub-category posts from The Cardinal — Arlingtoncardinal.com. You can also limit feeds to specific categories. See all of The Cardinal Facebook fan pages at Arlingtoncardinal.com/about/facebook …

Help fund The Cardinal

Arlingtoncardinal.com/sponsor
Area Forecast Discussion
National Weather Service Chicago/Romeoville, IL
543 AM CST Fri Jan 27 2023
.SHORT TERM… Issued at 304 AM CST Fri Jan 27 2023
Through tonight…
Water vapor imagery early this morning shows mid-upper level trough digging into the northern and central Plains and heading for the mid-upper Mississippi Valley. A couple well defined, potent looking vorts are embedded within the broader trough, the southern most one over eastern South Dakota will be our problem maker today. Thursday evening RAOBS and SPC mesoanalysis both show a large area of steep mid-upper level lapse rates associated with this trough, and its these lapse rates that are supporting the convective looking precip across MN and IA early this morning.
The forcing associated with the trough and in particular the strong vort over eastern SD will quickly overspread northern IL later this morning. While time/height cross sections suggest the strongest ascent will be above the dendritic growth zone (DGZ), the steep lapse suggest some convective enhancement is pretty likely and could result in more impressive ascent, including through the DGZ. With temps initially solidly below freezing, there should be a band of wind driven accumulating snow moving across the area later this morning into the afternoon.
Initially low level dry air will need to be overcome; the stronger forcing is progged to be over our northern CWA where we`ve continued with categorical pops. Over southern CWA, forcing isn`t progged to be quite as strong and it is more questionable if the dry low level air will be overcome, so maintained high end chance pops there. Looking upstream, similar scenario is playing out over southern IA with CIGS remaining high and fewer reports of precip.
While snow could fall rather heavily for a time with this initial band, the duration looks to be fairly short, likely limiting accumulations to less than in inch. Strong winds will accompany this band of snow with gusts of 30 to 40 mph appearing fairly likely. The strong winds will result in blowing snow and further lowering visibility during the snow. Plan to freshen up and reissue the SPS for this snow/wind.
More showery precipitation is expected to continue in the wake of the initial band behind the north-south oriented warm front and ahead of the cold front that will be fast on the heels of the warm front. Maintained mostly snow showers in the forecast for this afternoon, but it is possible that there could be some rain showers or ice pellets with the early afternoon shower activity as far north perhaps the I-88/I-290 corridors. Day shift will need to monitor trends and may need to make adjustments accordingly.
Mid-upper levels quickly dry out in the wake of this trough passage later this afternoon resulting in an end to the precipitation. Could briefly see some breaks in the clouds tonight before mid-high cloudiness ahead of the next wave move in. Winds will quickly diminish tonight, but cloud cover should keep temps more in check tonight vs what we`re seeing early this morning with clear skies.
– Izzi/NWS Chicago