🌒 🌓 🌕 🌗 Waxing Crescent Moon, rain, sky cover overnight Wed. to Thu. 100% to 84% to 96%, winds NE to E to ESE, 11 to 18 to 17 MPH, G23 to 29 to 17 MPH end 4a Thursday, Low 34, 12a to 5a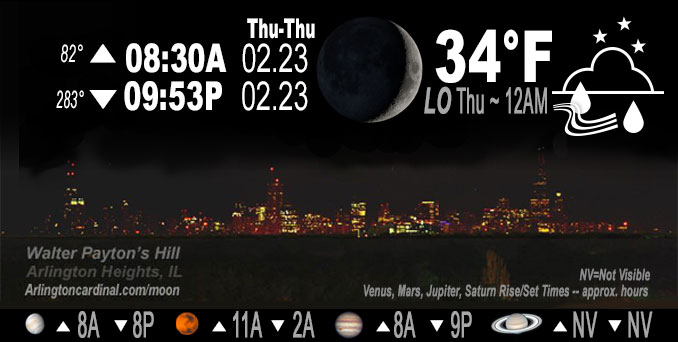 NWS CHGO | NWS HRLY | /NWSchicago | 🌡
ARLINGTON HEIGHTS WEATHER
▴ forecast7 (Arl. Hts.) | RADAR | WIDE RADAR
⏪ Hrly Data Table | Hrly Future Graph ⏩
IMPORTANT NOTE ON NWS DATA
======================
NIGHT FORECASTS …
NOTE: Keep in mind lunar rise and set times don't always correspond with night weather and early morning lows because on some days during the month the moon is visible in the sky predominantly during the daytime hours.
Overnight Wednesday/Thursday …
Weather Hazards expected
Elevated Flooding Risk Wednesday afternoon and evening.
Elevated Ice Accumulation Risk in far northern Illinois.
Limited Sleet Risk in far northern Illinois.
Limited Thunderstorm Risk Wednesday afternoon and evening.
Limited Non Thunderstorm Wind Risk.
DISCUSSION…
By Thursday morning, the storm will have just about cleared the area. A secondary low pushing across the CWA is expected to have some stratiform precip riding its northern flank, some of which may fall on the northern part of the area through the morning. With very shallow saturation, any precip that does fall should be very light. Thermal profiles from forecast soundings would suggest primarily rain, though some snow may get mixed in there if we can saturate deep enough to introduce some cloud ice.
Hello mobile users! If you encounter mobile "unfriendly" weather page, turn your phone sideways for a better view.
======================
O'HARE FORECAST …
Forecast Beginning Wednesday Night, Feb. 22, 2023 …
Wednesday Night: Rain, mainly before midnight. Low around 33. Breezy, with a northeast wind 15 to 20 mph, with gusts as high as 30 mph. Chance of precipitation is 90%. New precipitation amounts between a tenth and quarter of an inch possible.
Thursday: Mostly cloudy, with a high near 42. Breezy, with a south southwest wind 10 to 15 mph becoming west southwest 20 to 25 mph in the morning. Winds could gust as high as 45 mph.
Thursday Night: Mostly cloudy, with a low around 17. Breezy, with a west northwest wind 10 to 20 mph, with gusts as high as 35 mph.
Friday: Partly sunny, with a high near 27. Northwest wind 5 to 10 mph becoming east northeast in the afternoon.
Friday Night: A 20 percent chance of snow. Cloudy, with a low around 23.
Saturday: Mostly sunny, with a high near 40.
Saturday Night: Mostly clear, with a low around 28.
Sunday: Sunny, with a high near 45.
Sunday Night: Rain likely after midnight. Mostly cloudy, with a low around 37.
Monday: Rain. Mostly cloudy, with a high near 53. Breezy.
Monday Night: A chance of rain. Mostly cloudy, with a low around 31. Breezy.
Tuesday: Sunny, with a high near 43. Breezy.
Weather Forecast, Night Sky Archive NWS O-Hare
Weather Forecast, Observations Archive NWS O-Hare
O'Hare forecast archive and hourly weather observations archive are available HERE on the CARDINAL NEWS Magazine.
KORD/KPWK Hourly Weather Observations
Arlingtoncardinal.com/moonphases
Arlingtoncardinal.com/nightsky
NIGHT SKY THIS MONTH …
Check the night sky objects for this month and past months in the playlist from the Space Telescope Science Institute YouTube channel Backyard stargazers get a monthly guide to the northern hemisphere's skywatching events with "Tonight's Sky" (Musical track The Far River written by Jonn Serrie, from the album And the Stars Go With You courtesy of New World Music Ltd. Musical track The Far River written by Jonn Serrie, from the album And the Stars Go With You courtesy of New World Music Ltd).
Telephoto lens, ISO 100, f/11, Shutter Speed 1/100 to 1/125 for the Moon.
Get updates from The Cardinal ALL NEWS FEEDS on Facebook. Just 'LIKE' the 'Arlington Cardinal Page (become a fan of our page). The updates cover all posts and sub-category posts from The Cardinal — Arlingtoncardinal.com. You can also limit feeds to specific categories. See all of The Cardinal Facebook fan pages at Arlingtoncardinal.com/about/facebook …

Help fund The Cardinal

Arlingtoncardinal.com/sponsor
Telephoto lens, ISO 1600, f/11, Shutter Speed 2.5″ for the skyline. The skyline exposure was toned down, and brightness and contrast was adjusted in Photoshop.
Area Forecast Discussion
National Weather Service Chicago/Romeoville, IL
259 AM CST Thu Feb 23 2023
.SHORT TERM… Issued at 259 AM CST Thu Feb 23 2023
Through Friday…
Main concerns during the short term period:
* Threat of dense fog early this morning.
* Threat of additional icing has ended, but with gusty westerly winds expected in the wake of a cold front later this morning, impacts could linger from yesterdays significant icing across far northern IL.
A secondary surface low currently centered over southeastern IA is set to lift northeastward across northern IL early this morning, then across Lower Michigan into this afternoon. This particular track will favor the warm sector (temperatures well into the 40s to around 50) to briefly lift northeastward across my southeastern counties this morning just ahead of the systems cold front. This cold front is expected to quickly sweep eastward across the area later this morning, with winds becoming gusty (u Pto 35 mph) from the west in its wake. Early morning highs will range from the mid 30s far north and northwest, to around 50 in my far southeastern areas. Temperatures will then fall back through the 30s through the afternoon as a colder airmass begins to shift into the area.
Aside from a stray light shower or area of drizzle this morning with the approaching warm front, our precipitation has largely come to an end. Otherwise, any lingering precipitation today will be largely focused north of the area, with only a small change for a few light snow showers or flurries across far northeastern IL early this evening. With our threat of additional freezing precipitation essentially over, we have opted to end the winter headlines a couple hours early this morning. While this is the case, one thing of note is the possibility of lingering impacts from yesterdays significant icing across far northern IL, particularly later this morning as westerly winds increase. Fortunately it appears surface temperatures will warm a couple of degrees above freezing, at least for a brief period, early this morning before the cold front arrives. This may just be enough to help any lingering ice melt and fall off of tree limbs and power lines prior to the onset of the westerly winds. However, any lingering ice that survives early this morning will be susceptible to causing additional downed tree limbs and possible power outages due to increasing stress from the gusty westerly winds expected later this morning. We plan to message this possibility in our IDSS graphics.
The only other concern early this morning is the threat of a short period of dense fog in advance of the approaching surface low and warm front. We are already seeing sub mile visibilities develop across southern sections of the area in the vicinity of this warm front, and this fog is likely to continue developing northward across most of the area prior to daybreak. Fortunately the threat of dense fog will be short lived, but I cannot rule out the need for a short fused fog advisory for parts of the area. We will continue to monitor trends for this possibility.
A period of quieter, but colder weather is expected tonight and on Friday in advance of our next weather disturbance approaching the area Friday evening. Temperatures tonight will be chilly, with lows likely falling into the teens to low 20s. Clouds will increase across the area through the day Friday in advance of the next disturbance. Expect highs to in the upper 20s to low 30s.
KJB
958 PM CST Wed Feb 22 2023
.UPDATE… Issued at 955 PM CST Wed Feb 22 2023
Key messages:
* Winter headlines continue overnight due to lingering icing impacts
* Fog possible overnight into Thursday AM
* Gusty winds develop Thursday AM – increasing concern for additional icing impacts due to combination of wind and remaining ice on trees
Continued the ongoing winter headlines through 6 AM CST Thursday morning due to the potential for additional icing impacts through the overnight hours despite precipitation likely coming to an end for most areas prior to daybreak. The character of the precipitation has become more showery and intermittent and suspect that additional icing accumulations will be limited to a glaze to up to a tenth toward the WI/IL stateline. Expected impacts include additional power outages due to ice weighing down trees and power lines. Slick spots are expected on sidewalks and untreated secondary roads/bridges/overpasses. Will continue to message to be alert for falling tree branches and downed power lines where ice has accumulated.
As precipitation comes to an end, there is an increasing signal for fog development in its wake. Upstream visibility observations in western Illinois and southeast Iowa have dipped to 1/4 mile in spots. For now have this covered in our area with a mention of patchy fog, though greater coverage and even locally dense fog cannot be ruled out.
Winds are still expected to become gusty during the day on Thursday. While there is a period where temperatures may briefly warm a few degrees above freezing allowing for some melting, especially on the southern and eastern edges of the ice affected area, we have increasing concerns that the combination of lingering ice on trees and power lines combined with the increasingly gusty winds could result in additional power outages due to falling branches.
Petr/NWS Chicago
.SHORT TERM… Issued at 309 PM CST Wed Feb 22 2023
Through Thursday night…
Freezing rain has been persistent since this morning across areas near and north of the I-88 corridor. However, it appears that icing has primarily been confined to cooler and elevated surfaces while most roadways have managed to stay in decent shape with temperatures right around freezing in these parts, 31 degrees at the lowest. With temperatures forecast to remain near steady, maybe even warm a degree or so through the rest of the event, it looks like travel impacts will remain fairly minimal. Nonetheless, continue to exercise caution when driving on bridges, overpasses, and secondary roads through the rest of the day and tonight which are most susceptible to icing.
Elsewhere, widespread rain continues at mid-afternoon with scattered embedded pockets of moderate rainfall. The far southern CWA, namely southern Ford, Iroquois, and Benton Counties, has seen a couple of embedded thunderstorms move through. The thunderstorm threat will continue through the rest of the afternoon with forced ascent ahead of the warm front continuing to interact with weak low level instability, prominent f-gen, and continued support from the upper jet. Thunder chances remain greatest along the southern periphery of the CWA but a few storms will remain possible as far north as roughly the Kankakee River valley. Convective instability and deep layer moisture get cutoff pretty readily behind the departing low pressure center early this evening, more or less wrapping up the thunderstorm threat as well as the heavy rain chances. Trailing scattered showers will then gradually depart to the northeast through the evening and into the early overnight.
A secondary is low forecast to pass through the CWA early tomorrow and will likely feature some light, stratiform precip on its northern flank in the wake of some shallow saturation. Most of this should miss the CWA just to the north but most guidance does have some intermittent, light rain falling on the northern CWA tomorrow morning. On the southern flank of the low, a stout low level jet moving overhead will provide us with some gusty winds through the day. Steep lapse rates through the mixed layer should do well to bring near 40 kt gusts down from the top of the channel through the late morning and early afternoon with gusts to 40 mph possible near the surface. Thereafter, winds will slowly step down through the rest of the day as the LLJ ejects to the east.
Doom/NWS Chicago