Thursday Hi 35 (4a to 8a), snow, sleet, freezing rain, mostly cloudy, winds NE to NNW, 17 to 22 to 18 MPH, G28 to 37 to 32 MPH diminishing early Friday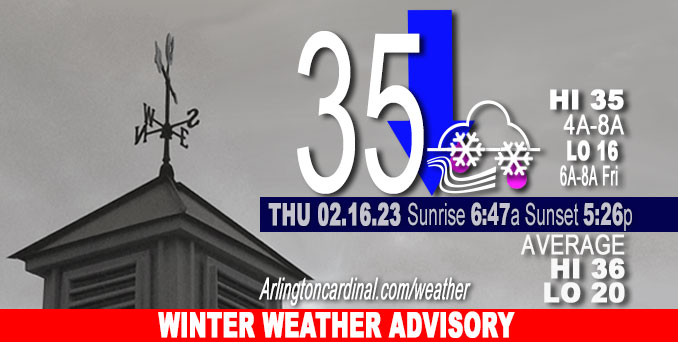 NWS CHGO | NWS HRLY | /NWSchicago | 🌡
ARLINGTON HEIGHTS WEATHER
▴ forecast7 (Arl. Hts.) | RADAR | WIDE RADAR




O'Hare (history KORD, left)
⏪ Hrly Data Table | Hrly Future Graph ⏩
IMPORTANT NOTE ON NWS DATA
Arlington Heights (history KPWK, left)
⏪ Hrly Data Table | Hrly Future Graph ⏩
======================
Thursday and Thursday Evening …
Winter Weather Advisory
Lakeshore Flood Advisory
Limited Non Thunderstorm Wind Risk.
Elevated Ice Accumulation Risk.
Significant Snow and Sleet Risk.
Elevated Lakeshore Flood Risk.
DISCUSSION…
A mix of snow, sleet, freezing rain and rain will develop across the area early this morning, and will persist through the day while gradually changing to all snow from northwest to southeast during the afternoon and early evening. Snow will then taper off and end from the west late this evening, with the exception of some lingering lake effect snow showers near the lake especially in northwest Indiana.
A total snow accumulation of 2.4 inches is expected in Arlington Heights and nearby communities from 8:00 a.m. Thursday to 2:00 a.m. Friday.
A total freezing rain ice accumulation of 0.06 inch is expected from 1:00 p.m. to 11:00 p.m. Thursday.
The wintry mix of accumulating snow, sleet and freezing rain will cause travel impacts across the area, particularly near and northwest of Interstate 55. The highest snowfall amounts are expected to be near the Illinois Wisconsin border. Minor accumulations will continue overnight over far northwest Indiana.
Daily low temperatures and daily high temperatures are on the way up. We're gaining about 2 minutes of daylight every day in the progression toward vernal equinox, March 20, 2023. We gained 3 minutes of daylight on Thursday, February 16, 2023.
======================
URGENT – WINTER WEATHER MESSAGE
National Weather Service Chicago IL
351 AM CST Thu Feb 16 2023
DuPage-Grundy-Northern Cook-Central Cook-Southern Cook- Northern Will-Southern Will-Eastern Will- Including the cities of Naperville, Wheaton, Downers Grove, Lombard, Carol Stream, Morris, Coal City, Minooka, Evanston, Des Plaines, Schaumburg, Palatine, Northbrook, Chicago, Cicero, Oak Lawn, Oak Park, La Grange, Calumet City, Oak Forest, Lemont, Orland Park, Park Forest, Joliet, Bolingbrook, Plainfield, Mokena, Channahon, Manhattan, Wilmington, Crete, Peotone, and Beecher 351 AM CST Thu Feb 16 2023
…WINTER WEATHER ADVISORY REMAINS IN EFFECT UNTIL 9 PM CST THIS EVENING…
* WHAT…Mixed precipitation expected. Total snow and sleet accumulations of 1 to 4 inches and ice accumulations of up to one tenth of an inch. Winds gusting as high as 40 mph, leading to blowing snow in exposed locations.
* WHERE…DuPage, Grundy, Cook, and Will counties.
* WHEN…From 6 AM to 9 PM CST today.
* IMPACTS…Plan on slippery road conditions. Areas of blowing snow could significantly reduce visibility. The hazardous conditions will likely impact the afternoon commute, and possibly the morning commute as well.
PRECAUTIONARY/PREPAREDNESS ACTIONS…
Slow down and use caution while traveling.
The latest road conditions for Illinois can be obtained on the internet at www.gettingaroundillinois.com.
O'HARE FORECAST …
Forecast Beginning Thursday, Feb. 16, 2023
Thursday: Rain and freezing rain, possibly mixed with snow and sleet before 5pm, then freezing rain, possibly mixed with snow and sleet. Temperature falling to around 31 by 5pm. Breezy, with a north northeast wind 15 to 20 mph, with gusts as high as 35 mph. Chance of precipitation is 100%. Total daytime ice accumulation of less than a 0.1 of an inch possible. Total daytime snow and sleet accumulation of around an inch possible.
Thursday Night: Snow and freezing rain, possibly mixed with sleet before 1am, then a slight chance of snow between 1am and 4am. Patchy blowing snow between 7pm and 1am. Low around 16. Blustery, with a north wind 15 to 25 mph, with gusts as high as 40 mph. Chance of precipitation is 100%. Little or no ice accumulation expected. New snow and sleet accumulation of 1 to 2 inches possible.
Friday: Sunny, with a high near 27. North northwest wind 10 to 15 mph, with gusts as high as 20 mph.
Friday Night: Mostly clear, with a low around 19. Breezy, with a southwest wind 10 to 20 mph, with gusts as high as 30 mph.
Saturday: Sunny, with a high near 40. Breezy, with a southwest wind 15 to 20 mph, with gusts as high as 30 mph.
Saturday Night: Mostly cloudy, with a low around 33.
Sunday: Partly sunny, with a high near 46.
Sunday Night: Mostly cloudy, with a low around 30.
Monday Washington's Birthday: Partly sunny, with a high near 42.
Monday Night: Mostly cloudy, with a low around 32.
Tuesday: A chance of rain and snow. Mostly cloudy, with a high near 42.
Tuesday Night: A chance of rain and snow. Mostly cloudy, with a low around 27.
Wednesday: A chance of snow. Partly sunny, with a high near 36.
Weather Forecast, Observations Archive NWS O-Hare
Weather Forecast, Night Sky Archive NWS O-Hare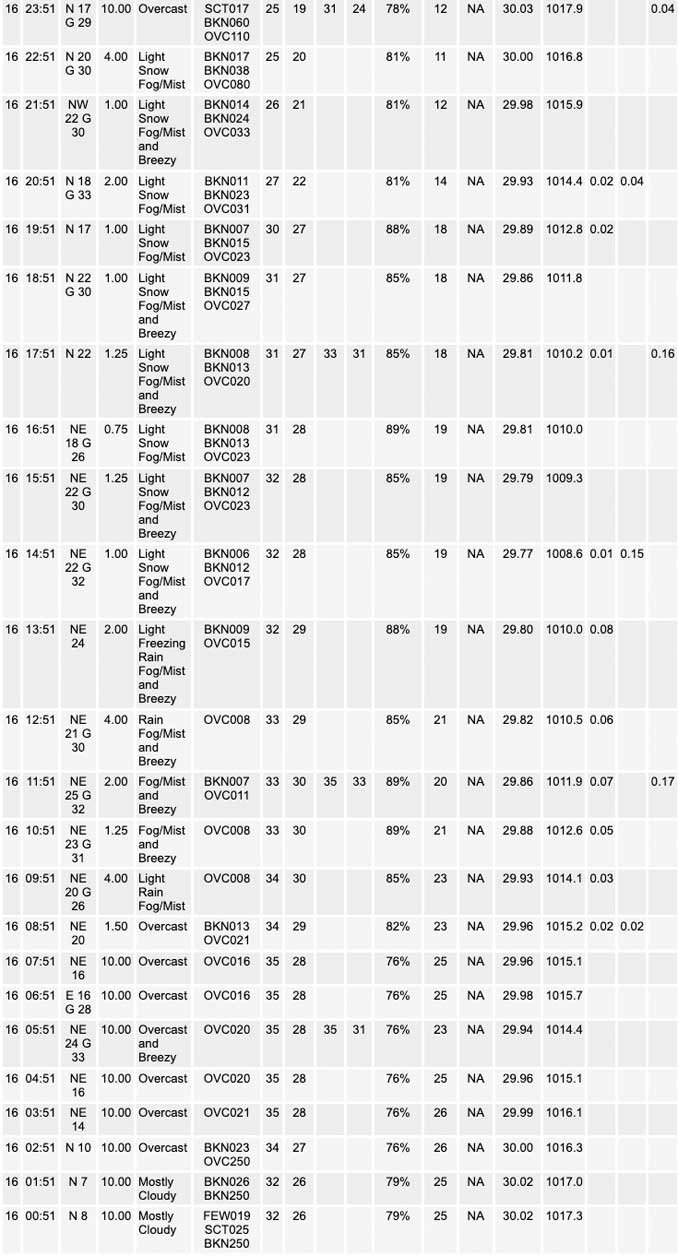 KORD & KPWK Hourly Weather Observations









NORTH AMERICA BELOW (SCROLL ⇩⇩)
Weather WIDE (MOBILE TURN SIDEWAYS)
SPC Convective Outlook on
CHICAGOWEATHERSTATION.COM

ChicagoWeatherStation.com I O'Hare Normal Temps/Precip I O'Hare Record Temps, Precip, Snow
LIVE RADAR | STORM TRACKS | UNISYS US IR SAT | UNISYS Midwest IR SAT | UNISYS More IR SAT
WunderMap® with Temperature/Wind Data || Google: Arlington Heights Area Temps | US TEMPS
Full Screen Motion Weather Radar (Wunderground.com)
Midwest Cloud Cover with Arlington Heights Weather Forecast
ChicagoWeatherStation.com I O'Hare Normal Temps/Precip I O'Hare Record Temps, Precip, Snow
SUNLIGHT DATA FOR SECURITY, TRAFFIC SAFETY, AND SPORTS
SunCalc.net data with solar azimuth and trajectory, times for dawn, sunrise, solar noon, sunset, dusk …
Tweets by @CardinalWeather
NIGHT SKY THIS MONTH …
Backyard stargazers get a monthly guide to the northern hemisphere's skywatching events with "Tonight's Sky." Check the night sky objects for this month and past months in the playlist from the Space Telescope Science Institute YouTube channel (Musical track The Far River written by Jonn Serrie, from the album And the Stars Go With You courtesy of New World Music Ltd).
Get updates from The Cardinal ALL NEWS FEEDS on Facebook. Just 'LIKE' the 'Arlington Cardinal Page (become a fan of our page). The updates cover all posts and sub-category posts from The Cardinal — Arlingtoncardinal.com. You can also limit feeds to specific categories. See all of The Cardinal Facebook fan pages at Arlingtoncardinal.com/about/facebook …

Help fund The Cardinal

Arlingtoncardinal.com/sponsor
Area Forecast Discussion
National Weather Service Chicago/Romeoville, IL
815 AM CST Thu Feb 16 2023
.SHORT TERM… Issued at 335 AM CST Thu Feb 16 2023
Through Friday…
Key messages for today`s storm system:
* The going forecast remains more or less on track for a wintry storm system to bring a mixed bag of precipitation featuring snow, sleet, freezing rain, and rain to northern Illinois and northwest Indiana this morning through tonight.
* No substantial changes to forecast snow, sleet, and ice accumulations were made in this forecast update. Approximately 4- 7″ of snow accumulation is still forecasted to occur in at least portions of the 5 counties in the NWS Chicago CWA currently under a Winter Storm Warning (Ogle, Winnebago, Boone, McHenry, and Lake (IL)). Lower snow totals (roughly 1-5″) are expected in the counties covered by the Winter Weather Advisory to the south of the warning, where a sharp gradient in snow accumulations is likely to be seen, but accumulating sleet (u P to around 0.5″) and freezing rain/drizzle (ranging from a glaze up to around 0.10″) will combine with the accumulating snow to produce hazardous travel conditions.
* Blustery north-northeasterly to northerly winds gusting up to 40 mph will result in blowing snow that may cause localized visibility reductions this afternoon and especially tonight. Confidence is highest in blowing snow occurring in the counties included in the Winter Storm Warning on west-to-east oriented roadways in exposed locations.
* No changes to the going winter weather headlines have been made, though a temporal extension and/or southward expansion to the Winter Weather Advisory may need to be considered for lingering snow, freezing rain/drizzle, or blowing snow prolonging travel impacts tonight as temperatures tumble below to well below freezing.
* A Lakeshore Flood Advisory has been issued from this afternoon through tonight for Cook, Lake (IN), and Porter counties to highlight the possibility of minor lakeshore flooding occurring in the usual vulnerable locations along the lakeshore.
Updated at 8:15 AM CST to add additional details.
[Overview]
Early morning GOES water vapor imagery reveals a region of low pressure in the low-mid levels of the atmosphere currently translating across the central Plains. An associated surface low pressure reflection was analyzed to be displaced well to the southeast of this upper low pressure center in southeastern Missouri at press time, and this surface low is progged to lift northeast throughout the day today along a baroclinic zone, taking a track that would bring it from near Cape Girardeau, MO to roughly Effingham, IL by mid-day and Fort Wayne, IN by early this evening. A large mass of convection is evident in regional radar mosaics to the surface low`s east and south, while well to the northwest of the low, an axis of largely deformation-driven snow currently extends from Kansas and Nebraska into northern Illinois and Wisconsin. In between these two broader swaths of precipitation is a relative minimum in precipitation coverage that happens to be colocated with the system`s imposing dry slot.
Our forecast area happens to be located in a position that is right in the crosshairs of the dry slot, and this will play a significant role in our precipitation forecast today. While this dry slot is responsible for a lull in precipitation being observed this morning in parts of our CWA, the expectation is that precipitation will gradually start to fill in over the area in the coming hours as the upper-level trough and associated surface low progress eastward. With the 32F isotherm bisecting our forecast area and the expectation that a warm, above freezing layer of air aloft will override sub-freezing air on the north side of this isotherm, we will observe an assortment of precipitation types in our CWA this morning and afternoon before a changeover to all snow is likely this evening as the system departs and drags the baroclinic zone eastward along with it.
[Snow/Wintry Precipitation]
Overall, the thinking regarding where different precipitation types will fall and how much of each type will accumulate remains largely unchanged from previous forecasts. One concern that had been discussed was the potential for the aforementioned dry slot to partially or wholly eradicate saturation within the dendritic growth zone (DGZ) over a sizable portion of our forecast area, and confidence in that occurring has increased a bit. Wherever this occurs, loss of cloud ice may result in rain/drizzle or freezing rain/drizzle occurring in lieu of other precipitation types, or if cloud ice were to maintain a presence, the snow that would fall would be of lower quality and hence not accumulate as well. Thus, thinking that wherever dry slot interference ends u Pbeing prevent, snow totals would likely end up being on the lower end of our forecast snowfall ranges.
However, just north of the dry slot`s northern terminus, strong frontogenesis, steep mid-level lapse rates, presence of convective upright instability, and a fully saturated DGZ will support rather efficient snowfall with snow rates perhaps approaching 1″/hr at times. Thus, as long as the dry slot doesn`t punch all the way into southern Wisconsin, there is still a fair likelihood that 6+" snow accumulations may be witnessed in our far northern CWA when all is said and done, so have left the inherited Winter Storm Warning as is.
In the counties that are under a Winter Weather Advisory, a shar Psnowfall gradient will likely be observed as a result of the aforementioned dry slot issues and the likelihood that hydrometeors other than snowflakes will be seen during the daytime today and seize a portion of the QPF for themselves. While snow totals here still look like they will end up somewhere in the 1-5″ range (highest north), they won`t necessarily be the main story as sleet and freezing rain may accumulate here as well, leading to hazardous travel conditions. With surface temperatures expected to hang around or below freezing in some of these locations this morning and afternoon, there are some questions as to whether any icing will actually materialize on roadways, especially with pavement temperatures being relatively mild with the recent stretch of unseasonably warm weather that we`ve had. Nevertheless, even if wintry precipitation were to not accumulate on primary thoroughfares, still think that travel could become slick on bridges, overpasses, and secondary and untreated roadways later this afternoon and evening when temperatures do come down.
[Lakeshore Flooding]
One other potential impact that we may see with this system is lakeshore flooding as northeasterly to northerly winds gusting to around 40 mph or so whip up large waves on Lake Michigan that will batter the Illinois and Indiana lakeshores this afternoon into tonight. The expected winds and wave heights would almost certainly lead to lakeshore flooding impacts if current lake levels were at the stage that they were a few years ago, but since they are several inches lower now and near "normal" lake levels, confidence is on the lower side as to whether any true lakeshore flooding will be observed today. Given that we can`t completely rule out at least minor lakeshore flooding occurring in our usual susceptible locations along the lakeshore, decided to err on the side of caution and issue a Lakeshore Flood Advisory for Cook, Lake (IN), and Porter counties from this afternoon through tonight to highlight this possibility.
[Lingering Impacts Thursday Night]
Precipitation is expected to end this evening from west to east as snow as the colder air on the backside of the systems oozes into our forecast area. However, locations immediately downwind of Lake Michigan may continue to see a narrow band lake effect snow linger around through the overnight hours. If the residence time of this lake effect snow band is sufficiently long at any one location, up to 2-3 inches of snow may be observed there tonight, but current thinking is that winds over the lake will shift from north-northeasterly to north-northwesterly quickly enough to preclude these higher end totals from being realized.
That said, temperatures will tumble into the 20s this evening and eventually the teens overnight at most locations in our CWA, which will allow for any lingering precipitation to accumulate more easily and prolong slippery travel conditions. This, as well as the potential for blowing snow to continue into tonight, may necessitate the extension and/or expansion of the going Winter Weather Advisory at a later time.
Ogorek/NWS Chicago