Saturday Hi 82, partly sunny and partly cloudy, thunderstorms after 5p, winds SSW to S to SSE, 5 to 14 to 11 MPH, G18 to 22 to 17 MPH, 11a into Sunday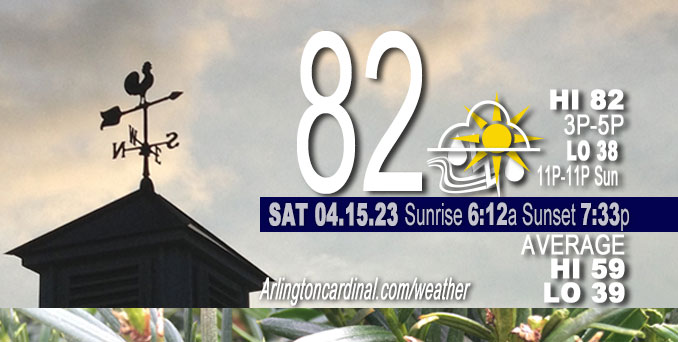 NWS CHGO | NWS HRLY | /NWSchicago | 🌡
ARLINGTON HEIGHTS WEATHER
▴ forecast7 (Arl. Hts.) | RADAR | WIDE RADAR




O'Hare (history KORD, left)
⏪ Hrly Data Table | Hrly Future Graph ⏩
IMPORTANT NOTE ON NWS DATA
Arlington Heights (history KPWK, left)
⏪ Hrly Data Table | Hrly Future Graph ⏩
Hello mobile users! If you encounter a mobile "unfriendly" weather page, turn your phone sideways for a better view.
======================
Saturday and Saturday Evening …
Weather Hazards expected …
Elevated Thunderstorm Risk…with an associated …
Limited Damaging Wind Risk…up to 60 mph
Limited Hail Risk….up to quarter size.
Limited Flooding Risk.
DISCUSSION…
Thunderstorms are expected to spread across the area this evening and may produce damaging wind gusts and heavy downpours. Additional thunderstorms chances are likely to continue overnight. Convective trends are the main forecast concern this morning with lower than average confidence.
======================
O'HARE FORECAST …
Forecast Beginning Saturday, Apr. 15, 2023
Saturday: Mostly sunny, with a high near 82. South southwest wind 10 to 15 mph, with gusts as high as 20 mph.
Saturday Night: Showers and thunderstorms likely, mainly between 11pm and 2am, then showers likely and possibly a thunderstorm after 2am. Increasing clouds, with a low around 59. South southeast wind around 10 mph, with gusts as high as 20 mph. Chance of precipitation is 70%. New rainfall amounts between a tenth and quarter of an inch, except higher amounts possible in thunderstorms.
Sunday: Showers and possibly a thunderstorm before 4pm, then showers likely. Temperature falling to around 45 by 5pm. Breezy, with a southwest wind 10 to 15 mph increasing to 15 to 20 mph in the afternoon. Winds could gust as high as 30 mph. Chance of precipitation is 90%. New rainfall amounts between a half and three quarters of an inch possible.
Sunday Night: Rain before 1am, then snow, possibly mixed with rain. Low around 34. Breezy, with a west wind 20 to 25 mph, with gusts as high as 35 mph. Chance of precipitation is 80%. New snow accumulation of less than a half inch possible.
Monday: Snow likely, possibly mixed with rain, mainly before 1pm. Cloudy, with a high near 42. Breezy, with a west northwest wind around 25 mph, with gusts as high as 40 mph. Chance of precipitation is 60%.
Monday Night: Partly cloudy, with a low around 33. Breezy.
Tuesday: Sunny, with a high near 55.
Tuesday Night: Mostly clear, with a low around 39.
Wednesday: A chance of showers after 1pm. Partly sunny, with a high near 60.
Wednesday Night: A chance of showers. Mostly cloudy, with a low around 50.
Thursday: A chance of showers. Mostly cloudy, with a high near 66.
Thursday Night: Showers likely. Mostly cloudy, with a low around 49.
Friday: A chance of showers. Mostly cloudy, with a high near 57.
Weather Forecast, Observations Archive NWS O-Hare
Weather Forecast, Night Sky Archive NWS O-Hare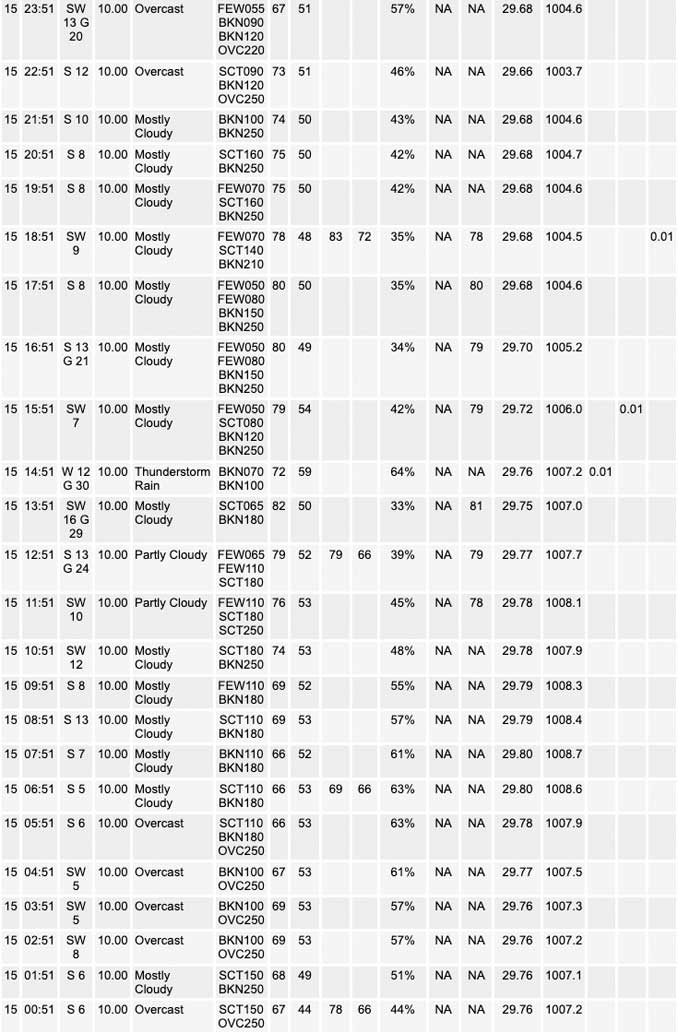 KORD & KPWK Hourly Weather Observations









NORTH AMERICA BELOW (SCROLL ⇩⇩)
Weather WIDE (MOBILE TURN SIDEWAYS)
SPC Convective Outlook on
CHICAGOWEATHERSTATION.COM

ChicagoWeatherStation.com I O'Hare Normal Temps/Precip I O'Hare Record Temps, Precip, Snow
WunderMap® with Temperature/Wind Data || Google: Arlington Heights Area Temps | US TEMPS
Midwest Cloud Cover with Arlington Heights Weather Forecast
ChicagoWeatherStation.com I O'Hare Normal Temps/Precip I O'Hare Record Temps, Precip, Snow
SUNLIGHT DATA FOR SECURITY, TRAFFIC SAFETY, AND SPORTS
SunCalc.net data with solar azimuth and trajectory, times for dawn, sunrise, solar noon, sunset, dusk …
Tweets by @CardinalWeather
NIGHT SKY THIS MONTH …
Backyard stargazers get a monthly guide to the northern hemisphere's skywatching events with "Tonight's Sky." Check the night sky objects for this month and past months in the playlist from the Space Telescope Science Institute YouTube channel (Musical track The Far River written by Jonn Serrie, from the album And the Stars Go With You courtesy of New World Music Ltd).
Get updates from The Cardinal ALL NEWS FEEDS on Facebook. Just 'LIKE' the 'Arlington Cardinal Page (become a fan of our page). The updates cover all posts and sub-category posts from The Cardinal — Arlingtoncardinal.com. You can also limit feeds to specific categories. See all of The Cardinal Facebook fan pages at Arlingtoncardinal.com/about/facebook …

Help fund The Cardinal

Arlingtoncardinal.com/sponsor
/////////////>
Area Forecast Discussion
National Weather Service Chicago/Romeoville, IL
942 AM CDT Sat Apr 15 2023
.UPDATE… Issued at 942 AM CDT Sat Apr 15 2023
Convective trends are the main forecast concern this morning with lower than average confidence.
A recent hand analysis places a trough of low pressure with embedded remnant MCVs stretching from near Marshfield, WI south-southwestward over Cedar Rapids, IA, Kansas City, MO, and Tulsa, OK. Meanwhile, an expansive surface high pressure system remains parked over the southeastern US, which continues to lead to gradual anticyclonically- curved low-level moisture advection across the Mississippi River Valley. Radar and satellite imagery augmented by regional pressure and surface wind observations also depict various lower- tropospheric gravity waves and even a remnant cold pool, particular in close proximity to festering convection just to the northwest of the St. Louis, MO metropolitan area. Behind the low pressure trough is a notable cold front behind which temperatures are in the upper 30s to lower 40s across the Plains. Ahead of the low pressure trough and associated cold front, temperatures are warming nicely into the upper 60s to lower 70s thanks to a pocket of sunshine.
The forecast going forward is not, well, straightforward. Convection near the St. Louis metro continues to fester just behind the leading edge of a remnant but impressive deep cold pool, which was nearly 3km deep when it passed over Kansas City, MO earlier this morning. With a subtle warm nose in place near 700mb sampled by the 12Z ILX RAOB as well as an eastern "edge" to the higher-quality low-level moisture near the Mississippi River, the convection shouldn`t make much inroads to central Illinois later this morning which appears to be supported by recent trends of warming cloud tops and displacement of outflow well ahead of the active convection. However, any enhancement within the next 2-3 hours would lead to increasing chances that at least a decaying area of showers and the remnant cold pool continue to spread unabated and potentially reach our area early this afternoon. In such a scenario, gusty southerly winds and falling temperatures would occur with decaying showers followed by a period of northeasterly winds as the cold pool works through the area. In other words, low-level moisture advection from the Lower Mississippi River Valley would be disrupted leading to questions about convective vigor later this evening. Yet, if the St. Louis convection truly peters out and leaves little to no imprint on the low-level wind field into Illinois this afternoon, chances for convection this evening would be on track with a threat for gusty winds with any thunderstorm complex.
It`s tough to represent two scenarios in a gridded database, so will probably leave everything as-is for now and continue to watch trends. Updated text products will be sent soon.
Borchardt/NWS Chicago
655 AM CDT Sat Apr 15 2023
.SHORT TERM… Issued at 331 AM CDT Sat Apr 15 2023
Through Sunday…
After several days of warm, dry and quiet weather across the region, an active period of weather will return beginning as early as this afternoon. A mid-level saddle point between dee Ptroughing across the western half of the CONUS and a closed low over the central Appalachians will lift northeast today before the trough closes off while shifting across the CWA into Wisconsin on Sunday. Modest low- level moisture return has lagged guidance by a decent margin since Friday afternoon, but has started to become more prominent amid weak SSW flow. So while temps will likely to Pout near or above 80F once again today, concerns for rapid spread of wildfires will be somewhat mitigated. With that said, the entire low to mid-level moisture profiles will still remain notably dry and promote deep mixing and suppression of some near- surface moisture this afternoon. The coverage and magnitude of precip/convection potential through the afternoon therefore remains unclear, but favors a mostly dry forecast for much of the area. An ongoing area of convection on the nose of a mid-level speed max near Kansas City early this morning may attempt to push decaying convection and showers toward the western CWA early/mid afternoon but shift east into a less favorable environment.
Focus then turns toward a rather dynamic system with substantial upper-level diffluence ahead of the approaching wave. Deeper moisture will finally arrive into the area this evening on a 50 knot LLJ. Expectations are for upscale growth of convection along the cold front in Missouri late afternoon to expand north and east with the associated surface low (likely with a component of convective enhancement). While instability will be waning in the nighttime period, the strong dynamics and increasing low-level shear may foster continued strong low-level cold pools through central Illinois and into much of the forecast area. This is, of course, conditional on at least some semblance of convective organization upstream. Main concerns would be damaging wind gusts supported by high DCAPE values, especially if convection arrives earlier in the evening. Tornado risk is non-zero toward central Illinois with low- level shear profiles aligning with any NE- moving convective segments and dew points increasing through the evening, but high LCLs and overall convective mode will greatly reduce the risk.
The cold front will clear the CWA from the southwest by mid- morning with temps falling through the day. Showers with some embedded storms will continue into the morning within an exiting low-level TROWAL. Precip intensity may wane during the afternoon, but drizzle or light rain should persist as blustery conditions develop.
Kluber/NWS Chicago