Sunday Hi 60, falling temperatures, mostly cloudy, rain, winds SW, 10 to 24 to 23 MPH, G31 to 39 to 36 MPH, 10a into Monday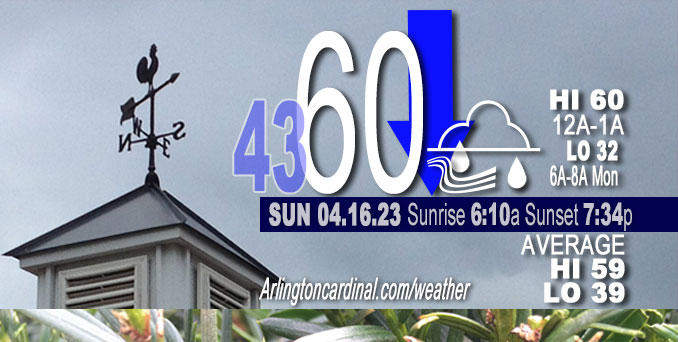 NWS CHGO | NWS HRLY | /NWSchicago | 🌡
ARLINGTON HEIGHTS WEATHER
▴ forecast7 (Arl. Hts.) | RADAR | WIDE RADAR




O'Hare (history KORD, left)
⏪ Hrly Data Table | Hrly Future Graph ⏩
IMPORTANT NOTE ON NWS DATA
Arlington Heights (history KPWK, left)
⏪ Hrly Data Table | Hrly Future Graph ⏩
Hello mobile users! If you encounter a mobile "unfriendly" weather page, turn your phone sideways for a better view.
======================
Saturday and Saturday Evening …
Weather Hazards expected …
Elevated Non Thunderstorm Wind Risk.
Limited Snow Risk.
Limited Freeze Risk.
DISCUSSION…
Rain will transition to snow this evening before becoming all snow overnight. Slushy accumulations are possible by sunrise Monday, especially west of the Fox River and north of I-88.
UPDATE: Steady winds today of up to 24 MPH with gusts to 39 MPH. The steady winds caused a constant ocean waves-like noise.
======================
O'HARE FORECAST …
Forecast Beginning Sunday, Apr. 16, 2023
Sunday: Rain likely, mainly after 5pm. Cloudy, with a steady temperature around 41. Breezy, with a west southwest wind around 25 mph, with gusts as high as 35 mph. Chance of precipitation is 60%. New precipitation amounts of less than a tenth of an inch possible.
Sunday Night: Rain and snow, becoming all snow after midnight. Low around 32. Breezy, with a west southwest wind around 25 mph, with gusts as high as 35 mph. Chance of precipitation is 90%. New snow accumulation of less than a half inch possible.
Monday: Snow showers likely before 1pm, then a chance of rain and snow showers. Cloudy, with a high near 38. Breezy, with a west northwest wind around 25 mph, with gusts as high as 40 mph. Chance of precipitation is 70%. New snow accumulation of less than a half inch possible.
Monday Night: Mostly cloudy, then gradually becoming mostly clear, with a low around 31. Blustery, with a west northwest wind 15 to 20 mph, with gusts as high as 30 mph.
Tuesday: Sunny, with a high near 54. Northwest wind 10 to 15 mph.
Tuesday Night: Mostly clear, with a low around 37.
Wednesday: A 30 percent chance of showers and thunderstorms after 1pm. Partly sunny, with a high near 60.
Wednesday Night: Showers likely. Mostly cloudy, with a low around 49.
Thursday: Showers likely, with thunderstorms also possible after 1pm. Mostly cloudy, with a high near 66. Breezy.
Thursday Night: Showers likely and possibly a thunderstorm before 1am, then a chance of showers. Mostly cloudy, with a low around 43. Breezy.
Friday: A chance of showers. Mostly cloudy, with a high near 56.
Friday Night: A chance of showers. Mostly cloudy, with a low around 39.
Saturday: A chance of showers. Partly sunny, with a high near 49.
Weather Forecast, Observations Archive NWS O-Hare
Weather Forecast, Night Sky Archive NWS O-Hare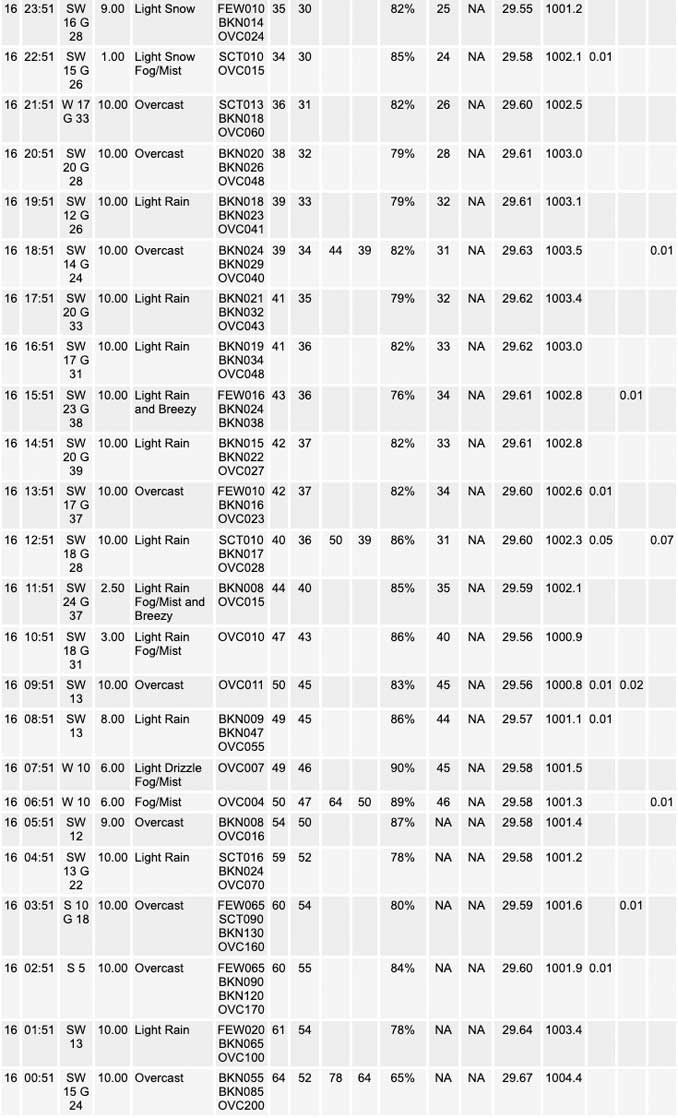 KORD & KPWK Hourly Weather Observations









NORTH AMERICA BELOW (SCROLL ⇩⇩)
Weather WIDE (MOBILE TURN SIDEWAYS)
SPC Convective Outlook on
CHICAGOWEATHERSTATION.COM

ChicagoWeatherStation.com I O'Hare Normal Temps/Precip I O'Hare Record Temps, Precip, Snow
WunderMap® with Temperature/Wind Data || Google: Arlington Heights Area Temps | US TEMPS
Midwest Cloud Cover with Arlington Heights Weather Forecast
ChicagoWeatherStation.com I O'Hare Normal Temps/Precip I O'Hare Record Temps, Precip, Snow
SUNLIGHT DATA FOR SECURITY, TRAFFIC SAFETY, AND SPORTS
SunCalc.net data with solar azimuth and trajectory, times for dawn, sunrise, solar noon, sunset, dusk …
Tweets by @CardinalWeather
NIGHT SKY THIS MONTH …
Backyard stargazers get a monthly guide to the northern hemisphere's skywatching events with "Tonight's Sky." Check the night sky objects for this month and past months in the playlist from the Space Telescope Science Institute YouTube channel (Musical track The Far River written by Jonn Serrie, from the album And the Stars Go With You courtesy of New World Music Ltd).
Get updates from The Cardinal ALL NEWS FEEDS on Facebook. Just 'LIKE' the 'Arlington Cardinal Page (become a fan of our page). The updates cover all posts and sub-category posts from The Cardinal — Arlingtoncardinal.com. You can also limit feeds to specific categories. See all of The Cardinal Facebook fan pages at Arlingtoncardinal.com/about/facebook …

Help fund The Cardinal

Arlingtoncardinal.com/sponsor
/////////////>
Area Forecast Discussion
National Weather Service Chicago/Romeoville, IL
1215 PM CDT Sun Apr 16 2023
.UPDATE… Issued at 1102 AM CDT Sun Apr 16 2023
No significant changes are planned for the morning update, with the current forecast largely on track.
Surface low pressure near KGRB is deepening to near 998 MB in response to a notable increase in upper level diffluence downstream of the negatively tilted mid-level trough/low now shifting into northwestern IL. This feature will favor the continued development of showers across a good chunk of northern and IL through the day. Colder air will continue to filter into the area through the day, and this will be augmented by dynamic cooling of the column overhead beneath the deepening mid-level low. The net result being a likely northwest to southeast transition from rain to mainly snow through the evening hours.
Some wet slushy snow accumulations (mainly on grassy areas) are still looking to be a good bet, especially across northwestern sections of the area west of the Fox Valley and north of I-80. Amounts should generally be up to an inch or two, with perhaps u Pto 3″ possible far northwest near the WI state line. Much heavier snow amounts are expected north- northwest of the area across the western half of WI, so keep that in mind if travel is planned across that area tonight into tomorrow.
The other aspect of this storm system will be the winds. Westerly winds will gust in the 30 to 35 mph range this afternoon into this evening. Even strong wind gusts of 40 to 45 mph are expected for Monday, with continued cold temperatures.
KJB/NWS Chicago
657 AM CDT Sun Apr 16 2023
.SHORT TERM… Issued at 327 AM CDT Sun Apr 16 2023
Through Monday…
The unseasonably mild stretch of weather over the past week has come to an end after some gusty storms late last evening. A strong trough extending through the Missouri River Valley is in the process of closing off in response to weak blocking across the northeast U.S into southern Ontario and Quebec. An associated surface low is currently deepening across east-central Wisconsin while a cold front has started to march east across the forecast area.
Impressive mid and upper-level dynamics evident in a developing baroclinic leaf and a rather turbulent mid-level satellite appearance will spread developing showers northeast across the area from around sunrise through mid-morning. Mid-level lapse rates will remain marginal for sparse thunder within this axis of showers, with a few strikes noted upstream over the past couple hours in eastern Missouri and southwest Illinois. Shower coverage may diminish for a period late this morning into early afternoon behind the exiting cold front. The development of widespread precip within a deformation axis of the deepening surface/mid- level low will then foster a transition from rain to snow amid dynamic cooling and strong CAA with blustery WSW winds gusting to 40 mph as early as mid- afternoon across the northwest CWA. Profiles will continue to cool late afternoon into early evening, transitioning precip to all snow across the area. Trends in guidance continue to favor the best location of the main preci Pshield into southern Wisconsin and far northwest Illinois, remaining just northwest of our CWA. However, higher precip rates in this axis may clip areas around and west of I-39 late this afternoon and evening. This does raise some concern that a slight shift south and east will support several inches of very wet snow in the far northwest CWA (Boone, Ogle, Winnebago). The current forecast ranges from around 2-3″ of snow northwest to around a half inch east of the Fox River and south of I-80 tonight through Monday morning. As long as a persistent, multi-hour period of high snow rates do not materialize this far south and east, most accumulation should be confined to elevated and grassy surfaces. Snow showers will gradually taper from southwest to northeast through the day Monday as mid-level drying advects toward the area.
Given the strength of the sub-990mb surface low and broad wind field, winds veering WSW late this afternoon to NW on Monday will produce gusts to 40 mph through the period. Some gusts reaching advisory thresholds of 45 mph are possible on Monday with assistance of diurnal mixing.
Finally, sub-freezing temperatures will likely be met for a least the northwest CWA late tonight. Have opted to cancel the Freeze Watch as temps stay above 30F amid gusty winds and falling snow while also noting the potential for a more impactful hard freeze into the upper 20s in part of the area Monday night.
Kluber/NWS Chicago