THURSDAY Hi 41, mostly cloudy, winds E to NE to ENE to E, 7 to 12 to 9 MPH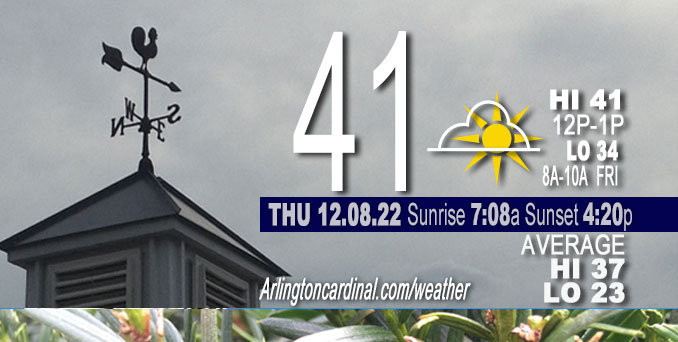 NWS CHGO | NWS HRLY | /NWSchicago | 🌡
ARLINGTON HEIGHTS WEATHER
▴ forecast7 (Arl. Hts.) | RADAR | WIDE RADAR




O'Hare (history KORD, left)
⏪ Hrly Data Table | Hrly Future Graph ⏩
IMPORTANT NOTE ON NWS DATA
Arlington Heights (history KPWK, left)
⏪ Hrly Data Table | Hrly Future Graph ⏩
======================
Thursday and Thursday Night …
Weather Hazards expected…
Hazardous Weather Outlook
National Weather Service Chicago/Romeoville IL
246 PM CST Thu Dec 8 2022
Winnebago-Boone-McHenry-Lake IL-Ogle-Lee-De Kalb-Kane-DuPage-La Salle-Kendall-Grundy-Kankakee-Livingston-Iroquois-Ford-Northern Cook-Central Cook-Southern Cook-Northern Will-Southern Will-Eastern Will-Lake IN-Porter-Newton-Jasper-Benton-
246 PM CST Thu Dec 8 2022
This Hazardous Weather Outlook is for portions of North Central Illinois…Northeast Illinois and Northwest Indiana.
Weather hazards expected…
Winter Weather Advisory in effect from December 9, 03:00 AM CST until December 9, 01:00 PM CST for Winnebago County, Boone County, McHenry County and Lake County.
A mix of rain and snow will develop late tonight mainly north of the I-80 corridor, with rain to the south. Probably won't see any snow in Arlington Heights until after 5:00 a.m. Heavy wet snow with accumulations of 2 to 4 inches are possible in Winnebago, Boone, McHenry and Lake Illinois counties.
Arlington Heights: 1.0 inch
Antioch: 3.2 inches
Lake Forest: 0.5 inch
Marengo: 3.3 inches
McHenry: 3.2 inches
Mundelein: 2.3 inches
Rockford: 3.6 inches
Waukegan: 1.6 inch
DISCUSSION…
Areas of dense fog will affect parts of northern Illinois mainly west and northwest of Chicago this morning.
Areas of fog will continue through mid morning and there may be pockets of locally dense fog. Be alert for rapid changes in visibility when driving this morning. Reduce speed and use low beam headlights when driving in fog.
Hello mobile users! If you encounter mobile "unfriendly" weather page, turn your phone sideways for a better view.
======================
O'HARE FORECAST …
Forecast Beginning Thursday, Dec. 08, 2022
Thursday: Mostly cloudy, with a high near 42. East northeast wind around 10 mph.
Thursday Night: A 40 percent chance of rain, mainly after 5am. Cloudy, with a low around 34. East wind 10 to 15 mph.
Friday: Rain and snow, becoming all rain after noon. Steady temperature around 35. East wind 10 to 15 mph, with gusts as high as 25 mph. Chance of precipitation is 100%. New snow accumulation of around an inch possible.
Friday Night: Areas of drizzle before midnight. Cloudy, with a low around 35. East wind 5 to 10 mph, with gusts as high as 15 mph.
Saturday: A 30 percent chance of rain after noon. Cloudy, with a high near 41. East southeast wind around 5 mph, with gusts as high as 15 mph.
Saturday Night: A 30 percent chance of rain before midnight. Cloudy, with a low around 35.
Sunday: Mostly cloudy, with a high near 42.
Sunday Night: Mostly cloudy, with a low around 32.
Monday: Mostly cloudy, with a high near 41.
Monday Night: Mostly cloudy, with a low around 34.
Tuesday: Rain and snow likely. Cloudy, with a high near 44. Breezy.
Tuesday Night: Rain. Cloudy, with a low around 37. Breezy.
Wednesday: Rain likely. Mostly cloudy, with a high near 48.
Weather Forecast, Observations Archive NWS O-Hare
Weather Forecast, Night Sky Archive NWS O-Hare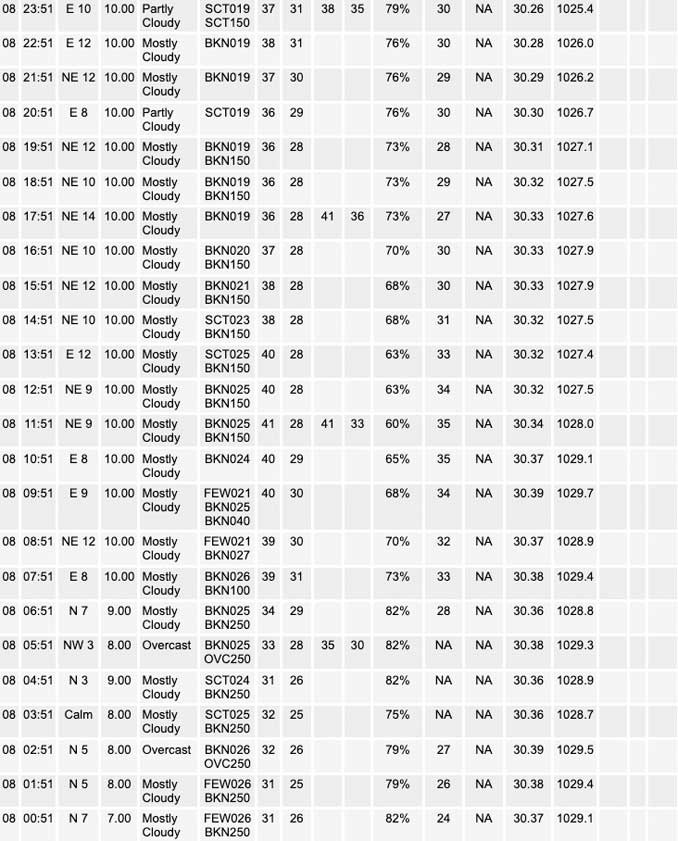 KORD & KPWK Hourly Weather Observations









NORTH AMERICA BELOW (SCROLL ⇩⇩)
Weather WIDE (MOBILE TURN SIDEWAYS)
SPC Convective Outlook on
CHICAGOWEATHERSTATION.COM

ChicagoWeatherStation.com I O'Hare Normal Temps/Precip I O'Hare Record Temps, Precip, Snow
LIVE RADAR | STORM TRACKS | UNISYS US IR SAT | UNISYS Midwest IR SAT | UNISYS More IR SAT
WunderMap® with Temperature/Wind Data || Google: Arlington Heights Area Temps | US TEMPS
Full Screen Motion Weather Radar (Wunderground.com)
Midwest Cloud Cover with Arlington Heights Weather Forecast
ChicagoWeatherStation.com I O'Hare Normal Temps/Precip I O'Hare Record Temps, Precip, Snow
SUNLIGHT DATA FOR SECURITY, TRAFFIC SAFETY, AND SPORTS
SunCalc.net data with solar azimuth and trajectory, times for dawn, sunrise, solar noon, sunset, dusk …
Tweets by @CardinalWeather
NIGHT SKY THIS MONTH …
Backyard stargazers get a monthly guide to the northern hemisphere's skywatching events with "Tonight's Sky." Check the night sky objects for this month and past months in the playlist from the Space Telescope Science Institute YouTube channel (Musical track The Far River written by Jonn Serrie, from the album And the Stars Go With You courtesy of New World Music Ltd).
Get updates from The Cardinal ALL NEWS FEEDS on Facebook. Just 'LIKE' the 'Arlington Cardinal Page (become a fan of our page). The updates cover all posts and sub-category posts from The Cardinal — Arlingtoncardinal.com. You can also limit feeds to specific categories. See all of The Cardinal Facebook fan pages at Arlingtoncardinal.com/about/facebook …

Help fund The Cardinal

Arlingtoncardinal.com/sponsor
Area Forecast Discussion
National Weather Service Chicago/Romeoville, IL
228 PM CST Thu Dec 8 2022
.SHORT TERM… Issued at 158 PM CST Thu Dec 8 2022
Through Friday night…
The key messages in the short term are as follows:
* Increasing potential for a brief period of wet/slushy accumulating snow Friday morning across northern Illinois– overlapping parts of the morning commute.
* Winter Weather Advisory issued for Winnebago, Boone, McHenry, and Lake (IL) counties.
* Uncertainty regarding the southern terminus of slushy accumulations owing to marginal surface temperatures. Some threat exists for higher rates/amounts towards and including the I-88 corridor.
* Transition to showers/drizzle during the afternoon and into the evening. Temperatures expected to be at or above freezing, limiting any icing risk.
Early afternoon water vapor loops depict a compact shortwave translating east into Nebraska, and this will be our feature of interest into Friday morning. While not currently as prevalent, noted some earlier lightning strikes out of scattered convective elements in west-central Nebraska, and this is a clear depiction of the amount of elevated instability following this system eastward.
The main reasons for hoisting a Winter Weather Advisory for the northernmost tier of counties were driven by the combination of extremely robust forcing intercepting fairly deep layers of reduced static stability and a signal for convectively-augmented snowfall rates occurring around the morning commute. The antecedent airmass is fairly mild (it`s currently in the upper 30s/near 40 degrees)–which certainly adds a level of complexity and uncertainty to the forecast–and in many ways if it were a few degrees colder this would be an easier decision. The GFS and NAM remain as slightly warm outliers compared to the RAP, ECMWF, UKMET, RGEM, and HRDPS, which we continue to favor for this forecast package. Given the aforementioned instability, possibly supporting upright convective elements, the colder solutions make more sense to us, as dynamic cooling looks to offset the effects of warm advection. Robust UVV within the DGZ coupled with a dee Pisothermal layer near/just under 0 C suggests the potential for large, wet clumping aggregates as forcing for ascent maximizes in our region.
Precipitation looks to develop towards the I-39 corridor as early as about 2-3 AM, but will likely begin as rain or a rain/snow mix before stronger forcing arrives. Once this occurs, the transition to pretty much all snow should be swift north of I-88. Snow type will certainly be a "wet" one, with ratios averaging out to well under 10 to 1, and roadway accumulations/travel impacts will hinge on true convective rates being realized as surface wetbulb temperatures will be hanging out right around 32-34 degrees. The greatest chance for this currently appears to be for locales north of I-88/I-90 where concern for morning travel disruptions was high enough to justify the issuance of the winter weather advisory. Slushy snow accumulations are certainly possible farther south, but there`s less confidence in sustained high rates being able to overcome the marginal surface temperatures the farther south you go, but something we`ll have to keep a close eye on this evening and tonight. The main window of concern for travel impacts is about 6 – 11 AM. Model output 10:1 snowfall is likely overcooked, so leveraged snow depth output more heavily today to inform initial snowfall amounts. This resulted in an area of 2-4 inches within the advisory area. For Lake County, the highest accumulations are anticipated away from the lake.
With the parent wave gradually deamplifying with eastward extent, large scale forcing will rapidly begin to wane through the late morning and early afternoon hours. During this time, deeper saturation will also begin to diminish, although the reservoir of lingering instability aloft will likely allow continued scattered convective elements to sustain periodic bursts of snow. As snowfall rates ease, temperatures will likely "jump" into the mid 30s. Precipitation may transition to more of a drizzle as saturation above 700 mb is lost and may continue into the evening, but am not overly concerned with freezing drizzle issues with wetbulb temperatures expected to be above freezing.
There is some signal for fog development Friday night as a col in the low-level flow develops off to our south and west. Confidence in this wasn`t quite high enough to warrant an inclusion in the gridded forecast at this time, however.
Carlaw/NWS Chicago