Thursday Hi 35, cloudy, snow ending about 7p (0.5″ total), winds SW to W, 10 to 13 to 10 MPH, G16 to 18 to 17 MPH, 10a continuing Friday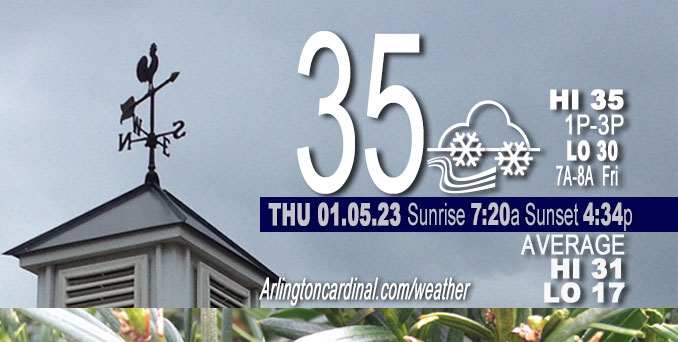 NWS CHGO | NWS HRLY | /NWSchicago | 🌡
ARLINGTON HEIGHTS WEATHER
▴ forecast7 (Arl. Hts.) | RADAR | WIDE RADAR




O'Hare (history KORD, left)
⏪ Hrly Data Table | Hrly Future Graph ⏩
IMPORTANT NOTE ON NWS DATA
Arlington Heights (history KPWK, left)
⏪ Hrly Data Table | Hrly Future Graph ⏩
======================
Thursday and Thursday Night …
Weather Hazards expected…
Limited Snow Risk.
Light snow likely Thursday ending about 7:00 or 8:00 p.m. with flurries until midnight. Accumulation could be up to 0.5 inch by midnight Thursday/Friday in Arlington Heights and nearby communities.
Slightly less snow accumulation north of Arlington Heights in Lake County and McHenry County.
Slightly more snow accumulation south of Arlington Height in Wheaton and Orland Park, for example.
Full cloud coverage continuing through midnight Thursday/Friday.
DISCUSSION…
Periods of snow will be seen Thursday resulting in coatings of snow, especially on bridges and overpasses as well as secondary roads. The snow will lead to a threat for slippery travel.
Hello mobile users! If you encounter a mobile "unfriendly" weather page, turn your phone sideways for a better view.
======================
O'HARE FORECAST …
Forecast Beginning Thursday, Jan. 05, 2023
Thursday: Periods of snow showers, possibly mixed with rain, becoming all snow after 9am. High near 35. West southwest wind 10 to 15 mph. Chance of precipitation is 80%. Total daytime snow accumulation of less than a half inch possible.
Thursday Night: Scattered snow showers before 11pm, then scattered flurries between 11pm and 1am. Cloudy, with a low around 30. West wind around 10 mph, with gusts as high as 15 mph. Chance of precipitation is 40%.
Friday: Mostly cloudy, with a high near 34. West wind around 10 mph, with gusts as high as 15 mph.
Friday Night: Partly cloudy, with a low around 25. West wind around 5 mph becoming calm in the evening.
Saturday: Mostly sunny, with a high near 37. Light and variable wind becoming east northeast 5 to 10 mph in the morning.
Saturday Night: A 20 percent chance of snow. Mostly cloudy, with a low around 28.
Sunday: A 20 percent chance of snow before noon. Partly sunny, with a high near 37.
Sunday Night: Mostly cloudy, with a low around 27.
Monday: Mostly sunny, with a high near 41.
Monday Night: Mostly cloudy, with a low around 32.
Tuesday: Mostly cloudy, with a high near 39.
Tuesday Night: Mostly cloudy, with a low around 27.
Wednesday: Partly sunny, with a high near 35.
Weather Forecast, Observations Archive NWS O-Hare
Weather Forecast, Night Sky Archive NWS O-Hare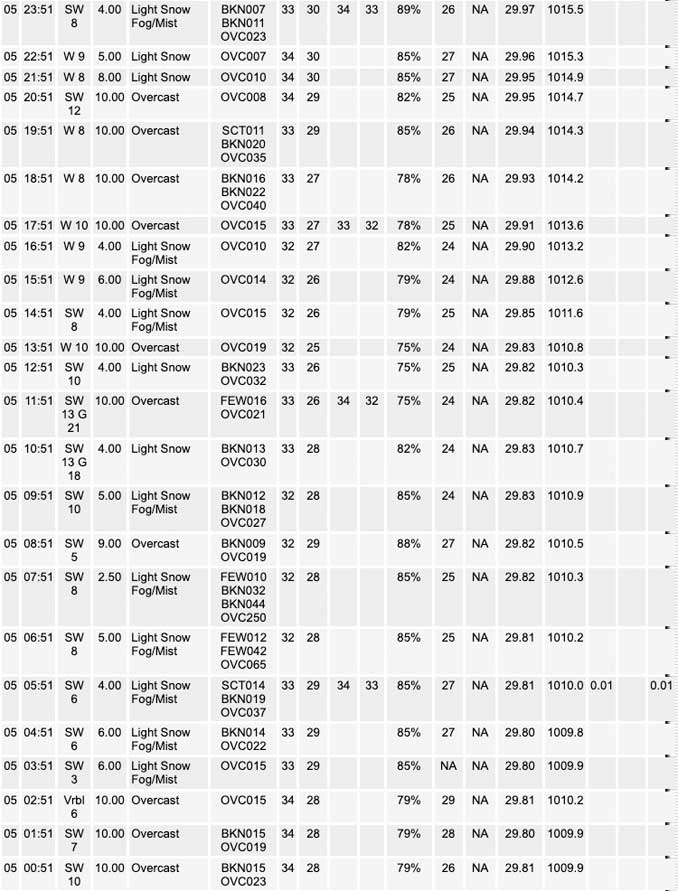 KORD & KPWK Hourly Weather Observations









NORTH AMERICA BELOW (SCROLL ⇩⇩)
Weather WIDE (MOBILE TURN SIDEWAYS)
SPC Convective Outlook on
CHICAGOWEATHERSTATION.COM

ChicagoWeatherStation.com I O'Hare Normal Temps/Precip I O'Hare Record Temps, Precip, Snow
LIVE RADAR | STORM TRACKS | UNISYS US IR SAT | UNISYS Midwest IR SAT | UNISYS More IR SAT
WunderMap® with Temperature/Wind Data || Google: Arlington Heights Area Temps | US TEMPS
Full Screen Motion Weather Radar (Wunderground.com)
Midwest Cloud Cover with Arlington Heights Weather Forecast
ChicagoWeatherStation.com I O'Hare Normal Temps/Precip I O'Hare Record Temps, Precip, Snow
SUNLIGHT DATA FOR SECURITY, TRAFFIC SAFETY, AND SPORTS
SunCalc.net data with solar azimuth and trajectory, times for dawn, sunrise, solar noon, sunset, dusk …
Tweets by @CardinalWeather
NIGHT SKY THIS MONTH …
Backyard stargazers get a monthly guide to the northern hemisphere's skywatching events with "Tonight's Sky." Check the night sky objects for this month and past months in the playlist from the Space Telescope Science Institute YouTube channel (Musical track The Far River written by Jonn Serrie, from the album And the Stars Go With You courtesy of New World Music Ltd).
Get updates from The Cardinal ALL NEWS FEEDS on Facebook. Just 'LIKE' the 'Arlington Cardinal Page (become a fan of our page). The updates cover all posts and sub-category posts from The Cardinal — Arlingtoncardinal.com. You can also limit feeds to specific categories. See all of The Cardinal Facebook fan pages at Arlingtoncardinal.com/about/facebook …

Help fund The Cardinal

Arlingtoncardinal.com/sponsor
Area Forecast Discussion
National Weather Service Chicago/Romeoville, IL
554 AM CST Thu Jan 5 2023
.SHORT TERM… Issued at 254 AM CST Thu Jan 5 2023
Through Friday…
Key Messages:
* Periods of snow today, with a little more intensity starting early to mid morning, with light accumulation expected including some areas near or topping one inch
* Potential for spotty slick roads today, more so over north central and far northern Illinois this morning
* Low confidence in whether some long-awaited sun will be seen Friday afternoon
Quite the satellite presentation of the closed, stacked low centered over eastern Iowa this morning, with a 70 kt upper jet rounding its base over northern Missouri and numerous embedded vorticity maxima. As the center moves into northwest Illinois this morning, the strongest differential positive vorticity advection (DPVA) and coldest mid-level temperatures (700mb -13C, 500mb -27) will come with it. In addition, saturation will be deeper, likely ending the concern of freezing drizzle from west to east. Also helping to diminish this is the fact that temperatures along and east of I-55 are still above freezing early this morning, where drizzle is more likely to last into the morning commute.
Enhanced areas/arcs of snow, such as seen on the KDVN radar at 230 AM, are anticipated to develop over the CWA early to mid morning. Forecast soundings actually show some low-level CAPE (10 to 20 J/kg) due to steepened low-level lapse rates, so the character might be more snow shower-ish. The deepest saturation is a little shy of the DGZ, but that looks to be somewhat compensated for with temporary heavier rates (~0.5″ per hour). With forecast QPF up to 0.1 of an inch in parts of the area, and expected ratios near climatology of 10-12:1, envision that some locations may end up with one inch or slightly over through early afternoon, especially in the central forecast area (broader I-80 corridor region).
One or two additional vorticity maxima are forecast to rotate through the forecast area this afternoon into early evening, each of these weaker than their predecessors but should be enough for continued periodic snow with minor dustings. Temperatures look to be nearly steady temperatures at 31 to 34F today for most. The saturated cloud depth is forecast to be great enough through the period that a freezing drizzle threat should be avoided this afternoon and evening.
For messaging, will continue a graphic focusing on today`s snow, especially through early afternoon, and have also issued a Special Weather Statement for far northern and north central Illinois. This is where some of the better snow rates look to overlap the morning commute. This is also the area that has had spotty freezing drizzle since last night and sustained temperatures of 31-32F. Pavement temperatures on I-39 north of the Illinois River as well as in McHenry County are at 32 as of 230 AM. Further east into the metro and northwest Indiana, these values are 34-37. While they are likely to dip into the afternoon, it may not overlap temporary better snowfall rates.
For Friday, the upper low will pick up haste in its departure from the region, resulting in short wave ridging moving overhead and a slowly strengthening subsidence inversion. Models vary in what this means for sky cover, but remains fair potential for scattering, with the western forecast area (north central into far northern Illinois) most favored to see this for several hours. Temperatures will hinge some on magnitude of clouds, and would end up a few degrees warmer than forecast if more sunshine.
MTF/NWS Chicago