Tuesday Hi 43, cloudy, rain ends about 7p, winds NE to SE to S to W to SW, Calm 12 to 6 to 9 MPH, G21 to 12 MPH ending 12p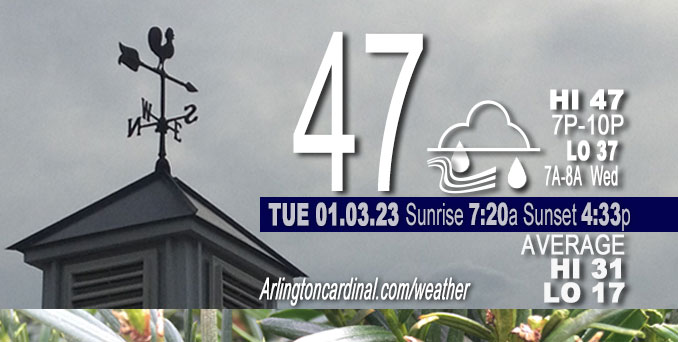 NWS CHGO | NWS HRLY | /NWSchicago | 🌡
ARLINGTON HEIGHTS WEATHER
▴ forecast7 (Arl. Hts.) | RADAR | WIDE RADAR




O'Hare (history KORD, left)
⏪ Hrly Data Table | Hrly Future Graph ⏩
IMPORTANT NOTE ON NWS DATA
Arlington Heights (history KPWK, left)
⏪ Hrly Data Table | Hrly Future Graph ⏩
======================
Tuesday and Tuesday Night …
Weather Hazards expected…
Elevated Fog Risk.
Limited Severe Thunderstorm Risk south of the Kankakee River.
DISCUSSION…
Areas of fog may become dense late this morning through this evening. Locations north of I-80 are most favored for persistent dense fog.
Rainfall accumulation reported at NWS O'Hare is 0.81 inch from about 1:00 a.m. until 6:00 a.m. (Total rainfall Tuesday, January 3, 2023 was 1.12 inches.)
Scattered thunderstorms are possible across the area this afternoon, any of which could have small hail. One or two of these may reach marginal severe limits south of the Kankakee River Valley, with the primary threat being wind gusts to 60 mph. A brief tornado is also possible.
The high temperature forecast for Tuesday in Arlington Heights has trended significantly downward from a high of 59°F (2 days ago forecast) to high 49°F (yesterday forecast) to 47°F forecast today because a warm front is not expected to reach as far north as was initially expected.
Hello mobile users! If you encounter a mobile "unfriendly" weather page, turn your phone sideways for a better view.
======================
O'HARE FORECAST …
Forecast Beginning Tuesday, Jan. 03, 2023
Tuesday: Showers or drizzle likely, mainly before 10am, then a chance of drizzle with a slight chance of showers after 4pm. Areas of fog. Otherwise, cloudy, with a high near 47. East northeast wind 5 to 15 mph, with gusts as high as 20 mph. Chance of precipitation is 70%. New precipitation amounts between a tenth and quarter of an inch possible.
Tuesday Night: A 20 percent chance of drizzle with a slight chance of showers before 10pm. Areas of fog before midnight. Otherwise, mostly cloudy, with a low around 37. Southeast wind 5 to 10 mph becoming west in the evening. Winds could gust as high as 15 mph.
Wednesday: A slight chance of rain and snow showers after 3pm. Cloudy, with a high near 40. Southwest wind 10 to 15 mph, with gusts as high as 20 mph. Chance of precipitation is 20%.
Wednesday Night: A 20 percent chance of snow showers. Cloudy, with a low around 31. Southwest wind 10 to 15 mph.
Thursday: A chance of snow before 5pm, then a chance of snow showers after 5pm. Cloudy, with a high near 36. West southwest wind around 10 mph, with gusts as high as 20 mph. Chance of precipitation is 40%.
Thursday Night: Mostly cloudy, with a low around 29.
Friday: Partly sunny, with a high near 36.
Friday Night: Mostly cloudy, with a low around 29.
Saturday: A chance of snow. Partly sunny, with a high near 37.
Saturday Night: Mostly cloudy, with a low around 29.
Sunday: Mostly cloudy, with a high near 36.
Sunday Night: Partly cloudy, with a low around 27.
Monday: Mostly sunny, with a high near 38.
Weather Forecast, Observations Archive NWS O-Hare
Weather Forecast, Night Sky Archive NWS O-Hare

KORD & KPWK Hourly Weather Observations









NORTH AMERICA BELOW (SCROLL ⇩⇩)
Weather WIDE (MOBILE TURN SIDEWAYS)
SPC Convective Outlook on
CHICAGOWEATHERSTATION.COM

ChicagoWeatherStation.com I O'Hare Normal Temps/Precip I O'Hare Record Temps, Precip, Snow
LIVE RADAR | STORM TRACKS | UNISYS US IR SAT | UNISYS Midwest IR SAT | UNISYS More IR SAT
WunderMap® with Temperature/Wind Data || Google: Arlington Heights Area Temps | US TEMPS
Full Screen Motion Weather Radar (Wunderground.com)
Midwest Cloud Cover with Arlington Heights Weather Forecast
ChicagoWeatherStation.com I O'Hare Normal Temps/Precip I O'Hare Record Temps, Precip, Snow
SUNLIGHT DATA FOR SECURITY, TRAFFIC SAFETY, AND SPORTS
SunCalc.net data with solar azimuth and trajectory, times for dawn, sunrise, solar noon, sunset, dusk …
Tweets by @CardinalWeather
NIGHT SKY THIS MONTH …
Backyard stargazers get a monthly guide to the northern hemisphere's skywatching events with "Tonight's Sky." Check the night sky objects for this month and past months in the playlist from the Space Telescope Science Institute YouTube channel (Musical track The Far River written by Jonn Serrie, from the album And the Stars Go With You courtesy of New World Music Ltd).
Get updates from The Cardinal ALL NEWS FEEDS on Facebook. Just 'LIKE' the 'Arlington Cardinal Page (become a fan of our page). The updates cover all posts and sub-category posts from The Cardinal — Arlingtoncardinal.com. You can also limit feeds to specific categories. See all of The Cardinal Facebook fan pages at Arlingtoncardinal.com/about/facebook …

Help fund The Cardinal

Arlingtoncardinal.com/sponsor
Area Forecast Discussion
National Weather Service Chicago/Romeoville, IL
602 AM CST Tue Jan 3 2023
.SHORT TERM… Issued at 330 AM CST Tue Jan 3 2023
Through Thursday…
Key forecast messages on this first Tuesday of 2023:
* One more day of pesky fog with potential for dense fog to return later this morning through this evening, with highest confidence in this closer to the Lake Michigan shore but could be widespread north of I-80 during the evening commute
* Large temperature range north to south today with highs mid 40s north of I-88 and topping 60 south of the Kankakee River Valley
* Early morning rain transitioning to more areas of drizzle by mid morning; scattered showers and also spotty thunderstorms mainly south of I-80 this afternoon with a few strong storms possible
* Cooler Wednesday with the likelihood of some snow in the region Wednesday afternoon into Thursday that may yield minor accumulations
Satellite imagery depicts a maturing, mid-latitude cyclone centered over the Central Plains. A somewhat broad moist conveyor belt ahead of this is resulting in showers over the area early this morning. The highest coverage including thunderstorms has been near the Ohio River, and this has resulted in some moisture robbing. Observed rainfall amounts with this has been around a quarter inch per hour, well less than any flood concerns. This main area of showers will end between 7 and 930 A.M. from southwest to northeast across the area. As of 3 AM, no thunder has made it into the CWA. If any does occur early this morning it should be along/south of the Kankakee River Valley.
The early morning showers have disrupted the thickness of the fog but this is expected to be temporary as the forecast area will remain within a favorable regime for fog development. This includes being north of the system warm front that is presently along the southern CWA border, as well as light winds, ample boundary layer moisture, and a cloud layer that is already only 200-400 ft AGL. In addition, fog has been fairly persistent over the lake and will be prone to expand into at least lakefront locations. So have gone with "Areas of Fog" in today`s forecast. North of I-80, in particular the Chicago metro and lakefront, stands the best chance for needing another Dense Fog Advisory at some point today and this evening. This could include during the evening commute time. Have included some forecast dense fog mention near the lake.
As the system surface low of around 999 mb moves from northern Missouri to northern Iowa today it will start to slowly occlude. Prior to that though, the warm front will lift north into the far southern forecast area, and this is where temperatures are still forecast to warm into the lower 60s (already 60 degrees just south of the forecast as of 3 AM). North of the warm front, especially along and north of I-80, stratus and drizzle will hinder much moderation, and the highs of mid-upper 40s may not occur in these locations until early evening. Now we know this is a far cry from the near record warm highs that looked as if it would spread in today two to three days ago, but with the overall system slowing, the northward evolution of the warm sector is now much slower.
The upper low`s associated trough will acquire a slightly negative tilt this afternoon, with a mid-level (400-600 mb) jet maximum of >80 kt spreading across Illinois. This will be just ahead of the dry slot at that layer and an arc of scattered showers and some thunderstorms will be prone to develop across northern to central Illinois. Most convection-allowing models (CAMs) paint this solution in the afternoon, however with notable difference in coverage and slight variance in timing. Column relative humidity does drop above the boundary layer, which would favor activity to be only isolated to scattered. North of the warm frontal placement, which is likely to be near the Kankakee River Valley this afternoon, any activity should be atop a steep inversion, though some small hail is possible. South of the Kankakee River Valley, models have trended toward more destabilization with steepened mid-level lapse rates atop mid 60s surface temperatures and lower 60s dew points. Forecast profiles indicate that this probably will be sufficient for mixed layer parcels with mlCAPE values potentially exceeding 500 J/kg as far north as the Kankakee River Valley. Shear profiles are long hodographs due to the speed shear, with some slight veer-back-veering. If some convection can develop this afternoon in that small far southern portion of the forecast area, there could be some elongated, small supercell type structures, capable of quick 50+ mph gusts and a non-zero brief tornado threat.
The surface cold front basically catches up to the warm front (i.e. occludes) over the CWA later this evening. Until then, the fog threat, potentially dense, will remain north of I-80 including into the Chicago metro. Any shower coverage tonight should be very spotty with the dry slot being overhead.
Attention then turns to the upper low itself which meanders its way eastward toward the Wisconsin/Illinois border by late Wednesday night into Thursday morning. This has trended slightly further north in model solutions and a smidge slower, which is not surprising given the trends the last few days. For Wednesday, the colder air aloft and positive vorticity advection (PVA) supporting shower development creeps into north central Illinois in the afternoon and northeast Illinois late in the day. Steepened low-level lapse rates indicate showers are the probable mode, with wet bulb cooling favored to result in snow showers especially after dark. With the further north solution, the potential for minor accumulations Wednesday night into Thursday immediately near the vorticity center have dropped some. Reflecting this are NBM v4.1 probabilities of >1 inch of snow now under 20 percent. Continue with the chance snow mention and small diurnal range underneath the clouds and snow showers, with highs in the mid 30s and lows in the mid 20s.
MTF/NWS Chicago