Wednesday Hi 39, mostly cloudy, rain begins 6p through Thursday, winds NNW to NE to E, 5 to 22 MPH, G14 to 32 to 28 MPH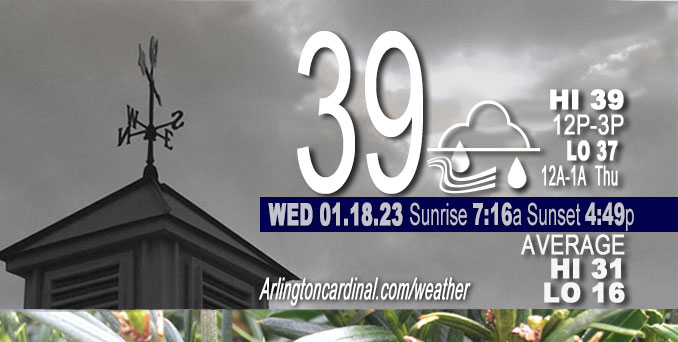 NWS CHGO | NWS HRLY | /NWSchicago | 🌡
ARLINGTON HEIGHTS WEATHER
▴ forecast7 (Arl. Hts.) | RADAR | WIDE RADAR




O'Hare (history KORD, left)
⏪ Hrly Data Table | Hrly Future Graph ⏩
IMPORTANT NOTE ON NWS DATA
Arlington Heights (history KPWK, left)
⏪ Hrly Data Table | Hrly Future Graph ⏩
======================
Wednesday and Wednesday Night …
Weather Hazards expected …
Limited Non Thunderstorm Wind Risk.
Significant Fog Risk Tonight.
Limited Snow and Sleet Risk far north and northwest IL.
DISCUSSION…
A brief wintry mix of snow, sleet, and rain is expected this evening north of Interstate 88 which may result in some slushy accumulations and minor travel disruptions, particularly near the WI state line. Precipitation will eventually change to rain and drizzle overnight.
Rockford area could get a quick inch of wet snow.
Areas of fog are likely to develop late tonight into Thursday morning. Some locally dense fog is possible.
======================
O'HARE FORECAST …
MIDWAY — problem with NWS O'Hare
Forecast Beginning Wednesday, Jan. 18, 2023
Wednesday: A 20 percent chance of rain after 5pm. Cloudy, with a high near 39. Northwest wind 5 to 15 mph becoming east in the afternoon. Winds could gust as high as 25 mph.
Wednesday Night: Rain, possibly mixed with sleet before 9pm, then rain between 9pm and 3am, then a chance of drizzle after 3am. Areas of fog after midnight. Low around 36. Breezy, with an east wind 15 to 20 mph becoming southeast 5 to 10 mph after midnight. Winds could gust as high as 30 mph. Chance of precipitation is 100%. Little or no sleet accumulation expected.
Thursday: A chance of drizzle before noon, then showers likely after noon. Areas of fog before 10am. Otherwise, cloudy, with a high near 44. South southeast wind 5 to 10 mph becoming west in the afternoon. Winds could gust as high as 20 mph. Chance of precipitation is 60%. New precipitation amounts of less than a tenth of an inch possible.
Thursday Night: A slight chance of rain and snow showers before 9pm, then a slight chance of snow showers between 9pm and midnight, then a chance of flurries after midnight. Cloudy, with a low around 30. West wind around 15 mph, with gusts as high as 25 mph. Chance of precipitation is 20%.
Friday: Cloudy, with a high near 34. West northwest wind 10 to 15 mph, with gusts as high as 20 mph.
Friday Night: Mostly cloudy, with a low around 24.
Saturday: Mostly cloudy, with a high near 33.
Saturday Night: Cloudy, with a low around 29.
Sunday: A chance of snow before noon. Mostly cloudy, with a high near 35.
Sunday Night: Mostly cloudy, with a low around 25.
Monday: Mostly sunny, with a high near 35.
Monday Night: Mostly cloudy, with a low around 28.
Tuesday: Mostly cloudy, with a high near 36.
Weather Forecast, Observations Archive NWS O-Hare
Weather Forecast, Night Sky Archive NWS O-Hare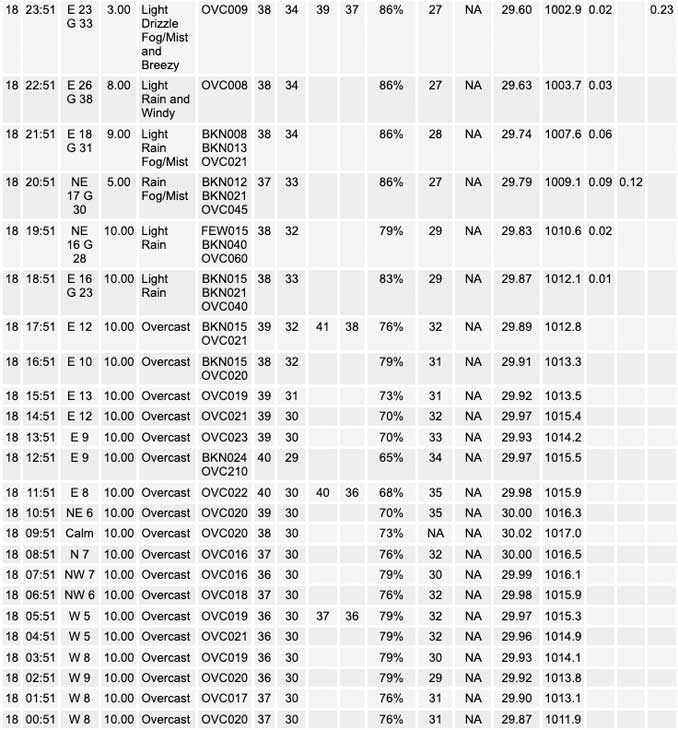 KORD & KPWK Hourly Weather Observations









NORTH AMERICA BELOW (SCROLL ⇩⇩)
Weather WIDE (MOBILE TURN SIDEWAYS)
SPC Convective Outlook on
CHICAGOWEATHERSTATION.COM

ChicagoWeatherStation.com I O'Hare Normal Temps/Precip I O'Hare Record Temps, Precip, Snow
LIVE RADAR | STORM TRACKS | UNISYS US IR SAT | UNISYS Midwest IR SAT | UNISYS More IR SAT
WunderMap® with Temperature/Wind Data || Google: Arlington Heights Area Temps | US TEMPS
Full Screen Motion Weather Radar (Wunderground.com)
Midwest Cloud Cover with Arlington Heights Weather Forecast
ChicagoWeatherStation.com I O'Hare Normal Temps/Precip I O'Hare Record Temps, Precip, Snow
SUNLIGHT DATA FOR SECURITY, TRAFFIC SAFETY, AND SPORTS
SunCalc.net data with solar azimuth and trajectory, times for dawn, sunrise, solar noon, sunset, dusk …
Tweets by @CardinalWeather
NIGHT SKY THIS MONTH …
Backyard stargazers get a monthly guide to the northern hemisphere's skywatching events with "Tonight's Sky." Check the night sky objects for this month and past months in the playlist from the Space Telescope Science Institute YouTube channel (Musical track The Far River written by Jonn Serrie, from the album And the Stars Go With You courtesy of New World Music Ltd).
Get updates from The Cardinal ALL NEWS FEEDS on Facebook. Just 'LIKE' the 'Arlington Cardinal Page (become a fan of our page). The updates cover all posts and sub-category posts from The Cardinal — Arlingtoncardinal.com. You can also limit feeds to specific categories. See all of The Cardinal Facebook fan pages at Arlingtoncardinal.com/about/facebook …

Help fund The Cardinal

Arlingtoncardinal.com/sponsor
Area Forecast Discussion
National Weather Service Chicago/Romeoville, IL
528 AM CST Wed Jan 18 2023
.SHORT TERM… Issued at 347 AM CST Wed Jan 18 2023
Through Thursday…
Main forecast highlights through the period include:
* Breezy easterly winds developing this evening
* Storm system developing over the TX/OK Panhandle this morning drives a warm air advection precipitation shield northward across IL later today into this evening, resulting in a period of widespread moderate rain across the area this evening.
* Continued likelihood for a period of heavy wet snow and sleet later this evening across far northwestern IL, with some slushy accumulations of an inch or two possible near the WI state line in northwestern and north central IL.
* Rain and wintry mix transition over to drizzle and fog after 3 am. Some of this fog is likely to be dense across portions of northern IL Thursday morning.
* Rain and snow showers developing Thursday afternoon and continuing at times into Thursday night.
A strong impulse ejecting eastward from the Desert Southwest out across the Southern Rockies early this morning is already driving surface low pressure development across the TX/OK Panhandle beneath a region of increasingly different flow aloft associated with the exit region of a stout 125 kt upper jet streak. This is resulting in the development of a robust lower-level warm advection wing to the east across much of OK and KS where precipitation continues to be on an uptick at this hour. The northward surge of a warm and moist airmass is expected to continue to develop this precipitation shield northeastward across MO and into southern and central IL through the day today, then into our area by early this evening. The expectation is for most of this precipitation fall in the form of rain this evening. However, there continues to be signs that portions of far northern IL (north of I-88) could experience a short (hour or two) period early this evening where evaporative cooling with the onsetting precipitation cools the column precariously close to supporting a winter mix of rain sleet and snow. It does appear, however, that the strong warm air advection will act to quickly warm the column enough to support a change to rain for most areas shortly after onset.
Things could get a little interesting for a period again later this evening, especially across far northwestern IL near the WI state line. Forcing for deep ascent looks to peak in this area later this evening as the flow aloft becomes increasingly diffluence as the exit region of a 140 kt upper jet noses into the area above a tightening lower level baroclinic zone. This may set up a favorable coupling effect between the upward branches of the lower and upper level direct and indirect circulations supportive of strong and deep forced ascent for a couple hour period later this evening. The net result of this would be a good potential for a brief band of intense precipitation (likely wet snow) within a convectively unstable mid-level environment. Confidence on all this coming together to support a period of wet snow across my far northwestern areas near the WI state line later this evening has increased a bit, but its extent into the Rockford area may remain rather limited. A quick inch or two of wet snow remains possible in this area as a result.
The main precipitation shield is expected to remain progressive as it shifts northward into WI after midnight tonight. A mid-level dry slot will punch northward overhead overnight as the main surface low begins to shift overhead. It appears any lingering precipitation late tonight into Thursday morning will be in the form of drizzle as temperatures hover above freezing. We could also see a period of dense fog into early Thursday as the low shifts overhead. The entire storm system will shift northeast of the area Thursday afternoon. Westerly winds should increase and become rather gusty in its wake during the afternoon and evening as we begin to cold air advect along the southwest periphery of the exiting area of low pressure. Also looks probable that we will experience showery precipitation Thursday afternoon as the cold upper low shifts overhead. Surface temperatures may be slow to fall in the cold air advection pattern Thursday afternoon, so the showery precipitation could be in the form of rain initially, but will likely transition over to snow later in the afternoon, and evening.
KJB/NWS Chicago